The 3G Cardio 80i Treadmill has an ingenious design that allows a user to fold the treadmill upright, fold it flat to the floor, and store it under a bed. When folded flat to the floor, the 3G Cardio 80i Treadmill has a shallow height of only 9.75″.
Starting with a heavy-duty 3.0 HP motor, nearly a 60″ running surface, and the stability of a treadmill twice its price, the 3G Cardio 80i Treadmill will impress all users. With the capability of reaching 11 mph maximum speed and an intense 15% maximum incline, it would be very tough for someone to outwork this treadmill.
The console has eight built-in workout programs, including fat-burning, heart rate, climbing, and interval training. In addition, the display screen displays essential workout readouts like time, distance, speed, calories burned, etc. Furthermore, the console has two water bottle holders and two built-in speakers.
The 3G Cardio 80i also has a soft suspension on the treadmill belt. Therefore, it is ideal for a high-intensity cardio workout so that users can safeguard their joints and muscles. Thanks to its high-quality suspension system, this treadmill has won awards as the softest design for the best running and walking treadmill on the market.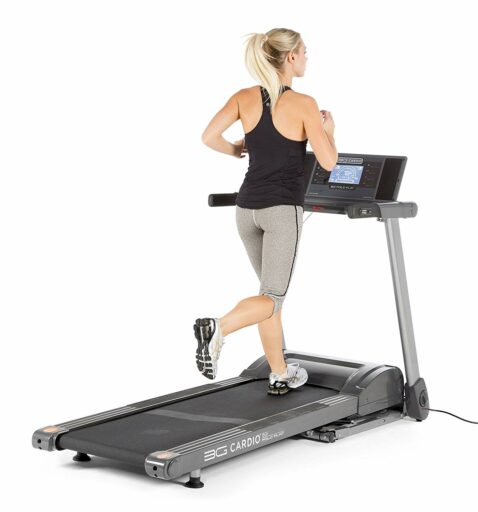 Learn more in my complete review below!
Product: 3G Cardio 80i Treadmill
Price: For a great deal on this treadmill, merely go here on Amazon
Warranty: Frame lifetime / Motor lifetime / Parts 5 years / Labor 1 year
My rating: is 8/10
Affiliate Disclosure: As an Amazon Affiliate Program participant, I earn commissions on purchases made through links in this post. Full disclosure
Details and Specifications
Assembled dimensions: 74L x 33W x 49H inches (188L x 84W x 124H cm)
Assembled weight: 225 lbs (102 kg)
Tread belt dimensions: 58L x 18.5W inches (147L x 47W cm)
Maximum user weight: 325 lbs (147kg)
Motor: 3.0 HP
Incline: Automatic, 0%-15%
Deck cushioning: Yes
Speed levels: 0.5-11 MPH.
Training programs: 8 preset, two user profiles, and manual mode
Pulse sensors: Yes
Amenities: Sound system, bottle/accessory holders
Warranty: Frame lifetime / Motor lifetime / Parts 5 years / Labor 1 year
80i Frame
One of the essential qualities that a running treadmill must offer is a heavy frame and deck to supply maximum stability. This particular treadmill model's assembled weight is 225 lbs (102 kg), which is significant in its stability. On top of that, the rear base rests on cushioned stabilizers, enhancing its stability. The front base rests on a set of wheels, facilitating the assembled machine's relocation.
The steel frame of this treadmill comes coated with anti-corrosive paint. The very few acrylic parts are the side rails, the motor cover, the dashboard, and the console mast covers.
Compared with the 3G Cardio Elite, the 80i model has a smaller footprint. It's actually about 10″ shorter, taking only 74″L x 33″W (188 x 84 cm) of floor space. On top of that, it offers a folding design. As its name suggests, it can be folded flat to the floor, with the console masts and the console folding down over the deck. However, the deck can also fold up, like the Horizon T101-05 Folding Treadmill, for example, as it features a folding mechanism based on two pneumatic cylinders.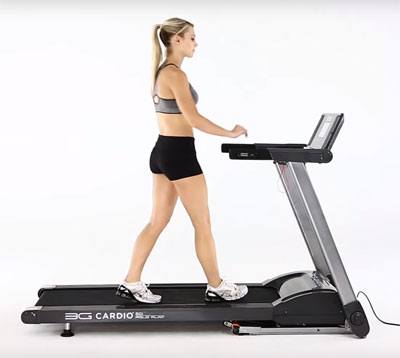 When folded flat to the floor, the treadmill's height reaches only 9.75″ (24.7 cm). Thus, you can even store it under the bed if your bed has over 10″ clearance.
Its features and folding design indicate that this treadmill is for home use. Also, this particular aspect makes it an excellent choice for small apartments.
Deck and running surface
The 3G Cardio 80i is one of the few treadmills with a fold-flat design that withstands running. In addition, its deck features sturdy construction, holding users up to 325 lbs (147 kg).
The deck incorporates a suspension system that renders the run much smoother, reducing up to 30 percent of the impact on your joints. In addition, it uses high-grade, precision-crowned rollers with sealed bearings made for lifetime use.
This treadmill uses a multi-ply tread belt, resistant to stretching. It offers a running surface of 58″L x 18.5″W (147 x 47cm), which is a bit small for taller runners. The average running treadmill surface starts at 60″L x 20″W (152.4 x 51 cm).
However, even a 6'4″ (193 cm) runner shouldn't feel crammed on this treadmill during a running session with a high-speed setting.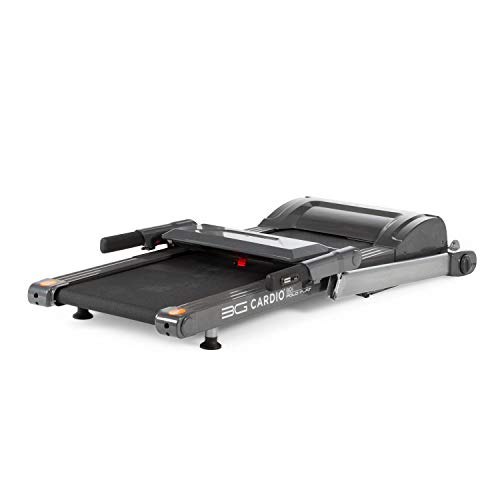 80i Motor and incline
The 3G Cardio 80i treadmill comes with a 3.0 HP heavy-duty motor. This motor is powerful enough to support prolonged workouts at the highest speed settings without overheating, even if the user is near the maximum specified weight capacity.
It can supply speeds up to 11 MPH and starts a 0.5 MPH. The speed is adjustable in increments of 0.1, making the transition from one level to another smooth, and you can select the most comfortable pace for you.
This motor is far from being a noisy one. And along with the cushioned deck, which absorbs quite a bit of the cadence sound, this treadmill is a reasonably quiet run.
This treadmill also offers a motorized incline system. The incline ranges between 0% and 15%. Thus, it can provide a maximum slope of approx—11 °. The incline is adjustable in increments of 1%.
Even though the incline supplied by this treadmill isn't exactly close to the power incline offered by commercial treadmills, it still greatly diversifies the number of possible workouts.
Also, keep in mind that running at 11 MPH, and using the maximum incline setting of 15% on this machine, will offer quite a challenge. With these settings, a non-professional runner shouldn't last more than a couple of minutes.
Since this treadmill features a series of onboard programs, speed and incline will adjust automatically by using one of them.
This fitness machine requires a standard three-prong outlet on a 110v power circuit, at least 15 amps and 20 amps.
It comes with a power cord with a standard plug, not an adapter. The power cord connects to the motor case near the front base.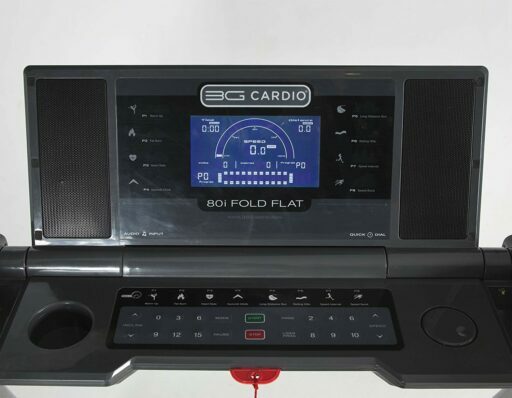 Console
The console features a display of approx. 6.5″ diagonal, with integrated blue backlight, offers a better reading even in a darker room. It tracks speed (in MPH), distance (in miles), time, pulse, and calories burned. It also indicates the current speed and incline levels.
The console has eight preset programs, including Warm-Up, Fat Burn, Heart Exercise, Summit Climb, Long Distance Run, Rolling Hills, Speed Interval, and Speed Burst. These will adjust incline and speed automatically, depending on the current segment of each one of them.
Two user profile settings allow you to create and save two distinctive custom workouts. Each custom workout features 16 sections, and you must set up a speed and incline level for each segment.
Also, you can assign a time goal for each custom workout. Finally, just like any other treadmill, this one offers a Manual mode, which allows you to freely adjust the incline and speed as you want during your workout.
Each of the eight preset programs has its key on the console; for the user programs, there is only one key. The incline and speed are adjusted gradually via the UP/DOWN arrow keys.
However, there are also quick keys for incline and speed adjustment: 0,3,6,9,12,15 for incline and 2,4,6,8,9,10 for speed. In addition, the console has a Stop key, which is excellent to have if you want to pause your workout without resetting your data and resume it later. And just like any other treadmill, it features a safe, magnetic key.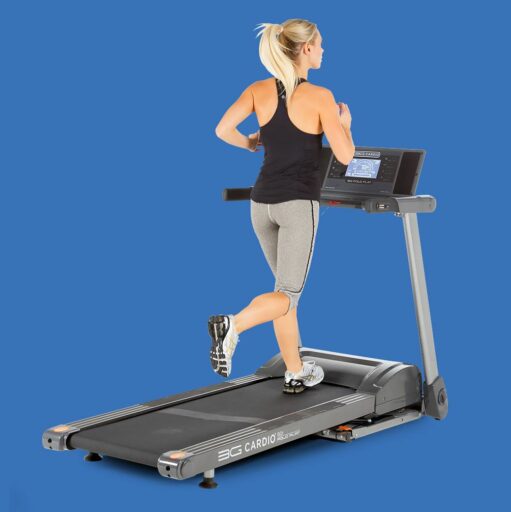 One last aspect to mention here reflects the pulse reading capability of the console. The unit can only read pulse via the sensors integrated into the machine's handlebars. It's not telemetry enabled. In other words, it cannot read the pulse via a chest strap transmitter.
Amenities
The console supplied with this running machine isn't a fancy one. It incorporates only two amenities: its sound system and a bottle/accessory holder. The integrated sound system is compatible with most MP3 players, smartphones, and tablets.
The sound it can render is far better than the average tablet or phone speaker's music. But like in most fitness machines that feature a sound system, volume adjustments are made only from your device. The console has no volume adjustment keys.
80i Assembly and Maintenance
One of the best parts of the 3G Cardio 80i treadmill is that it doesn't require any assembly. Instead, it comes fully assembled and folded. So, you only have to unbox it, unfold it, plug it in, and start running.
Maintenance doesn't require much. But, like any other treadmill, its deck may require lubrication every 3 to 6 months, depending on how often you use it.
It's advisable that each lubrication use approximately — 30-40 ml of a silicone-based lubricant. Also, vacuuming under the deck and cleaning the tread belt with a damp cloth is necessary, especially if you have pets.
Pros
Dual folding technology – can be folded flat to the floor (only 9.75″ tall) or up via the pneumatic cylinders;
High user capacity for a folding treadmill – 325 lbs;
Solid frame and deck;
The deck incorporates suspensions and shock-absorbing elements;
Motorized incline, with up to 15% ramp;
3.0 HP, heavy-duty motor, fit for running, not just jogging or walking;
Offer speeds up to 11 MPH;
Eight preset programs and two custom user programs;
Easy to use, comprehensive controls on the console;
Integrated sound system;
Pulse sensors on lateral grips;
Its operation is quiet and smooth;
No assembly is required;
Little maintenance is needed;
Excellent warranty plan.
Cons
The console is not telemetric;
Minimalistic console;
No media shelf.
3G Cardio 80i Treadmill Summary
If you're looking for a treadmill with a non-conventional construction and space-saving design, the 3G Cardio 80i Treadmill deserves your consideration. Additionally, it can support running, not just jogging or walking.
Moreover, it's a treadmill that can supply speeds up to 11 MPH and incline up to 15%, offering a broad training spectrum for cardio, stamina, strength, interval training, and weight loss. And lastly, it's a durable machine, which is pretty much backed up by its consistent warranty plan.
I hope you found this article helpful and informative. Would you please speak up if you have anything you'd like to share on the topic or any opinions about my website? I look forward to your comments, questions, and the sharing of ideas.
Please remember that you should consult your physician to determine if you have any medical or physical conditions that could risk your health and safety or prevent you from using the equipment properly. In addition, your physician's advice is essential if you are taking medication that affects your heart rate, blood pressure, or cholesterol level.