The Body-Solid EXM3000LPS is an upgrade to the single stack EXM1500S model, with more workout stations and a 50 lb increase for each of the two weight stack towers. Additionally, the seven workout stations bring an increased number of upper and lower body exercise options.
The Body-Solid EXM3000LPS has a leg press station that uses an identical 210 lb weight stack to the one used by the Multi-Press and Perfect-Pec stations, but with a 2:1 ratio. This means the 210 lbs of resistance converts to 420 lbs, which is for calf raises as well as standard and iso-lateral leg presses.
Pec flys offer a similar range of motion to dumbbell flys, but with the benefit of being in a vertical rather than horizontal position. The stretch on the pecs will be virtually the same. However, having visibility on the angle of your arms will help you make essential adjustments to your arm and shoulder positions.
In addition to the seated rows with the Multi-Press arm and rear delt flys with the Pec Station, the Body-Solid EXM3000LPS also comes fitted with a lat pulldown station. The height of the pulley and distance between the top of the weight stack and head of the surrounding shroud allows you to have all the space you need to perform lat pulldown variations.
Learn more in my complete review below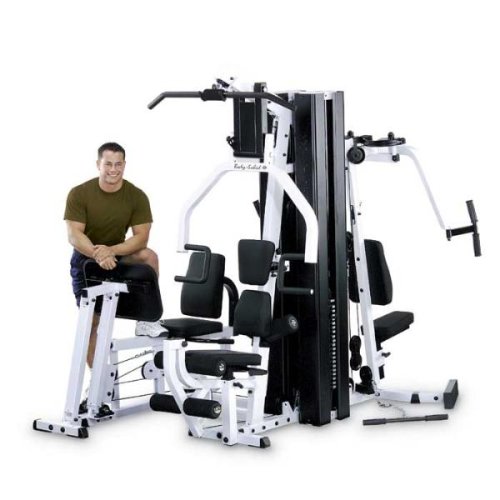 Product: Body-Solid EXM3000LPS Home Gym
Price: For a great deal on this gym, merely go here on Amazon
Warranty: Frame lifetime / Parts 2 years / Wear 1 year
My rating: 9/10
Amazon Affiliate Disclosure: I may earn commissions on purchases made through links in this post.
Details and Specifications
Assembled dimensions: 91L x 73W x 83H inches (231L x 185W x 210H cm)
Assembled weight: 947 lbs (429.5 kg)
Resistance system: Weight stacks
Standard weight resistance: 2 x 210 lbs (95 kg)
Possible exercises: 40+
Warranty: Frame lifetime / Parts 2 years / Wear 1 year
EXM3000LPS Frame Construction
It's pretty much apparent that at a total weight of 947 lbs (429.5 kg), the frame of this gym machine is steel. The steel frame parts come with anti-corrosive white paint, and so far, there are no other colors available. The frame features substantial construction.
There's no maximum user weight specified. The machine can hold up to three users working out simultaneously. Evidently, due to its weight, it won't wiggle or wobble during workouts.
All bases of the machine feature rubberized stabilizers to protect floors from damage. However, due to its weight, it's a good idea to have it assembled on a mat, especially if you have wooden floors. Over time, they may sustain damage due to the weight and pressure generated.
The EXM3000LPS features quite a large footprint. It takes 91″L x 73″W (231 x 185 cm) of floor space and reaches 6'9″ high. Thus, in case you're wondering, it should fit in a room with a 7′ ceiling, and you'll still have 1″ clearance above. On the other hand, depth and width wise, you'll need approx — 3′ (91 cm) of clearance to use the machine comfortably.
The upholstery on seats and back supports is durable synthetic leather. Also, they feature 2″ thick cushioning, offering excellent comfort. The rollers on the leg attachment also feature consistent, rubber foam padding, so you won't have to worry about any discomfort during leg curls or leg extensions.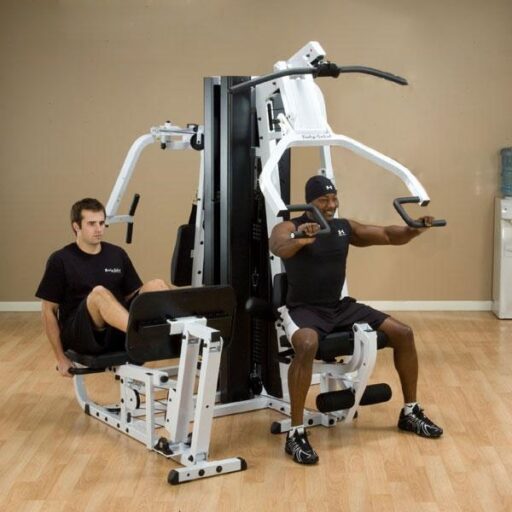 EXM3000LPS Included elements
The Body-Solid EXM3000LPS consists of 7 stations or seven main workout elements. These are:
Pec station.
It's a bi-functional station that provides workouts for the rear deltoids and pectoral muscles. This element includes dual overhead cams with six increments per arm, for accurate tuning and prestretch with optimal biomechanical movement.
Multi-press station.
These elements aim for the development of the chest, back, and shoulder muscles. The machine offers three stations in one, with fully adjustable pads for users of all sizes.
Ab crunch and intermediate pulley station.
This is the element that promotes exercises for the abdominal muscles, also offering superior comfort for triceps extension exercises.
Lat pulldown and high pulley station.
Just about any home gym system should have this workout element or something for strength and endurance development of the triceps, shoulder, and back muscles. The lat pulldown station offers easy-access hold-down rollers for users of all sizes.
Seated row and low pulley station.
Although it doesn't offer mobile seats with rollers for complete rowing exercises, this Body-Solid model does offer elements for seated row exercises. The low pulley station, on the other hand, provides the possibility to perform activities such as cable curls, shrugs, leg abductions, etc.
Leg press and calf press station.
This is also an included element, featuring two bar linkage which self-aligns the angle of the leg press plate to the user's body, eliminating any ankle stress. As its name suggests, it offers exercises for the development of top leg and calf muscles.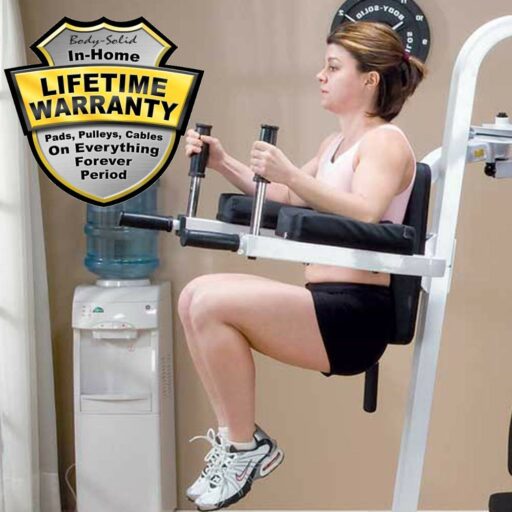 Leg attachment.
This is a leg extension and leg curl station. It focuses on lower and top leg muscles, such as quads and hamstrings.
Optional elements
There are several options (not included) available for this machine. The most important one that requires mentioning here is the VKR30 Vertical Knee Raise Attachment. This element consists of a contoured and cushioned back pad, arm pads, and handgrips for abdominal, shoulder, and triceps exercises.
This addition opens several types of uses, such as knee raises and dips. With this attachment, the machine allows up to 3 users working out simultaneously. Without it, only two users can workout at the same time.
Other optional accessories that you can order for this machine are the TR20 Triceps Rope, NB59 Adjustable Nylon Stirrup Handle, and weight stack plates of various increments.
Weight Resistance System and Increments
The EXM3000LPS home gym features a classic, weight stack resistance system. The machine features two stacks of weight plates with a total of 210 lbs (95 kg) each stack. The weight stacks can be used simultaneously and are also upgradeable.
Each plate weighs 10 lbs (4.5 kg). In other words, with the standard supplied weight plates, you can have weight adjustments in increments of 10 pounds, up to 210 lbs for each stack. You can add or replace weight plates with different weights, such as 2.5 lbs or 5 lbs, for precision weight training.
However, 2.5 lbs and 5 lbs plates are (not supplied) with the machine. The weight plate stacks only have plates of 10 pounds each.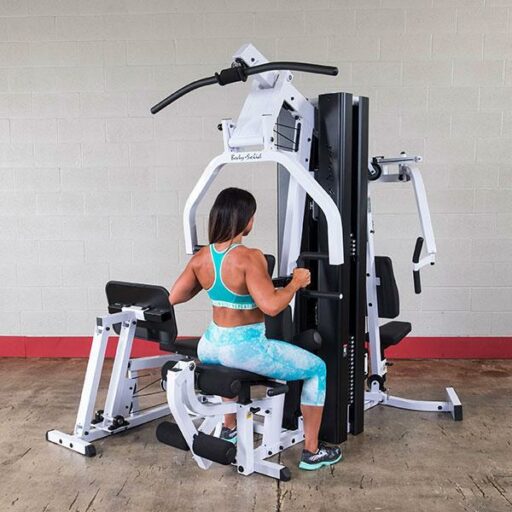 One crucial aspect of being mentioned here regards the leg press station. Due to its biomechanics, this station converts the weight you select by a 2:1 ratio. Differently put, if you choose the maximum weight stacks (210 lbs), you will leg-press 420 lbs.
EXM3000LPS Exercises
Ab Crunch
Bench Press
Biceps Curl (standing)
Bent-Over Row
Calf Press
Close Grip Front Lat Pulldown
Deltoid Raise
Glute Kick
Inner Thigh Adduction
Leg Curl, Leg Raise, and Leg Extensions
Oblique Bend
Outer Thigh Abduction
Pec Fly
Incline Press
Leg Extension
Leg Press
Pull Over
Reverse Fly
Shoulder Press
Seated Row
Shoulder Shrug
Standing Leg Curl
Standing Military Press
Tricep Press Down, Tricep Extension, and Tricep Kickback
Upright Row
Wide Grip Front Lat Pulldown
There are many more exercises that you can still achieve with this machine. This list only covers the most common ones. Differently put, the Body-Solid home gym allows you to perform more than 40 gym-quality exercises.
EXM3000LPS Assembly and Maintenance
First of all, this home gym machine comes packaged in 8 different boxes, and some of them weigh more than 50 lbs (22.6 kg), the whole package weighing approx. 1000 lbs (453.5 kg). Therefore, it's best to have at least two people receiving the package.
Assembly, although not difficult, it will take several hours, due to the many parts that you'll have to put together. The machine comes with a user's manual, which will guide you step-by-step through the whole process. Since it's a bulky and weighty machine, it should be assembled in the room, and on the spot where it will be in use.
When it comes to maintenance, there's not much to be done. Just check the joints and bolts from time to time, and re-tighten them if it's the case.
Pros
Commercial quality machine, with an extremely sturdy frame, for users of all sizes;
The durable upholstery and ergonomic cushioning on all seat and backrest pads;
Seven workout stations, including pec station, lat pulldown/high pulley station, leg press/calf press station, leg attachment for extensions and curls, ab crunch mid pulley station, seated row and low pulley station, multi-press station;
Possibility for two users to work out simultaneously, and up to three users, if you also opt for the knee-ups station;
Two sets of weight stacks, 210 lbs (each), with 10 lbs weight increments – classic steel weight stacks;
2:1 leg press station doubles the selected weight resistance (you can press up to 420 lbs, with the standard, included weight plates);
Over 40+ possible exercises;
Excellent warranty package.
Cons
Weighty machine;
Assembly will take several hours, although the manual offers pretty clear instructions;
Not all tools required for assembly (are supplied).
Body-Solid EXM3000LPS Summary
The Body-Solid EXM3000LPS is a commercial standard gym system. It uses classic steel weight stacks for resistance and offers seven conventional workout stations. You can perform more than 40+ exercises on this machine. Also, due to the dual weight stack system, two users can workout at the same time, or up to three, if you opt for the dips attachment.
All in all, considering the quality, design, sturdiness, and versatility of this machine and its price, it's safe to say that you'll get an outstanding value for your money.
I hope you found this article helpful and informative. If you have anything that you'd like to share or any opinions about my website, please do speak up. I look forward to your comments, questions, and the sharing of ideas.
Recommended articles: