Unlock an unlimited amount of workout possibilities with the Body-Solid S2FT Functional Trainer. The S2FT's dual independent weight stack system provides dedicated resistance with isolateral movements from cable crossovers and shoulder presses to pull-ups, leg kickbacks, and everything in-between.
The pulleys adjust independently, providing 34 different starting positions. Taller than standard functional trainers, the S2FT provides unparalleled range-of-motion while ergonomically designed adjustments and interchangeable cable handles offer workout variety.
Fully-shrouded weight stacks are not only aesthetically pleasing but safe — preventing users from dropping weights onto objects. Commercial grade cables, weight stacks, and design make the S2FT one of the most reliable, most durable training center on the market. Weight stacks are available in 160, 210, and 310 lb sizes.
With a space-saving footprint, dual independent weight stacks, user-friendly ergonomics and adjustability, and precision-fitted components, the S2FT Series II Functional Training Center is an excellent addition to any home gym or commercial facility.
Learn more in my complete review below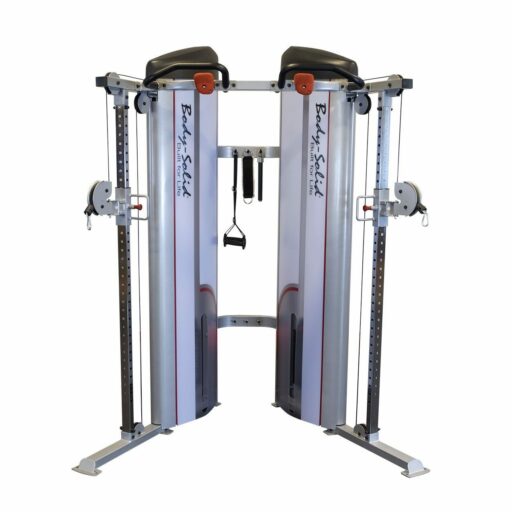 Product: Body-Solid S2FT Functional Trainer w/dual 310 lb weight stacks
Price: For a great deal on this gym, merely go here on Amazon
Warranty: Frame lifetime / Hardware lifetime / Wear parts lifetime (see commercial warranty below)
My rating: 9.8/10
Amazon Affiliate Disclosure: I may earn commissions on purchases made through links in this post.
Details and Specifications
34 starting positions for both weight stacks
Integrated chinning bar
Fully shrouded
160lb, 210lb or 310lb weight stacks available
Distance between pulley is 63."
2"x 3" 11 Gauge Steel Frame
Includes 43" revolving straight bar, 20″ straight bar, ankle strap, two nylon cable handles, and 14" athletic bar

Dimensions: 54″ L x 79.4″ W x 99″ H

Assembled weight: 537 lbs  (243.58 kg)

In-home Warranty: Frame lifetime / Hardware lifetime / Wear parts lifetime
Full Commercial Warranty: Frame lifetime / Hardware 3 years / Wear parts one year
S2FT Frame
The Body-Solid S2FT trainer features a heavy-duty 2″ x 3″, 11 gauge steel frame construction. It's a machine designed for use within the premises of a commercial facility. Thus, that's why it comes with a full commercial warranty. The main steel bars of the frame and the guards of the weight stacks have a corrosion-resistant paint finish, except for the upright adjustment posts and the guide bars of the weight stacks, which are chrome plated.
The fully assembled unit does not have an enormous footprint compared to other home gym systems. It is only 79″ (201 cm) wide at the front and has a depth of 54″ (137 cm). However, it's advisable to leave at least two feet of clearance all around the machine for ease of access and usage. Also, this functional trainer is pretty tall compared to other similar trainers; it measures 99″ (251 cm) in height, and therefore, it will only fit in a room with a ceiling higher than 8′.
The fully assembled trainer is quite heavy, so it is advisable to be assembled by at least two persons. Also, once constructed, the unit is too heavy for relocation, so you should build it where it's going to stay. The unit's bases do not have anchor points for attaching it to the floor. However, due to its weight, this shouldn't be necessary.
Adjustment bars and pulley's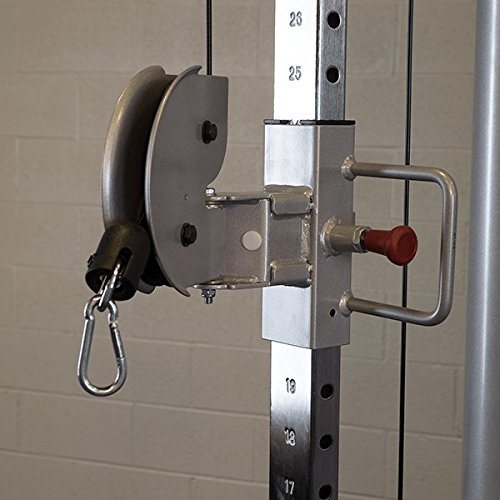 The upright adjustment bars offer 34 positions. The moving pulley systems provide 180° of swivel range to adapt better to any exercise.
The unit integrates six large pulleys and 14 smaller pulleys, all made of fiberglass reinforced nylon material, designed to withstand prolonged usage. Also, all pulleys integrate sealed ball bearings to provide smooth motion for the cables.
The cables are steel made. They're designed to withstand much more weight than the included 310 lb stacks. They also have PVC coating to provide a smoother motion over the pulleys and prevent them from scratching.
S2FT Accessories
The Series II S2FT functional trainer is equipped with a set of chinning bars and also a set of rock climbing grips. Not all functional trainers have these features, so they're a plus. The chinning bars have a multi-grip design; they're also covered by a layer of high-density foam to provide a better and more comfortable grip.
In terms of other accessories, there are quite a few included with this trainer. The unit comes with a 43″ (109 cm) revolving straight bar, a 20″ (51 cm) row bar, and a 14″ (35 cm) athletic bar. The unit includes two D-handles with adjustable nylon straps for all kinds of cable and cross over exercises. And finally, you will also get an ankle cuff.
Weight resistance system
The Body-Solid S2FT Series II functional trainer comes with two 310 lb (140.6 kg) weight stacks. Each weight stack contains 31 weight plates of approx. 10 lbs (4.5 kg) each. The weight plates are made of top-quality cast iron and can last a lifetime even with a certain amount of abuse.
This is one of the reasons this fitness machine is considerably more expensive than a similar one with vinyl/cement weight plates.
The weight ratio of the machine is 2:1. This means that if you select a weight of 100 lbs (45.3 kg) for one stack, the weight resistance that the machine will generate for that particular stack and side will be 50 lbs (22.6 kg).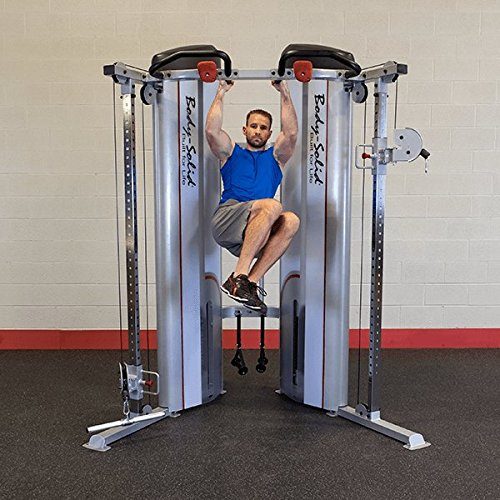 There are no separate weight plates available for this machine (at least not for the moment). However, you can opt for one of the other models with weight stacks of 160 lbs or 210 lbs.
Last but not least, the adjustment is made with ease, from inside the trainer. You don't have to go around it to make adjustments. Each stack has a classic pop-pin adjustment system.
S2FT Possible Exercises
Arm exercises
Bicep curls
Lateral single-arm biceps curls
Lying biceps curls
Close-grip pulldowns
Triceps extensions
Triceps press-downs
Kneeling triceps extensions
Lateral single-arm triceps extensions
Prone triceps extensions
Pull-ups / Chin-ups
Assisted Pull-ups / Chin-ups
Abdominal Exercises
Cable crunches
Cable twist crunches
Seated trunk rotations
Standing trunk rotations
Golf swings
Tennis swings
Back Exercises
Back flies/presses
Prone back flies
Prone reverse flies
Lat pulldowns
Aerobic rowing
Crossover rowing
Kneeling rowing
Chest Exercises
Chest presses
Single-arm chest presses
Wide grip chest presses
Close grip chest presses
Chest flies
Incline chest flies
Lateral chest flies
Single-arm chest flies

Body-Solid S2FT Functional Trainer (shown with optional bench)

Pullovers
Pullovers with crunches/twisting crunches
Leg Exercises
Stand-up leg curls
Calf raises
Squats
Single-leg squats
Kneeling single-leg squats
Wide squats
Twisting squats
Jumping squats
Front lunges
Hip extensions
Hip adductions/abductions
Shoulder Exercises
Shoulder presses
Upright rows
Lateral deltoid raises
Front deltoid raises
Lying front deltoid raises
Front deltoid raises with leg curls
Shoulder extensions
Lateral arm pulls
…and more.
Of course, some of these exercises require separate accessories that are not (included) with the machine. For example, to perform horizontal chest presses or pec flies, you will need a bench. Or, exercises for the triceps can be achieved with the included handles, but a tricep rope is more appropriate for these.
And finally, to perform low rows, a bit of improvisation may be required as you may need something to lean your feet against for a more consistent workout.
S2FT Assembly and Maintenance
The Body-Solid S2FT comes in several boxes, which are pretty heavy, so two persons are recommended for assembly and transport.
The included manual provides pretty clear assembly instructions and schematics, but due to the many parts that require assembly, the task will take at least 4-5 hours. Tools for the construction are not (included), so you will have to use your own.
Once fully assembled, maintenance doesn't require much. The pulleys may need lubrication from time to time as well as the guide rods of the weight stacks to ensure a smooth movement for the weights.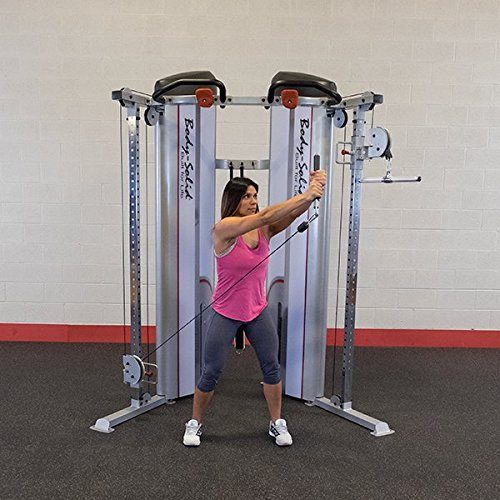 Pros
Commercial grade sturdiness;
Heavy-duty construction – can support users of all sizes;
34 adjustment positions for its mobile pulleys;
180° swivel range for the mobile pulleys;
Ergonomic, multi-grip chinning bars;
Rock climbing grips included;
Top-quality cast iron weight plates;
Metallic guards for each weight stack;
310 lbs weight stacks (2 to 1 ratio);
Other weight stack options (160 lbs and 210 lbs);
Long bar (43″) included;
Row bar (20″) included;
Athletic bar (14″) included;
D-handles with adjustable straps included;
Ankle cuff included;
Nearly unlimited exercises available;
Relatively small footprint for a home gym system;
Little maintenance required;
Quiet operation;
Fairly easy to set up;
Excellent warranty.
Cons
An Ab harness and Tricep rope is not (included);
5 lb plate for micro-adjustment is not (included).
Body-Solid S2FT Summary
The Body-Solid S2FT Series II is a functional trainer equipped with 2 x 310 lb cast iron weight stacks. Additionally, it offers a choice of either a 2 x 160 lb or 2 x 210 lb weight stacks if you would like a lessor weight stack. It features a heavy-duty frame with chinning bars and rock climbing grips, and 34 adjustment positions for the mobile pulleys.
It also includes quite a selection of accessories and offers the possibility to perform more than nearly unlimited exercises. And finally, even though it's not one of the most affordable strength training systems, it is a commercial-grade trainer and offers superior quality and durability.
I hope you found this article helpful and informative. If you have anything that you'd like to share or any opinions about my website, please do speak up. I look forward to your comments, questions, and the sharing of ideas.
Recommended articles: