The Body-Solid SBL460P4 Leverage Gym allows you to work out without compromise. Turn up the intensity of your workouts and achieve maximum gains in strength and size in a minimum amount of time. Feel free to max out and train to muscular exhaustion for accelerated benefits.
The Leverage Gym's versatility and advanced safety features ensure a complete heavy-duty workout without the need for a spotter. Load up the plates and go to work! Perform bench/incline/ decline and shoulder presses, pec flys, lat pulldowns, preacher curls, squats, calf raises and much, much more! Over 40 exercises are available on this versatile leverage free weight gym.
The Leverage Gym features 2 – 2″ and 3″ thick DuraFirm™ seat, back and shoulder pads to support you comfortably through the most massive routines. Also, DuraFirm™ upholstery is super tough, sweat and tear-resistant and are guaranteed never to bottom out.
The extra heavy-duty mainframe is 10, and 11 gauge high tensile strength steel with all-4-side welded construction. There is no other machine in its class that can compare to its strength and stability. And is backed by the Body-Solid Exclusive In-Home lifetime warranty on everything; pads, pulleys, cables, frame. You name it—it's all covered. Forever. Period.
Learn more in my complete review below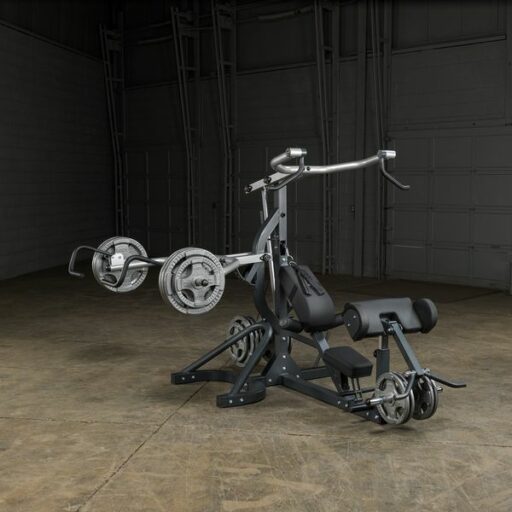 Product: Body-Solid SBL460P4 Leverage Gym
Price: For a great deal on this gym, merely go here on Amazon
Warranty: In-Home Lifetime
My rating: 8.5/10
Amazon Affiliate Disclosure: I may earn commissions on purchases made through links in this post.
SBL460P4 Frame construction
The first aspect to mention here is that the Body-Solid SBL460P4 leverage machine includes three main elements, which are the SBL460 PowerLift (the core of the system), the FID46 bench, and the LSA50 squat attachment. All three of these main parts are heavy-duty, 10 and 11 gauge, high tensile steel tubing.
All the steel parts come with an electrostatically applied, corrosion-resistant paint finish; however, despite this fact, the machine is for indoor use only. If placing it outside, the bolts and other parts that do not have a corrosion-resistant finish may eventually catch rust.
This leverage gym machine with all its attachments is relatively large. .It takes 126″L x 107″W (320 x 272 cm) of floor space when fully assembled. And to use it properly, without any hindrance, it is recommended to assign a usage space for it of at least 12′ x 10′ (366 x 305 cm).
The highest point of the machine reaches 83″ (211 cm). Therefore, if you want to place it in a room with a ceiling height of 7′, it will be a very tight fit.
Since it's a large machine, it's also cumbersome. With the frame fully assembled it weighs over 700 lbs itself, without any weight plates loaded on its pegs. The weight of the machine provides a lot of stability so you won't have to worry that it will move or wobble. Not all of its base bars come rubber pads, some of them have plastic caps.
Lat Pulldown, Press Station, and Mid-pulley
The lat pulldown and the press station have pivoting handles which are covered by high-density foam. Thus, providing a secure and comfortable grip. Their joints integrate high-grade ball bearings, which deliver smooth operation of the press and pulldown station.
Although this is a leverage machine and uses Olympic weight plates, it still integrates one pulley, situated in the middle of the leading upright post.
This pulley allows the user to perform various mid-pulley exercises, such as ab crunches or trunk rotations. It's a heavy-duty nylon pulley, which also integrates an industrial grade, sealed ball bearing for smooth operation.
DuraFirm Pads and Upholstery
The Body-Solid SBL460P4 Leverage Gym features 2 – 2″ and 3″ thick DuraFirm™ seat, back and shoulder pads which offer optimal comfort during the most substantial workout routines.
The DuraFirm™ upholstery is exceptionally durable, sweatproof, and highly resistant to wear and tear. Therefore, with proper care, the pads on the bench, the core of the machine and the other attachments can last a lifetime.
Accessories
The machine includes only a set of two Y handles with long straps and rings, which allow you to attach them to various points of the gym to perform specific exercises. A cable with rings and stoppers is also included, to use with the mid-pulley. However, a straight bar, ab harness, triceps rope or other accessories of the sort are not (added).
SPL460P4 Workout stations & attachments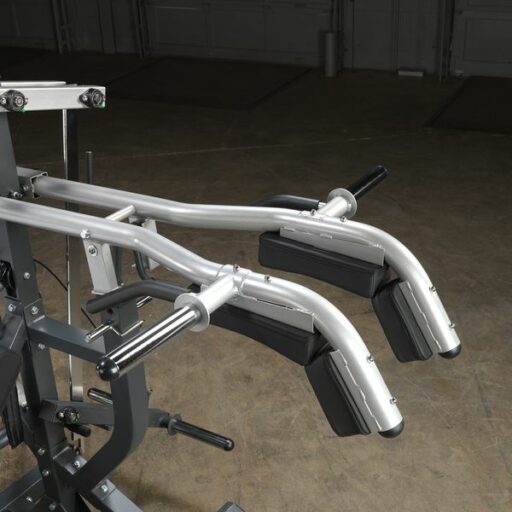 In the section above, I've broadly covered the main structure of the machine. In this section, I'll address every workout station and attachment included with the Body-Solid SBL460P4 Leverage Gym.
Bench (FID46).
The Body-Solid FID46 is an adjustable bench, offering the possibility to perform incline, decline, and standard presses. It comes with the DuraFirm padding and upholstery.
The top of the backrest integrates a set of handlebars to hold on to when performing leg curls. The bench doesn't attach to the machine. Its rear base features a set of wheels so you can quickly move it away from the press when you don't need it.
Press station.
This workout station offers the possibility to perform quite a bunch of exercises, including upright rows, shrugs, etc., not just chest presses. Consequently, to perform chest presses, the FID46 bench is required.
The press station comes with pivoting handles; the weight plates load on the pegs on each side, and there's no bar in between them. Therefore, the press exercises are much safer than on a conventional bench press system.
Leg developer.
This attachment comes with the bench. It allows you to perform both leg extensions and leg curls. It integrates three pairs of 3.5″ (9 cm) foam rollers to provide optimal comfort during leg exercises.
Lat pulldown station.
The first aspect to mention regarding this workout station is that it can be locked to also serve as a pull-up station. Its handles also pivot, just as for the press, and feature rubber foam coating. They may be a bit wide apart for a short user. However, to avoid awkwardness when performing pulldown exercises, you can always use the included Y handles or an optional crossbar.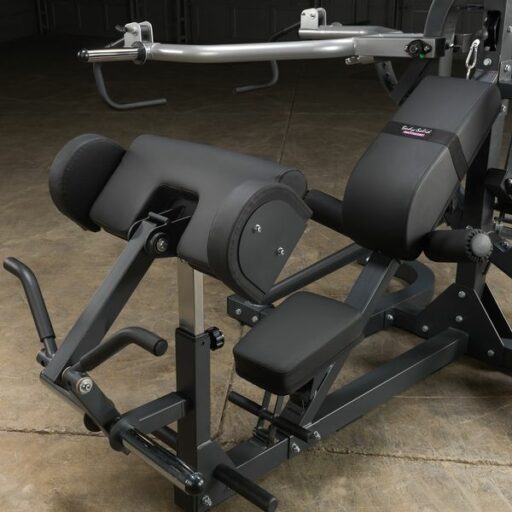 This way, you should also be able to perform close grip pulldowns. The seat features several adjustment positions; however, its backrest does not adjust. It features the same DuraFirm upholstery and padding as the bench.
Curl station.
This workout station is attached to the central core of the machine. It features large elbow pads to provide perfect comfort, even when using the most massive loads.
Mid-pulley station.
As I've mentioned above, this Body-Solid leverage machine integrates a mid-pulley for ab crunches or other mid-pulley exercises. This workout station uses the weight load of the lat pulldown station.
Squat attachment LSA50.
The machine's squat station offers the possibility to perform leverage squats, and leverage calf raises. It included the squat arm with four large pads which go over your shoulders. The bottom part of the machine, right under the squat arm, has a plate for foot placement which is slightly inclined.
Weight Resistance and Spotting System
The Body-Solid SBL460P4 is a leverage machine. Therefore, it doesn't include a fixed weight stack. Its workout stations must-have free weights to provide resistance.
The machine doesn't include weight plates. Its pegs are 2″ thick, designed only for Olympic weight plates, so you won't be able to use 1″ Standard plates. Although the plates aren't (included), each peg of the machine comes with its spring collar for securing the weight plates on the pegs.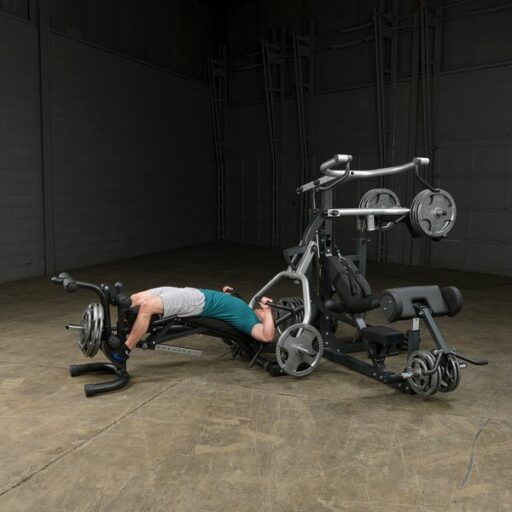 This Body-Solid leverage gym machine offers a unique spotting feature, which provides safeguards at every station which prevent the user from remaining pinned down under heavy weight loads.
For example, the press station has a U-shaped frame with the weight plates on the outside, and no bar in-between them. So, when pressing heavy loads, the risk of any accidents is considerably diminished.
SBL460P4 Possible exercises
Bench press
Incline bench press
Decline bench press
Converging bench press
Converging incline/decline bench press
Standing shoulder press
Seated shoulder press
Converging seated shoulder press
Upright row
High row
Bent-over row
Chest-supported mid-row
Shrug
Lat pulldown
Close-grip lat pulldown
Pull-up
Preacher curl
Standing bicep curl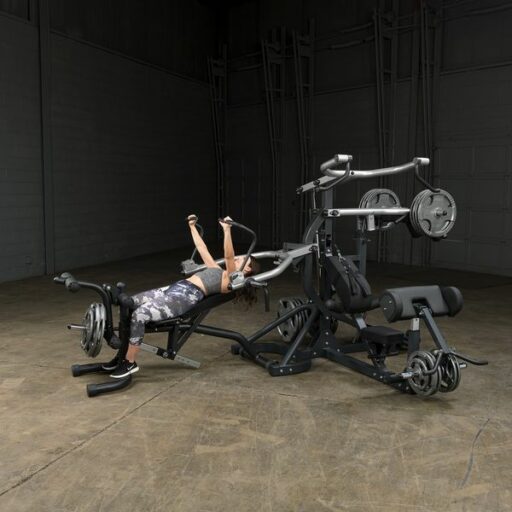 Tricep press down
Leverage squat
Leverage raise
Prone leg curl
Leg extension
Ab crunch
Cable trunk rotation
These are the core exercises that are performed on this machine. However, with a little bit of ingenuity, you can complete more than 40 gym grade exercises. Also, some of the activities may require extra accessories such as a short bar or long straight bar, ab harness, cuffs, etc.
SBL460P4 Assembly and Maintenance
It wouldn't be fair to say that the assembly of this machine is an easy task. Even though the included manuals offer pretty clear, step-by-step assembly instructions, putting it together will take more than 6-7 hours.
It's also recommended to be assembled by two people. Some of the tools are (included) such as Allen wrenches, but you'll also need some adjustable wrenches and a Phillips screwdriver.
When it comes to maintenance, this Body-Solid leverage machine doesn't require much. The joints may require lubrication after a while if they develop squeaking noises. Also, it's recommended to periodically check the integrity of the parts to make sure no workout station will fail during an exercise involving a heavy load.
Technical Details and Specifications
Assembled dimensions: 126L x 107W x 83H inches (320L x 272W x 211H cm)

Body-Solid SBL460P4 Leverage Gym (weights sold separately)

Assembled weight: 705 lbs (319 kg)
Weight limits:

FID46 bench: 1,000 lbs (453.5 kg)
LSA50 squat attachment: 600 lbs (272 kg)
Lat station: 800 lbs (362.8 kg)
Press station: 600 lbs (272 kg)
Leg developer: 400 lbs (181.4 kg)
Curl station: 400 lbs (181.4 kg)

Possible exercises: 40+
Warranty: Lifetime
Pros
Heavy-duty, commercial-grade construction and heavy load capacity for all workout stations;
DuarFirm padding and upholstery;
Unique spotting system for maximum safety;
Three main workout stations allowing three users to exercise independently;
Adjustable bench included;
Leg developer and preacher curl attachment;
Mid-pulley for ab crunches;
Pivoting handles providing excellent flexibility during exercises;
Y handles with long straps included;
Lat pulldown station can be locked to allow the execution of pull-up exercises;
40+ possible exercises;
Little maintenance required;
Excellent warranty.
Cons
Not too easy to assemble;
Compatible only with Olympic plates which are sold separately.
Body-Solid SBL460P4 Leverage Gym Summary
The Body-Solid SBL460P4 Leverage Gym is a machine which includes the FID46 bench, the LSA50 squat attachment, a lat station, a leg developer, a curl station and a chest press station. In short, it's a highly durable, high-capacity, commercial-grade fitness machine.
In particular, it's perfect for users of all levels, including powerlifters, as its stations can support impressive loads. Accordingly, it comes with an excellent warranty, and considering that it offers the possibility to perform over 40 exercises, we can safely say that it has an excellent value/price ratio.
I hope you found this article helpful and informative. If you have anything that you'd like to share or any opinions about my website, please do speak up. I look forward to your comments, questions, and the sharing of ideas.
Recommended articles:
Body-Solid G1S Home Gym: Best Buy 2017, 2018 & 2019
Body-Solid GPR378P4 Power Rack Package
BodyCraft Galena Pro Home Gym: Best Buy 2019
Please follow and like us: