The Body Xtreme BXF004 is a heavy-duty, advanced, aero-dynamic exercise bike. The BXF004 is a semi-commercial exercise bike with a heavy-duty frame. It's ideal for all fitness lifestyles, perfect for achieving results at home or in the office!
Also, it comes with a large LCD monitor to track time, distance, total distance (odometer), speed, and calories. In addition to the console, it also has resistance bands, contoured seat, wheels for complete mobility, and a drink bottle. The set of resistance bands are attached to the front base of the bike. They come with D-handles and rubberized grips, giving you the possibility to perform various exercises for the arms while using the bike or off the bike.
The contoured seat and shock absorption mechanism allow premium comfort while being in the comfort of your own home/office etc. The 40 lb flywheel allows a smoother, more efficient ride. The wheel is perimeter-weighted, which means that it's for aggressive inertia.
An aluminum water bottle and holder are also (included) and is perfect for hydrating while working out. Furthermore, a set of transport wheels are located on its front base. These facilitate its relocation, and you won't have to handle more than half of the unit's total weight when taking it to its storage location.
Learn more in my complete review below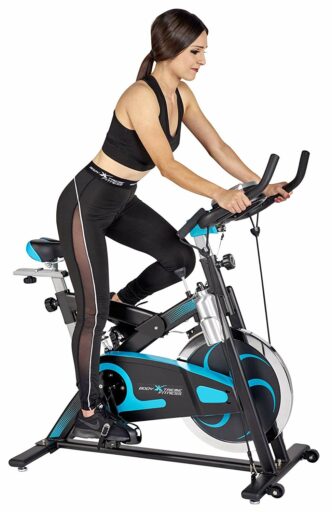 Product: Body Xtreme BXF004 Indoor Cycling Bike
Price: For a great deal on this bike, merely go here on Amazon
Warranty: 6 months
My rating: 7/10
Amazon Affiliate Disclosure: I may earn commissions from purchases made through links in this post.
Details and Specifications
Assembled dimensions: 42.1L x 20.1W x 45.3H inches (107L x 51W x 115H cm)
Shipping weight: 97 lbs (44 kg)
Flywheel weight: 40 lbs (18.1 kg)
Supported weight: 250 lbs (113.3 kg)
Handlebars: 2-way adjustable
Seat: 4-way adjustable
Pedals: With toe cages
Drive mechanism: Chain
Resistance: Friction
Console: Time, distance, odometer, speed, calories, pulse, SCAN
Accessories: Bottle holder, aluminum bottle, resistance bands, cooling towel
Warranty: 6 months
BXF004 Frame construction
The Body Xtreme BXF004 indoor cycling bike features a durable frame made of steel tubing and coated with a corrosion-resistant and chip-resistant paint. The colors used for the paint finish are black and blue aqua, while the seat and handlebar posts are aluminum made and have their natural polish.
This bike has a maximum user weight capacity of 250 lbs (113.3 kg). It's not an extremely large trainer, being approx. 42″ (107 cm) long, and 20″ (51 cm) wide with all the parts assembled. Therefore, it can fit well, even in a smaller room.
However, it's recommended to leave a workout area of at least two feet all around it, to be able to perform all the spin workouts (including the ones that require you to mount and dismount repeatedly) without any difficulty.
This Body Xtreme Fitness exercise bike is not extremely heavy, but it is still considerably more substantial than the average mountain bike, for example. It weighs over 90 lbs (41 kg), a weight that adds a lot of stability to it. Plus, both base bars of the bike comes with metallic, adjustable stabilizers, so you can perfectly level the unit on any floor.
Seat and handlebars
One of the most important features to mention with regards to the Body Xtreme BXF004 is the shock absorption seat mechanism. The tube that sustains the seat bar integrates a steel spring, which considerably reduces the stress on your lower back during your workout. It's a great feature to have as the seats of most spin bikes are not meant for shock absorption.
The included saddle integrates a generous layer of foam padding, especially in its rear part. It features a longitudinal groove to promote airflow during riding and healthy blood circulation. It's 4-way adjustable, the upright post offering several adjustment positions, while the horizontal slider also provides a few inches of fore/aft travel. Thus, the bike can accommodate users between 5'0″ (153 cm) and 6'2″ (188 cm) with no problem, promoting a full leg extension.
The bike comes with a multi-grip handlebar that has a loop aero bar in the middle. The console comes attached to this bar, but there's still room for a close grip. You can also remove the console if you want the full use of this middle bar. The side grips feature a rubber-foam layer providing excellent hand adherence and optimal comfort.
The handlebar is only 2-way adjustable. Its upright post offers several adjustment positions, the total elevation being approx. 50″ (127 cm) above floor level.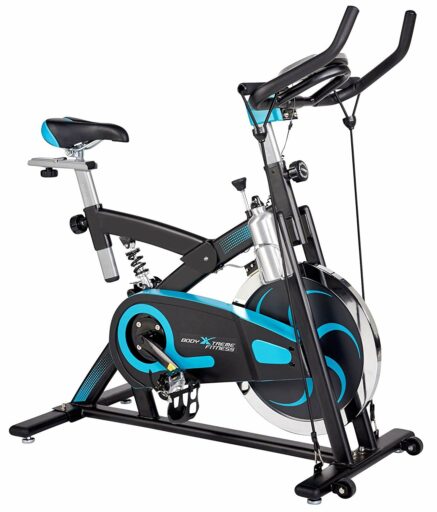 BXF004 Resistance system
The Body Xtreme BXF004 comes with a friction resistance system. The main resistance elements are the felt pad attached under the main tube of the frame above the flywheel and the tension knob to which the brake pad is connected.
The bike's resistance system is entirely manual. Therefore, you don't have to connect the bike to a power circuit, and the console plays no role in resistance adjustment.
To increase the resistance, you have to turn the tension dial clockwise; this way, the brake pad will generate more friction and add resistance to the pedals.
The bike's tension dial is also an emergency brake. By pressing it down, you can immediately stop the flywheel. This feature is quite essential as the pedals continue to spin for as long as the wheel is spinning. So, in case you need to interrupt your workout promptly, it's recommended to use the emergency brake.
Last but not least, the bike's resistance knob doesn't have any tension levels marked on it. You tighten it until you get the resistance that feels adequate to your workout. It's also advisable to lubricate the flywheel with a bit of silicone lubricant, primarily if the brake pad generates too much noise when in contact with the wheel.
Drive system
The first element of the unit's drive system to mention here is the flywheel. This Body Xtreme BXF004 indoor cycling trainer comes with a 40 lb (18.1 kg) flywheel like most other spin bikes.
The wheel is perimeter-weighted, which means that it is for aggressive inertia. It delivers a very smooth and consistent momentum. It's also bi-directional, so you can pedal in reverse if you want.
The bike integrates a standard chain drive system. It uses a standard bike chain for its transmission. This type of transmission comes with two main benefits. One, it's incredibly durable, and with proper care, it will last a lifetime. And two, in case it sustains damage or gets rusty, you can find a replacement for it in any bike shop. The downside of a chain drive is that it requires regular lubrication. However, this is far from being a difficult task.
Since it's an exercise bike designed to support spinning workouts, the Body Xtreme BXF004 comes with a durable crankset. The crank arms are made of solid steel and can hold users up to 250 lbs (113.3 kg) in a complete standing up pedaling routines.
The included pedals are also heavy-duty, made of metallic alloy. They have adjustable toe cages for extra thrust during pedaling and improved foot stability. They do not have SPD elements for spin shoes, but on the other hand, they have standard 9/16 threads so you can easily find compatible replacements for them.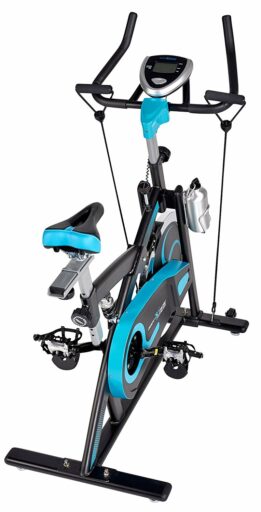 BXF004 Console
The Body Xtreme BXF004 trainer includes a console featuring a large LCD that tracks the essential workout metrics – time, distance, total distance (odometer), speed, and calories.
It's straightforward to operate; it only has one button which toggles ON/OFF its SCAN function, which rotates the workout metrics showing each one of them for a few seconds. It also covers the unit's reset function; by pressing and holding it down for a few seconds, you can clear all the values to zero.
The unit's distance and speed are in metric units only. Also, the console does not track your heart rate. The handlebars don't have pulse sensors, and the console is not telemetric, so it cannot communicate with any HR chest strap.
The console unit uses 1.5V batteries. It has a sleep function to which will enter after several minutes of inactivity on the bike. You can start it up either by pressing the button or by pedaling.
BXF004 Assembly and Maintenance
The bike comes partially pre-assembled. The flywheel, chain, brake system, and crank come already attached to the mainframe. Therefore, you only need to add the base bars, the seat, the handlebars, the console, the pedals, and the elastic bands. The manual provides clear instructions, and an essential toolkit required for the assembly is (included).
Since the bike uses a chain drive, the central aspect of its maintenance is lubricating the chain. The brake pad may require some lubrication as well. Other than this, it's recommended to periodically check for loose parts and re-tighten them if it's the case.
Pros
Sturdy steel construction – can support users up to 250 lbs;
Adjustable stabilizers on both bases;
Transport wheels on the front base;
Heavy-duty metallic pedals with toe cages on the other;
4-way adjustable seat;
Shock absorption spring for the seat;
2-way adjustable handlebars;
Quiet, smooth and durable chain drive;
Inertia-enhanced, 40 lbs flywheel;
Friction resistance with basically limitless settings;
A console that can track time, distance, speed, calories;
SCAN and odometer functions on the console;
Resistance bands for arm exercise included;
Bottle holder with an aluminum bottle included;
Workout towel included;
Little maintenance required;
Easy to assemble.
Cons
The pedals don't have SPD clips for spin shoes;
Only metric units for the speed and distance readings;
No pulse reading feature.
Body Xtreme BXF004 Summary
The Body Xtreme BXF004 is an indoor cycling trainer designed for spin workouts. It features a friction resistance system, chain drive, a console, and also equipped with elastic bands for arm exercises. It has a durable frame construction that can support users up to a maximum of 250 lbs, and its seat comes with a shock absorption system for superior comfort.
It's an excellent trainer for light to intense cardio workouts, muscle toning, stamina development, and weight loss. And finally, it's one of the most affordable and most complete indoor cycling bikes available at the moment.
I hope you found this article helpful and informative. If you have anything that you'd like to share or opinions about the content on my site, please do speak up. I look forward to your comments, questions, and the sharing of ideas.
Recommended articles:
Please follow and like us: