The BodyCraft R200 is a heavy-duty recumbent bike that compares to light-commercial models, at least in terms of weight capacity. The Bodycraft R200 is one of the best recumbent bikes on the market hands-down.
It doesn't have a self-generating energy system but does have motorized magnetic resistance and an advanced console. Therefore, if you're looking for a stable recumbent trainer that also excels in ergonomic factors, this BodyCraft model is one to put on your list.
It comes with 20 levels of resistance, 8 programmed workouts, and a ton of features including heart rate monitoring, target goal setting, sophisticated adjustment based on your input age and weight that make your workout amazingly and it is something you'll look forward to.
The oversized bottom seat pad and adjustable height lumbar support provide for added comfort. The R200 also has an integrated tablet holder. The console is mounted much lower than other recumbent bikes, which can allow for comfortable TV viewing.  This small semi-recumbent bike has many features that you usually find on bikes twice the price!
Learn more in my complete review below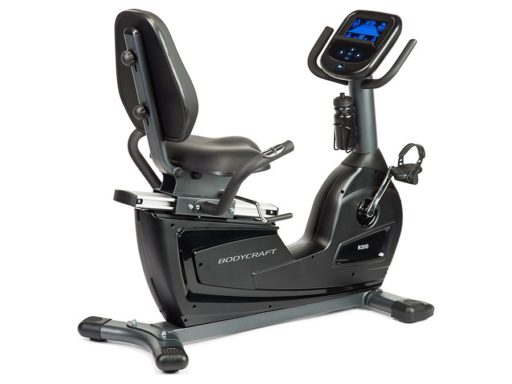 Product: BodyCraft R200 Recumbent Bike
Price: For a great deal on this bike, merely go here on Amazon
Warranty: Frame lifetime / Parts 5 years / Labor 1 year
My rating: 9.5/10
Amazon Affiliate Disclosure: I may earn commissions from purchases made through links in this post.
R200 Frame construction
The BodyCraft R200 features a 4mm thick, 11-gauge steel frame. It combines rectangular with ovalized bars in its structure, while the front mast is a solid cylindrical bar. This design offers superior aesthetics, an aspect that can also play the role of a prime motivating factor.
The only hard part in the bike's construction that is not steel-made is the sliding seat track. This element is aluminum alloy.
All the steel parts in the bike's construction have a corrosion-resistant paint; the color used is gray, this being the only color available for the unit. Also, a big part of the base frame has the ABS shields that protect the drive and resistance elements.
This BodyCraft recumbent bike is quite substantial. Its net weight is approximately 142 lbs (64 kg). This is pretty impressive for a home-use exercise bike; it's more than three times the weight of the average road bike. All this weight contributes to its overall stability. You can be sure that it won't rock under you during exercising. Plus, the unit's stability is improved by the rubberized stabilizers on each one of its base bars.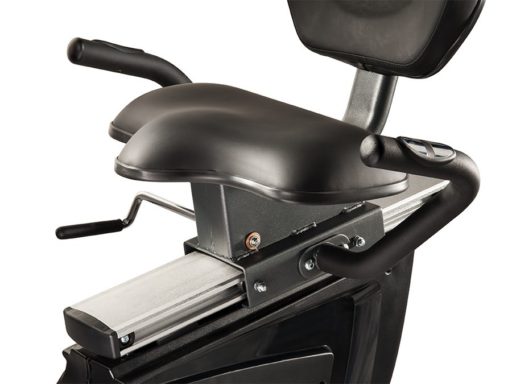 The R200 features a semi step-through design. The frame section between the front mast and the seat is considerably lower than the rear. This dramatically improves entry and exit, which can be quite a plus for elderly users or users with specific disabilities.
Seat
The BodyCraft R200 features a seat designed for high comfort. First of all, both the backrest and its bottom section feature a thick layer of cushioning. Their surface is contoured to adapt better to the shape of your body. They have a highly durable vinyl material cover, which is also sweatproof.
The whole seat assembly is adjustable. As we've mentioned above, the seat is attached to an aluminum slide rail. This rail has an angle of approximately 30°, which enables the seat to rise when moved towards the back slightly. Therefore, it creates more legroom for taller users.
Thus, the bike can accommodate users up to 6'5″ (196 cm) with no problem. The sustaining frame of the seat is highly durable as well, so it can support users up to a weight of 350 lbs (159 kg).
The seat features a lever-based adjustment system. It has a lever placed on its right side. By pulling it up, the seat unlocks from its position and can freely move forward or backward on its rail. It's also adjustable while you are seated, so you don't have to repeatedly sit or stand up until you achieve the perfect position.
The backrest itself is also adjustable. It connects to its bar via two knobs. Each connection point offers approx — 4″ (10 cm) of adjustment. Therefore, you can lock the backrest in a higher or lower position.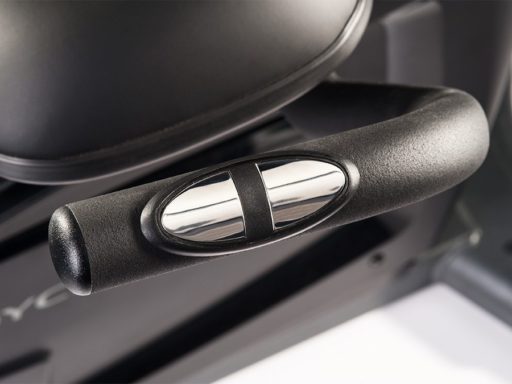 Handlebars
The bike has two sets of handlebars. One is attached to the front mast. These handlebars are reasonably straightforward, with an ovalized design. The other set of handlebars connects to the seat assembly. These have rubberized grips and also integrate pulse sensors. Therefore, by holding on to them, the console can monitor your heart rate.
R200 Resistance
The BodyCraft R200 recumbent bike has a motorized magnetic resistance system. Therefore, this means that it requires a connection to a power source for its resistance mechanism to function, and for its console to be powered up. The resistance is only adjustable from its console. Also, if one of the preset programs on the console is in use, the bike will auto-adjust its resistance.
The internal resistance mechanism consists of a servo motor and a magnetic brake inserted into the flywheel. As you adjust the resistance from the console, the servo motor increases or decreases the pull of the magnetic brake, which results in more or less pedaling difficulty.
The bike makes available 20 levels of resistance, just like the Schwinn 230. The first few levels provide minimal pedaling difficulty, which makes them great for recovery training. Conversely, the 18-20 resistance levels simulate a steep climb, offering the possibility to achieve a higher heart rate in a shorter period and benefit from a more consistent leg workout.
The BodyCraft R200 has 18 lbs (8.1 kg) flywheel, which has a perimeter-weighted design. Therefore, this type of construction enables it to deliver exceptionally smooth motion and more consistent momentum. It's also bi-directional, allowing you to pedal in reverse if you want to put some diversity into your workouts.
Drive
The internal drivetrain uses a 6-rib heavy-duty rubber belt. A belt drive comes with several specific advantages. First, you don't need to lubricate it periodically. Second of all, it produces less vibration than a chain drive, which results in a much smoother ride. And third of all, the usage of the bike is almost entirely silent.
The bike has a durable crankset with long, steel-made crank arms. Furthermore, its Q-Factor (spacing between the pedals) is quite narrow; its measurement is 127 mm (~5″). This leads to a very comfortable positioning of the feet and legs, which eliminates the lateral stress on the knees and ankles.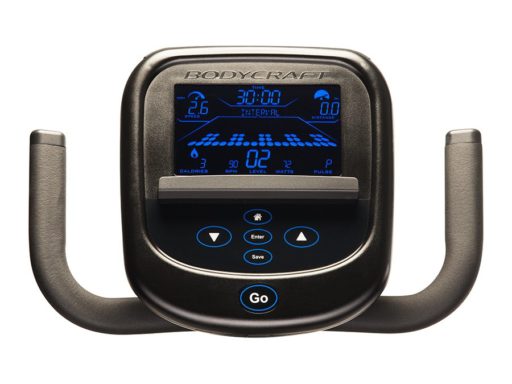 Finally, the included pedals have a weighted design. The weight element incorporated into each one of them enables them always to turn face-up if you remove your feet. They have a non-slip surface and have adjustable straps.
R200 Console
The BodyCraft R200 comes with a console that is similar up to a point to the one on the BodyCraft U1000g upright bike. It features a Blu-View HC display and is divided into eight sub-sections to show all the workout metrics at once. Therefore, you won't need to use a scan function to rotate them. It tracks time, distance, speed, RPM, calories, watts, pulse, and program profiles.
The default unit setting is English, but a Metric unit setting is also available. For pulse reading, you can either use the sensors integrated into the seat handlebars or opt for a Polat T34 HR telemetry chest strap (not included).
Programs
The console does not have online connectivity, nor it is compatible with any fitness apps. However, it has its own set of applications. The first program is QuickStart. You can press the "Go" button on the console to initiate this program.
Furthermore, the console will begin to display all the metrics using the factory default user settings, which are Age – 35, Weight – 150lbs, Program time – 30 min, Target HR – 70%.
The next five programs are Manual, Random, Intervals, Hill Climb, and Strength. These are preset profile programs for which you can make adjustments if needed. Therefore, each one has a defined purpose. For example, the Intervals program alternates high resistance levels with low resistance levels to simulate a work/rest exercise. The Hill Climb program will progressively increase resistance up to a certain point, and then decrease it until the end of the program.
The final program is heart rate based. As we've mentioned above, the preset target HR is 70%, but you can adjust this anytime. During the HR program, the machine will auto-adjust its resistance depending on your current heart rate, in an attempt to maintain you within the HR interval, or at the selected HR target.
Last but not least, the console features two tablet holders. One of them is fixed, placed under the unit's display. The other is extendable and placed at the back of the unit.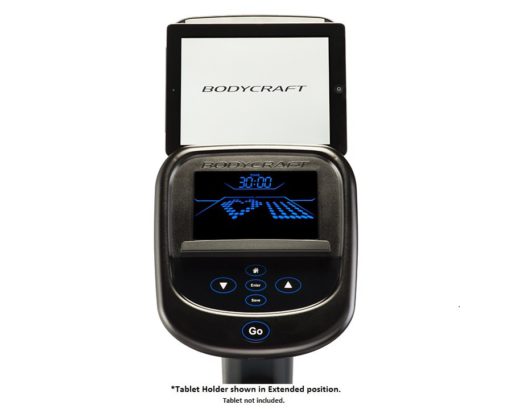 R200 Assembly and Maintenance
The bottom section of the bike, with all the resistance and drive elements, as well as the seat rail section, comes pre-assembled. However, there's still some assembly required. You will have to attach the base bars, the console mast, the seat, the backrest, the handlebars, the pedals, and the console.
This may take more than an hour, but the manual provides clear step-by-step assembly instructions and schematics — also, all the necessary tools for the assembly (are included).
The bike's frame is very compact and concealed by the side ABS parts. Thus, in terms of maintenance, there isn't much to be done. The internal elements are pre-lubricated, and the drivetrain doesn't require lubrication. Therefore, all you need to do is keep the bike clean, and periodically check its integrity.
Details and Specifications
Assembled dimensions: 48L x 21W x 39H inches (122L x 53W x 99H cm)
Assembled weight: 142 lbs (64 kg)
Flywheel weight: 18 lbs (8 kg)
Supported weight: 350 lbs (159 kg)
Pedals: Weighted, with straps
Drive: Belt
Resistance: Motorized-magnetic, 20 levels
Console: 6 programs
Extras: Bottle holder, tablet holder
Warranty: Frame lifetime / Parts 5 years / Labor 1 year
Pros
Sturdy construction – can support users up to 350 lbs;
Compact and aesthetic design;
Semi step-through design;
High-comfort, foam-padded seat and backrest;
Wide aluminum adjustment rail for the seat which improves its stability;
Lever-based seat adjustment system;
The backrest is also adjustable (up, down);
Handlebars with pulse sensors;
Automatic, magnetic resistance, with 20 available settings;
Multi-window LCD console;
Six workout programs;
Smooth and quiet 6-rib belt drive;
Narrow (127 mm) Q-Factor;
Heavy-duty, weighted pedals;
Bottle holder and bottle included;
Extendable and fixed tablet holders;
Easy to assemble;
Maintenance-Free;
Excellent warranty.
Cons
No sound system;
No online connectivity.
BodyCraft R200 Recumbent Bike Summary
The BodyCraft R200 is one of the best recumbent bikes on the market hands-down. With this in mind, it comes with 20 levels of resistance, eight programmed workouts, and a ton of features. Such as heart rate monitoring, target goal setting, sophisticated adjustment based on your input age, and weight that makes your workout amazing.
Thus, it's an excellent bike for users of all levels, for light to intense workouts, weight loss, muscle toning, and interval training. It's not exactly the most affordable but does offer excellent value for the price.
I hope you found this article helpful and informative. If you have anything that you'd like to share or opinions about the content on my site, please do speak up. I look forward to your comments, questions, and the sharing of ideas.
Recommended articles:
Please follow and like us: