Boasting of more than a decade of development and technical research, the BodyCraft VR500 Commercial Rower is one of the most professional pieces of fitness equipment on the market. Efficient, durable, and packed with handy features, professional athletes often use this particular machine during their training sessions.
The VR500 is slightly more expensive than the average rower cost, but then again, it's worth every cent. Indeed, with this machine alone, you will be able to benefit from a challenging full-body workout that will engage every major muscle group for rapid and efficient weight loss.
You can very quickly expect to lose more than 10 pounds in just a few weeks. Indeed, the machine is known to provide a deficit of approximately 1000 calories or more in only one hour on high intensity.
This is a rowing machine made for commercial use, offering a wide array of features and functions. But one of its most essential qualities is that it combines air resistance with magnetic resistance, to deliver superior workout possibilities, but also a resistance "feel" similar to the rowing of a real boat.
Learn more in my complete review below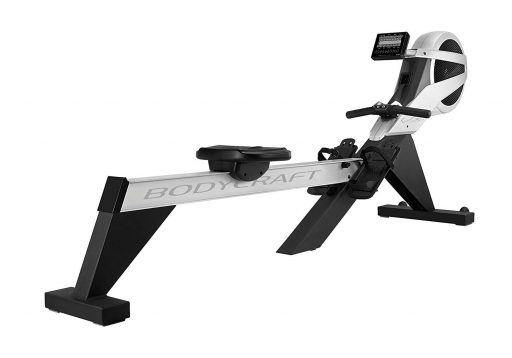 Product: BodyCraft VR500 Commercial Rower
Price: For a great deal on this rower, merely go here on Amazon
Warranty: In-home / Frame: Lifetime / Parts: 5 years / Labor: 2 years / Wear Items: 1 year (see the light-commercial warranty below)
My rating: 9.25/10
Amazon Affiliate Disclosure: I may earn commissions from purchases made through links in this post.
Details and Specifications
Assembled dimensions: 98.5L x 20W x 38.5H inches (250L x 51W x 98H cm)
Product weight: 101 lbs (45.5 kg)
Max. user weight: 350 lbs (159 kg)
Frame: Aluminum, foldable
Footrests: Adjustable, with straps
Resistance type: Air & eddy current, 32 levels
Fitness computer: 12 workout programs, four user profiles
Warranty:

Residential: Frame lifetime / Parts 5 years / Labor 2 years / Wear parts 1 year
Light commercial: Frame 10 years / Parts 2 years / Wear items 1 year / Labor 90 days
VR500 Frame construction
The frame of the VR500 Pro is made mostly of anodized aluminum, but also integrates steel and hard plastic elements. To be more specific, the gliding beam is made of aluminum, while its support legs are steel-made. The protective casing of the flywheel is heavy-duty plastic.
The steel legs are powder coated with corrosion-resistant paint (black), while the gliding beam features its natural (silver) finish, only having the logo engraved on it.
The bases of the frame integrate small rubber stabilizers, to prevent any damage to the floor and add more stability to the machine. The front plate also features small transport wheels, rendering the handling and relocation of the assembled device much more manageable.
When fully assembled, the rower is not exactly light, as it weighs approx. 101 lbs (45.5 kg), but leaning it on its front wheels, you will be handling less than half of its weight.
The frame features a folding design. The aluminum rail folds up and has a child safety lock. When folded, its length is reduced to 58.5″ (149 cm), while its height becomes approx. 77″ (195.5 cm). When unfolded, its footprint is rather large, especially length-wise as it takes 98.5″L x 20″W (250L x 51W cm) of floor space. It's the highest point when unfolded is approx — 38.5″ (98 cm).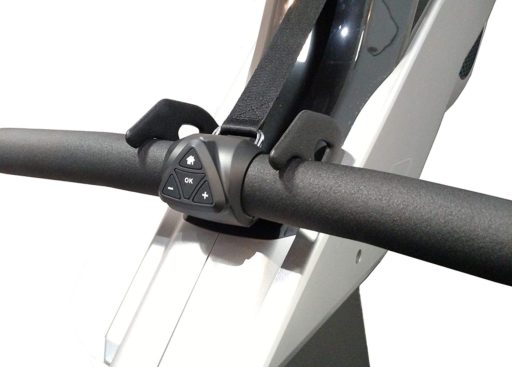 Thus, the machine is made for users up to 6'6″ (198 cm) or differently put, for users with an inseam up to 42″ (107 cm). Also, it can hold up to 350 lbs (159 kg) of user weight, which pretty much puts the machine in the commercial class.
Seat and other parts
The seat equipped on the BodyCraft VR500 features a contoured surface, and a layer of padding which is not extremely thick, but provides the adequate comfort for prolonged rowing sessions, alleviating the impact on the coccyx bone and lower back.
The rear of the seat also features a small lip, preventing you from slipping backward in case your gear is a less adherent fabric.
The seat integrates a set of four wheels, with heavy-duty sealed ball bearings, offering a smooth glide. Also, an important aspect to mention here is that the gliding rail isn't completely horizontal. It's at a slight angle when the rower is in a workout position.
This has a positive impact on the legs workout, as it adds a bit of difficulty, conversely rendering the recovery phase slightly easier.
One last aspect regarding the seat is its height. At its highest point, the top of the seat is approx. 19″ (48 cm) above floor level. In other words, it should be high enough to supply an easy mount/dismount even for users with impaired movement or other disabilities.
The rower's footrests are heavy-duty nylon material. They're size adjustable, being able to accommodate sports shoes or feet of all sizes. They also incorporate adjustable straps to secure feet in place, accessories that can be very handy for users with disabilities example. However, the footrests do not pivot. They're fixed to the frame at an angle of approx — 45 °.
VR500 Resistance and drive system
The resistance system of this BodyCraft rower combines air and eddy current resistance. Its main resistance elements are a magnetic flywheel fan and a small servo motor. Now, since the flywheel is fan-shaped, the resistance is variable, proportional to how hard you pull.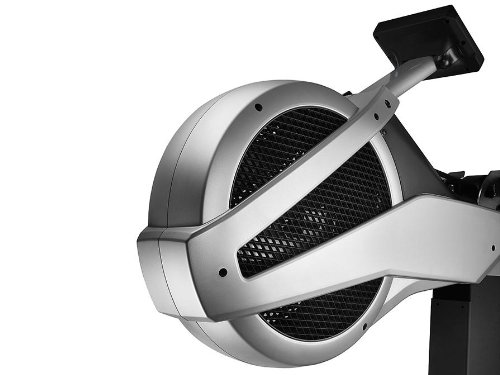 However, the overall level of resistance generated by the machine is increasable via its eddy current system. And this eddy current system can offer up to 32 distinctive tension levels. Differently put, the resistance offered by this rowing machine is no joke. It's a Pro rower, designed to supply the required training setting for professional athletes.
The machine's drive system consists mainly of a nylon strap, which wraps on a small spring drum. A small pulley connects to the axis of the spring drum, and the pulley attaches to the flywheel fan via a poly "v" heavy-duty drive belt.
The pulling strap is attached to an aluminum handlebar, coated with a thin layer of rubber foam for a comfortable grip. The handlebar integrates a small (wireless) remote control with keys that allow quick resistance adjustment, without the need to interrupt your workout.
One last aspect to mention here regards the noise level produced by this machine. Compared with a rower with full air resistance such as the Concept2 models, the noise level of the BodyCraft VR500 is considerably lower. The fan does emit a "woosh" noise when it spins, but as a general idea, it's far from being loud enough to cover the volume of your TV.
Console
The fitness computer supplied with the VR500 Pro rowing machine is quite an advanced one. First of all, it features a full, easy to read display, with LED backlight and also backlit keys. It mounts on an adjustable arm with easy dual pivot points.
The unit tracks the following metrics: distance, time, strokes per minute, pulse, calories, and watts. It also indicates the current resistance setting and the existing profile. The length is in meters.
There are 12 workout programs preloaded in the console unit, including 4 Race, 4 HRC, 2 Interval, 1 Custom, and 1 Manual. The HR control programs are for 55%, 75%, and 90%; however, there's also a custom HR setting. The custom program allows you to create your workout, inserting the limits that you desire. There are four user profiles, which will enable you to save four unique settings from swapping between workouts quickly. The computer also allows you to select target goals for time, distance, and watts.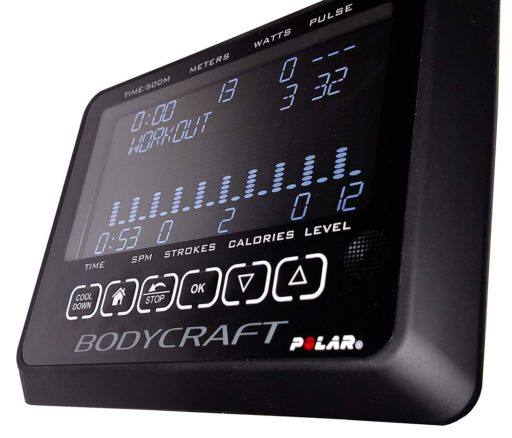 The console can read pulse via the HR chest strap, but this accessory (is not included) with the machine. It's compatible, though, with any Polar HR strap transmitter, with a 5 kHz frequency.
The rower requires a connection to a power circuit for the console and resistance levels to become available. A power adapter is supplied with the machine and connects to the frame on the front leg stabilizer. The console will start up when it detects movement on the seat and will enter sleep mode after 4 minutes of inactivity on the rower.
VR500 Assembly and Maintenance
Some assembly is (required) for the VR500 BodyCraft rower. However, the console, the internal mechanisms of the machine, come fully assembled and attached to the front part of the frame. The gliding part of the seat also comes already attached to the rail.
Therefore, you will only have to attach the legs, bases, rail, footplates, and seat, a task that shouldn't take longer than 45 minutes. The tools required are (supplied), as well as a very comprehensive set of manuals for assembly and operation.
Maintenance requires the periodic inspection of the machine's joints and bolts. Also, the rail of the rower should be wiped off with a piece of cloth to remove any sand, dirt, or small objects that may damage the seat rollers or the rail itself.
Pros
Folding, space-saving design;
Solid frame, able to support users up to 350 lbs;
Air & eddy current resistance system, for a natural rowing feel, reduced noise, and professional level workouts;
32 levels of resistance;
Adjustable footrests;
Comfortable contoured, spacious seat, with a padded top;
12 preloaded workout apps;
Four user profiles on the console;
Multiple values displayed by the console, such as time, speed, distance, strokes per minute and total strokes, calories, and pulse;
Resistance controls integrated into the handlebar;
Quiet machine;
Excellent workout for back, arms, legs and core muscles;
Maintenance-Free;
Great warranty package.
Cons
Large footprint;
Price a bit higher than other similar rowers, but quality does match it.
BodyCraft VR500 Pro Summary
The BodyCraft VR500 Pro is a rowing machine designed for commercial or professional use. It can supply medium to high difficulty workouts, and comes with an advanced fitness meter.
It's an excellent machine for strength and stamina building, interval training, cross-training. Still, it's also a perfect machine for anyone who wants to undergo a consistent cardio training daily or at least several days per week.
It features dual resistance (air and eddy current), offering the natural rowing feel, but also the possibility to increase its overall resistance, to bolster the consistency of your workout. It has a sturdy frame, with a folding design, which can be very handy, especially if usage space is an issue.
Finally, it's not exactly a cheap rower, actually being a few $100s more expensive than the Concept2 Model D and E. However, quality and durability match its price.
I hope you found this article helpful and informative. If you have anything that you'd like to share or opinions about the content on my site, please do speak up. I look forward to your comments, questions, and the sharing of ideas.
Recommended articles:
Please follow and like us: