The Bowflex BXT116 is an all-around impressive treadmill from the Bowflex Results Series for home use – it has the specs to serve a whole household for many years. Overall it stands out for exceeding competitors' deals and adding a mix of other features you won't see anywhere else.
The BXT116 belt system has specs I'd expect from a commercial cardio trainer but not from a home treadmill. First, the belt is three-ply, whereas the norm is just one or two layers. Second, the belt rollers are 2.75 inches in diameter, which is more significant than what competitors often supply.
Bowflex Results treadmills have color screens for built-in workout programs. The BXT116 has a 7.5″ color screen and nine preset training programs. Examples of overall goals for the different programs are calorie burn, speed, and cardio endurance. Heart rate monitoring is available with wireless (HR chest strap included) and contact monitors.
For stats sharing the Bowflex Results console is Bluetooth enabled. You can export your numbers for management with the Bowflex Results app, MyFitnessPal, and other popular mobile apps for health. Free Zwift access is included with Bowflex Results equipment too. Zwift digital reality workouts can help keep any family member entertained as they train.
Learn more in my complete review below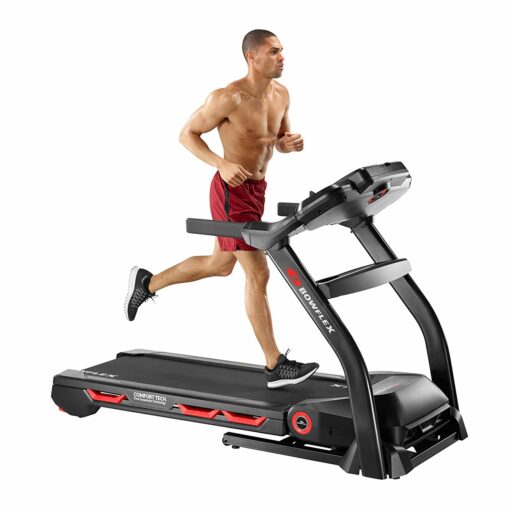 Product: Bowflex BXT116 Folding Treadmill
Price: For a great deal on this treadmill, merely go here on Amazon
Warranty: Frame 15 years / Motor 15 years / Parts 5 years / Electronics 5 years / Labor 2 years
My rating: 8/10
Amazon Affiliate Disclosure: I may earn commissions on purchases made through links in this post.
Details and Specifications
Assembled dimensions: 84.6L x 36.3W x 55.2H inches (215L x 92W x 140H cm)
Tread belt dimensions: 60L x 20W inches (152.4L x 50.8W cm)
Assembled weight: 280 lbs (127 kg)
Max. weight capacity: 375 lbs (170 kg)
Deck cushioning: Comfort Tech™
Motor: 3.75 CHP
Speed levels: 0-12 MPH
Incline: Automatic, 0-15%
Console: 9 workouts, Bluetooth enabled
Amenities: HR chest strap, sound system, cooling fan, USB charging port, 2x bottle holder, an accessory tray with towel support
Warranty: Frame 15 years / Motor 15 years / Parts 5 years / Electronics 5 years / Labor 2 years
BXT116 Frame
The Bowflex Results Series™ BXT116 is a heavy-duty treadmill built on a very sturdy steel frame. The fully assembled machine weighs approx. 280 lbs (127 kg), which means that it offers a lot of stability and support. There are plastic and ABS parts in their construction.
However, these only fulfill a protective or cosmetic role and don't influence its overall sturdiness in any way. Plus, its overall stability is improved by its adjustable, rubberized stabilizers on the front metallic base frame. The machine's steel parts are double-coated with a corrosion-resistant and scratch-resistant paint finish. The color used is black, with the Bowflex logo painted red and white.
This Bowflex treadmill is considerably large. When fully assembled, it's 84.6″ (215 cm) long, and 36.3″ (92 cm) wide. It requires at least three feet of clearance at the rear of the deck, and at least two feet of clearance on each side for safe operation. Thus, it's not exactly a machine for a small room or apartment.
On the other hand, the frame features a folding design. The deck can be folded up, and in this position, the machine's length is reduced by more than half, offering better storage possibilities. The folding mechanism integrates a hydraulic lift which assists you with unfolding the deck, preventing any damage related from dropping quickly.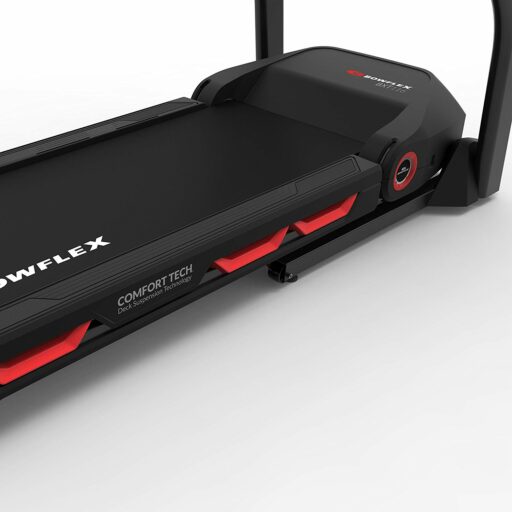 Despite its impressive weight, this treadmill isn't too difficult to move, once itis assembled. The middle part of its metallic base features two small transport wheels which ease the relocation of the folded machine.
Deck
The Bowflex BXT116 treadmill features quite an impressive deck construction. To begin with, it can support users up to 375 lbs (170 kg). It comes with the Comfort Tech™ cushioning system which consists of six trapezoidal deck cushions (three on each side).
Four cushions at the front, to absorb a great deal of the shock related to the strike of each foot, while the other two cushions are placed at the rear to promote a better loading.
This shock absorption system is designed to cushion your joints and muscles rendering each run or walk much more comfortable than walking or running outside, on concrete or asphalt. Therefore, you will experience considerably less running-related joint or muscle pain, which can result in longer, more enjoyable workouts.
The deck integrates extra-large, crowned rollers, equipped with industrial-grade ball bearings for smooth motion and a long lifespan. The belt is a 3-ply type (2.5 mm), highly durable, stretch-resistant, designed to provide superior adherence.
The running surface offered by it is 60″L x 20″W (152.4L x 50.8W cm) and can accommodate users comfortably up to 6'6″ (198 cm), promoting a healthy, natural motion, without any restrictions.
BXT116 Incline and step-up height
The Bowflex BXT116 treadmill comes with an automatic incline system. It consists of a small lift powered by the incline motor, situated at the front of the deck. The deck incline is only adjustable from the unit's console, and the machine needs a connection to a power circuit for it.
The incline system offers an incline range between 0% and 15%. Adjustments are in increments of 1%. The console features quick incline controls for the 1, 3, 6, 9, 12, and 15 incline settings, but keys for gradual incline adjustment are also available.
Also, some of the onboard programs of the machine control incline along with the speed of the belt. So, by using one of them, the machine will auto-adjust the incline of the deck according to the current workout segment.
At 0% incline, the running surface of the deck is approx. 12″ (30.5 cm) above floor level. With the slope set up to 15%, the highest point of the deck reaches a height of 16″ (40.6 cm). Therefore, it's recommended to place and use the machine in a room with a ceiling that is at least 16″ (40.6 cm) higher than your height.
Motor
This Bowflex BXT116 Results Series treadmill has a 3.75 CHP, heavy-duty motor. It's a continuous-duty motor, made to withstand prolonged workouts at maximum speed without overheating or losing performance, even if the user is close to the maximum weight capacity.
A small flywheel is a component of this motor, an element that helps reducing vibration, rendering the running experience much smoother.
The motor itself generates very little noise when the machine is in use. However, when running at high speeds, your cadence will produce some sound.
The speed range offered by this motor is between 0.5 MPH and 12 MPH. Needless to say, speed is adjusted exclusively from the console. Just as for incline, you'll find gradual and quick adjustment keys for speed. Speed is adjustable in increments of 0.1 MPH. This gives you the possibility to see the perfectly suited pace for you for each workout.
The machine comes with a standard U.S. 3-prong plug, not an adapter. It requires a 120V 15A power circuit. The machine should be connected to a power circuit solely, without other devices connected to the same circuit, to avoid surges. Also, it's not a bad idea to use a surge suppressor, to prevent any damage to the motors or console, in case a surge happens.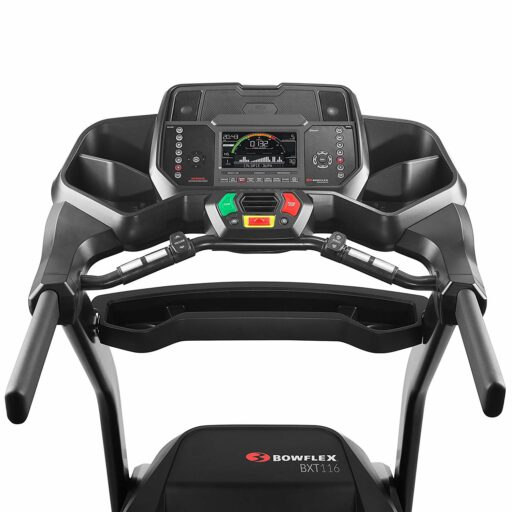 BXT116 Console
The Bowflex BXT116 comes with a high-performance console featuring a large, 7.5″ LCD with LED backlight and multiple panels. It shows time, distance, speed, incline, total calories burned, average calories burned per minute, heart rate, and heart rate zone.
It has a multi-color Burn Rate Display which shows the rate of calories burned for a minute at the current workout levels. Additionally, it has a Sprint Display section for the remaining sprint segment during an interval program. It also shows the segmented grid of the workout program in use.
Speed and distance traveled can be calculated in both metric and imperial units. The console can monitor your heart rate via the integrated pulse sensors into the front handlebars.
However, it's also telemetric; it can read your pulse via a Heart Rate Chest Strap Transmitter that operates in the 4.5kHz – 5.5kHz range. An HR chest strap accessory (is included) with the machine.
One of the best features of the machine's console is its Bluetooth connectivity. It offers the possibility to sync it with the Bowflex Trainer™ fitness app on your smartphone, tablet, or laptop. This app tracks your goals gives you awards for reaching those goals and allows you to keep a journal for your progress.
The Bluetooth connection allows you to automatically transfer your workout data to other fitness apps or websites, such as MyFitnessPal®, and Under Armour® Connected Fitness.
Plus, the console has a USB port which not only that allows you to save and manually transfer your workout data online. It also doubles as a docking/recharging port for your tablet or smartphone.
Workout Programs
The unit's console features nine preset workout programs, one custom program, and the manual program. The nine preset programs are Fat Burn, Calorie Burn, Calorie Goal, Target Heart Rate, 8 Min. Interval, 16 Min. Interval and Strength. The Custom program gives you the possibility to design your program, save it, and re-use it every time you want. The Manual Mode allows you to run, jog, or walk freely, to adjust the speed and the incline as you like, during your session.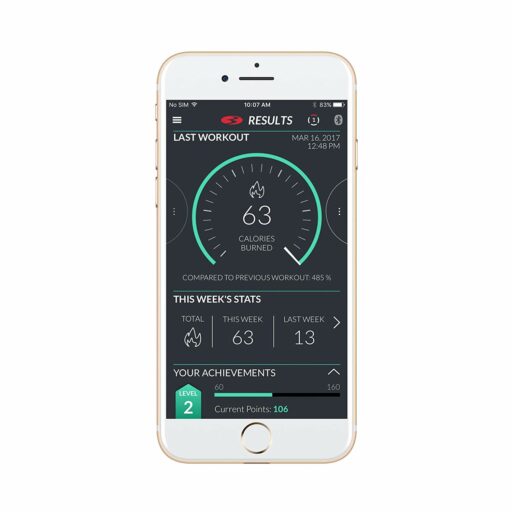 The unit has four user profiles. This feature is great to have is multiple persons use the machine. Each user can have their settings with their data, such as age, weight, gender, display units, and sound volume. This way, the console can calculate the number of calories burned by each user with higher accuracy.
Amenities
In terms of extras, the Bowflex BXT116 console features a cooling fan, a sound system, a tablet holder, and several accessory trays. The cooling fan is at the bottom of the unit; it has four settings (off, low, medium, and high).
The sound system consists of two speakers situated at the top of the console. This sound system is compatible with most MP3 players, tablets, or smartphones so you can play your music through it anytime you exercise. The sound rendered by it is notably superior to the one of a tablet or smartphone.
And finally, the tablet holder is placed in between the unit's speakers. It has an anti-slip surface and is above the console display. So, if you place a tablet on it, it won't block the view of your workout stats.
BXT116 Assembly and Maintenance
The treadmill's deck with its motors, cushioning system, rollers, and belt, comes completely assembled. Therefore, you only have to add the two console masts, the handlebars, the console, and several plastic covers.
This shouldn't take more than an hour. All the necessary tools for the assembly are (included). Also, the manual provides clear and concise assembly instructions and schematics.
For maintenance, the lubrication of the deck is after every 25 hours of usage. For this, 100% pure silicone lubricant is (recommended). The belt and the surface underneath the deck should be vacuumed and cleaned periodically to prevent any objects, textile fibers, or dust from being dragged into the motor or clog the air vents. It's also recommended to inspect the machine for loose or damaged parts regularly.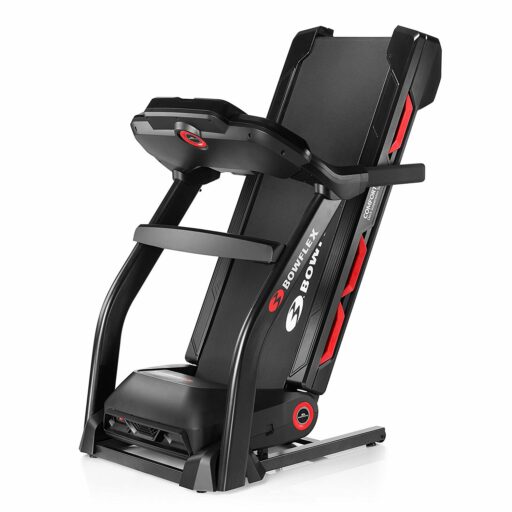 Pros
Sturdy overall construction;
It has a durable deck, being able to support users up to 375 lbs;
Professional-looking design;
Adjustable stabilizers with rubber caps;
Transport wheels;
Folding deck, equipped with a soft-drop hydraulic cylinder;
Comfort Tech™ deck cushioning which softens the landing of the foot at the front and propels kick-off at the rear for an energy boost;
It has a 3-ply light commercial belt for a prolonged lifespan;
3.75 CHP, heavy-duty motor;
Speed range between 0.5 and 12 MPH, offering the possibility to perform a wide array of workouts;
Speed control in increments of 0.1 MPH, offering the possibility to find the pace that fits perfectly to you;
Automatic incline, 0% – 15%; h
9 workout programs;
The console is Bluetooth enabled, allowing you to use the Bowflex Trainer app directly, or stream your workout data into your MyFitnessPal account;
A USB port for charging your tablet or phone, and for workout data transfer;
Various amenities, such as sound system, tablet holder, 3-speed fan, bottle/accessory holders;
Pulse sensors and telemetry enabled console;
The Heart rate chest strap is (included);
Easy to assemble;
Its operation is smooth and fairly quiet;
Little maintenance required;
Consistent warranty plan.
Cons
The massive unit requires at least two people for transport and assembly;
The cooling fan isn't too overpowering.
Bowflex Results BXT116 Summary
Although the Bowflex BXT116 is not a commercial unit, it does have the construction and sturdiness of a gym-grade machine. It can support users up to 375 lbs, and it has a powerful 3.75 CHP motor and an automatic incline system. Its deck features an excellent cushioning system, while the console offers 9 workout programs and Bluetooth connectivity.
It's a trainer perfect for light to intense cardio workouts, interval training, stamina and strength development, and weight loss. And finally, although it's not exactly an affordable unit, it offers outstanding value for the price.
I hope you found this article helpful and informative. If you have anything that you'd like to share or any opinions about my website, please do speak up. I look forward to your comments, questions, and the sharing of ideas.
Recommended articles:
Please follow and like us: