The Bowflex PR3000 home gym features over 50+ exercises to get you on your way to a versatile, flexible workout each time. Exercises work all muscle groups in your body and include Bench Press, Shoulder Shrug, and Standing Low Back Extension for your upper body as well as Leg Extension, Squat, and Standing Calf Raise for the lower part of your body.
Similar to other Bowflex models, the PR3000 comes with the standard 210 lbs of power rod resistance. Yet, if that isn't enough, then you always have the option to upgrade your resistance up to 310 lbs. For many, they'll find that 210 lbs resistance is enough to achieve a great at-home workout.
The Bowflex Full Body Plan also makes this piece of home gym equipment easy to use. It can be daunting to construct a workout for a new lifter, so they'll find it mentally comforting to have videos, workouts, and exercise descriptions at their fingertips. Bowflex's power rods also make this machine easy to use and track previous weight used appropriately.
The Bowflex PR3000 may not be perfect, but for its price, you can tone every single muscle group in your body. The no-change cable system makes it effectively easy for you to do your exercises without having to adjust them. You will be hard-pressed to find gym equipment that can be more versatile, reliable, and also give a complete body workout better than this one.
Learn more in my complete review below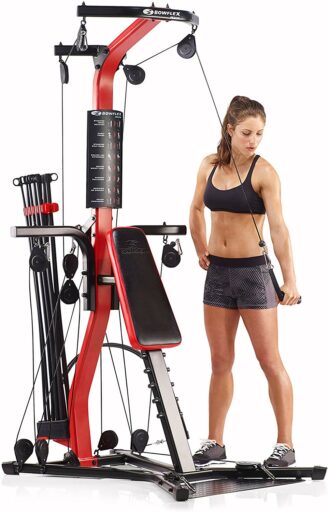 Product: Bowflex PR3000 Home Gym
Price: For a great deal on this gym, merely go here on Amazon
Warranty: Frame 1 year / Power Rods 7 years / Parts 60 days
My rating: 9/10
Amazon Affiliate Disclosure: I may earn commissions on purchases made through links in this post.
Details and Specifications
Assembled dimensions: 64L x 41W x 83H inches (163L x 104W x 211H cm)
Assembled weight: 157 lbs (71 kg)
Max. user weight: 300 lbs (136 kg)
Resistance system: Power Rods
Standard weight resistance: 210 lbs (95 kg)
Possible exercises: 50+
Warranty: Frame 1 year / Power Rods 7 years / Parts 60 days
PR3000 Frame construction
The Bowflex PR3000 features a steel frame, sturdy enough to support users up to 300 lbs (136 kg). All its steel parts come double-coated with anti-corrosive and scratch-resistant paint. It has a footprint of 64″L x 41″W (163 x 104 cm), and it's 83″ (211 cm) tall.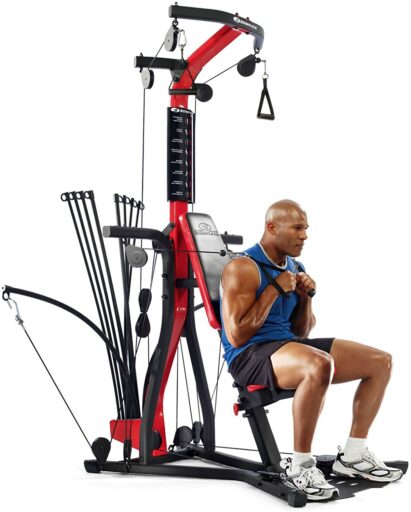 Now, considering that it's almost 7′ tall, you might have problems setting it up in a room with a 7′ ceiling height. Thus, to avoid any related issues, it's best to assemble it and use it in a room with a higher ceiling.
Also, even though it has a smaller footprint than other home gyms, it still requires a broader use area. You'll need a 100″L x 78″W (254 x 199 cm) workout area for it to benefit from a correct leg extension during leg exercises, and to make sure the Power Rods won't scratch the walls when they bend.
The PR3000 doesn't have a folding frame as other models. However, the seat and leg attachment is removable to allow you to perform exercises such as triceps pushdowns, squats, or kickbacks.
The machine features a compact base, which integrates a foot platform for various exercises. Due to its total weight (of 157 lbs), it's quite stable and shouldn't wobble or move during workouts. Also, it's best to assemble it in the room where it will be in use since it's not easily moved after it's fully assembled.
The frame does include a lat tower and comes with a lat crossbar with pulleys attached to it. However, the gym system doesn't include a lat pulldown bar. So, to do pulldowns, you'll have to use the supplied hand grips. The option of a pulldown bar attachment is available.
Bench
The bench of this machine doesn't allow adjustments for 180° position exercises. However, the seat can be locked onto the support rail lower or higher from the floor, to accommodate users of all heights, or provide a more comfortable posture for specific exercises. The seat is also removable entirely, to facilitate squats or any other exercises that require standing up.
The seat and backrest feature faux leather upholstery, with a 2″ cushioning, offering excellent comfort. The faux leather material is quite durable and should last for many years of use if treated with care.
Other parts
As opposed to the PR1000, the Bowflex PR3000 comes with several sets of extra pulleys, which open quite a few more exercises. The pulleys come designed to rotate 360°. They are made of heavy-duty nylon material, and integrate industrial quality, sealed ball bearings for a prolonged lifespan. The cables supplied with the machine are stainless steel wire ropes, coated by a solid PVC sheet, and finished with chromed hooks and rings.
There are two sets of grips supplied with this Bowflex home gym: adjustable and straightforward. They offer various types of holds, including standard grip, handcuff grip, foot grip, ankle grip, and shoulder grip. Their handles come padded with a thin sheet of rubber foam for a comfortable grip and to prevent any damage to the hands.
The PR3000 includes a leg attachment. However, as opposed to the Blaze model, this only offers the possibility to perform leg extensions, and not leg curls. This part features 4″ roller cushions for all the comfort required during exercises. Just as the seat, the leg attachment can be removed.
One last accessory to be mentioned here is the exercise placard attached to the lat tower. It's a neat element to have, as it offers the possibility for quick reference on various exercises.
PR3000 Weight Resistance
First of all, just like the other Bowflex home gyms, this particular model features the same Power Rod weight resistance system. It doesn't require any weight stacks like most machines in commercial gyms. A set of Power Rods gives resistance. The machine's cables attach to these rods, which bend as you pull the handles, generating resistance.
The machine comes with a standard set of Power Rods of the following weight resistance:
2 x 5 lbs (2.26 kg)
4 x 10 lbs (4.5 kg)
2 x 30 lbs (13.6 kg)
2 x 50 lbs (22.6 kg)
Differently put, the standard rods supplied with the machine offer a total resistance of 210 lbs (95 kg). The resistance is adjustable in increments of 5 lbs (2.26 kg) and up to 105 lbs (47.6 kg) for each side. However, the rods' tray features two extra slots for two more 50 lbs (22.6 kg) rods. Thus you can upgrade its maximum weight resistance range to a total of 310 lbs (140 kg).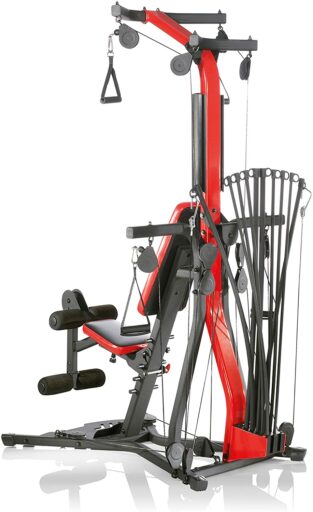 The Bowflex rods are made of an extremely durable elastomer and coated with a thin sheet of rubber material. There's very little chance for them to break, and even so, they're under warranty for seven years for this machine. They're also precision-machined; the rings to which the cable hooks attach are almost impossible to remove from the rods.
PR3000 Possible Exercises
The Bowflex PR3000 supports more than 50+ exercises. Some of the exercises that you can perform on this machine are:
Arm Exercises
Triceps Pushdowns
Triceps Extensions
Seated Biceps Curls
Abdominal Exercises
Seated (Resisted) Abdominal Crunches
Trunk Rotations
Back Exercises
Narrow Pulldowns
Reverse Grip Pulldowns
Stiff-Arm Pulldowns
Standing Low Back Extensions
Chest Exercises
Bench Presses
Decline Bench Presses
Incline Bench Presses
Leg Exercises
Hip Flexions
Leg Extensions
Squats
Standing Calf Raises
Standing Hip Extensions (knee bent)
Hip Adductions
Hip Abductions
Shoulder Exercises
Crossover High Rear Delt Rows
Lateral Shoulder Raises
Seated Shoulder Presses
Shoulder Shrugs
Shoulder Rotator Cuffs (internal)
As I've mentioned earlier, the leg attachment doesn't offer the possibility to perform leg curls. Also, since the bench doesn't have a 180° setting, you cannot perform presses with your body positioned horizontally.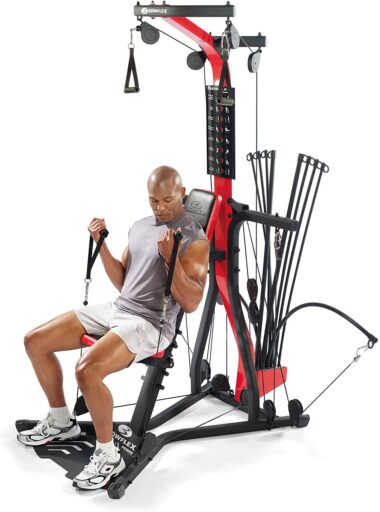 Butterfly exercises are possible on this machine. However, the butterfly presses won't have the stability and the feel of the ones offered by a machine with bars specific for such exercises.
PR3000 Assembly and Maintenance
The Bowflex PR3000 home gym machine is not too difficult to assemble, but due to the many parts, it may take a couple of hours. The manual offers step-by-step instructions for the assembly. However, only the two Allen wrenches required are included. You'll need your adjustable wrench and a Phillips screwdriver.
For maintenance, it's a good idea to unhook the Power Rods from the cables so that they remain in a straight, upright position. Other than this, you'll just have to make sure that all the bolts and joints hold well together, and re-tighten them if possible.
Pros
Sturdy and stable frame, with most parts made of steel;
Extremely durable pulleys, with sealed bearings for a prolonged lifespan;
Durable upholstery on seat and backrest, with 2″ cushioning for maximum comfort;
Leg attachment included;
Lat tower included;
4″ cushioned rollers for the leg attachment;
Two sets of handles, offering various types of grips;
Innovative Power Rod weight resistance system, no weight stacks required;
Up to 105 lbs of resistance per arm, 210 lbs in total;
Upgrade possibilities up to 310 lbs of total weight;
Workout placard depicting various exercises, attached to the lat tower of the machine, for quick reference;
Over 50+ exercises available;
Easy to assemble;
Quiet operation;
Excellent warranty.
Cons
Not all tools for assembly are (included) with the machine;
Doesn't offer the possibility to perform leg curls;
Pulldown bar not included.
Bowflex PR3000 Summary
The Bowflex PR3000 is an excellent home gym machine for anyone who doesn't have the time to attend a gym. It has a weight resistance capacity of 210 lbs, with the possibility to upgrade to 310 pounds, thus being a machine for users of all levels. And finally, considering that it offers the opportunity to perform more than 50 types of exercises, it provides an excellent value for the price.
I hope you found this article helpful and informative. If you have anything that you'd like to share or any opinions about my website, please do speak up. I look forward to your comments, questions, and the sharing of ideas.
Recommended articles: