The Bowflex TC100 TreadClimber put together a design that featured a unique 3-in-1 motion, taking the most effective movements from existing cardio equipment (elliptical, treadmill, stairclimber) and creating a new move that's more efficient for calorie burning.
What sets the Bowflex TC100 TreadClimber apart from other fitness machines? It's the combination of belt speed, incline, resistance levels, and adaptive treadle motion that creates a workout that's low impact, yet efficient at burning calories. The TC100 burns 2.5x more calories than a treadmill.
Two separate treadles with moving belts (like that of a treadmill) run in an up and down motion to achieve this unique workout experience that can burn up to 2.5x more calories than a traditional treadmill. There is a rear machine step platform for safety, and the maximum user weight capacity is 300 pounds.
There are 12 resistance levels available, with the lower levels being perfect for anyone that wants to emulate outdoor walking on flat ground, while the higher levels are better for anyone looking to burn the most calories in the shortest time.
Learn more in my complete review below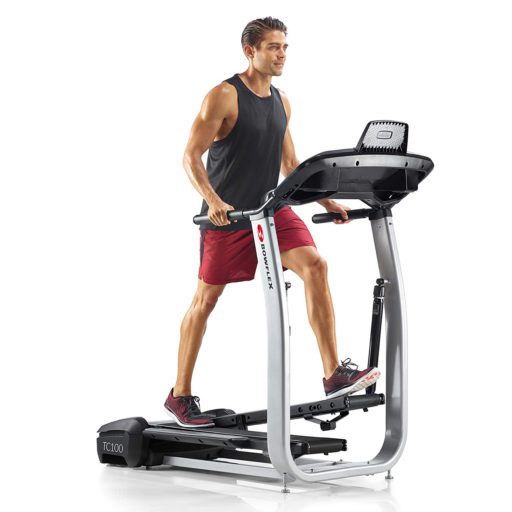 Product: Bowflex TC100 TreadClimber
Price: For a great deal on this hybrid, merely go here on Amazon
Warranty: 2 years
My rating: 8.75/10
Amazon Affiliate Disclosure: I may earn commissions from purchases made through links in this post.
Details and Specifications
Assembled dimensions: 57L x 31.5W x 59H inches (145L x 80W x H cm)
Assembled weight: 158 lbs (71.6 kg)
Weight capacity: 300 lbs (136 kg)
Speed range: 0.5 – 4 MPH
Incline system: No
Deck cushioning: EasyStep™ Shocks
Console: Dynamic workout program, fitness score, two user profiles, USB port
Extras: Tablet holder, accessory holders
Warranty: 2 years
TC100 Frame construction
The Bowflex TC100 treadclimber features a steel frame with durable construction. As opposed to most treadmills, it features a considerably smaller footprint. With the frame fully assembled, it takes only 57″L x 31.5″W (145 x 80 cm) of floor space.
However, Bowflex does recommend to assign at least 20″ (~51 cm) of clearance on each side, and 79″ (~200 cm) at the rear for safe and unhindered operation. If you're wondering, the machine doesn't fold. Its rear base does integrate transport wheels, though, so you can quickly relocate it after your workout.
The TC100 delivers excellent stability. To begin with, it weighs ~158 lbs (71.6 kg), with its base being the most substantial part. On top of that, its front base features two adjustable stabilizers, which allow you to perfectly level the machine on any surface, or any floor. It's recommended, though, to place it on a rubberized mat, to prevent any damage to the floor.
The Bowflex treadclimber TC100 comes with two durable decks set at an incline of approx. 30°. The maximum elevation of each treadle is 14.5″ (36.8 cm). Therefore, you should use it in a room with a ceiling at least 20″ higher than your height.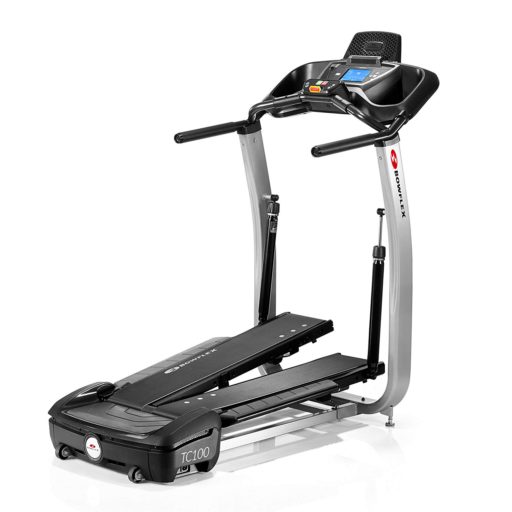 The dimensions of the treadle belts are not specified. But as a general idea, the width of one belt is approx. 10″, while it's length is approx. 40″. However, since this is a treadmill designed for walking, it should be able to accommodate users of all heights, allowing a healthy, normal stride. Also, the machine has a user capacity of 300 lbs (136 kg).
Easy Step™ Shocks
The TC100 treadclimber does not integrate a motor to operate the incline, such as various treadmills. In other words, it doesn't have an automatic incline system, nor it has incline adjustment settings on the console.
Each one of its decks is attached to a hydraulic cylinder, and these cylinders create the machine's EasyStep™ shock absorption system. The EasyStep shocks enable the front part of each treadle to lower as you step on it; they are designed to cushion your joints, decreasing your overall fatigue, and reducing muscle strain.
The Easy Step™ Shocks are adjustable. The minimum travel setting of each shock delivers the least amount of treadle movement; conversely, the maximum travel offers the most significant treadle movement (approx. 3″). The closer the dial is to the maximum travel setting, the more the treadles will move. This results in a more intense workout.
Of course, it is recommended to set the same travel level for each one of the shocks, to obtain an equal cushioning for each one of the decks.
TC100 Motor
The exact specs and power of the engine equipped on the Bowflex TC100 treadclimber are not specified. However, since this is a walking treadmill, it goes without saying that its motor doesn't offer the 3.5 CHP, such as the Nautilus T618, for example.
It's a reasonably decent motor, though, and even if you're close to the maximum 300 lbs (136 kg) weight capacity, it shouldn't lose performance or overheat during the most extended workouts.
The speed range offered by this Bowflex treadclimber is 0.5 – 4.0 MPH. The console has keys for 0.1 MPH increments and 0.5 MPH increments, so you can easily find a pace that fits best to your stride. In case you're wondering, the speed cannot be adjusted individually for each belt. So, if the selected belt speed setting on the console is 2 MPH, for example, both treadles will move at 2 MPH.
When in use, the motor itself does not generate any noise. However, you'll hear the treadles and your cadence, but the noise generated is lower than when running at full speed on a running treadmill.
Console
The Bowflex TC100 treadclimber features a mid-range console, equipped with a 7″ LCD, with a blue LED backlight. The display tracks time, distance, calories, and pulse. The current speed setting is also displayed, while its mid-section covers the workout segment display.
Speed and distance can be set up in either English or metric units. Heart rate is monitored exclusively through the pulse sensors integrated into the front handlebars of the machine. The console is not telemetric. Thus it does not work with Polar or other types of HR chest strap transmitters.
The console unit offers two user profiles. For each user profile, you can input personal data such as age, weight, and gender, to benefit from a more accurate calorie reading.
There is only one workout program available on this console. However, this is an open-ended workout allowing for daily adjustments to your workout goal.
The exercise begins with the Workout Segment Display blank and activates segments after burning some calories. Each part of the Workout Segment Display represents one calorie. As calories add up, a section is enabled.
Two other notable functions available on this type of console unit are the Awards function and the Fitness Score function. You have recompensated you with an award for various achievements. For example, you will get an award for starting a workout, for every 100 calories burned, for 1 mile traveled, for the fastest 3 miles, etc.
The Fitness Score feature offers an estimate of your VO2 Max and the number of calories burned over the last five workouts. It's an onboard feature that helps you keep track of your progress.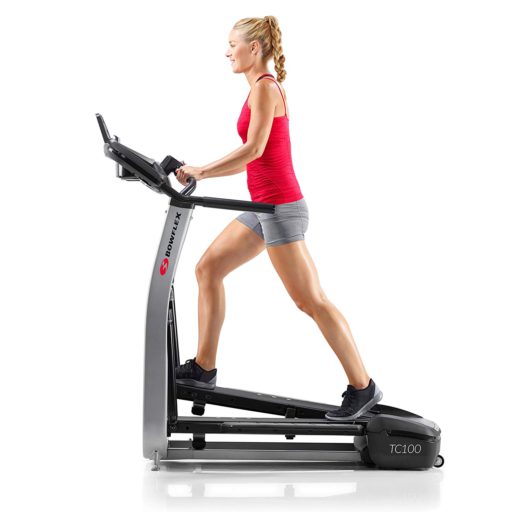 Amenities
The console unit also comes with a USB port, which allows you to save your workout data on a USB flash drive, to transfer it to your MyFitnessPal account. The USB port doubles up as a docking/charging port for your smartphone or tablet.
The console doesn't have features such as a sound system or a cooling fan. However, it does integrate a tablet holder and two large accessory holders.
TC100 Assembly and Maintenance
Although the assembly of this Bowflex treadclimber isn't complicated, it may take more than an hour. The machine's base, with the treadles and motor, comes pre-assembled. However, you will still have to pull the wires through the frame, attach the console masts, the console, the hydraulic shocks, and several covers.
The included manual provides clear and concise assembly instructions, and there's also an official YouTube video that shows all the assembly steps for this machine. Tools for assembly are also included, except for a Phillips screwdriver.
For maintenance, you have to lubricate the treadles periodically. The recommended lubricant is 100% pure silicone available in most hardware stores. If the machine is in use less than three hours per week, lubrication is necessary every three months.
Monthly lubrication is required if the treadclimber is in use for more than five hours per week. Other than this, it's also recommended to periodically check for loose parts and bolts, and keep the belts clean.
Pros
Heavy-duty construction – can support users up to 300 lbs;
Adjustable stabilizers;
Transport wheels;
EasyStep™ Shock absorption system, featuring two adjustable cylinders;
Speed increments of 0.1 MPH and 0.5 MPH offering the possibility to find the perfect pace for your workout;
Dynamic workout program allowing for daily adjustments to your workout goal;
Two user profiles;
Fitness Score function;
Award function to keep you motivated;
A USB port for charging your tablet or phone, and for workout data transfer to your MyFitnessPal account;
EKG pulse sensors integrated into the handlebars;
Tablet holder included;
Accessory holders integrated into the console;
A smooth and quiet operation;
Easy to assemble;
Little maintenance required;
Excellent warranty.
Cons
The console is not telemetric;
No Bluetooth function;
No sound system.
Bowflex TC100 TreadClimber Summary
The Bowflex TC100 is a mid-range treadclimber featuring an innovative 3-in-1 design.  You'll get the benefits of an elliptical, treadmill and stepper all in one compact, space-conscious machine. It has a durable construction with a weight capacity of 300 lbs and a speed range between 0.5-4.0 MPH.
Its console offers a dynamic workout program, two user profiles, a fitness score function, and an awards function to keep you motivated. A USB port is also available, so you can either charge your phone while exercising or save your workout data on a USB flash drive to transfer to your MyFitnessPal account.
Studies have shown that the Bowflex TreadClimber TC100 can help you burn 2.5 times more calories in less time than traditional cardio machines—and feeling less strenuous all the while. If you're looking for a device that's easy to use, low-impact, and not too advanced, this could be the pick for you.
I hope you found this article helpful and informative. If you have anything that you'd like to share or opinions about the content on my website, please do speak up. I look forward to your comments, questions, and the sharing of ideas.
Recommended Articles: