The Regenerating Marcy ME-702 Magnetic Upright Bike is a stationary bike that generates its energy. As a result, there is no need for an electrical outlet; thus, you can place the bike anywhere you wish.
Make everyday activities easier by switching up your routine and focusing on the upper body, lower body, or full-body workouts. Additionally, the ME-702 comes equipped with 24 magnetic resistance levels, which increase overall body development, cardiovascular endurance, and weight loss.
The ME-702 features a large LCD that will help you keep track of your workouts to maximize your progress. The LCD tracks time, distance, RPM, speed, calories, body fat, watts, pulse recovery, and pulse. To bring variety to your rides, the LCD has 23 programs, including a Heart Rate Program, a body fat program, and more!
With comfort in mind, the Regenerating Magnetic Upright Bike – ME-702 has a comfortable seat that adjusts both forward to backward and up and down. This will accommodate users of varying heights as well as leg lengths while the looped pedals will have you focused on getting the most intense workout possible.
Learn more in my complete review below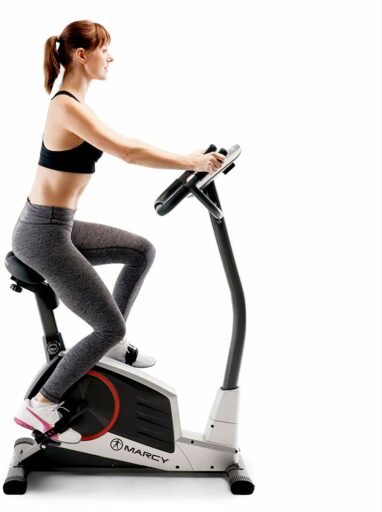 Product: Marcy ME-702 Magnetic Upright Bike
Price: For a great deal on this bike, merely go here on Amazon
Warranty: 2 years
My rating: 7.75/10
Amazon Affiliate Disclosure: I may earn commissions on purchases made through links in this post.
Details and Specifications
Assembled dimensions: 38L x 20W x 52H inches (97L x 51W x 132H cm)
Assembled weight: 78 lbs (35.3 kg)
Weight capacity: 300 lbs (136 kg)
Seat: 4-way adjustable
Pedals: With straps
Resistance: Motorized magnetic, self-generating, 24 levels
Console: 23 programs, tablet holder
Warranty: 2 years
ME-702 Frame construction
Although it's not a bike made for commercial use, the Marcy ME-702 features quite a sturdy construction. Its specified maximum weight capacity is 300 lbs (136 kg), which is not bad for a model of this caliber. Its frame is steel tubing, but the covers of the motor, flywheel, and other internal parts are a heavy-duty PVC material.
The metallic frame parts are coated with a rust-resistant and scratch-resistant powder finish, black in color. The PVC guards of the motor combine silver, black, and red, for an extra aesthetic touch.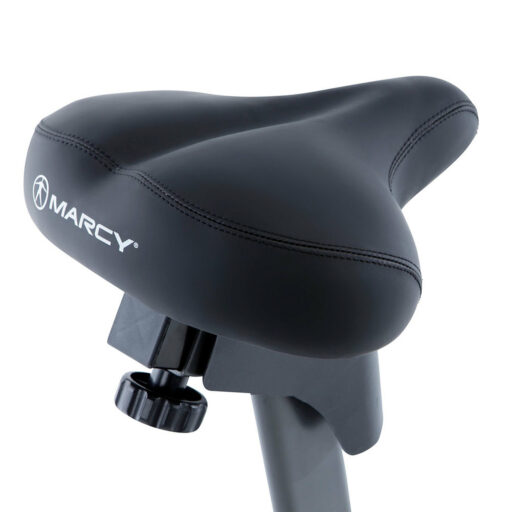 Like most other upright bikes, the Marcy ME-702 does not have an enormous footprint. When fully assembled it takes only 38″L x 20″W (97 x 51 cm), but it is advisable to leave at least two feet of clearance on the sides for safe operation.
The highest point of the bike is given by the top of the console which stands at approx. 52″ (132 cm) above floor level. Also, if you're wondering, the bike doesn't fold for compact storage.
This upright exercise bike is not one of the lightest models, but it's not too heavy either. With the frame fully assembled, it weighs approx 78 lbs (~35 kg). This means that it offers excellent stability despite its small footprint. On top of that, both its base bars come equipped with adjustable levelers, so you can perfectly stabilize it on any flooring.
Although the bike is not too heavy, its front base stabilizer bar features two transport wheels. So, in case you need to relocate the bike after exercising, these wheels facilitate the process.
Seat and handlebars
This Marcy exercise bike comes equipped with a saddle that excels in comfort factors. To begin with, it integrates a generous layer of cushioning. It's considerably wider than the seats of most spin bikes and provides the best comfort for seated workouts.
It has a contoured surface featuring a longitudinal groove to promote airflow and healthy blood circulation. It has a highly durable, double-stitched upholstery, made to last for many years of use.
The seat also has a standard design. Thus, you can easily find a compatible seat replacement for this bike, in case this one breaks, or you want a different one.
The seat is 4-way adjustable. Its upright post features multiple adjustment positions, while the oblique slider under the seat also offers several inches of adjustment, allowing you to lock the seat a bit closer or farther to the front part of the bike and pedals.
Therefore, the Marcy ME-702 magnetic upright bike can accommodate users between 5'0 ″ and 6'2 ″ (153 – 188 cm) with no problem. The angle of the seat can also be adjusted slightly.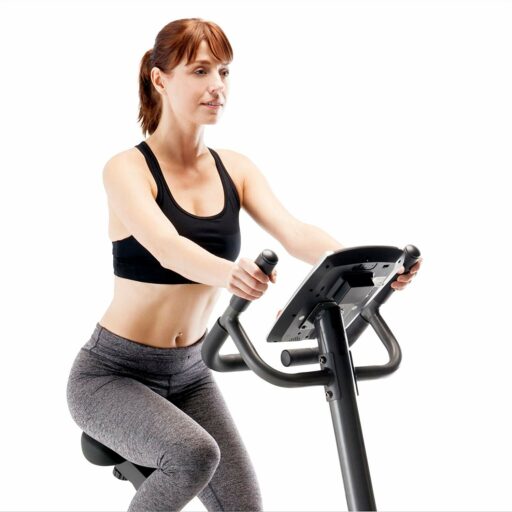 As opposed to the seat which offers excellent micro-adjustability, the bike's handlebar is non-adjustable. It has a multi-grip design, though, offering the possibility of a horizontal grip, race grip, or parallel grip.
The lateral handlebars come equipped with stainless steel EKG sensors. Therefore, if you grip them during your workouts, the console can keep track of your heart rate and provide a fitness level once you finish pedaling.
ME-702 Resistance system
The Marcy ME-702 comes equipped with a regenerating magnetic resistance system. It integrates a small generator, which creates the amount of energy required by the console and the brake to provide resistance. This means it is not necessary to connect it to a power circuit so that you can use the bike anywhere you want (as long as it is indoors).
The resistance system is also motorized, using a small servo motor that controls the position of the magnetic brake to the flywheel. In other words, when you change the level of resistance from the console, the servo motor will move the magnetic brake pad closer or farther from the flywheel, generating more or less resistance.
Since the bike uses a magnetic resistance system, the elements involved do not touch; there is no friction between the flywheel and the resistance pad, and therefore, the bike's operation is tranquil, while the wear-and-tear of the brake is almost inexistent.
The bike offers 24 distinctive levels of resistance. The first 1-5 settings provide very light workouts, great for injury recovering users. The top resistance levels, also aren't extremely challenging when compared to a spin bike.
But the difference from the lower setting is noticeable, and by exercising on the top settings will help you achieve a more intense muscle burn and break a sweat.
Last but not least, since the bike's resistance is automatic, when using some of the preset workout programs, the bike will adjust its resistance automatically, according to the current segment of the workout program in use.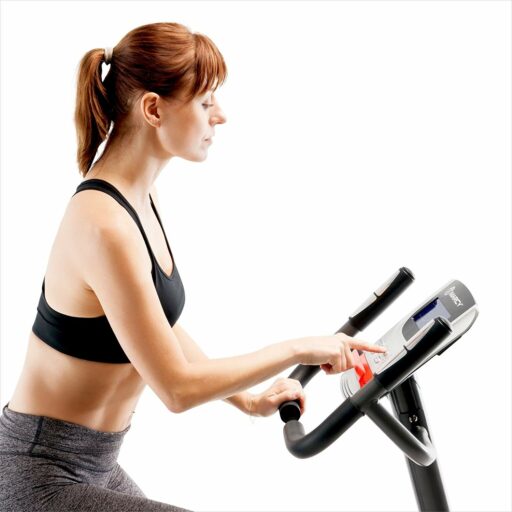 Drive system
Most exercise bikes with a magnetic resistance system feature a belt-drive, as belts are made of rubber, and do not create any interference with the magnetic elements. This Marcy exercise bike doesn't make an exception.
It comes equipped with a heavy-duty belt. And the two main advantages of a belt drive are that the pedaling motion is very smooth and quiet, while the belt itself doesn't require lubrication or any maintenance whatsoever.
The integrated flywheel is perimeter weighted, which means that it delivers a very steady and smooth motion. Its weight is not specified; however, it's a mid-level weight. Thus, it provides a decent momentum.
The bike is equipped with a durable crankset, featuring steel crank arms. However, since it's not a spin bike, it is not made for standing up on the pedals. So, even if you're not too heavy and the crank can support your weight with no problem, standing up while pedaling is not recommended.
The pedals provided with the Marcy ME-702 upright bike are a metallic core and a hard nylon shell, featuring quite a durable construction. They're self-leveling, which means that they have a small weight at the bottom which enables them to assume the correct position when you remove your feet from them.
They come equipped with adjustable straps to provide superior foot stability. Also, they have standard threads so you can easily find replacements for them.
ME-702 Console
The console supplied with the Marcy ME-702 exercise bike is not an extremely fancy one, but for a bike in its price range, it offers quite an impressive array of features. First of all, it has a large LCD with a blue LED backlight, which considerably enhances its readability.
The display shows time, distance, calories, speed, RPM, pulse, and the selected resistance setting. All these workout metrics are displayed simultaneously, so you don't have to use a SCAN function to rotate them as for a basic fitness meter.
Distance and speed are shown only in miles and MPH; metric units are not available for these values. The console can track your heart rate via the handlebars integrated sensors, but it's also telemetric. It's compatible with Polar 5kHz heart rate chest straps; however, this accessory is not (included) with the bike.
The console is easy to use. The Up/Down buttons allow you to increase/decrease resistance when you pedal, scroll between programs, as well as increase/decrease metric values, or the segments of a workout program.
The Enter key covers the confirmation function, while the Start/Stop allows you to pause and resume your workout. The Body Fat and Recovery programs have their keys.
Last but not least, the console features a tablet holder that is placed under the keypad and can accommodate most tablets. However, when placing a tablet here, it will cover the console's keypad and display.
Workout programs
The console unit does not have any online connectivity but does feature 23 (P1-P23) programs to keep you motivated. The P1 program is the manual mode, which gives you the possibility to adjust the resistance according to your liking, during pedaling.
The P2-P13 are preset programs. If you've ever used a bike with a programmable console, their names and construction should be familiar. These are Steps, Hill, Rolling, Valley, Fat Burn, Ramp, Mountain, Intervals, Random, Plateau, Fartlek, Precipice.
The P14-P17 programs are the console's user profiles. They allow you to create custom programs and save them for future use. The P18-P22 are heart rate programs; the first four have preset HR targets of 55%, 65%, 75%, and 85%, while the 5th one allows you to select a custom HR value.
Finally, P23 is the Watt Control program; the Watt value will keep a constant value when using P23 as your workout. This means that if you pedal quickly, the resistance level will decrease, and if you pedal slowly, the level will increase.
For most programs, you can select target values for time, distance, and calories. Also, you can input personal data, such as height, weight, gender, and age, so that the console can calculate your energy output and calories burned more accurately.
The console also has a Body Fat function and a Recovery function. The Body Fat program calculates the users' body fat ratio and offers a specific loading profile. The Recovery function determines your fitness level depending on your pulse rate at the end of the workouts, rating your performance between 1 (Great), and 6 (Poor).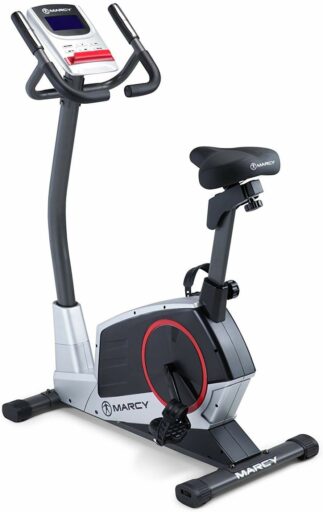 ME-702 Assembly and Maintenance
The Marcy ME-702 is very easy to assemble. Its main body comes pre-assembled. You'll have to connect the bases, the console mast, the handlebars, the console, the seat post, the seat, and the pedals. This shouldn't take more than 30-40 minutes. The necessary tools for assembly are (included) with the bike. Also, the manual provides step-by-step instructions for the task.
Since the bike has a belt drive, and a magnetic resistance system, internal maintenance isn't required, at least not for a long time. So, maintenance requires keeping the bike clean, and periodically checking for loose bolts or parts.
Pros
Sturdy construction, the bike can hold up riders to 300 lbs;
Aesthetic design;
Adjustable stabilizers;
Transport wheels at the front;
Ergonomic, cushioned large seat, with a durable upholstery;
The seat is 4-way adjustable;
Multi-grip handlebar;
EKG sensors integrated into the handlebars;
Motorized magnetic resistance system with 24 settings available;
Self-generating power system – the bike creates all the power necessary for the resistance system as you pedal;
Very smooth, almost silent belt drive;
Balanced, perimeter-weighted, mid-range flywheel for a consistent momentum;
Weighted pedals with adjustable straps;
A large LCD with backlight;
23 workout programs – 1 manual, 12 preset, four user custom user programs, 5 HR programs, 1 Watt program;
Body Fat function;
Recovery function;
Countdown settings for time, distance, calories, and heart rate;
Personal data input (age, gender, height, weight) for a more accurate calorie consumption calculation;
Telemetric console – can read pulse via Polar 5kHz heart rate chest straps;
Tablet holder included;
Maintenance-free.
Cons
No bottle holder;
A tablet placed on the tablet holder will cover the display and controls of the console;
HR chest strap not included.
Marcy ME-702 Summary
The Marcy ME-702 is a magnetic upright exercise bike featuring a motorized, self-generating magnetic resistance system and a programmable console with 23 programs. It's a well-constructed bike with superior micro-adjustability for the seat and handlebars, being able to support riders up to 300 lbs.
It's a bike made for light to medium cardio training, muscle toning, stamina development, and weight loss. It also has a sound system and a tablet holder. It's one of the most affordable self-generating magnetic upright bikes, currently available for less than $400, and for this price, it offers excellent value.
I hope you found this article helpful and informative. If you have anything that you'd like to share or any opinions about my website, please do speak up. I look forward to your comments, questions, and the sharing of ideas.
Recommended articles: