Tone and define your upper and lower body while increasing cardiovascular endurance with the Circuit Fitness AMZ-979RW Magnetic Rower! This powerful rowing machine has a 9-lb flywheel that offers eight resistance levels for a customizable and satisfying cardio workout.
The Circuit Fitness AMZ-979RW weighs 72 pounds with a 300 lb user weight capacity and measures 72 x 38.5 x 19 inches – it is compact, taking up very little space in your workout area. It has a foldable design with a quick-release pin, a foldable monitor, and folded measurements of 36L x 19W x 53.5H inches.
The AMZ-979RW comes equipped with a user-friendly fitness monitor, which provides helpful information such as time, total count, distance, RPM, and calorie count. Even though the fitness monitor does not have any built-in workout programs, it does offer the possibility to select workout goals for time, count, distance, and calories.
The mold-injected seat with a contoured foam pad is sturdy and durable, with an ergonomic design for your comfort during your exercise session. The two fixed pedals are anti-slip with a textured surface for convenience and safety, with adjustable velcro foot straps to keep your feet in place.
Learn more in my complete review below!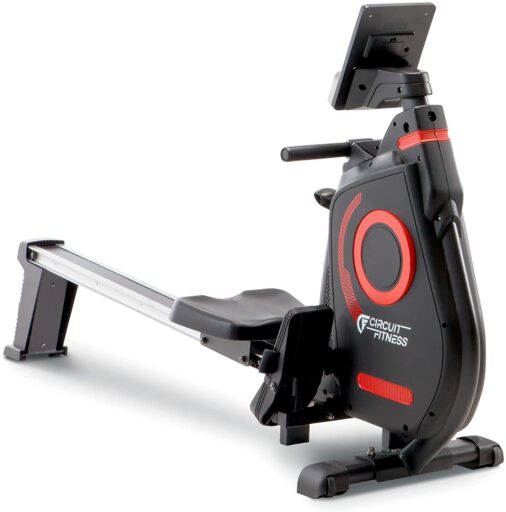 Product: Circuit Fitness AMZ-979RW Magnetic Rower
Price: For a great deal on this rower, merely go here on Amazon
Warranty: 2 years limited
My rating: is 8/10
Affiliate Disclosure: As an Amazon Affiliate Program participant, I earn commissions on purchases made through links in this post. Full disclosure
Details and Specifications
Assembled dimensions: 72″L x 19″W x 38.5″H (183L x 48W x 98H cm)
Assembled weight: 72 lbs (32.6 kg)
Flywheel weight: 9 lbs (4 kg)
Weight capacity: 300 lbs (136 kg)
Footrests: Pivoting, with straps
Resistance type: Magnetic, eight levels
Fitness Monitor: Time, count, count/min, distance, calories, goals
Warranty: 2 years limited
AMZ-979RW Frame Construction
Most of the rower's structural frame is steel. However, it integrates aluminum and ABS plastic parts as well. To begin with, the front part of the structure, which holds the flywheel and the resistance system, is steel-made; the rear base is steel-made as well.
The main rail features a steel core, but its side grooves on which the seat slides are aluminum. The ABS parts list includes the drive system, the footrests, and other covers.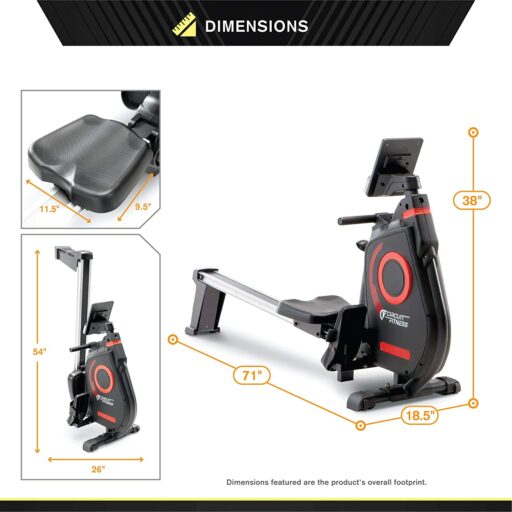 Although it's a rower made for home use, it has a pretty sturdy construction. In addition, its seat and rail have a user weight capacity of 300 lbs (136 kg). Many other home-use models can only support 220 lbs (100 kg) or 250 lbs (113 kg).
The machine is slightly smaller than the other Circuit Fitness rower models. However, it still takes 72″L x 19″W (183 x 48 cm) of floor space, which means it may not fit too well in a small room. Leaving at least two clearance feet on each side and at the rear is advisable for safe usage.
On the other hand, the unit has a folding frame. Therefore, the rail can fold up to save space. Furthermore, with the rail in the folded position, the machine's length reduces to approx 36″ (91 cm). Thus, its rail is 34″ (86 cm) long, so the rower comfortably accommodates users up to 6'2″ (188 cm).
The fully assembled machine is not extremely heavy but weighs approximately 72 lbs (32.6 kg). Thus, two persons may be required for its transport if not for assembly. But once fully set up, it can be easily relocated as its front base features a set of transport wheels.
One last aspect to note here regards the unit's paint finish. All the steel parts come coated with a corrosion-resistant powder finish. Again, the color used is black; the only exceptions are the aluminum side rails.
Seat and rail
The Circuit Fitness AMZ-979RW rower features a reasonably large seat that provides optimal comfort during workouts. It is approximately 13″ (33 cm), offering plenty of contact surfaces. Its top is also contoured and anti-slip, preventing you from sliding off it during rowing.
The top of the seat is high-density foam, mold-injected, and features a contoured surface. It's not incredibly soft like an air-cushioned seat, but not completely hard like a plastic or wooden stool. Its base is steel and integrates three wheels, which slide through the aluminum side rails' grooves.
The wheels have internal sealed ball bearings and rubberized covers on the exterior to minimize noise and deliver smooth movement for the seat.
The seat is approx. 11″ (28 cm) above floor level. It's not too high, so it may be difficult for users with specific disabilities to take a position on it. So, if you're looking for a machine with a higher seat, you may want to check out the WaterRower Club HiRise.
One last aspect to mention here regards rail positioning. It is not horizontal; thus, the seat is slightly higher at the rear and lower at the front. Therefore, it results in a more natural recovery motion during each stroke and a better leg workout.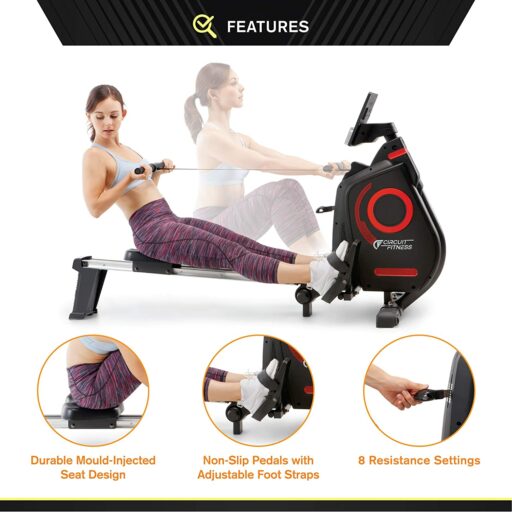 AMZ-979RW Footrests and pulling handle
The Circuit Fitness AMZ-979RW rower has two large footrests featuring a non-slip surface and adjustable straps. In addition, each footrest has a rear-guard element that adds stability to the foot.
An important aspect regarding the machine's footrests that we must mention here is their mobility. They have a pivoting design; they can move on their axis and tilt forward.
Therefore, you can slightly adjust the position of your feet during each stroke for better comfort. In addition, of course, they have stoppers, which keep them at a maximum angle of approx—70 °.
The rower features a pulling handle with rubberized grips. The handle is attached to a nylon strap, which is highly resistant to abrasion. It does not have any pulse sensors, and the unit does not have a pulse reading function.
Resistance system
The Circuit Fitness AMZ-979RW rowing machine integrates a mechanical, magnetic resistance system. Therefore, you can only adjust its resistance manually from the lever on the front unit.
The resistance is not programmable; the fitness monitor plays no role in its adjustment and has no preset programs that automatically adjust its resistance like other rowing machines.
The machine's resistance system consists of a magnetic brake connected to the tension lever on the front unit through a cable. The magnetic brake moves closer to the internal flywheel by pressing the bar down and increasing the rowing difficulty.
The internal rotating mass, or the flywheel, is not extremely heavy; it weighs 9 lbs (4 kg). It has a perimeter-weighted design, which improves the rowing motion's stability and adds consistency.
The other important element of the unit's drive system is the transmission. It's belt-driven, so you don't have to lubricate it. Plus, since there are no air resistance elements and the brake elements do not touch, the machine's operation is whisper-quiet.
The unit's resistance system makes available eight distinct levels. On the lowest tension level, you will be working out only via the rotating force provided by the flywheel. It's relatively light resistance and great for anyone who needs recovery training.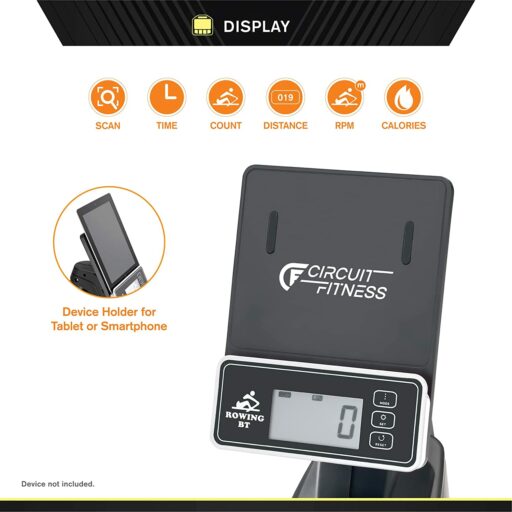 On the other hand, the 8th tension level adds difficulty, which is excellent for anyone who wants a quicker and more intense cardio output.
Of course, just like any other full-magnetic rower, this Circuit Fitness model does not offer a dynamic response. In other words, the selected tension level determines the resistance. It doesn't increase in intensity if you pull the handle harder, as is the case for fluid or air-resistance rowers.
However, this is not necessarily a downside, as the machine provides a great cardio workout. Still, a professional rowing athlete may want rowing to feel closer to rowing a boat through the water.
AMZ-979RW Fitness Monitor
The fitness monitor included with this Circuit Fitness magnetic rower does not play any role in its resistance adjustment, nor has any preset programs.
It does count as the most crucial workout metric, though. These are time, distance, count (totals strokes), count per minute (strokes per minute), and calories burned. The distance displays in meters; you cannot select miles.
Also, the machine has no pulse sensors, and the monitor cannot read your pulse. Thus, if you need to watch your heart rate during workouts, use a separate device.
Although the fitness monitor does not have any built-in workout programs, it does offer the possibility to select workout goals for time, count, distance, and calories. After choosing a target for any of these metrics, the monitor will display the remaining value until you reach your goal.
The monitor features an LCD without a backlight. It is battery-powered and requires two AA (1.5 V) batteries. It is straightforward, featuring only three buttons – MODE, SET, and RESET.
The MODE button allows you to select one of the metrics you want to view at all times, or the SCAN mode, which rotates all the metrics showing each one for 6 seconds. The SET button allows you to enter set-up and create a goal value for any metric except count per minute. And finally, the RESET button clears all the values on the monitor to zero.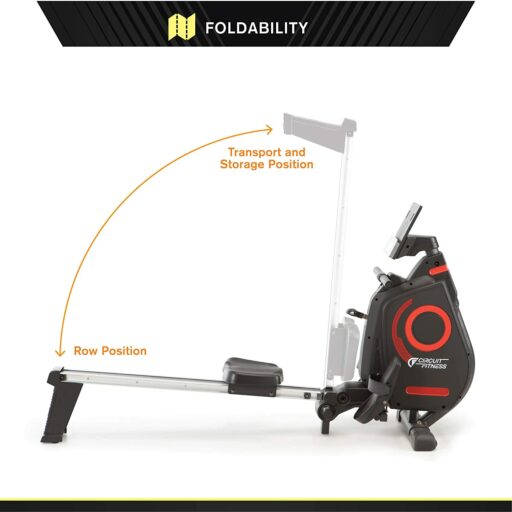 The monitor has a sleep mode feature. If it does not detect any machine activity for 4 minutes, it will automatically turn off to save the battery. To wake it up, you can either begin rowing or press MODE.
AMZ-979RW Assembly and Maintenance
The drive and resistance elements of the machine are assembled and enclosed by ABS shrouds. Therefore, you only need to attach the front base stabilizers, connect the rail to the front part of the frame, add the seat, close the rail with the rear stabilizer, and finally attach the footrests and the fitness monitor.
Therefore, it shouldn't take more than 30-40 minutes of your time. An essential toolkit comes with the rower. Also, the manual provides step-by-step assembly instructions and detailed schematics.
Regarding maintenance, maybe the most important aspect is keeping the aluminum rails clean to prevent any nicks or damage to the wheels. The internal parts do not require any lubrication. So, other than this, you should only check for loose bolts and pieces from time to time and retighten them as needed.
Pros
Durable frame – can hold users up to 300 lbs;
Compact and aesthetic design;
Folding rail;
Transport wheels integrated into the front base;
High-density foam, a mold-injected seat for optimal comfort;
Quiet aluminum track system;
Pivoting footrests with heel guards and adjustable straps;
Relatively long rail – can accommodate users up to 6'2″;
Smooth magnetic resistance system with eight distinct levels;
Fitness monitor included – it can track time, distance, count, total count, and calories burned;
Tablet holder included;
Easy to assemble;
Little maintenance is required.
Cons
The fitness monitor LCD does not have a backlight;
The fitness monitor does not have a pulse reading function.
Circuit Fitness AMZ-979RW Summary
The Circuit Fitness AMZ-979RW is a full-magnetic rower designed for home use. It features a sturdy and compact steel & aluminum frame with a weight capacity of 300 lbs. It's also foldable and includes a simple fitness monitor.
It's a great fitness machine for light to medium-intensity cardio workouts, stamina development, muscle toning, and weight loss. In addition, it offers the possibility to perform a full-body exercise involving up to 84% of your muscle groups. And finally, it's an affordable machine for around $300.
I hope you found this article helpful and informative. Would you please speak up if you have anything you'd like to share or any opinions about my website? I look forward to your comments, questions, and the sharing of ideas.
Please remember that you should consult your physician to determine if you have any medical or physical conditions that could risk your health and safety or prevent you from using the equipment properly. In addition, your physician's advice is essential if you are taking medication that affects your heart rate, blood pressure, or cholesterol level.