Built from robust and long-lasting materials, the Concept2 Model E Indoor Rower is a fitness equipment designed for commercial, heavy-duty use in gyms and army training bases. Now adapted for domestic use, this rower brings visible and consistent results to its user's overall physical health.
This model has a clear advantage over the similarly-priced rowers boasting an impressive user capacity of up to 500 pounds. This rower also features a 20-inch frame height, which positions the user at an optimal angle for a workout. This angle also enhances the gravitational pull, which, in return, allows you to benefit the most from your training session.
The Concept2 Model E Indoor Rower is a high-quality piece of machinery designed to deliver a complete body workout for individuals of any age and fitness level. The flywheel design maximizes the smooth operation of each stroke and minimizes noise. The rowing machine is exceptionally portable, breaking down into two parts to store and provide casters for mobility.
The backlit Performance Monitor 5 (PM5) sets Concept2 rowers apart from the competition. It includes games and workouts, along with plenty of session feedback. Wireless connectivity makes transferring workout data easy. You can also save the data to a flash drive for use with your apps.
Learn more in my complete review below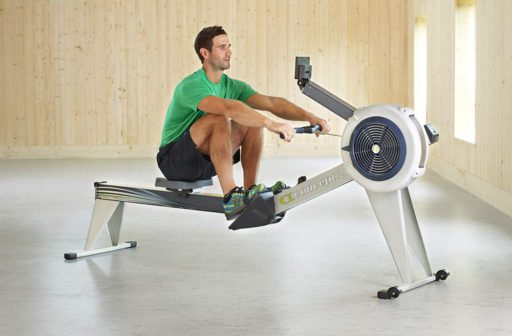 Product: Concept2 Model E Indoor Rower with PM5 Monitor
Price: For a great deal on this rower, merely go here on Amazon
Warranty: Frame 5-year limited / 2-years on the monitor and moving parts /30-day money-back guarantee
My rating: 9.8/10
Amazon Affiliate Disclosure: I may earn commissions from purchases made through links in this post.
Details and Specifications
Assembled dimensions: 96L x 24W x 20H inches (244L x 61W x 51H cm)
Product weight: 65 lbs (29 kg)
Supported weight: 500 lbs (227 kg)
Frame: Steel /aluminum, foldable
Footrests: Adjustable, with straps
Resistance type: Air
Progress tracking computer: PM5
Warranty: Frame 5 years, Parts 2 years, Console 2 years
Model E Frame
The Concept2 Model E incorporates both steel and aluminum parts. The monorail is made of extruded aluminum with a stainless steel seat track, while the machine's support bases are welded steel.
All metallic parts are double powder coated with anti-corrosive paint, featuring a glossy, elegant finish. It's available in two colors, which are light gray or black. The flywheel enclosure is high-impact ABS thermoplastic.
The frame is foldable. A quick-release mechanism facilitates the connection and disconnection of the monorail from the front part. For storage, it requires 47″L x 27″W x 54″H (119.5 x 68.6 x 137.2 cm).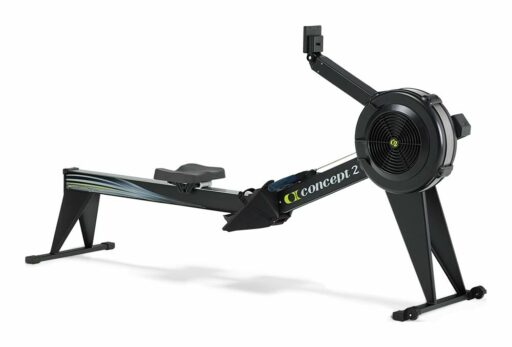 When fully assembled, the machine has a footprint of 8'L x 2'W (244 x 61 cm). It requires about 1′ (30.5 cm) clearance at the rear and 1′ (30.5 cm) of clearance on each side for proper operation.
The standard monorail included with all Model E units is 54″ (137 cm), designed for users with an inseam up to 38″ (96.5 cm). Therefore, it should be able to accommodate users up to 6'6″ – 6'7″ (198 – 201 cm) comfortably. However, replacing the standard monorail with an extra-long one designed for taller users is the option.
The Model E's support legs are quite a bit taller than in Model D, providing a seat elevation of 20″ (51 cm). This makes it much easier to acquire the rowing posture, especially for users with impaired movement or articulation problems.
Bases, seat, and footrests
The machine's bases are steel-made, with plastic caps on their ends and rubber stabilizing pads. The front base also features caster wheels to facilitate the relocation of the rower. However, the machine is not extremely heavy, being easy to lift and move around.
On the other hand, this rower's maximum supported weight is 500 lbs (227 kg), which points out clearly that it has a substantial construction, a rower made for commercial use.
The seat top is made of hard plastic material, with an anatomically contoured design, promoting a correct and comfortable position for the user.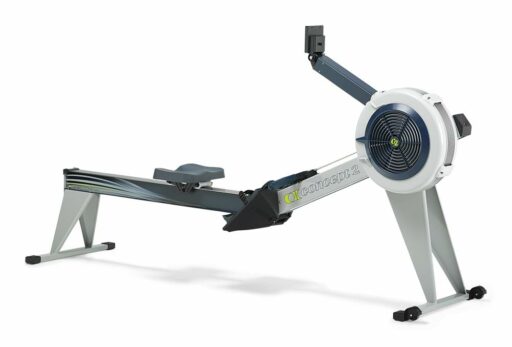 Last but not least, the footrests equipped on this rower are fixed, with an angle of 45°. Their size is adjustable, being able to accommodate feet of all sizes. They also feature straps to secure the user's feet in place and avoid any potential injuries.
Model E Drive and resistance
Like any other rowing machine with an air-based resistance mechanism, the Concept2 Model E generates resistance via a flywheel fan. The resistance produced depends on the force behind each rowing stroke. In other words, the harder you pull, the more resistance you will get.
However, this machine's resistance system also features a damper, which allows you to adjust the airflow within the flywheel's enclosure, offering more or less overall resistance. There are ten resistance values on the damper. The optimal aerobic training is while you're using the 3-5 settings, the top settings offering a consistent workout.
If you've been wondering, the air current generated by the flywheel fan's spinning does not blow on the user. However, if you would like to use this air current as a cooling factor during your workout, there's an accessory called CBreeze, which can direct it at you. This accessory is not included with the rower, though.
The flywheel fan isn't particularly loud. It produces a "swish" sound with each stroke, a sound that shouldn't cover a normal conversation or the sound of your TV. The flywheel minimizes noise, promoting a smooth feel to the rowing stroke.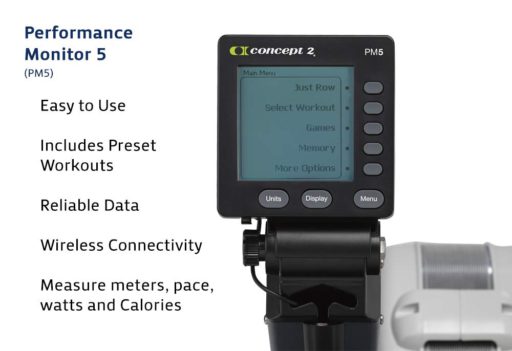 The drive system involves a bungee cord that passes over a pulleys system enclosed within the machine's front section. This pulley system makes the connection between the flywheel and the pulling chain. The chain features a nickel plating finish, which allows for more extended periods between oiling.
It connects to an ergonomic handle made of hard plastic with rubber foam grips to prevent damage to the hands. The handle features a 10° angle, promoting the hands and arms' natural motion and posture, minimizing the wrists and elbows' stress.
PM5 monitor
Just as Model D, Model E comes with the PM5 performance monitor. This unit tracks speed, pace, distance, time, calories, and watts. There are five display options, such as all data, bar chart, large print, force curve, and pace boat. You can set your targets for values such as time, distance, or interval.
There are 5 Standard workouts preset in the unit, including 2000m, 5000m, 10000m, 30:00 min, and 500m/1:00r (interval training for 500m rowing and 1 minute of rest). There's also a list of 5 Custom workouts.
The console offers four entertainment games, including Darts, Target Practice, Fish Game, and Biathlon. Although these are not precisely the most extraordinary game apps you've ever seen, they can still help clear the boredom if you want to undergo a prolonged training session.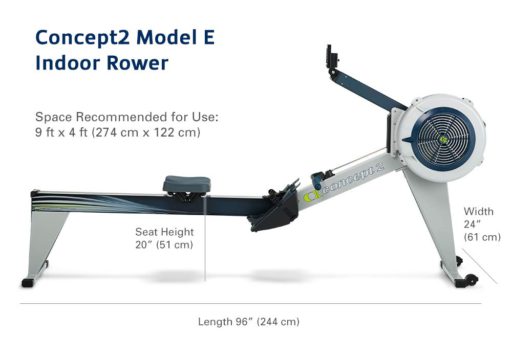 The PM5 console features a USB port, offering the possibility to record results and export them to your Online Logbook or your PC or Mac. The Online Logbook app also allows you to compete with others or participate in various incentive training programs.
One important aspect to mention here is that the unit is only compatible with FAT or FAT32 USB flash drives. So, if your USB is formatted in NTFS, for example, you might want to reformat it as FAT32 to be recognized by the console unit of the rower.
The PM5 unit can wirelessly track your heart rate, being compatible with ANT+ and Bluetooth Smart HR chest strap transmitters. An HR chest strap is not (included), though.
One last aspect regarding the Concept2 PM5 unit refers to its power generation. It requires two D-type batteries, but it draws power from the flywheel's spinning during your workout.
Model E Assembly and Maintenance
The rower's resistance and drive mechanisms are entirely assembled and operational and connected to the frame's front part. Footrests and seats are also already mounted. For assembly, you'll need to attach the support legs (or bases) to the front and rear parts of the frame, connect the two main components of the structure and attach the console.
The whole assembly process shouldn't take more than 20 minutes. The box includes the tools required for this task, along with quite an explicit owner's manual.
For maintenance, there are a few actions required. Before each use, the monorail should be wiped with a piece of cloth to remove particles that might cause nicks. The chain involves lubrication after every 50 hours of use. After every 250 hours of use, you should check for stiff links on the chain and vacuum the flywheel if it has accumulated too much dust.
Pros
Extremely durable frame, with a user capacity of 500 lbs;
Corrosive resistant finish;
Elegant design;
The monorail can accommodate users up to 6'7″, but can also be (replaced) with an extra-long one;
Foldability;
20″ elevation from ground level, offering a comfortable mount/dismount for physically impaired or elderly users;
Excellent ergonomics;
Adjustable air resistance system, with ten levels of resistance;
Advanced performance monitor with ten preset workout apps and four games;
A USB port for workout data transfer;
Offers the possibility to track your progress online, compete with others, or take part in various training programs via the Online Logbook;
Quiet machine;
Extremely easy to assemble;
Little maintenance required;
Great warranty package.
Cons
Footrests, although adjustable, they're not pivoting. Their angle is not adjustable;
The console arm is stationary; you can only adjust the angle of the monitor on the arm.
Concept2 Model E Indoor Rower Summary
The Concept2 Model E has all the qualities of a commercial-grade rower. It's a machine fit for users of all levels, from beginner to pro. Whether you want it as an alternative for your aerobic training or train as a professional rower during the off-season, it can surely help you achieve or maintain your desired physical shape.
Also, if you want a machine that can help you lose weight, this rower can help you burn at least 2-3 pounds per week or even more, depending on the length of your training sessions. And finally, it comes with an excellent price-quality ratio and unmatched durability.