The Diamondback Fitness 910SR Recumbent Bike is one of the best options in its price category. This multi-purpose bike is gentle enough for rehab and first-time indoor cyclists, yet powerful enough for advanced workout sessions. It's an excellent choice for gaining strength and toning muscles, burning calories and building endurance.
With a tall and supportive back, the Diamondback's chair-like seat offers excellent lumbar support and overall stability. The backing is a mesh material for airflow, and it comes with metal brackets for additional support. Also, the seat is padded and can be adjusted to make the bike ergonomically correct for most users. The 910SR is ideal for users between 5'2″ and 6′ 5".
The 910SR uses technology to make your workout fun and efficient. Start with the built-in fitness test to determine what level you should begin your training. Then quickly choose between 32 available programs and 32 levels of resistance—all at the touch of a button.
The 910Sr features an advanced, frictionless eddy brake system to deliver the smoothest, quietest ride available. So, you can burn calories while the baby sleeps or while your partner watches television—all with consistent, whisper-quiet performance.
Learn more in my complete review below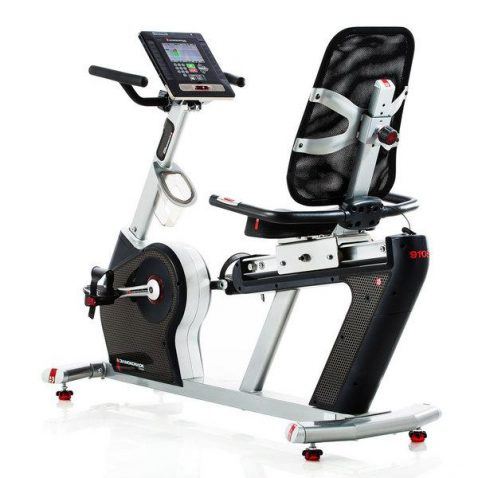 Product: Diamondback Fitness 910SR Recumbent Bike
Price: For a great deal on this bike, merely go here on Amazon
Warranty: Frame lifetime / Parts 3 years / Electronics 3 years / Labor 1 year / Wear items 90 days
My rating: 8/10
Amazon Affiliate Disclosure: I may earn commissions on purchases made through links in this post.
Details and Specifications
Assembled dimensions: 64L x 23W x 50H inches (163L x 58W x 127H cm)
Assembled weight: 130 lbs (58.9 kg)
Supported weight: 325 lbs (147.4 kg)
Flywheel weight: 32 lbs (14.5 kg)
Seat: Adjustable
Resistance: Eddy current, 32 levels
Progress tracking console: 32 workout programs
Extras: Sound system, cooling fan, USB charging port, media bay, book support, bottle holder
Warranty: Frame lifetime / Parts 3 years / Electronics 3 years / Labor 1 year / Wear items 90 days
910SR Frame construction
The Diamondback Fitness 910SR has a frame with a step-through design, which results in easy access to the seat and pedals; this can be an important feature for users with disabilities.
The bike's frame is considerably heavy. When fully assembled, it weighs approximately 130 lbs (58.9 kg). This weight adds to its overall stability. You can be sure that the bike won't wobble or move when you exercise. Plus, both its bases come with adjustable stabilizers. They have large rubber caps that improve the unit's grip onto the floor.
Despite the bike's weight, its transport isn't too tricky once assembled. The front base integrates a large roller, which facilitates its relocation. Therefore, by lifting the trainer by its rear base and using the transport wheel, you won't need to handle more than 45 lbs.
Like most recumbent bikes within this feature and price range, the Diamondback 910SR is a relatively large unit. With the frame fully assembled, its footprint is 63″L x 23″W (163 x 58 cm). However, it is recommended to allow at least two feet of clearance all around it for safe operation and ease of access. The unit's highest point is approx. 50″ (127 cm) above floor level; it's given by the top part of the console.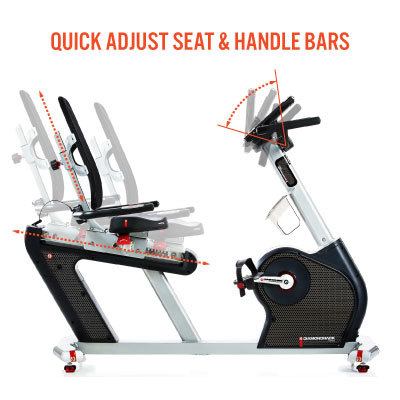 The bike's frame is double-coated with a rust-resistant and abrasion-resistant paint finish. The color used is gray, this being the only version available for this exercise bike.
Seat & handlebars
The Diamondback 910SR features an adjustable seat. It is attached to a metallic rail, which has several adjustment positions. Its front to back adjustment span can accommodate users between 5'0″ and 6'5″ (153 – 196 cm). Its adjustment is via the lever on the right side.
The seat has a durable vinyl upholstery. Its surface is contoured, and it integrates a thick layer of foam padding for optimal comfort. It is 16″ (40 cm) at its widest point and 11″ (28 cm) deep. It's also durable enough to support users up to 325 lbs (147.4 kg).
The backrest is also adjustable; its backbone has six adjustment positions. Therefore, you can place it at the most comfortable height for you. The backrest features a mesh structure that not only that adapts well to the shape of your back; it also promotes a maximum airflow reducing overheating.
The bike comes with two sets of handlebars, one attached to the seat assembly and one attached to the console mast. The seat's handlebars integrate EKG sensors; by holding them tight as you pedal, the console can monitor your heart rate. Both sets of handlebars have a layer of rubber foam material to provide a comfortable and secure grip.
910SR Resistance & drive
The Diamondback 910SR features a motorized magnetic resistance system. Its main elements are a small internal servo motor and a magnetic brake device. The resistance is only adjustable from the console, and the bike requires a connection to a power source via a power adapter, which is (included).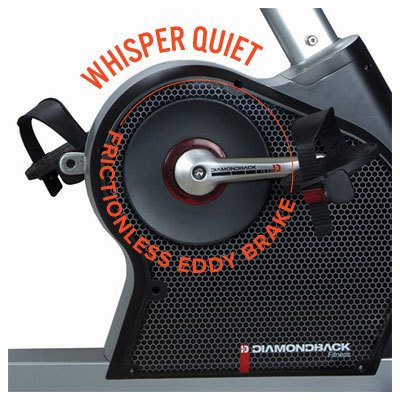 By selecting a specified resistance level from the console, the motor will move the brake mechanism closer or farther from the flywheel. Thus, increasing or decreasing the intensity of the internal magnetic field, and respectively adjusting the resistance that the pedals meet.
The bike's resistance system offers 32 distinct tension levels. The first levels generate little resistance; basically, the only resistance that you'll get for the first level is the flywheel's weight alone. Conversely, the 32nd level of resistance simulates a steep climb, giving you the possibility to train on a more intense level. Also, it's important to mention here that specific preset programs auto-adjust the bike's resistance.
The bike has a 32 lbs (14.5 kg) flywheel, which is relatively heavy for a recumbent bike. It generates quite a bit of inertia, and it's bi-directional. You can pedal in reverse if you want, and the console will continue to measure your workout stats; however, the bike doesn't allow you to coast.
Like most other magnetic exercise bikes, the 910SR features a belt drive system. Therefore, the pedaling motion is extremely smooth and almost silent. It also doesn't require lubrication as a chain drive.
The crankset is an extremely durable 3-piece part. It features heavy-duty steel arms with a chrome finish. It could probably withstand the user in a standing up pedaling routine, but this type of exercise is not advisable; the bike is for seated workouts only.
The pedals are a durable ABS material. They're weighted, so they always turn face-up when your feet aren't on them. They are equipped with adjustable straps so you can correctly secure your feet on them. They don't have SPD clips, but they do have standard threads of 9/16, so you can easily find replacements for them.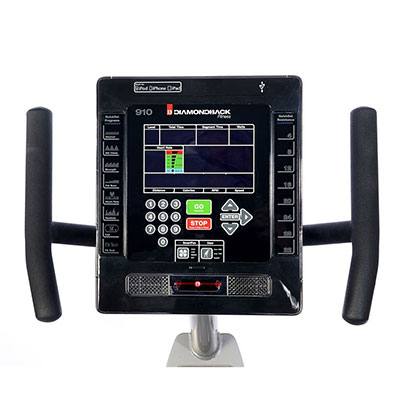 910SR Console
Although the bike's console offers a pretty impressive range of workout programs, it doesn't connect online. In other words, it's not compatible with iFit or other online applications. It features a large LCD with blue LED backlight and significant digits for enhanced readability.
It's divided into several sections so you can see most of the workout stats at once. The top four panels show the level of resistance, total time, segment time, and watts, while the bottom section scrolls between distance, calories, RPM, and speed. The middle section indicates your heart rate and the program matrix.
Distance and speed can be set up in both standard and metric units. The unit can measure your heart rate through the sensors integrated into the seat handlebars. However, it's also telemetric; this means it is compatible with various Polar HR chest strap transmitters. An HR strap is not (included), though.
The console unit offers 32 workout programs in total. There are 6 Interval, 6 Hill Climb, 6 Strength, 3 Fat Burn, 5 Random, 5K & 10K programs. Along with these, there is also a Fitness Test program and a set of Heart Rate programs.
The Fitness Test evaluates your fitness level at the end of your workout based on your pulse rate. The Heart Rate programs depend on a selected HR interval and adjust the unit's resistance to allow you to remain within that hr chosen interval.
Of course, there is also the Manual mode, which gives you the possibility to adjust the resistance as you pedal, without the need to preset anything.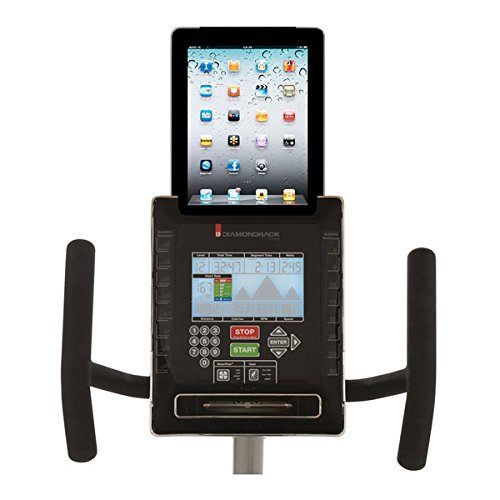 The console has two user profiles. Each user can input their data, such as age and weight, as well as the workout time and resistance level.
Amenities
Along with the workout programs and all the other related fitness features, the console also offers several amenities. Among them, we can count a stereo sound system, a cooling fan, a USB charging port, a docking bay for your tablet, and a magazine or book holder.
The sound system consists of two small speakers placed on the two bottom corners of the console. The audio jack input is compatible with most MP3 players, tablets, or smartphones. However, the unit doesn't have volume controls, so you will have to adjust the volume from your device.
The cooling fan is also at the bottom of the unit, between the two speakers. It has an adjustable fan louver which allows you to adjust the angle of the airflow. It has three settings, low, high, and smart. The smart mode gradually intensifies the airflow, depending on how fast you pedal.
The top docking bay for a tablet or phone has the two ports, audio, and USB. The USB port is only for charging your phone or tablet as you exercise; it doesn't allow you to copy your workout data.
The bottom section of the console has a magazine or book holder. It can be folded/unfolded up. And finally, the whole console assembly can be tilted by several degrees to provide the best angle depending on your height.
910SR Assembly & Maintenance
The base frame of the Diamondback Fitness 910SR comes pre-assembled. The seat's adjustment rail is also in its place. Therefore, you will only have to attach the bike's (two) base stabilizers, the console mast, the console, the seat, the handlebars, and the pedals. This may take more than an hour. However, the manual offers clear assembly instructions and schematics, while all the tools necessary for the assembly are (included).
Maintenance doesn't require much. You'll need to wipe the sweat off the bike with a piece of cloth, keep liquids away from the console, and periodically inspect the bike for loose bolts and parts.
Pros
Heavy-duty, commercial-grade construction;
High weight capacity – can hold users up to 325 lbs;
It has an aesthetic design which can also be a motivation factor;
Adjustable stabilizers on both bases;
Transport wheel at the front;
Transport handle at the rear base;
Cushioned and contoured seat;
Flexible, breathable, and durable backrest;
Adjustable seat;
Pulse sensors integrated into the seat handlebars;
Motorized magnetic resistance system with 32 settings available;
Very smooth, almost silent belt drive;
Balanced, 32 lb flywheel for a consistent momentum;
Weighted pedals with adjustable straps;
Large LCD console with backlight;
The console is angle-adjustable;
The console is telemetric – can read pulse via an HR chest strap;
32 preset programs;
Two user settings;
Sound system included;
Smart fan included;
Tablet and smartphone docking bay;
Reading rack included;
Bottle holder included;
Little maintenance required;
Fairly easy to assemble;
Excellent warranty.
Cons
Doesn't have online connectivity;
The fan is not overpowering.
Diamondback Fitness 910SR Summary
The Diamondback Fitness 910SR is a heavy-duty recumbent bike featuring a motorized resistance system with 32 levels and a highly customizable console that offers 32 workout programs. Furthermore, it excels in micro-adjustability and comfort factors. It's excellent recovery and light cardio workouts, but also for high-intensity cardio training, interval training, and weight loss.
Although it doesn't have online capabilities, it's still an excellent trainer with construction and a range of features similar to commercial models. And finally, it's a recumbent bike that offers superb value for the price.
I hope you found this article helpful and informative. If you have anything that you'd like to share or any opinions about my website, please do speak up. I look forward to your comments, questions, and the sharing of ideas.
Recommended articles:
Please follow and like us: