For rowing enthusiasts on a budget, the MaxKare Water Rowing Machine boasts everything you need from a decent water rower. There's a sturdy steel frame, large water tank, comfortable padded seat, upright storage, and even a water bottle holder! In action, it's as natural as some of the higher-end models, allowing for smooth but intense workouts.
This is a water machine, which means the resistance mechanism consists of a fan pulling through the water in the tank. To set the resistance level, you need to add or remove water to find your optimum level. Then the harder you pull, the more the water resists you.
​The monitor on the MaxKare Water Rowing Machine is a pretty good one for the price. Workout data displayed includes 500 meter split times, strokes per minute, and calories you've burned – this is an estimate. The LCD screen is the right size and easy to read when rowing. It's also heart monitor compatible so that you can see your pulse, but it doesn't come with heart rate programs.
One feature I like is the human vs. boat program. You set the goal and then race against the computer! There's nothing like a bit of competition to motivate yourself. The monitor sits on an adjustable arm and can tilt for ease of reading, depending on your height.
Learn more in my complete review below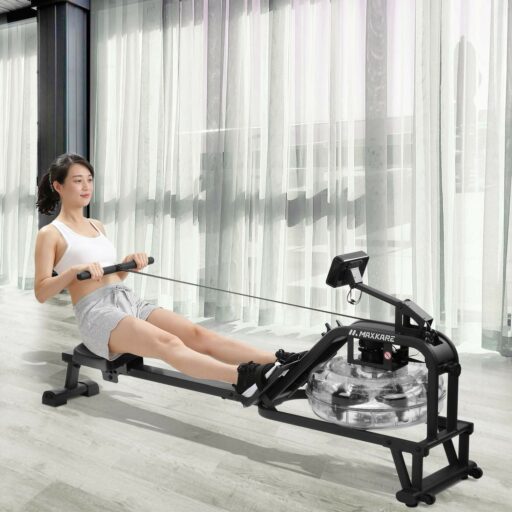 Product: MaxKare Water Rowing Machine
Price: For a great deal on this rower, merely go here on Amazon
Warranty: 2 years limited / 30-day refund or replace if any defects or damage caused in transportation.
My rating: 9.5/10
Amazon Affiliate Disclosure: I may earn commissions on purchases made through links in this post.
Details and Specifications
Assembled dimensions: 78L x 17.3W x 35.4H inches (198L x 44W x 90H cm)
Shipping weight: 86 lbs (39 kg)
Supported weight: 265 lbs (120 kg)
Frame: Steel
Footrests: Adjustable
Resistance type: Water
Fitness console: Total time, 500m time, distance, SPM, total strokes, calories, heart rate, race program, recovery
Warranty: 2 years limited / 30-day refund or replace if any defects or damage caused in transportation.
MaxKare Frame construction
The MaxKare water rower features a frame made of steel tubing with a monorail designed to support users up to 264 lbs (120 kg). All the steel parts in its construction come with a corrosion-resistant paint finish. The color used is black, with the "MaxKare" logo painted white; these are the only colors available for this particular rower.
Although this MaxKare rower is not as significant as other fluid rowers, it still is relatively large. It measures 78″ (198 cm) in length and 17.3″ (44 cm) in width. Plus, it is recommended to leave at least two feet of clearance all around it to be able to perform a complete and correct rowing motion, and for ease of access. Therefore, it may not be the best choice for a small room or apartment.
The machine's frame is not foldable, but it can be stored vertically, resting on its front base and the extra stabilizer on the front upright section of the frame. So, when stored vertically, its footprint becomes approx. 30″D x 17.3″W (76.2 x 44 cm).
The unit is fairly heavy as well. Without any water in the tank, it weighs approx. 81-82 lbs (36-37 kg). Thus, the transport of the boxed unit may require two people, but only one person can do the assembly. Once assembled, it transports with ease by using the small wheels attached to the front base bar. Also, the rear base bar features a set of adjustable stabilizers.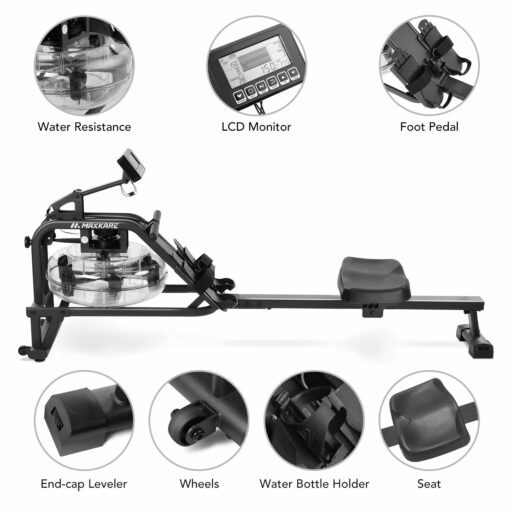 Seat and other parts
The MaxKare water rower comes with a cushioned seat, and it provides optimal comfort. Its cover is a durable vinyl material, which also offers excellent adherence, preventing you from sliding backward during the push phase.
The top of the seat is relatively large as well. It is approximately 15″ (38 cm) wide and 10.6″ (27 cm) long, providing plenty of contact surface.
The base of the seat is steel-made. It integrates three sets of rollers, two on top of the rail, and one under the track for extra stability. These rollers have a rubberized cover to provide a smooth and quiet seat movement. They also integrate sealed ball bearings for a prolonged lifespan.
The rower's rail is approx. 43.3″ (~110 cm). Therefore, the machine should accommodate users up to 6'2″ (188 cm) with no problem, promoting a complete leg extension.
This MaxKare rower comes with a set of fixed footrests. They are directly attached to the mainframe, so they do not pivot on their axis as for other rowers. They are set at an optimal angle of 45° and provide firm support.
The footrests are adjustable, large enough to accommodate athletic shoes of all sizes. They also have heel guards and adjustable straps for extra foot stability.
The rower's pulling handle is a simple, straight metallic bar, with rubberized grips for optimal comfort. The handle is attached to an abrasion-resistant mesh strap, designed to resist the stress of repeated pulling for a long time.
MaxKare Water tank and resistance system
The MaxKare water resistance rower comes with a polycarbonate water tank with transparent and clear walls. Its exact capacity is not specified, but it should be somewhere between three and four gallons (11-15 liters), similar to other machines in this feature range. It's important to mention, though, that the manufacturer recommends only filling up to 2/3 of its total capacity (there are markings on it).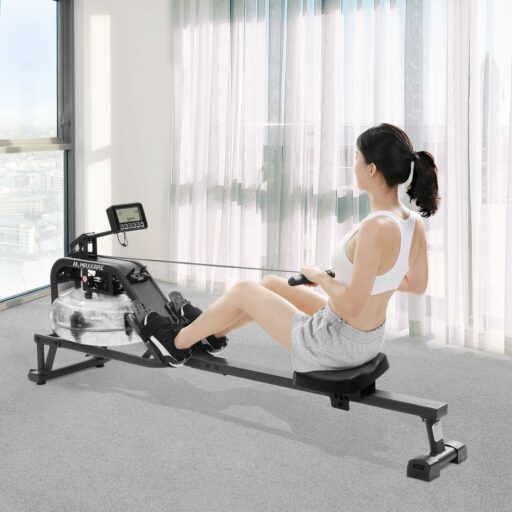 The machine's water tank comes with a multi-blade impeller. This is the main resistance-generating element. There is no resistance adjustment system, but just like any other water resistance rower, it delivers a dynamic resistance response.
In other words, if you put more strength behind your strokes, the impeller will spin faster in the water, and you will benefit from more resistance, similar to rowing a real boat.
The unit's overall resistance can be adjusted, though. It also depends on the quantity of water in the tank. Therefore, to increase or decrease the total resistance, you can manually add or remove water from the container, making sure, of course, to not exceed the maximum allowed level. Also, the water can remain in the tank when the machine is stored vertically.
Concerning the level of noise generated by this water resistance rower, I can say that it is considerably quiet. The spinning of the impeller inside the water tank does create some sound, but the level is low.
Console
This rowing machine comes with a mid-range fitness console. It features a multi-window LCD, which is a plus because you can view all the workout metrics at once without having to select the one that interests you continuously, or without using a Scan Mode.
The monitor shows time/500m, total time, strokes per minute (SPM), total strokes, distance, watts, calories, and pulse. Distance displays in meters (cannot be set to miles or yards), while for the pulse reading, you will need a wireless HR chest strap (not included); the console should work with any 5.3 kHz HR chest strap transmitter.
The fitness console does not have any online connectivity, nor is it compatible with any online fitness apps. However, it has two workout modes: Race and Manual. The Race mode has 15 levels of difficulty. For the first level, Time/500m is set at 8:00 minutes, while for the 15th level, it is at 1:00 minute. The distance for this program is also adjustable up to 10000m.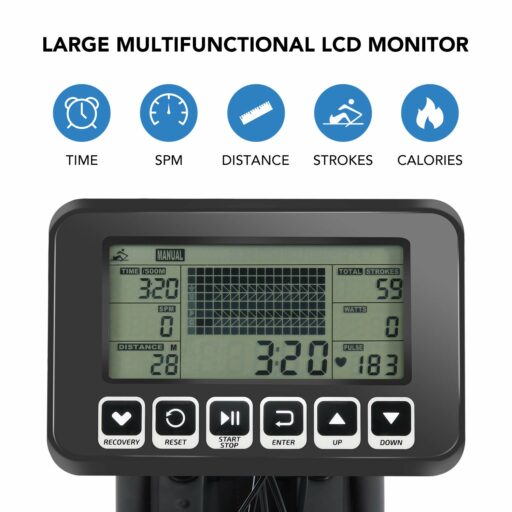 The Manual mode gives you the possibility to select workout goals for distance, strokes, calories, time, and pulse. Therefore, you can increase your workout load with each session to improve your progress.
There is also a pulse recovery function. This application gives you the possibility to calculate your fitness level. Based on the heart rate at the end of the workout, it will provide you with a fitness rating between F1 (Excellent) – F6 (Poor).
Ease of use
The fitness console is straightforward to use. It has six buttons. From right to left, the first one is the Recovery button; you can press it at the end of the workout so that the console will calculate your fitness level. The 2nd button covers the Reset function; by touching it, you can clear all the values on the unit to zero.
The 3rd button includes the Start/Stop functions for the program in use, while the 4th (Enter) button allows you to select values. And finally, the Up / Down buttons on the right give you the possibility to increase or decrease your goal values or navigate through functions.
The console is battery-operated. It uses 2 AA type batteries. It also has a sleep mode to which it will enter after a few minutes of inactivity on the machine. When in sleep mode, it displays the current date, room temperature, and clock.
One last aspect to mention here regards the fitness console mount. It is quite a plus that you can adjust its angle either by its whole armor from its connection point to the arm. This way, you can get the perfect angle for the best visibility.
MaxKare Assembly and Maintenance
This rowing machine requires some assembly. However, the water tank with all the drive and resistance elements comes pre-assembled and integrated into the front frame section. You only need to add the front base, the rail, the seat, the rear base stabilizer, and the fitness console.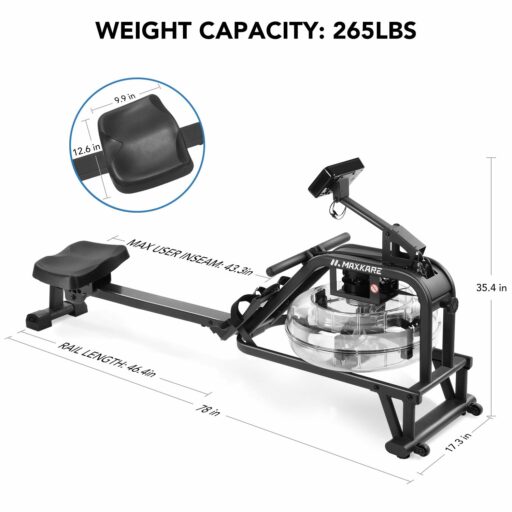 This shouldn't take more than 30 minutes. The task is quite straightforward; all the necessary tools for it are (included) with the rower.
For maintenance, it is advisable to add a chlorine pill in the tank water every six months. Other than this, you should keep the monorail clean to prevent any damage to the seat rollers, and periodically check for any loose parts.
Pros
Pretty sturdy steel frame which can support users up to 265 lbs;
Aesthetic design;
Can be stored vertically, and the water doesn't require drainage for storage;
Transport wheels for smooth relocation;
Adjustable stabilizers on the rear base;
Contoured and padded seat;
Water-resistance system which provides a dynamic response during rowing and natural feel;
Mid-range fitness console which indicates time, time/500m, SPM, strokes, distance, calories, and pulse;
Two workout modes – Manual and Race;
Clock, calendar, and room temperature reading function on the console;
Recovery function;
Smooth and quiet operation;
Tools for assembly are (included) with the rower;
Little maintenance required;
Easy to assemble.
Cons
The console display doesn't have an LED backlight;
HR chest strap not included.
MaxKare Water Rowing Machine Summary
A MaxKare water rower is a fitness machine designed for home use. It features a sturdy steel frame with a capacity of 265 lbs, a 43″ monorail, and a mid-range console that can track time, time/500m, SPM, strokes, distance, calories, and pulse.
It's an excellent trainer for a full-body aerobic workout. It's great for interval training, light to intense cardio training, weight loss, and stamina development. And finally, it's one of the most affordable rowing machines with water resistance available at the moment.
I hope you found this article helpful and informative. If you have anything that you'd like to share or any opinions about my website, please do speak up. I look forward to your comments, questions, and the sharing of ideas.
Related articles: