The Doufit EB-02 Recumbent Bike adopts a heavy-duty integrated steel frame to achieve stable and safe performance. And the ergonomic recumbent structure makes your exercise more comfortable, secure, and useful. It is suitable for your entire family, including older adults or teenagers.
The EB-02 features a high-quality 8.8 lb flywheel that provides a smooth and quiet workout. It's perfect for exercising your legs, calves, and hip, but it is safe and comfortable. It is an ideal option for home relaxation and workout while it doesn't disturb your family.
The Doufit EB-02 comes equipped with a digital monitor that can track your data, including calories, time, speed, virtual distance, total mileage, and heart rate during exercise, making your workout more exact and reasonable.
The adjustable seat helps you to achieve your proper sitting position during relaxing exercises. Its sizeable padded leather seat and backrest provide better support and keep you comfortable during exercise.
Learn more in my complete review below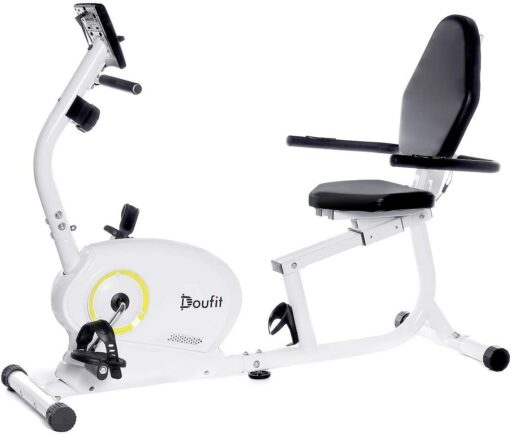 Product: Doufit EB-02 Recumbent Bike
Price: For a great deal on this bike, merely go here on Amazon
Warranty: Not specified
My rating: 8.5/10
Amazon Affiliate Disclosure: I may earn commissions on purchases made through links in this post.
Details and Specifications
Assembled dimensions: 54L x 20W x 40H inches (137L x 51W x 101H cm)
Assembled weight: 60 lbs (27 kg)
Weight capacity: 240 lbs (110 kg)
Seat: Adjustable
Pedals: Weighted, with straps
Resistance: Manual magnetic, eight levels
Console: Time, distance, odometer, speed, calories, pulse, goals, SCAN
Extras: Device holder
EB-02  Frame construction
The Doufit EB-02 recumbent bike features a frame made of steel tubing. Most of the tubes in its construction are cylindrical, except for the seat rail, rectangular. The whole structure is painted white, this being the only color available for this exercise bike.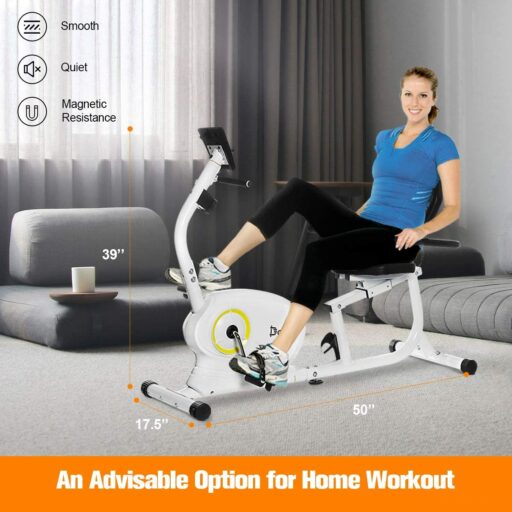 The bike's frame has two main pieces. The front part supports the drive system and the console, while the rear part supports the seat base and the seat. However, unlike some other recumbent bikes, the seat has an adjustment rail.
The length of the bike does not adjust from the joint base section. The two pieces connect via screws. Also, the median base bar features an adjustable stabilizer right under the joint area. The rear base stabilizer also has adjustable polygonal levelers, while the bike's front base features a set of transport wheels.
The fully assembled bike has a footprint of approx. 54″L x 20″W (137 x 51 cm). However, the maximum width is the seat handlebars, which have a span of approximately 25″ (63.5 cm). Therefore, it is advisable to assign a usage area for the bike of at least 100″ x 70″ (254 x 178 cm) for ease of access.
The bike features a step-through frame. This type of design allows for easier entry and exit. Not all exercise bikes have this feature, so it's quite a plus. Also, the bike isn't too heavy. With all the parts assembled, it weighs approximately 60 lbs (27 kg). Therefore, one person can easily put together the bike.
Seat and handlebars
The Doufit EB-02 exercise bike comes equipped with a seat designed for optimal comfort. Both its backrest and bottom pad feature approx. 1.5″ (3.8 cm) of foam cushioning. They have a layer of polyurethane fabric, which is also waterproof.
The bottom pad is approx—13″ (33 cm) wide and 12″ (30.4 cm) deep. The backrest is 16″ (40.6 cm) long and 13″ (33 cm) wide. Thus, the seat offers plenty of contact surfaces. It also supports users up to 240 lbs (110 kg).
The bike's seat features a knob-based adjustment system. Its adjustment rail has seven adjustment holes and offers a total adjustment span of approximately 9″ (22 cm). Therefore, the bike should be able to accommodate users between 5'1″ and 6'4″ (155 – 193 cm).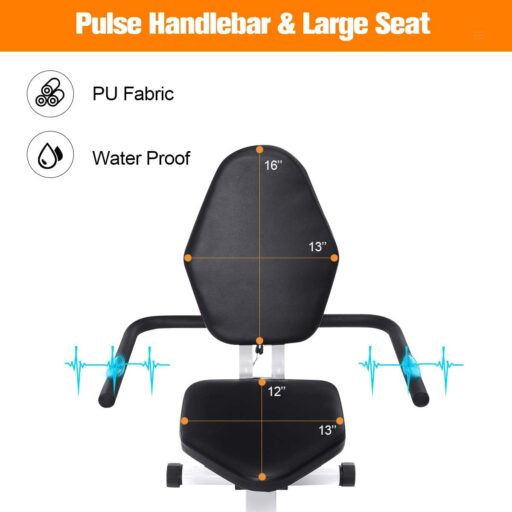 It's important to note that the backrest does not adjust independently from the seat. It attaches directly to the seat frame and does not have a reclining feature.
The Doufit EB-02 bike features two sets of handlebars—one attached to the seat assembly and the front mast. The seat handlebars have metallic pulse sensors. They do not adjust independently from the seat. If you're wondering, the distance between them is approx—22″ (56 cm).
The front handlebars are slightly curved towards the user to provide a more natural hand positioning and minimize the wrists' impact. Just as the seat handlebars, they are non-adjustable.
However, due to the smaller size of the bike, they aren't awkwardly placed too far away from the user, as is the case for some other bikes, so holding on to them when pedaling is pretty comfortable.
EB-02 Resistance system
The Doufit EB-02 recumbent exercise bike comes equipped with a manual magnetic resistance system offering eight distinct tension levels. The first tension setting provides a pretty light difficulty level, great for beginners, warm-ups, or recovery training.
The 8th level of resistance delivers considerably more resistance, great for anyone who wants to quickly achieve a high cardiovascular rate or perform a more consistent workout.
Since the bike's resistance system is manual, you don't need an adapter for the bike, and you don't need a power source for it. But on the other hand, the included performance monitor cannot automatically adjust the resistance and does not have pre-set programs.
The bike's resistance system consists of a magnetic brake connected to the tension knob found on the front upright bar through a steel cable. As you turn the knob, the magnetic brake moves closer or farther from the internal flywheel, which improves or reduces the pedaling resistance.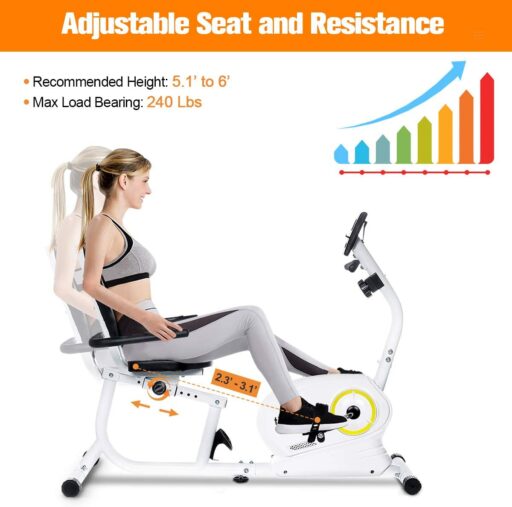 Drive system
The bike's internal flywheel weighs 8.8 lbs. The flywheel is balanced, though, to provide a smooth and steady pedaling motion. The flywheel is also bi-directional.
Most exercise bikes equipped with a magnetic resistance system feature a belt drivetrain to not interfere with the magnetic brake. The Doufit bike does not make an exception. It integrates a durable poly-v belt. Thus, you don't have to worry about its lubrication.
Last but not least, this recumbent bike features a durable crankset. Nonetheless, since it's not a spin bike, it's not for standing on the pedals; it is for seated workouts.
The included pedals are a durable thermoplastic material. They have a weighted design, so they always turn face-up if you remove your feet from them. They are also equipped with adjustable straps for improved foot stability during pedaling.
EB-02 Console
The fitness console included with the Doufit EB-02 features an LCD divided into two ted into the seat handlebars' grips. It does not work with Polar or ANT HR chest straps. It also does not have Bluetooth and is not compatible with any fitness apps.
The bike's console does not have pre-set workout programs. However, it does have goal settings for time, distance, and calories burned. If a goal is selected, it will count down from the desired value and always show the remaining value until it reaches zero.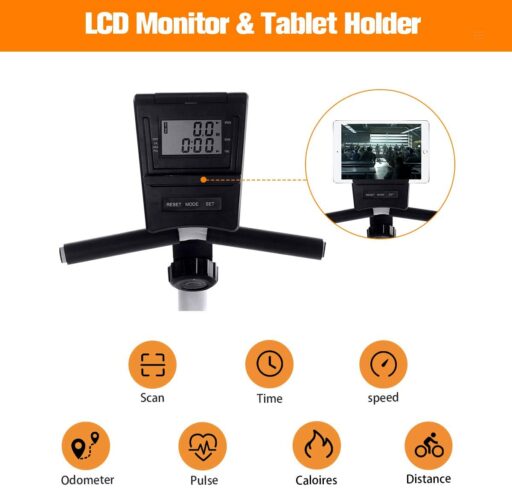 The console is relatively easy to use. It has three buttons – Mode, Set, and Reset. The Mode button allows you to change the metrics on display or select the Scan Mode, which automatically rotates the values, showing them for several seconds each. The Set button is for setting goals for your workouts, and the Reset button clears all the values on the console to zero.
The console unit is battery-powered, and it uses two AAA batteries, which come included. It starts when you begin pedaling and automatically turns off after a few minutes of inactivity on the bike.
Assembly and Maintenance
The bike's drive and resistance unit comes pre-assembled and attached to the front section of the frame. However, you still have to connect the two frame pieces, assemble the seat, add the two base stabilizers, the front mast, the handlebars, the fitness console, and the pedals.
This may take up to an hour of your time. However, the task is pretty simple and straightforward, and a set of tools for the job comes included.
Once assembled, you don't have to worry too much about maintenance. The internal parts don't need any lubrication (at least not for a very long time). So, all you have to do in terms of maintenance is to keep the bike clean and periodically check for loose bolts.
Pros
Sturdy steel frame – can support users up to 240 lbs;
Transport wheels on the front base;
Adjustable levelers on the rear base;
Step-through frame design;
Seat handlebars with pulse sensors;
Front handlebars included (other bikes don't have this feature);
Padded seat and backrest for optimal comfort;
Adjustable seat;
Quiet magnetic resistance system (8 levels);
Weighted pedals with adjustable straps;
Fitness console that can track time, distance, total distance, speed, calories, and pulse;
Goal settings for time, distance, and calories;
Tablet holder included;
Lightweight, easy to handle;
Easy to assemble;
Little maintenance is required.
Cons
No bottle holder;
The LCD doesn't have a backlight.
Doufit EB-02 Recumbent Bike Summary
The Doufit EB-02 is a recumbent bike made for home use. It features a manual magnetic resistance system, an adjustable seat, and a fitness console that tracks time, distance, total distance, speed, calories, and pulse.
Moreover, it is a pretty standard recumbent bike, great for light to medium-intensity cardio workouts, muscle toning, recovery training, stamina development, and weight loss.
I hope you found this article helpful and informative. If you have anything you would like to share or any opinions about my website, please speak up. I look forward to your comments, questions, and the sharing of ideas.