The Endurance B4R Recumbent Bike by Body-Solid comes with 24 resistance levels of smooth, consistent magnetic resistance to provide challenging workouts for all users. Additionally, the B4R features 21 programs to get you into shape fast: Manual, Strength, Cardio, Hill, Fat Burn, Interval, Speed Training, Fitness, Watt, Personal, Target Heart Rate, and Random.
The Endurance B4R recumbent bike is commercial-rated and the perfect bike for anyone looking to get a high-powered cardio workout. With a small footprint, the Endurance B4R Recumbent Bike is the perfect cardio addition to any commercial workout facility or home workout space.
The console is large and easy to read, and heart rate sensors allow the user's to monitor their heart rate. Real-time feedback gives you your speed, RPMs, heart rate, distance, time, watts, and calories in an easy-to-read display.
Many enthusiasts choose recumbent bikes for their comfortable, reclined seating design, and the Endurance B4R is no exception. An ergonomic design distributes the rider's weight comfortably. The mesh seat back keeps your body cool during intense workouts.
Learn more in my complete review below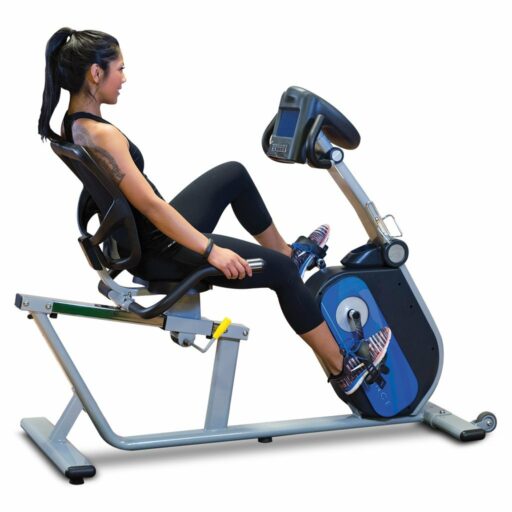 Product: Endurance B4R Recumbent Bike by Body-Solid
Price: For a great deal on this bike, merely go here on Amazon
Warranty: In-home: Frame lifetime / Parts 5 years / Electronics 2 years / Wear 6 months / Labor 1 year (see light-commercial warranty below)
My rating: 9/10
Amazon Affiliate Disclosure: I may earn commissions on purchases made through links in this post.
B4R Frame construction
The B4R recumbent bike features a sturdy frame made of steel tubing with a step-thru design. Although the user weight is not listed, its structure is pretty much similar to other light-commercial rated bikes. Therefore, it should handle at least 300 lbs (136 kg) of user weight.
However, transporting the assembled machine shouldn't be a problem, as the front base comes with a set of wheels. By lifting the frame by its rear base and leaning it onto its front wheels, you will be handling only half of the bike's total weight.
All its steel parts are coated with corrosion-resistant gray paint, while the plastic covers of the drive system and console are blue and dark blue. These are the only colors available at the moment.
The bike has a massive construction. It weighs 134 lbs (60.7 kg), a weight that adds a lot of stability to the frame. On top of that, its base is a few inches wider than other models. Therefore, you can be sure that it won't wobble or move even if you engage in a more intense workout.
The mainframe of the bike is one-piece, an aspect that also adds to the bike's overall sturdiness. The base tubes and the console mast are the only parts that require to be attached to it. Both rear and front base tubes rest on rubberized stabilizers, which supply an excellent grip onto the floor, also protecting it from scratches. The main tube of the frame has a stabilizer in its midsection as well.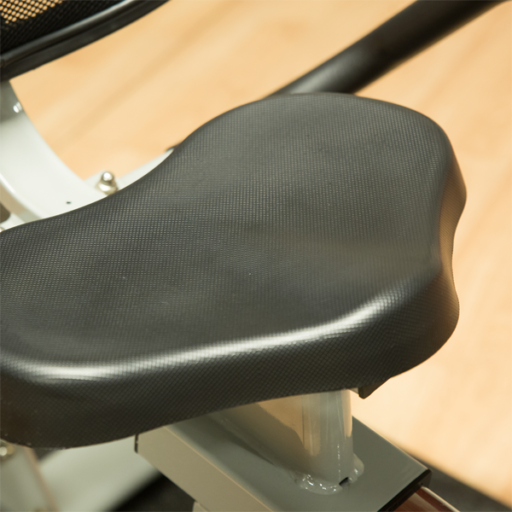 This exercise bike has a larger footprint than other similar models. It takes 69″L x 26.25″ (175 x 67 cm) of floor space, which means it pretty much can accommodate users of all sizes.
Seat and handlebars
The Endurance B4R features a contoured and padded seat, approx. 16″ (40 cm) wide, which offers optimal comfort. The backrest has a mesh structure, and it's also curved in its lower part to provide superior lumbar support.
The seat is attached to an oblique rail. Its distance to the pedals is adjustable. The adjustment rail is relatively long; as we've mentioned above, the bike can accommodate pretty much users of all sizes.
The backrest itself is non-adjustable. You cannot adjust its height or angle. However, since it's attached to the seat, it moves along with it on its rail, when you change it.
The bike comes with two sets of handlebars: front and recumbent. The front handlebars come relatively close to the seated user. Thus, holding onto them for various workouts doesn't result in an awkward posture as for other recumbent bike models.
The recumbent handlebars connect to the seat assembly and move along with it on the rail. They integrate stainless steel pulse sensors; thus, the console can read your heart rate if you hold onto them. Both handlebars have rubber-foam grips, with excellent ergonomics.
B4R Drive and resistance
The B4R has a motor-assisted magnetic resistance system. The Endurance B4R requires a connection to a power circuit for the magnetic resistance system to operate.  An adapter is supplied with it, designed for American-type, 3-prong outlets.
The main elements of the resistance system are a small servo motor and a magnetic flywheel.  The resistance can be adjusted manually, as you pedal, or it can adapt if you select one of the console's pre-set workouts. There are 24 distinctive resistance levels. The first ones offer a light exercise, great for recovery training, or users with disabilities. The 20-24 resistance levels, on the other hand, offer more intense workouts, great for consistent cardio training or weight loss.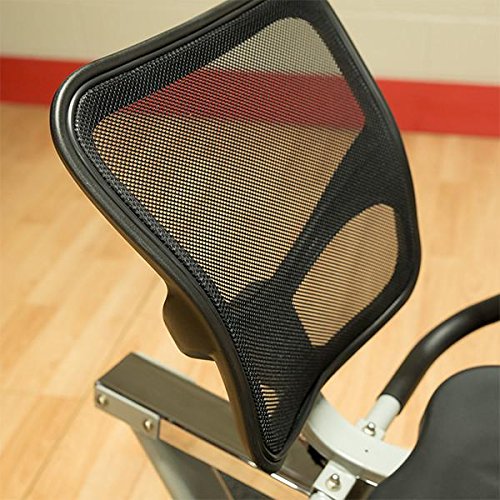 Like most recumbent bikes with a magnetic resistance system, this Endurance B4R recumbent bike features a belt-drive mechanism, using a heavy-duty belt, rated for many years of use.
The flywheel has a balanced structure, offering a steady, consistent momentum. The pedaling motion is quiet, almost silent. Thus the bike is great for apartment use, as you won't bother the neighbors when exercising.
Pedaling in reverse is also possible. But since the drive system doesn't integrate a derailleur like road bikes, the resistance on the pedals remains the same when you back-pedal, given by the selected resistance level on the console.
Last but not least, this exercise bike comes with a robust crankset, with steel crank arms. Furthermore, it has a narrow Q Factor, which means pedaling is comfortable, without any extra lateral stress on the knees. The pedals are weighted and come with adjustable straps.
Console
The console is equipped with an LED display, offering excellent readability. The screen has a multi-panel view; thus, it can show time, speed, distance, RPM, Watts, calories, pulse, the program layout, and of course, the selected resistance level.
The console unit has 21 workout programs, separated into seven categories: Manual, Program, Fitness, Watt, Personal, HRC, and Random.
The Manual program gives you complete control over your workout. If using this program, you can adjust resistance freely as you pedal. The Program category features 12 segment-based, pre-set workouts (P1-P12).
Each pre-set workout will adjust resistance automatically. The Watt program allows you to adjust the Watt value to achieve a different resistance level.
The Personal program offers five user profiles, allowing you to create five custom workouts and save them for later use. It's also a function great to have if several persons use the machine. Thus every user can save their exercise without interfering with the workouts of other users.
The HRC program is designed for heart rate control, offering four settings: 55%, 75%, 90%, and Tag. The Fitness program is a Fitness Test function, which rates your performance, determining your current fitness level. And finally, the Random program generates a random exercise profile for you to try on.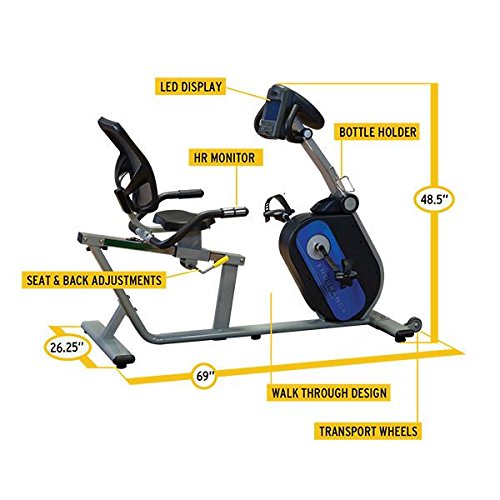 The console has goal functions for time, distance and calories, for several programs. Heart rate can be (monitored) via the integrated pulse sensors in the recumbent handlebars.
Furthermore, the console is also telemetry enabled. However, an HR chest strap is not (supplied) with the bike. Also, to provide more accurate data for your workouts, it will prompt you to input your gender, age, height, and weight.
B4R Assembly and Maintenance
The bike's drive and resistance elements come already attached to the frame and enclosed by their plastic covers. Thus, for assembly, you only have to attach the base tubes to the frame, assemble and mount the seat with its backrest, pedals, the console mast, and console, connecting the wires.
The manual offers excellent and comprehensive step-by-step instructions. You'll need an adjustable wrench and a Phillips screwdriver for it.
Maintenance doesn't require much. The machine's internal components come pre-lubricated and won't need any further lubrication for many years. It's advisable to check the machine's joints from time to time and re-tighten any loose bolts.
Details and Specifications
Assembled dimensions: 69L x 26.25W x 48.5H inches (175L x 67W x 123H cm)
Assembled weight: 134 lbs (60.7 kg)
Weight capacity: 300 lbs (136 kg)
Seat: Cushioned, adjustable
Backrest: Mesh, non-adjustable
Pedals: With adjustable straps
Resistance: Magnetic, electronically assisted, 24 levels
Console: 21 workout programs
Amenities: Bottle holder, accessory holder
Warranty:

In-home: Frame lifetime / Parts 5 years / Electronics 2 years / Wear 6 months / Labor 1 year
Light commercial: Frame 15 years / Parts 3 years / Electronics 2 years / Wear 6 months / Labor 1 year
Pros
Sturdy construction;
High user capacity (300 lbs);
Step-thru design;
Padded and contoured seat;
Flexible mesh backrest, providing excellent lumbar support.
Adjustable seat, accommodating users of all sizes;
Automatic, magnetic resistance, with 24 available settings;
21 workout programs;
Handlebars with pulse sensors;
Bottle holder and accessory holder included;
Smooth and quiet drive;
Maintenance-Free;
Excellent warranty.
Cons
No amenities such as a cooling fan or sound system;
No online connectivity (other models in this price range have such features);
HR chest strap accessory not included.
Endurance B4R Recumbent Bike Summary
The Endurance B4R Recumbent Bike by Body-Solid lacks a few conveniences compared to other recumbent bikes in this price range. It lacks features such as fan, speakers, or tablet holder. But on the other hand, it has a substantial construction and a wide array of fitness programs. It has an automatic magnetic resistance system, with 24 distinctive levels, offering training possibilities for users of all levels.
In particular, it's an excellent bike for cardio training, regaining or maintaining your general level of fitness and stamina, weight loss, and even strength training. It's not exactly one of the most affordable bikes, but overall, it offers a decent price/quality ratio.
I hope you found this article helpful and informative. If you have anything that you'd like to share or any opinions about my website, please do speak up. I look forward to your comments, questions, and the sharing of ideas.
Recommended articles:
Please follow and like us: