With a light commercial rating, Body-Solid's Endurance B5R Recumbent Bike is perfect for most homes and clubs. A comfortable walk through design provides easy access for any user. The B5R is also self-generating, requiring no external power supply. As you pedal, you create the power needed.
Endurance's Tri-phase generator eliminates a need for outside power for easy placement and mobility in any facility worldwide. The B5R's 16  levels of resistance cater to all users, whether you're a beginner or an experienced rider.
The B5R bike series redefines the workout experience with the 8" integrated LCD touch screen. This innovative design allows users to instantly access the 11 exercise programs, including five heart rate programs. All while maintaining easy-to-reach resistance controls for immediate comfort along with time, distance, calorie, and heart rate readouts.
The Endurance B5R Recumbent Bike offers advanced programs providing workout variety and keeping your workouts fresh and exciting. The advanced heart rate control programs also provide the ultimate personalized programming as the bike reacts to the user's heart rate. Essential feedback gives users advanced workout information.
Learn more in my complete review below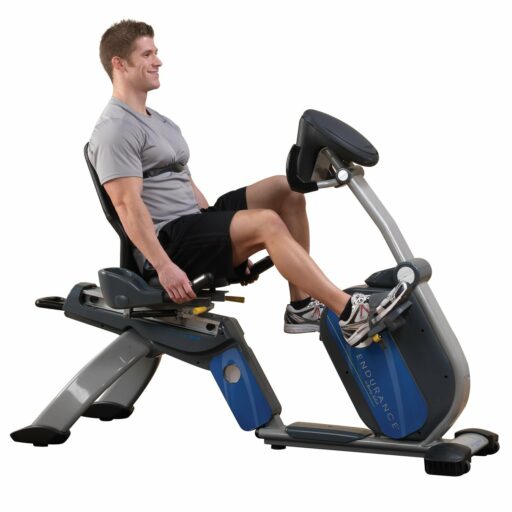 Product: Endurance B5R Recumbent Bike by Body-Solid
Price: For a great deal on this bike, merely go here on Amazon
Warranty: In-home: Frame lifetime / Parts 5 years / Electronics 2 years / Wear parts 6 months / Labor 1 year (see the light commercial below)
My rating: 9.25/10
Amazon Affiliate Disclosure: I may earn commissions from purchases made through links in this post.
Details and Specifications
Assembled dimensions: 75L x 29W x 51H inches (190.5L x 73.6W x 129.5H cm)
Assembled weight: 165.5 lbs (75 kg)
Supported weight: 400 lbs (180 kg)
Handlebars: Recumbent (with pulse sensors) and front
Seat: Adjustable
Pedals: with straps
Resistance: Self-generating power, eddy current, 16 levels
Console: Touch-screen display, 11 workout programs,
Amenities: Tablet holder, accessory holders
Warranty:

Light commercial: Frame 15 years / Parts 3 years / Electronics 2 years / Wear parts 6 months / Labor 1 year
In-home: Frame lifetime / Parts 5 years / Electronics 2 years / Wear parts 6 months / Labor 1 year
B5R Frame
This Body-Solid exercise bike features a massive frame made of steel tubing. It weighs over 160 lbs, which means it's an incredibly stable machine. You can be sure that it won't move, tip, or slide over, even if you engage in a more demanding workout.
On top of that, its rear frame legs come with adjustable rubberized stabilizer caps, which offer the possibility to level the bike entirely.
Despite its weight, though, it can quickly be moved, as its front base integrates a set of wheels, while its rear end is equipped with a handle to facilitate the lifting and transport of the assembled machine.
The Endurance B5R features a different design than other similar, light commercial recumbent bikes. Its rear rests on two solid metallic legs instead of a base tube stabilizer. But like most other models, it does feature a step-through design, which means it's quite easy to take a position on the seat.
All steel parts in the frame are double-coated with anti-corrosion paint, gray in color, this being the only available color for now. The adjustment rail of the seat features a chrome finish, though, not paint.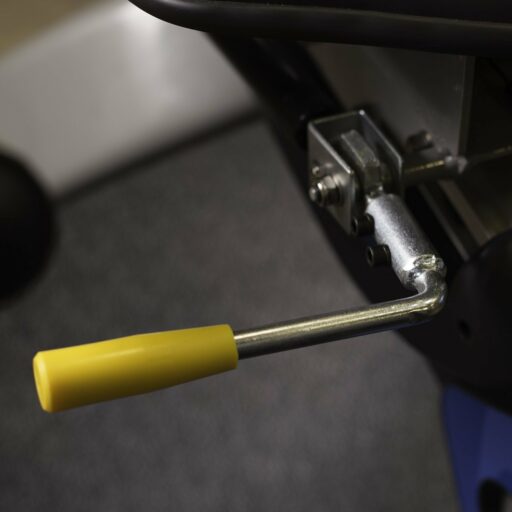 Also, the frame integrates several plastic covers and other parts, blue and black. None of the plastic parts play any role in the bike's overall sturdiness. They mostly fulfill a protective or cosmetic purpose.
One last aspect to mention here regards the bike's dimensions. It's not exactly a small fitness machine as it takes 75″L x 29″W (190.5 x 73.6 cm) of floor space, and on top of that, it requires at least two feet of clearance on each side for safe operation. Also, the frame doesn't have any folding properties.
Seat and handlebars
This Endurance recumbent exercise bike features a seat with superior ergonomics. It's approx. 16″ (41 cm) wide, has a contoured surface and a thick layer of padding to deliver the required comfort for the longest rides.
The seat comes with a reclining mesh backrest. Its mesh structure allows optimal airflow to your back during workouts, preventing overheating or over sweating. Also, since the backrest has a reclining design, you can select the angle that feels the most comfortable to you, or you can adjust it to target different areas of the quadriceps muscles.
The position of the seat about the pedals is adjustable. The seat glides on a rail system, and you can lock it into the desired place. Its adjustment span is quite long. Differently put, the bike's seat can accommodate users between 5'0″ and 6'6″ (153 – 198 cm). Both the frame and seat structures are designed to support users up to 400 lbs (180 kg).
The Body-Solid Endurance B5R exercise bike features two sets of handlebars, one on the console mast, and once connected to the seat assembly. The handlebar set on the console mast features small, plastic grips. The recumbent handlebars move along with the seat on its adjustment rail.
Their angle is non-adjustable, though. They integrate stainless steel pulse sensors. Also, the rear end of each recumbent handlebar features a cup or bottle holder.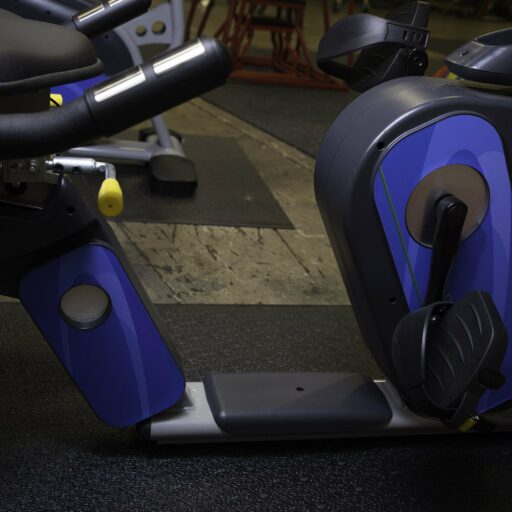 B5R Resistance and drive
This Body-Solid recumbent bike features an eddy current resistance system, integrating a magnetic drum. Resistance adjusts by shifting the magnets' pull. However, the bike doesn't require to be connected to a power circuit since it comes with a Tri-phase generator. Differently put, the pedaling motion generates all the energy needed to power the console and make available the resistance settings.
Resistance is only adjustable from the console. There are 16 resistance settings available, offering the possibility to undertake light, medium, or highly intense workouts.
The resistance elements do not touch; therefore, the pedaling motion is smooth and almost silent. Also, the bike's flywheel is balanced, offering excellent momentum and steadiness to your workouts.
Needless to say, since the bike's resistance system involves magnets, it uses a belt drive system, integrating a heavy-duty, stretch-resistant belt.
The bike has solid steel crank arms, finished with standard, weighted pedals with adjustable straps. The bike's Q Factor is also narrow, resulting in a natural positioning of the feet and zero lateral stress on the knees.
B5R Console
Although the console unit supplied with the Endurance B5R does not integrate amenities such as a cooling fan or sound system, nor does it have any online connectivity features, it still offers an impressive array of features.
First of all, it has an 8″ LCD with touch-screen technology. It can show several workout parameters simultaneously, including time, distance, calories, pulse, watts, speed, RPM, and of course, the selected resistance system.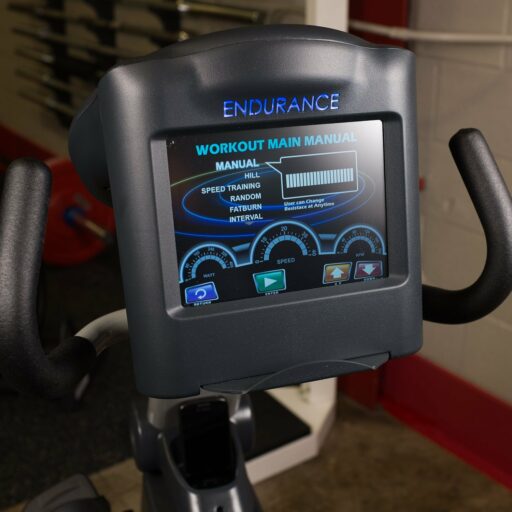 You will have to insert your current age and weight to provide an accurate estimate of your calories burned. Also, at the end of your workout, the console will present you with a workout summary.
Pre-set Workout Programs
The console unit features six pre-set workout programs and five heart rate programs. The six pre-set workouts include Manual, Hill, Speed Training, Random, Fatburn, and Interval.
The Manual program is the one that allows you to have complete control over the resistance and change it as you like during your pedaling routine.
The Hill program offers "hill profiles," with small resistance adjustments, ideal for beginners or light workouts.
The Speed Training program alternates intervals of high and low intensity.
The Random program, as its name suggests, will generate a random profile every time you select it. It always offers a new challenge.
The Interval program alternates low resistance with very high resistance settings for a quick increase in heart rate.
Finally, the Fatburn program maintains your heart rate at 65% with slight variations to provide a consistent cardio workout and focus on burning calories.
When it comes to heart rate programs, the console offers five settings: 60-85% (Hill), 60-85% (Interval), 65% (Fatburn), 80% (Cardio), and Custom target HR, which gives you the possibility to select the desired HR to maintain during your workout.
The console is telemetry enabled. This means it can read your pulse via an HR transmitter, an accessory also (included) with the machine. The lower part of the console integrates a small tray to support your tablet, magazine, etc.
B5R Assembly and Maintenance
The assembly of this Body-Solid exercise bike isn't complicated. Its mechanism comes assembled. You'll need to attach the rear frame legs, the backrest, the seat, the console mast, and the console for construction. This shouldn't take more than an hour. The assembly manual supplied provides clear, step-by-step instructions.
For maintenance, there's nothing much to do. The internal parts come pre-lubricated and won't need further lubrication for many years. Therefore, concerning maintenance, all you have to do is periodically check the machine's bolts and nuts, and re-tighten them if it's the case. The console is not waterproof, so make sure you don't spill anything on it and remove any sweat that may fall on it.
Pros
Commercial grade construction; can support users up to 400 lbs;
Can accommodate users up to 6'6″;
Elegant design;
Contoured, cushioned seat;
Reclining, mesh backrest;
Grip pulse sensors;
Advanced console, with touchscreen LCD;
16 levels of resistance;
11 workout programs;
Goal tracking;
Bottle holders included;
Tablet holder included;
HR chest strap transmitter included;
Smooth and quiet drive;
Weighted pedals, with adjustable straps for extra stability;
Maintenance-Free;
Relatively easy to assemble;
Excellent warranty.
Cons
No sound system or cooling fan;
A tablet placed on the tablet holder may block the view of the LCD;
No online connectivity.
Endurance B5R Recumbent Bike Summary
The Endurance B5R Recumbent Bike by Body-Solid is a heavy-duty, commercial-grade recumbent exercise bike, featuring an eddy current resistance system with 16 distinctive levels and self-generating power. The B5R comes with a touchscreen console, with 11 pre-set workouts, capable of tracking your heart rate wirelessly.
In particular, it's a bike for users of all levels, perfect for cardio workouts of all intensities, interval training, stamina gaining, and weight loss. It's not one of the most affordable exercise bikes, but it's built to last and comes with a consistent warranty plan.
I hope you found this article helpful and informative. If you have anything you'd like to share or opinions about the content on my website, please speak up. I look forward to your comments, questions, and the sharing of ideas.