The Endurance T10HRC Treadmill by Body-Solid is built with quality in mind as the extra-large size of the deck, steel frame, and 3.0 CHP motor all highlight the trainer. The T10HRC uses a multi-point shock absorption system to alleviate joint pain in the knees, hips, and feet. A Poly-V-Belt Drive System drives the quiet performance of the T10HRC
Additionally, the T10HRC treadmill features one-touch speed, helping you to reach a maximum of 10 miles per hour while monitoring your heart rate with the Heart Rate Control. The Endurance T10HRC's 0 to 15% incline simulates level ground as well as climbing hills.
The diversity and detail of workout programs are significant when considering a new treadmill. The Endurance T10HRC comes with 25 different programs, each of which Body-Solid guarantees to be from a leader in the athletic training industry. The workout programs target everything from running to endurance and fat burning to cardio.
The bright 4-window LED display keeps you informed during your workout by continually updating time, speed, distance, elevation, heart rate, and calories burned. By targeting your optimum performance levels for running, endurance, distance, fat burning, cardio fitness, and more,  the T10HRC is excellent for dedicated runners, athletes, and walkers alike.
Learn more in my complete review below
Product: Endurance T10HRC Treadmill by Body-Solid
Price: For a great deal on this treadmill, merely go here on Amazon
Warranty: In-home Lifetime / Labor 1 year (see commercial warranty below)
My rating: 8.5/10
Amazon Affiliate Disclosure: I may earn commissions on purchases made through links in this post.
Details and Specifications
Assembled dimensions: 77L x 32W x 57H inches (195.5L x 81.2W x 144.7H cm)
Tread belt dimensions: 60L x 20W inches (152.4L x 50.8W cm)
Product weight: 264 lbs (119.7 kg)
Max. weight capacity: 350 lbs (158.7 kg)
Deck cushioning: Included
Motor: 3.0 CHP
Speed levels: 0.5-10 MPH
Incline: Automatic, 0-15%
Console: 25 workouts
Accessories: Wireless HR chest strap, bottle holder
Warranty: In-home Lifetime / Labor 1 year
Commercial Warranty: Frame 15 years / Parts 3 years / Labor 1 year labor
T10HRC Frame and deck
Since it's a commercial-grade treadmill, its frame is high tensile strength steel, 2″ x 3″ and 2″ x 4″. It has a rock-solid running platform capable of withstanding high and continuous stress. Considering its steel construction, it goes without saying that the machine is weighty. Its net weight it 264 lbs (119 kg). This weight renders the machine extremely stable.
On top of that, the rear base of the deck integrates adjustable stabilizers with rubber caps, which allow you to level the running platform perfectly. The front base incorporates small wheels, which ease the machine's relocation.
As opposed to other running machines, such as the NordicTrack C 1650 or the ProForm PRO 5000, the Endurance T10HRC does not have a folding frame. Its footprint is also not exactly small. It takes 77″L x 32″W (196 x 81 cm) of floor space. Additionally, it requires at least 3′ of clearance at the rear, and at least 2′ of clearance on each side, for safe operation.
This Endurance treadmill comes with a highly durable, 18mm phenolic deck, rated for a maximum weight capacity of 350 lbs (158.7 kg). The deck integrates six suspension elements, designed to absorb up to 20% of the running impact on your leg joints. Therefore, a run on this treadmill is more forgiving than a run on asphalt or concrete, resulting in less joint pain and even fatigue, offering the possibility to undertake longer workouts. The deck is also low maintenance, being pre-waxed from the factory.
Its 2-ply heavy-duty urethane belt is fusion-seamed for strength, flexibility, and smooth-rolling over the phenolic deck. It's 60″ (152.4 cm) long, and 20″ (51 cm) wide, which means it can accommodate comfortably users up to 6'5″ (195 cm). The belt runs over a set of large, 2.5″ (6.3 cm) crowned rollers, for extra stability and smoothness of motion.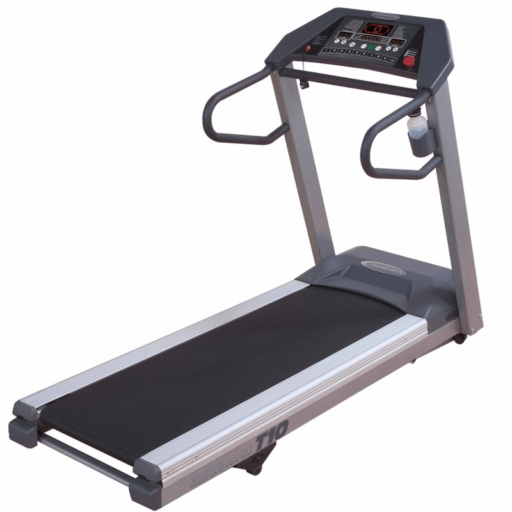 Last but not least, the steel parts in the machine's construction are powder coated with corrosion-resistant paint, black and dark gray.
Motor
The Endurance T10HRC treadmill has a powerful 3.0 continuous horsepower duty motor, designed to exceed the performance of treadmills rated for home-use only.
It has Pulse Width Modulation technology (P.W.M), and is air-cooled, to maintain its performance during the longest-running workouts. The integrated circuit breaker protects the motor and console from power surges.
The machine's speed range is 0.5-10 MPH (0.8 – 16 km/h). Speed can be adjusted gradually, from the controls + / – keys on the right side of the console. Additionally, quick speed controls from 1 to 10 are also available.
The starting speed point is 0.5 MPH, but up from there, it's adjustable in 0.1 MPH increments. This means you can easily find the most comfortable pace for your workout.
The motor itself is reasonably quiet, the level of noise produced by it shouldn't interfere with your TV, the music played through the console or your sound system. Most of the sound that you will hear during your running is the sound of your cadence.
One last aspect to mention here regards the power requirements for this machine. The T10HRC Endurance treadmill requires a connection to a 120V power circuit. The power cable is several feet long, finished with a U.S. standard plug (not an adapter).
The connection point of the cable to the machine is at the front base. There's also an On/Off switch near the cable port.
T10HRC Incline and step-up height
This treadmill comes with a motorized incline system. It offers an incline range from 0% to 15% (0 – 8.5°), an aspect that can add an essential degree of difficulty to your workouts. Since the incline is motorized, it is only adjustable from the machine's console. There are no quick adjustment keys for the slope, as there are for speed. Thus, the incline can be adjusted gradually, from the – / + keys on the left side of the console.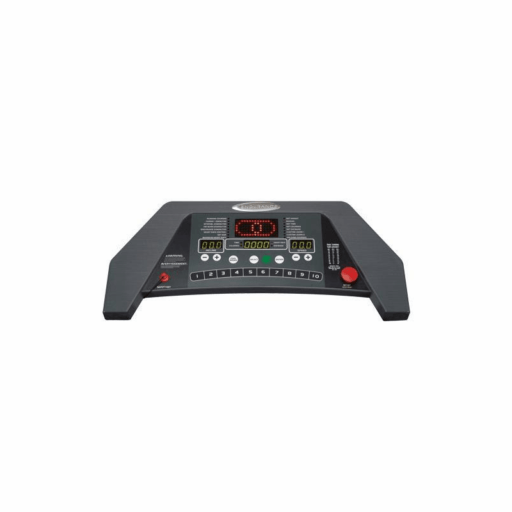 Also, some of the workout programs in the console's database involve incline; therefore, if you choose them for your workouts, incline (along with speed) will adjust automatically.
The deck's step-up height is approx — 9″ (23 cm). Also, the maximum incline elevates its front part by at least five extra inches (12.7 cm). Therefore, make sure the ceiling height is at least 22-23 inches (56-58 cm) higher than your height, to avoid any issues.
Console
It features 4 LED-based displays. The one on the left indicates the selected incline level, and the one on the right shows the current speed setting. The lower middle one shows time, calories, heart rate, and distance.
The top larger display shows the profiles of the workout program, or indicates the distance as a race track, keeping count of the laps you have completed.
The console allows you to input your age and weight, to provide a more appropriate reading of the calories burned. Speed is calculated in MPH only, while distance is in miles only.
The console features 25 workout programs, which cover all the workouts that a runner may require, for a complete training regimen.
Among these programs, there are 3 Walking Courses, 3 Running Courses, a 15-min Cardio Workout, a 20-min Interval Workout, a 25-min Fat Burn Workout, and a 30-min Endurance Workout.
Target goal programs for time, distance, and calories are available as well. Also, two Custom Workout settings give you the possibility to create your workout.
A Heart Rate Control program is also available. It allows you to select a percentage interval for your target heart rate. The console reads your heart rate via integrated pulse sensors or through an HR chest strap accessory, which is (included).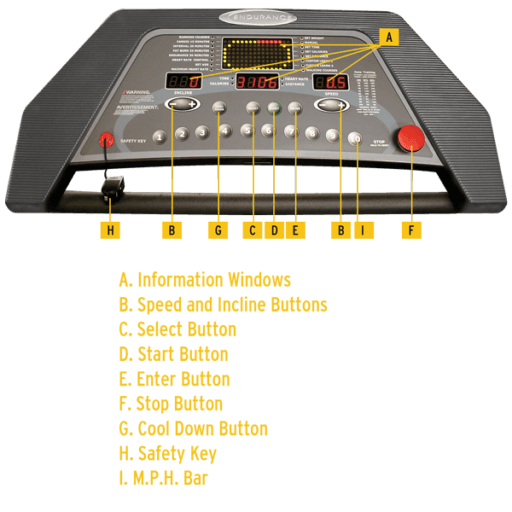 The T10HRC's console is easy to operate. Incline and speed are adjusted from the – / + controls, while for speed, there are also quick controls from 1 to 10. The CoolDown button activates the cooldown function.
The Start key sets the belt in motion for the Manual workout. The Select and Enter keys are for navigation through programs and selection of values.
The big red button on the right side of the console covers the Pause and Reset functions. And finally, the left side of the console hosts the machine's safety key.
T10HRC Assembly and Maintenance
The deck with the motors, rollers, and all the other internal parts comes assembled from the factory. Thus, for assembly, you only need to add the upright posts, the handlebars, and the console, connecting the cables.
This shouldn't take more than an hour. The included manual provides step-by-step guidance for the assembly. All tools required for assembly are also (included).
Maintenance requires the periodic vacuuming of the running belt to prevent any debris or textile fibers from getting into the motor. The regular check of the machine's joints is also advisable. Lubrication is not required, as the deck comes pre-lubricated with high-grade industrial lubricants from the factory.
Pros
Commercial grade, substantial frame, and construction;
High weight capacity – 350 lbs (158.7 kg).
The 6-point deck cushioning reduces some of the running impacts;
Motorized incline, 0% – 15%;
3.0 CHP motor, speeds up to 10 MPH;
Speed can be adjusted increments of 0.1 MPH, allowing you to find the perfect pace for your workout;
25 onboard workout programs;
The console has a racetrack function, measuring distance in 1/4 miles, keeping count of your laps;
It has two custom programs, offering the possibility to create your workouts;
Goal setting functions for time, calories and distance;
Quick keys for speed selection, from 1 to 10;
Wireless HR chest strap included;
Programmable heart rate interval;
Its operation is smooth and quiet;
Fairly easy to assemble;
Little maintenance required;
Excellent warranty.
Cons
No online connectivity.
It doesn't have a sound system;
It lacks a cooling fan.
Endurance T10HRC Treadmill Summary
The Endurance T10HRC Treadmill by Body-Solid is a commercial-grade, electric treadmill, with a motorized incline system. It offers an extremely sturdy running platform, with a highly durable belt, and an integrated cushioning system.
It's a machine designed for 24/7 use within the premises of a gym facility. Its console features 25 pre-set programs, which cover all the requirements of any runner. However, it does lack online connectivity.
It's a running machine perfect for intense cardio training, interval training, weight loss, long runs, and also for light walking, and recovery training. Finally, it's not a cheap machine, but the quality in its construction and parts, and the range of workout programs stand up to the price.
I hope you found this article helpful and informative. If you have anything that you'd like to share or any opinions about my website, please do speak up. I look forward to your comments, questions, and the sharing of ideas.
Recommended articles: