The state-of-the-art Endurance T150 Commercial Treadmill by Body-Solid is among the most durable treadmills on the market today with an industry-leading 4HP motor (commercial NEMA 5-20P plug) and several high-level, user-friendly features, functions, and technology.
The standout 4 HP motor is one of the heaviest and most powerful in its class and allows the T150 Commercial Treadmill a speed range of 0.5-12.5 mph. Additionally, the motor has a 7" diameter steel flywheel for a vibration-free running surface. The T150 also offers 0-15% elevation and incline settings for intense workouts.
The T150 Commercial Treadmill is constructed with large 2.4" (60mm) diameter sealed-bearing rollers, a wide 60"x22" running space, and a maximum user weight of 400 lbs. A carbon fiber woven anti-static belt and a cushioned and shock-absorbed deck or running surface guarantee comfortable workouts and reduces wear and tear on the user's legs.
Durability is key with the T150 Commercial Treadmill as the unit was crafted with top-of-the-line materials and precise, accurate welding allowing it to withstand heavy use in commercial facilities. The T150's strong frame is capable of handling users of all levels and the all-steel welded construction offers peace of mind.
Learn more in my complete review below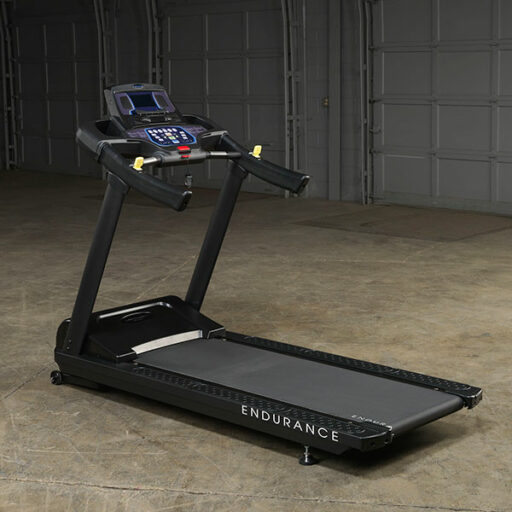 Product: Endurance T150 Commercial Treadmill by Body-Solid
Price: For a great deal on this treadmill, merely go here on Amazon
Warranty: In-home: Frame lifetime / Parts 5 years / Electronics 2 years / Wear items 6 months / Labor 1 year (see the light-commercial warranty below)
My rating: 9.4/10
Amazon Affiliate Disclosure: I may earn commissions on purchases made through links in this post.
Details and Specifications
Power Source: 110v Dedicated Commercial NEMA 5-20P
Cord Length: 13'
Drive Motor: 4 HP
Incline Motor: 115 V | 0.8 A | 1/6 HP
Speed Sensor: Reed Switch/Magnet
Deck: 1.0″ (25.4 mm) cushioned and shock-absorbed
Belt: Carbon fiber woven anti-static
Rollers: 2.4" (60mm) diameter sealed-bearing
Cushion System: 8-Point Elastomer Cushioning System
Lubrication: Silicone recommended every 3000 miles
Speed Range: 0.5-12.5 mph
Incline Range: 0% to 15%
Quick Access: Speed, Incline, Start & Stop
Frame Construction: Welded Heavy-Gauge Steel
Contact Heart Rate Monitoring: Yes
Console: Bright white backlight advanced LED
Programming: Incline, speed, level, times, pulse, program, distance, and calories burned
Audio Features: Built-in speakers and 3.5mm audio input
Dimensions: 82" x 35" 59" (209 x 88 x 149 cm)
Product Weight: 285 lbs.
 Warranty:

Light commercial: Frame 15 years / Parts 3 years / Electronics 2 years / Wear items 6 months / Labor 1 year
In-home: Frame lifetime / Parts 5 years / Electronics 2 years / Wear items 6 months / Labor 1 year
T150 Frame and deck construction
The Endurance T150 treadmill features a high tensile strength steel frame, precision-welded and coated with corrosion-resistant paint, black. The T150 is relatively large, with a footprint of 82″L x 35″W (209 x 88 cm), and the deck doesn't fold.
It's also heavy weighing over 285 lbs when fully assembled. Thus, it's not easily moved once it's constructed. Its front metallic base does integrate a set of wheels. They have a dual purpose to facilitate the elevation of the incline mechanism and for transport of the machine.
The rear base of the deck features rubberized, adjustable stabilizers. However, due to its weight, stability will never be an issue with this machine. It's advisable, though, to be on a rubberized mat.
The T150 integrates eight elastomers designed to absorb up to 40% of the workout impact. Therefore, since a run on this treadmill results in a lower impact, you will be able to perform longer runs or more intense workouts. The sound of your cadence is also partially absorbed. The machine's deck has a maximum user weight of 400 lbs (181.4 kg).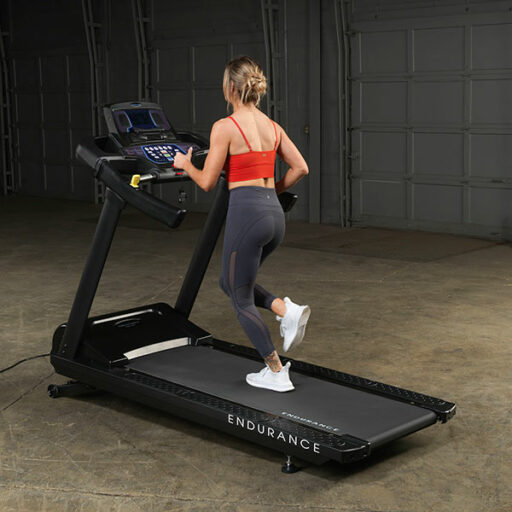 The machine's running platform integrates 2.4" (60mm) diameter sealed-bearing rollers for a prolonged lifespan and smooth operation. These large rollers create a larger contact surface with the belt, this way reducing motor exertion while creating a steady, fluid, and quiet motion. The running platform also integrates copper ground wires to minimize the static effect.
This Body-Solid treadmill offers a running surface of 60″L x 22″W (152.4 x 56 cm), large enough to accommodate users up to 6'5 ″ (195.5 cm) comfortably. Its 1 inch (25.4 mm) thick cushioned and shock-absorbed deck, provides excellent foot adherence and comfort during running.
Incline and step-up height
The Endurance T150 comes with a motorized incline system, which offers an incline range between 0% and 15% (0 – 8.5°). Adding an incline to your running, jogging, or walking workouts can considerably diversify your training routines. Therefore, this feature is quite a plus.
Since the incline is motorized, it is only adjustable from the machine's console. For this, you can use the Up / Down keys to adjust incline gradually, or the level, rise, and ascend keys to instantly select the desired incline level.
Also, some of the workout programs in the console's database involve incline; therefore, if you choose them for your workouts, incline (along with speed) will adjust automatically.
The deck's step-up height is approx — 9″ (23 cm). Also, the maximum incline elevates its front part by at least five extra inches (12.7 cm). Therefore, make sure that the ceiling height in the room where you will be using the machine, is tall enough to avoid any issues.
T150 Motor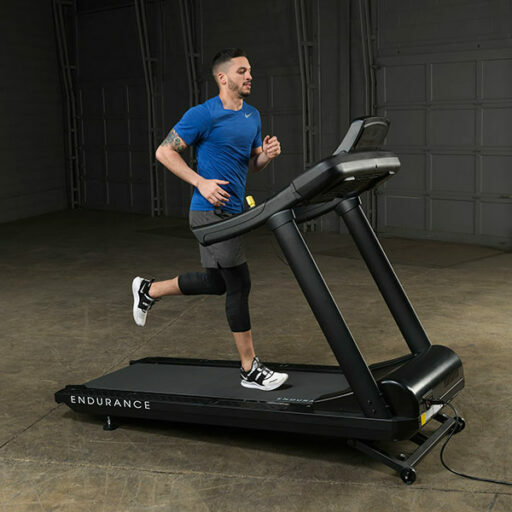 The Endurance T150 treadmill by Body-Solid comes with a 4.0 CHP motor, which outperforms any treadmill rated for home-use. The motor has a large diameter, balanced flywheel, designed to minimize vibration so that the belt can provide a smooth and steady motion.
The T150 also integrates an Enduro Motor Filtration system. This cools and cleans the motor, allowing it to maintain maximum performance for long training sessions, and considerably increasing its lifespan.
The starting speed is 0.5 MPH. It's adjustable in increments of 0.1 MPH, up to 12.5 MPH, perfect for users of all levels. The speed adjust gradually, from the up / down controls on the console. However, quick speed controls for walk 2.5 MPH, jog 3.5 MPH, and run 4.5 MPH are also available, so you can quickly input the desired speed.
The motor itself is relatively quiet. Most of the sound that you will hear during your running is the sound of your cadence.
Since it's a motorized treadmill, the T150 requires a connection to a 110v dedicated commercial NEMA 5-20 power circuit. The 13′ power cord has a NEMA 5-20 plug and connects to the front of the machine.
Console
The Endurance T150 treadmill features a bright white backlight advanced LED console displaying incline, speed, level, times, pulse, program, distance, and calories burned to make the T150 Commercial Treadmill standout from the competition.
There are five workout modes which are Classic, HRC, Manual, Goal and Training. By selecting one of the modes the available programs will open. The T150 offers thirteen exercise programs (MANUAL, CARDIO, FAT BURN, INTERVAL, HRC, TIME, CALORIES, DISTANCE, GERKIN, USB, CUSTOM 1, CUSTOM 2, CUSTOM 3).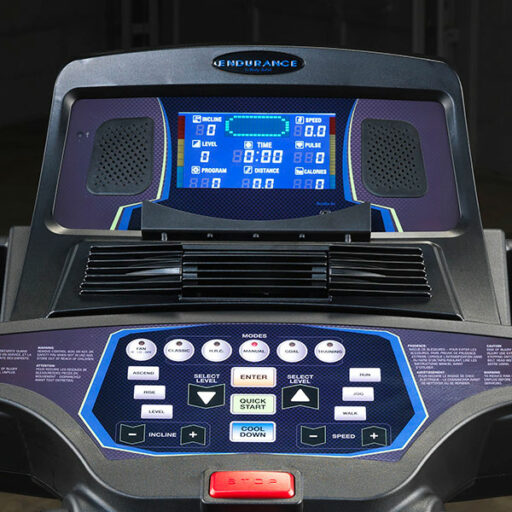 The control unit allows you to input data such as age and body weight to provide a more accurate reading of the calories burned. There is also a trail function. In particular, it displays distance as a 1/4 mile track, keeping count of the laps that you have completed, a feature great to use if you want to train like a pro athlete.
Amenities
Integrated heart rate controls and monitors ensure users will have all the information they'll need for an optimal calorie-burning workout. The T150 also features user-friendly features like a built-in fan, built-in speakers, and 3.5mm audio input. Finally, a large stop button with an emergency stop safety key adds safety and peace of mind to any workout.
Since the T150 is a commercial-grade treadmill, Body-Solid's focus is on performance and durability. However, there are accessory trays molded on the dashboard's surface, which allows you to keep small accessories nearby.
T150 Assembly
First of all, since this running machine is hefty, two people should assemble the treadmill. The assembly process itself is not complicated, though. The deck with the motors come pre-assembled. Therefore, you only have to connect the two console masts, then mount the handlebars and the console.
This shouldn't take more than one hour. The included manual provides explicit assembly instruction, however only the Allen wrenches required for assembly come supplied with the machine. You will also need a Phillips screwdriver and an adjustable wrench.
Maintenance
Maintenance requires keeping the belt clean. Use a soft, damp cloth or paper towel to wipe the edge of the belt and the area between the belt edge and frame. Use water only – no cleaners or abrasives.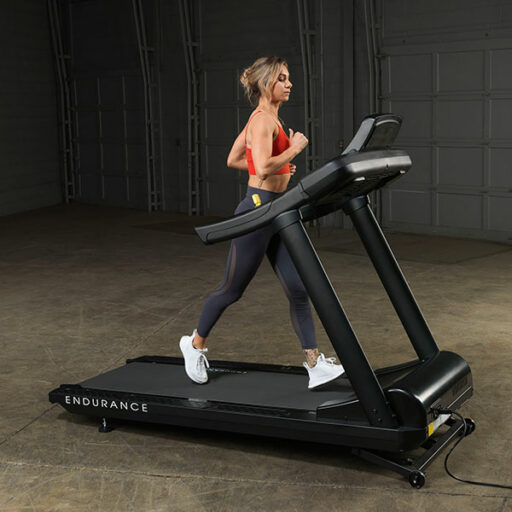 Dirt, dust, and pet hair can block air inlets and accumulate on the running belt. On a monthly basis: vacuum underneath and around your treadmill to prevent buildup. Once a year, you should remove the black motor hood and vacuum out dirt that may accumulate.
Lubrication is not necessary, at least for an extended time, since the deck is lubricated from the factory. However, you should periodically check to see if there is any lubricant on the back of the running belt. If running belt needs lubrication be sure to follow the instructions in the user's manual.
Also, the periodic inspection for loose bolts and nuts is advisable and retighten if necessary.
Pros
Commercial grade, substantial frame, and construction;
High weight capacity – 400 lbs (181.4 kg).
It has an 8-point deck cushioning system, thereby reducing up to 40% from the running impact;
Large rollers for a smooth belt motion;
Motorized incline, 0% – 15%;
4.0 CHP motor, speeds up to 12.5 MPH;
Speed can adjust in increments of 0.1 MPH, allowing you to find the perfect pace for your workout;
Motor equipped with a large flywheel, for extra-smooth performance;
Enduro Motor Filtration system, which cools and cleans the motor;
13 onboard workout programs, covering most training requirements;
A racetrack function which measures distance in 1/4 miles, keeping count of your laps;
The custom program included offers the possibility to create your workouts;
Quick keys for speed and incline selection;
It provides smooth and quiet operation;
Fairly easy to assemble;
Little maintenance required;
Excellent warranty.
Cons
No online connectivity;
An HR chest strap does not come included with the machine.
Body-Solid Endurance T100 Summary
The Body-Solid T150 Treadmill has high-level, state-of-the-art, and user-friendly features, functions, and technology which makes it perfect for any home gym or fitness training facility looking for a premium user-experience with quantifiable results and feedback.
Whether users are walking to lose weight or stay in shape, training for a marathon, or integrating running into their high-intensity interval training (HIIT), the T150 treadmill has the versatility and functionality to help them achieve their weight loss, cardiovascular, or performance goals.
Moreover, it's a running machine perfect for intense cardio training, interval and strength training, weight loss, long runs, but also recovery training and light cardio. Since it's a commercial model, it's not cheap, but the quality of its construction and components match the price.
I hope you found this article helpful and informative. If you have anything that you'd like to share or any opinions about my website, please do speak up. I look forward to your comments, questions, and the sharing of ideas.