The Exerpeutic 400XL Recumbent Bike is a top-rated and bestselling semi-recumbent folding exercise bike that sells affordable.  With this in mind, exercising from home needn't be expensive or too much space.  The Exerpeutic 400XL is compact, folds up for secure storage, and comes at around $200.
The semi-recumbent refers to the fact that it is a cross between an upright and recumbent bike. Your legs are out in front of you and down at an angle from your body. Therefore, they are in front of you on a recumbent, and with an upright bike, they are below you.
Another impressive aspect of the Exerpeutic 400XL Recumbent Bike is that it is pretty strong for being such a small and inexpensive recumbent bike. The frame is made of tube steel to ensure maximum durability, and it has a user weight limit of 300 pounds, which is very impressive for a recumbent bike with a folding frame.
The 400XL has an easy-to-read 3″ x 1.6″ LCD screen which displays workout stats.  These are your Time, Distance, Speed, Calories Burned, and Pulse, and there's also an Odometer and a scan function.  If you select the latter, the monitor will rotate through the stats displaying one at a time, with each staying on the screen for 6 seconds.
Learn more in my complete review below!
Product: Exerpeutic 400XL Recumbent Bike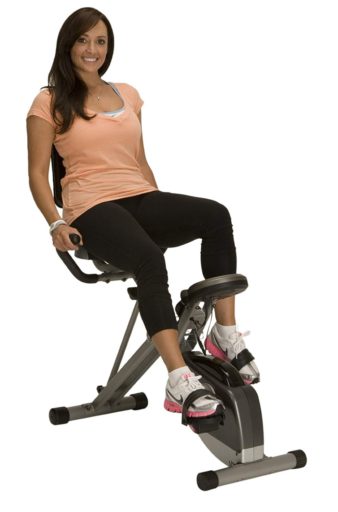 Price: For a great deal on this bike, merely go here on Amazon
Warranty: Frame 1 year/parts 90 days
My rating: 9/10
Affiliate Disclosure: As an Amazon Affiliate Program participant, I earn commissions on purchases made through links in this post. Full disclosure
Details and Specifications
In-use dimensions: 46 ins H x 19 ins W x 33 ins L
Folded dimensions: 54 ins H x 17 ins W x 20 ins L
Maximum Capacity: 300 pounds
Product Weight: 39 lbs
Product Warranty: Frame 1 year/parts 90 days
400XL frame
The Experpeutic 400XL is a lightweight bike that folds up with narrow stabilizers, so it puts you on alert at first look – it is understandable to think it might not correctly support you as you workout. It weighs 39 lbs and is 19 inches wide.
But it surprises. It stays solid with no rocking or feeling that it is going tip even for taller users when you ride it. The steel tubing frame is sturdy, and it remains solid without flexing or moving around as you work out. It stays stable on all surfaces, including thick carpet, providing a flat floor.
It doesn't' come with levelers to level it out on any slight unevenness in the floor, which could be a problem if used in a garage or basement. That aside, there is no wobbling or the feeling it will tip over whatever the user's height.
The manufacturer recommends the bike be adjusted to fit people between 5 ft 2″ and 6 ft 2″. Changing for different heights is quick to do and is a simple process of loosening the adjustment knob on the seat post until it can move up and down. Then slide it until the seat is at the correct position for you, insert the pin (part of the knob) into the preset hole, and then tighten it in place.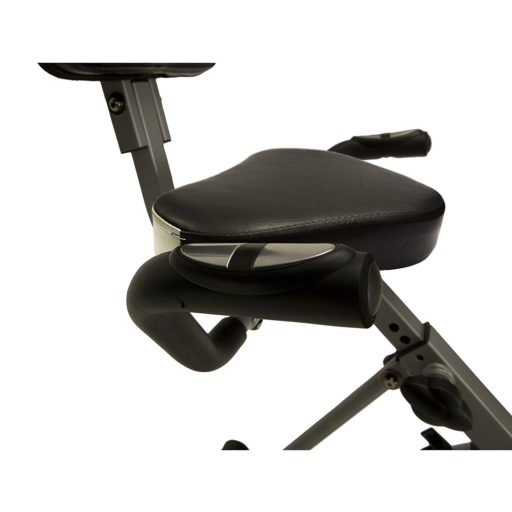 Therefore, it should take less than 30 seconds, allowing it to adjust for as many different people who want to use it — allowing you to have only one bike for the whole family.
400XL Seat and Handlebars
The back of the seat on the 400XL has a slight decline to lean back. However, this is not adjustable. Most people find it at a comfortable angle for cycling.
The padding on the seat and back provides an extra comfort level and support for your lower back. Also, the adjustable seat position adapts the bike to fit a wide range of user heights.
The 400XL handlebars are on either side of the seat. They sit a little lower than the bike, so they shouldn't interfere with anyone sitting on the bike with wide hips – the distance between them is 21 inches.
You don't' need to grip them to support yourself as you ride. The seatback provides enough support to stay in place as you ride. You can then use your hands to use a tablet, hold a book, play a video game, or even lift light weights.
Pedals
The pedals are out in front of you. Thus, reducing the pressure on the knees and legs but not as much as a complete recumbent bike. Therefore, many people with joint issues use the bike successfully without pain and state it has helped their rehab.
The pedals are made from sturdy plastic and accommodate athletic shoes with a non-grip surface. A strap goes over the shoes to hold them in place to ensure no slippage. Furthermore, pedaling backward is not advisable as it can loosen and strip the pedals.
400XL Resistance and Drive Systems
You set the amount of resistance you want by turning the knob just below the console. Therefore, it moves a magnetic pad closer or further away to increase/decrease the resistance. The markings on the knob guide you as to the amount of resistance you have set the bike.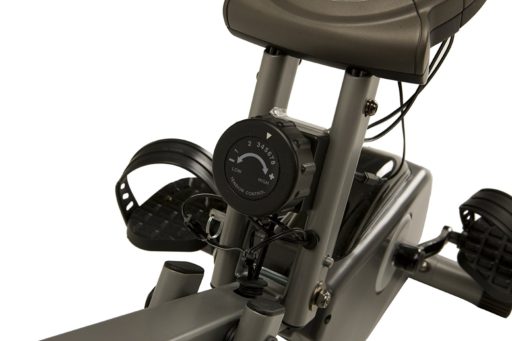 At resistance setting one, it is effortless to pedal without much resistance (almost none). It is gentle on the knees with very little or no impact to hurt them at this level. Many people have used the bike to help rehab their knees successfully and other medical conditions (recovering from heart attacks) on doctors' advice.
As you increase the tension, the resistance becomes harder to pedal. However, it increases progressively in increments – it doesn't' go from smooth to hard from one level to the next – it is just a tiny increase – so you can set it at the level you are comfortable at or handle.
When you get to 7 and eight, it becomes hard to push against, and the cycling motion can become choppy as it speeds up and slows down as you go from pushing down to moving around the top and bottom of the stroke.
Thus, it can add a minor impact to the strokes, but it only pushes your legs, not your body weight, behind the stroke, so the effect is not as significant as you get with walking or on an upright bike. (It has a light flywheel, so you don't' get the inertia to pull through the pedals as you get on a spin bike.)
Tucked away in this bike's body is a well-balanced flywheel; the pedals turn this via a quiet belt drive.  Exerpeutic has gone for a simple but effective V-Belt Double Drive system on the 400XL.  The V-belt drive system delivers a smooth riding experience. It is also quiet and doesn't' require maintenance, and it should give years of trouble-free workouts.
400XL Console
The 400XL has a very basic console. It displays distance (miles), odometer, time, speed (mph), calories burned, and heart rate when the hand is on the hand pulse sensors in the handlebars. You can choose to see just one measure or set it to scan through the numbers every 6 seconds by pressing the button below the screen. This button also resets all metrics to zero except the odometer. The odometer resets when you take out the batteries.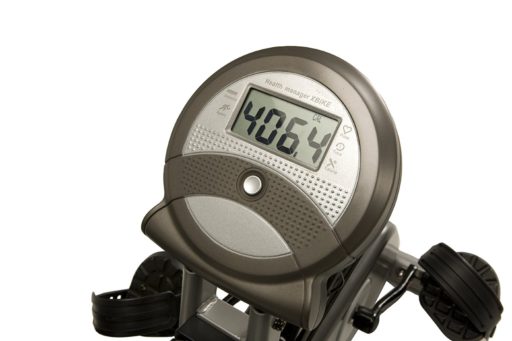 The LCD screen is 3.3 by 1.5 inches, with large numbers for easy viewing while pedaling. It's positioning between your legs can seem a little low to view, but you don't' need to strain to see it.
The hand pulse "heart" sensors are in the bars on either side of the seat in easy reach. For your pulse/heart rate to register, you need to hold both firmly but not too tight.
The heart rate displayed tends to show a higher heart rate than actual, so it should only be used as a guide rather than taken as your heart rate. Thus, it is similar to most monitors with hand pulse sensors.
The 400XL console is battery operated using 2 AAA batteries (supplied), which is the only power requirement for the bike – the rest is manual. The console turns off after 4 minutes of not being used. Thus, it saves the battery from running down.
The console doesn't' have preset programs you can exercise too. It doesn't' store your workouts – if you want to track your progress. You'll need to keep a journal or make a spreadsheet. However, the odometer holds a record of your cumulative distance ridden.
Storage
The 400XL folds up to about half its size to fit in closets or store out of the way. This space-saving feature makes a good option for places where space is at a premium, such as small apartments, work offices, or even a buy home.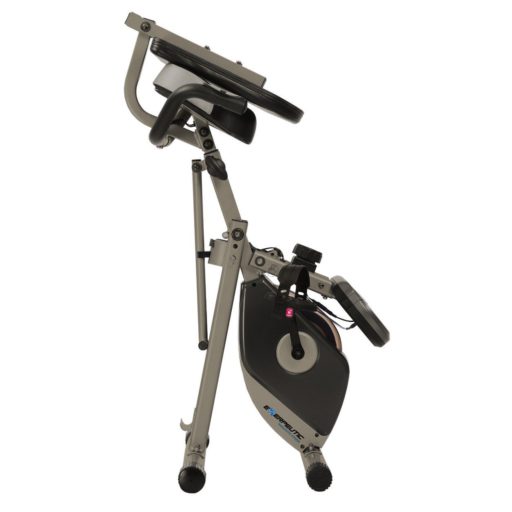 It allows you to get the bike out and exercise during your lunch hour at your office. Once your lunch hour is over, you can pack it up and store it out of the way. You are unlikely to disturb anyone working through their lunch as it is hushed.
Folding it up doesn't' take long and is simple to do. You remove the two safety pins, push the legs together, push the computer post down, and re-insert the safety pins.
There are transport wheels on the back stabilizer bar. They work well on hard floors, but because they are mostly recessed, they aren't that effective on the soft carpet, and the bike will need to be dragged/carried.
Pros
Quick and easy to assemble (30 to 45 minutes)
Much more cost-effective than a full commercial gym membership
The 400XL compact design takes up little space when working out.
The folding frame makes it easy to store
The sturdy design prevents any unwanted movement when cycling.
The low-profile frame makes it easy to get on and off the bike.
A challenging range of resistance levels
Quiet to use
A full seat and cushioned lower back support create a more comfortable workout.
The lightweight frame and transport wheels make it easy to transport.
A three-piece cranking system provides a smooth, pedaling motion.
Cons
Heart rate and calories burned statistics aren't consistently accurate.
Despite the range of seat settings, the 400XL tends to be better suited to users under 6ft tall.
No preset workout programs
Exerpeutic 400XL Summary
The 400XL folding exercise bike is a great way to add activity to your life without spending a fortune. You can get the exercise done while watching TV or reading a book. It is so quiet; you can work out in the middle of the night while others sleep.
When you couple this with a proper diet, it can help to burn calories and lose weight. Or generally to get in and stay in shape. Thus, it makes an excellent option for getting low-impact activity and exercises in the home's comfort.
I hope you found this article helpful and informative. Would you please speak up if you have anything you'd like to share on the topic or any opinions about my website? I look forward to your comments, questions, and the sharing of ideas.
Please note: Before starting any exercise program, you should consult your physician to determine if you have any medical or physical conditions that could put your health and safety at risk or prevent you from using the equipment properly. In addition, your physician's advice is essential if you are taking medication that affects your heart rate, blood pressure, or cholesterol level.