The Exerpeutic 5000 Magnetic Elliptical with Bluetooth App Tracking is a multi-functional, cutting edge machine with excellent ergonomics and a very smooth and realistic stride.
This machine is built out of high-quality steel and is sturdy enough to hold up to 275 pounds. Moreover, this is extremely impressive, considering the elliptical only weighs in at 84 pounds. It has an 18-inch stride that is perfect for most users and features dual-action handlebars which genuinely offer a full-body workout.
As far as workouts, the Exerpeutic Fitness 5000 comes equipped with 24 levels of resistance and a programmable computer with 12 workout programs. However, the unique feature is its Bluetooth Mobile App Tracking capability.
The Exerpeutic 5000 "Mobile App Tracking" Magnetic Elliptical Trainer stands apart from most ellipticals in its price range. With Mobile App Tracking, this machine is Bluetooth enabled and compatible with Apple and Android products. It allows you to track your workouts, and use all the features you love on your app devices while exercising in the comfort of your own home.
Learn more in our complete review below
Product: Exerpeutic 5000 Magnetic Elliptical
Price: For a great deal on this elliptical, merely go here on Amazon
Warranty: 1 year limited
My rating: 7.25/10
Affiliate Disclosure: We may earn commissions from purchases made through links in this post.
5000 Design features
One of the first decisions you'll need to make when choosing a new elliptical trainer is whether to opt for a design that's front or rear-driven. While front-driven models provide more of a 'stepper' type workout, the emphasis is on your quads and calves. The rear-driven machines feel more like cross country skiing, with a more gentle gliding motion.
The Exerpeutic 5000 is the latter of the two, with the flywheel positioned at the back of the machine. Also, this is one of the few entry-level machines at this price point that offers an 18″ stride length, which is essential for providing taller users (up to 6ft) with a natural running stride.
Partly due to the lack of incline settings that you tend to find on some higher-priced machines, the Exerpeutic 5000 is a surprisingly lightweight machine. Weighing just 84 lbs, this is considerably less than many of the models and combines with the transport wheels at the front to make it much easier to move the machine if needed.
It's a double transmission, which operates with the two flywheels and two belt design system. Thus, creating a better momentum and a smoother striding motion than most single flywheel drive systems.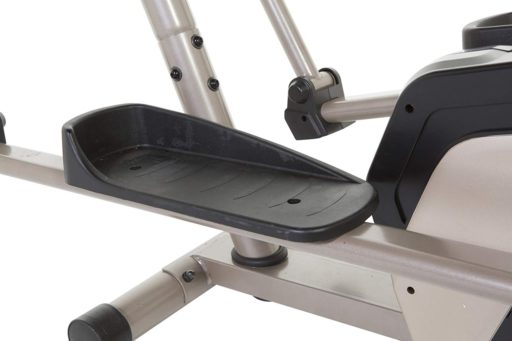 5000 Pedal placement
This may not seem particularly relevant to your workouts; however, the low profile (6″ off the ground at their lowest point) makes it much easier to get on and off the machine.
It has 6 inches between the pedals to accommodate the flywheel housing. This also helps reduce the strain on your hips, inner thighs, and lower back, as it keeps your feet closer together in a more natural running position.
The oversized design of the pedals gives you much more space to find your preferred running position. Thereby reducing the risk of your feet slipping at higher resistance levels.
5000 Features:
18" elliptical stride
24 magnetic tension levels for customized resistance
Bluetooth Mobile App tracking allows you to save workout data
Gel pad support holder to hold your mobile device
Dual-action handlebars and 3-piece crank system for high-end performance
Double transmission (backward and forward elliptical motion)
Transport wheels for space-saving capability
Water bottle holder to keep you hydrated
Maximum User Weight: 270 lbs.
Computer Features:
6.5" x 10" LCD
12 workout programs
Workout data includes:

Time
Distance
Revolutions Per Minute
Watts
Heart Rate
Technology and Bluetooth Connectivity
The 5000 comes with an excellent computer for this price range including its large LCD (6.5" x 10"). Also, with the downloadable MyCloudFitness app, you can track your workout information on all of your mobile devices. It's gel padded holder to make sure your tablet or phone remains securely in place while you exercise.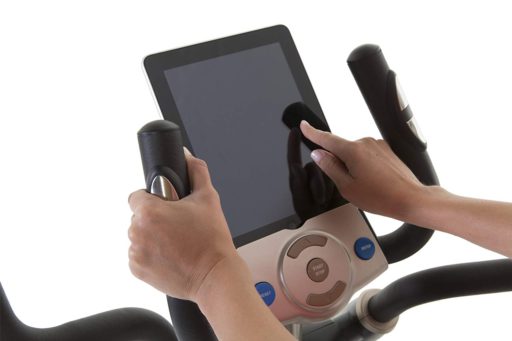 Although the Exerpeutic features some impressive design features for an entry-level machine, it's the display console that makes it something special. With its Bluetooth Mobile App Tracking technology, you can use a wide range of mobile devices to track your workouts at the same time as watching a movie, reading a magazine, or even checking your email.
Using Bluetooth to connect the Exerpeutic 5000 with the mobile tracking app, this also allows you to set up a personal profile with the necessary information, such as your age, height, and weight.
When connected, the app keeps a record of your workout stats, at the same time as displaying all your most crucial workout information on the screen of your mobile device.
Your time, distance, calories burned, resistance level, heart rate, and speed are some of the statistics you can track by using this unique tracking app. It is available on the Apple Store and Google Play.
In terms of the actual console design, this has been kept minimalistic to help keep the price low while still providing all the essentials. This includes the primary start/stop button, the LCD screen, and a quick reference guide to the ten preset workout programs that are pre-programmed into the built-in computer.
Various workout information is displayed continuously on the screen to remove the need for scrolling, which includes your time, distance, and current workout program.
5000 Shipping and Assembly: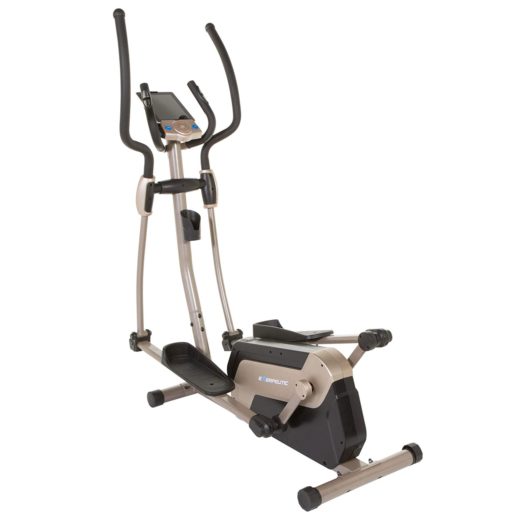 The Exerpeutic 5000 comes very securely packaged with a step-by-step, fully-illustrated manual and tools necessary to assemble the machine. Assembly can take anywhere from one to three hours.
Assembled dimensions:
Height: 64 inches
Width: 25 inches
Length: 55 inches
Weight: 84 lbs
Shipping box dimensions:
Height: 23 inches
Width: 15 inches
Length: 46 inches
Weight: 95 lbs
Warranty:
The Exerpeutic Fitness 5000 comes with a limited one (1) year warranty.
Pros
Stable and robust body frame and quality materials used, which help in long-lasting performance.
Very lightweight for an elliptical and saves space.
Increased stability factor adds to the safety of the device.
Easy assembling and setup.
Comfortable footplates.
18-inch stride for comfortable and easy workouts.
Reliable, durable three-piece cranking system offers continuous momentum.
It has twelve workout modules with 24 levels of magnetic tension.
Mobile app tracking allows linkup between smartphone and workout routines.
The LCD monitor displays an array of data, including all basic parameters and heart rates.
Cons
Some people have reported that they received bad parts in their package.
Screws need to be tightened hardly before use.
Exerpeutic 5000 Summary
The Exerpeutic 5000 is an extremely impressive budget elliptical trainer. It's the only elliptical I have found under $500 that provides you with a dual transmission system. It also has a better stride length than most machines at this price point and delivers an incredibly smooth, quiet performance.
It's not easy to find another elliptical with the quality ergonomics and Bluetooth features at this price range. Usually, you'd have to spend a couple of hundred dollars more for an elliptical like this.
In particular, you'll be getting a consistently challenging workout with Exerpeutic 5000's wide range of programs and resistance levels. Exerpeutic has delivered a beautiful, budget-friendly, but feature-rich elliptical.
I hope you found this article helpful and informative. If you have anything that you'd like to share or opinions about the content on my site, please do speak up. I look forward to your comments, questions, and the sharing of ideas.
Note: Thank you for all the support you've given to our website. I truly appreciate it.
Recommended articles:
Please follow and like us: