The Exerpeutic 5000 Magnetic Elliptical with Bluetooth App Tracking is a multi-functional, cutting edge machine with excellent ergonomics and a very smooth and realistic stride.
This machine is built out of high-quality steel and is sturdy enough to hold up to 275 pounds. Moreover, this is extremely impressive, considering the elliptical only weighs in at 84 pounds. It has an 18-inch stride that is perfect for most users and features dual-action handlebars, which genuinely offer a full-body workout.
As far as workouts, the Exerpeutic Fitness 5000 comes equipped with 24 levels of resistance and a programmable computer with 12 workout programs. However, the unique feature is its Bluetooth Mobile App Tracking capability.
The Exerpeutic 5000 "Mobile App Tracking" Magnetic Elliptical Trainer stands apart from most ellipticals in its price range. With Mobile App Tracking, this machine is Bluetooth enabled and compatible with Apple and Android products. It allows you to track your workouts, and use all the features you love on your app devices while exercising in the comfort of your own home.
Learn more in our complete review below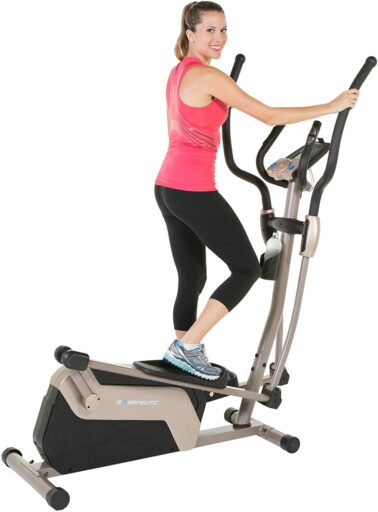 Product: Exerpeutic 5000 Magnetic Elliptical
Price: For a great deal on this elliptical, merely go here on Amazon
Warranty: 1 year limited
My rating: 7.25/10
Affiliate Disclosure: We may earn commissions from purchases made through links in this post.
Details and Specifications
Assembled dimensions: 55L x 25W x 64H inches (140L x 64W x 163H cm)
Assembled weight: 102 lbs (46 kg)
Weight capacity: 270 lbs (122.5 kg)
Stride: 18 inches (46 cm)
Incline: No
Resistance system: Eddy current, 24 levels
Console: 7 workout modes, 12 preset programs, five user profiles, goal settings
Extras: Tablet holder, bottle holder
Warranty: 1 year limited
5000 Frame
The Exerpeutic 5000 elliptical trainer features a durable steel frame with ABS covers for the drive system elements and the joints of the machine. The pedal trays are also ABS-made. All the steel bars within the composition of the frame come coated with a rust-resistant paint finish; the color used is light gray, this being the only color available for this Exerpeutic elliptical.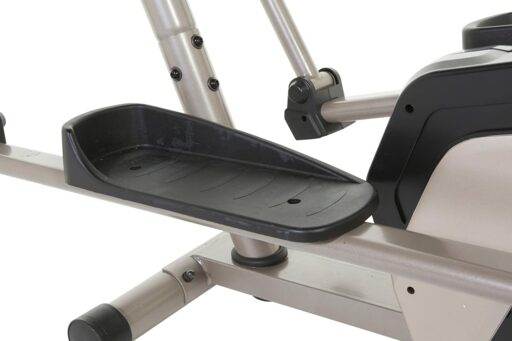 The fully assembled machine isn't huge compared to other cross-trainers. However, it still is approx. 55″ (140 cm) long, and 25″ (64 cm) wide to which you will have to add a few feet of clearance. It is advisable to leave at least two feet of clearance all around the unit.
The unit's net is approx—102 lbs (46 kg). Therefore, the transport of the boxed unit may require two people. But on the other hand, once fully assembled, its relocation can be done with ease because its front base has a set of small wheels. Also, the rear base bar is equipped with polygonal stabilizers which can rotate, allowing you to level the machine if necessary.
Pedals and Handlebars
The Exerpeutic 5000 magnetic elliptical trainer comes equipped with a set of durable pedals. They do not have any extra cushioning or articulation. However, the pedaling motion should eliminate most of the impact on your joints.
As I've mentioned earlier, the pedal trays are a durable ABS material. They have front and inner guards for extra foot stability. Also, the pedal bars have a metallic plate under each tray for superior durability. Thus, the unit has a maximum user weight capacity of up to 270 lbs (122.5 kg), which is not bad for a home-use elliptical trainer.
The pedals don't have any quick adjustment system, but the pedal bars feature two attachment points for each pedal. Therefore, you can attach them a few inches closer or farther from the front of the unit.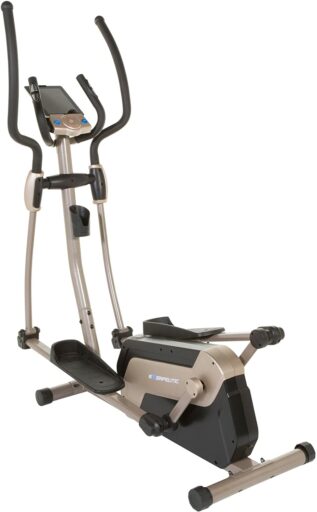 This elliptical trainer features two sets of handlebars, one mobile and one fixed. The mobile handlebars feature extended, rubberized grips with ball grips at the top. They attach to the pedal bars and will move for as long as you pedal; and can't remain stationary. The fixed handlebars attach directly to the front mast of the machine. They have shorter grips, also rubberized, and they also integrate pulse sensors.
Elliptical path, stride, and step-up height
The Exerpeutic 5000 is a rear-drive elliptical trainer. Its main crankset is at the rear, so the elliptical path is slightly inclined forward. Therefore, a ride on this machine resembles a descension on a soft ramp. This is a plus as it puts more focus on your gluteal muscles and promotes a superior toning of the thigh muscles.
The machine does not have an incline system. Therefore, the elliptical path angle and the length of its stride are non-adjustable. Its stride is 18″ (46 cm) long. This means it should accommodate users comfortably between 5'0 ″ (153 cm) and 6'3 ″ (190 cm). Of course, taller users should also be able to use it, but they will be exercising under their full range of motion.
The spacing between the pedals (or the Q-Factor) is approx. 6″ (15.2 cm). This is great because your feet won't be too far apart when positioned on the pedals; in fact, the unit comes designed to provide quite a natural foot positioning. This eliminates any lateral stress on the ankles and knees.
The pedal step-up height is also 6″ (15.2 cm). Differently put, even for users with disabilities, stepping up onto the pedals shouldn't be too difficult. Conversely, at their highest point, the pedals stand at approx. 15″ (40 cm) above floor level. Therefore, it is advisable to place and use this elliptical cross trainer in a room with a ceiling that is at least 16″-17″ (41-43 cm) higher than your height.
5000 Resistance and drive
The Exerpeutic 5000 elliptical trainer comes equipped with an eddy current resistance system. This means it requires an external power source; an adapter is (included) with the machine. The resistance is only adjustable from the console. Also, the console has preset programs, so it can automatically adjust the resistance depending on the program in use.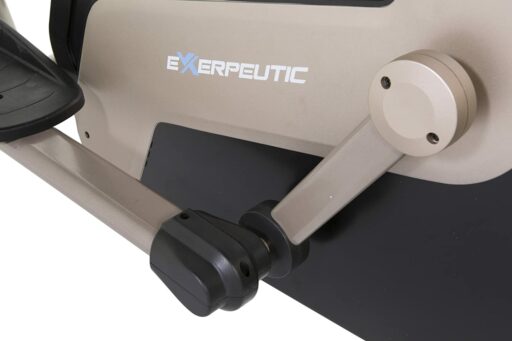 The unit's resistance system consists of a magnetic brake and a servo motor connected to the console. As you select a certain level of resistance from the console, the motor will shift the magnetic brake closer or farther from the metallic flywheel, this way increasing or decreasing the resistance.
The main advantage of a magnetic brake is that the resistance elements do not touch. Therefore, the pedaling motion is very smooth and almost entirely silent.
This elliptical cross trainer makes available 24 levels of resistance. The first five levels are great for recovery training, providing minimum impact and drag. Conversely, the 20-24 levels of resistance offer you the possibility to engage in a more intense workout, for stamina building and weight loss.
Like most other elliptical trainers, the Exerpeutic 5000 comes equipped with a flywheel. Its exact weight is not specified, but considering the weight of the machine, its weight should be somewhere between 20-30 lbs (9 – 13.5 kg). It is a perimeter-weighted flywheel, designed to provide extra inertia and a consistent pedaling feel. It is also bi-directional.
Last but not least, this Exerpeutic elliptical machine features a double transmission drive system. Differently put, it uses two flywheels and two transmission belts.
This adds consistency and smoothness to the ride and also prolongs the lifespan of the belts. Plus, since the machine uses belts, not chains, you don't have to worry about the transmission lubrication.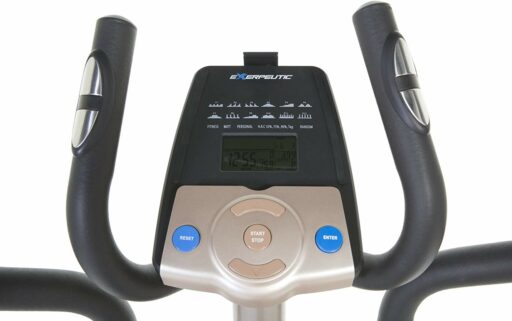 5000 Console
The Exerpeutic 5000 elliptical machine includes a mid-range console featuring a multi-window LCD to show multiple readings at once so you won't have to use a scan function to rotate them. The console tracks time, speed, RPM, distance, watts, calories burned, and pulse rate.
The unit is not telemetric; therefore, it can only read your pulse through the sensors integrated into the stationary handlebars.
7 Workout modes
The console makes available seven workout modes. The first one has the Manual program. If you select this workout mode, you can increase or decrease the resistance as you like during your workout. It also gives you the possibility to choose goals for time, distance, and calories.
The 2nd workout mode is "Program." This makes available 12 preset programs (P1-P12). Their profile construction is in the diagram on top of the console. They cover all kinds of workouts focusing on burning calories, keeping a steady heart rate, or offering an interval training setting.
The 3rd workout mode is "Fitness." This is a pulse recovery function. It measures the evolution of your pulse for a default test time of 8 minutes, and in the end, it gives you a fitness rating between F1 (excellent) and F5 (very poor).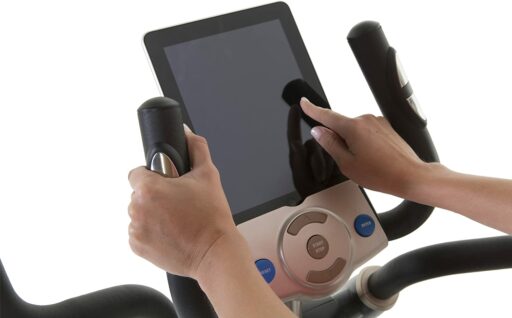 The 4th workout mode is a Watt program, while the 5th workout mode is a Personal mode for user-defined programs (you can create your program, save it, and re-use it every time you want).
The 6th workout mode is a heart rate control program (HRC). It offers three preset heart rate targets – 55%, 75%, 90% – and a custom mode if you want to input a specific HR target. During this program, the machine will auto-adjust the resistance to keep you at the selected target heart rate.
Finally, the 7th workout mode is "Random." By selecting this workout mode, the console will automatically create a random profile combination.
User profiles
Another feature that I must mention here regards the user profiles. The unit makes available five user profiles (U0 – U4). Therefore, up to 5 users can save their data (including age, weight, height, and gender), along with the desired program settings for quick access.
Amenities
The console doesn't have a cooling fan or an integrated sound system, nor can it communicate with any online fitness apps. However, it does have a tablet holder, offering the possibility to secure your tablet on top of the console if you want to view your favorite streams or use an online fitness app.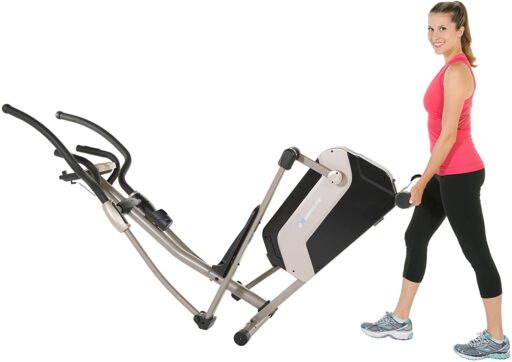 5000 Assembly and Maintenance
The main body of the machine comes pre-assembled, with all the drive and resistance elements in their place, secured by the ABS covers. However, the unit still needs some assembly. You will have to attach the two base tubes, the console mast, the pedal bars, the pedal trays, the moving arms, the fixed grips, and the console. This may take more than an hour of your time. However, the manual provides clear assembly instructions, and all the tools required for the task are (included) with the elliptical.
Once the unit is assembled, you don't have to worry too much about maintenance. The internal parts don't require any lubrication. Thus, you only have the keep the unit clean and periodically check for any potential loose bolts or parts.
Pros
Sturdy frame – can support users up to 270 lbs;
Adjustable stabilizers on the rear base;
Transport wheels on the front base;
Mobile arms with an ergonomic design and ball grips at the top;
Fixed grips with pulse sensors;
Dual belt and pulley drive system, providing an exceptionally smooth pedaling motion;
Large pedals with front and inner guards for extra stability;
Narrow Q-factor, eliminating any lateral stress on the knees;
24 levels of eddy current resistance;
Multi-window LCD console;
Seven workout modes (20 workout programs);
Five user profiles;
Goal setting functions for time, distance and calories;
Tablet holder included;
Bottle holder included;
Tranquil operation;
Easy to assemble;
Little maintenance required.
Cons
A tablet placed on the tablet holder will cover the console display;
No backlight on the console display;
No USB port for recharging your phone or tablet.
Exerpeutic 5000 Summary
The Exerpeutic 5000 is an elliptical cross trainer designed for home use. It comes equipped with an automatic magnetic resistance system offering 24 difficulty levels, a dual belt drive system, and a console with seven workout modes (a total of 20 workout programs). It's a mid-range elliptical, great for light to medium-intensity cardio workouts, stamina development, muscle toning, and weight loss.
I hope you found this article helpful and informative. If you have anything that you'd like to share or any opinions about my website, please do speak up. I look forward to your comments, questions, and the sharing of ideas.
Recommended articles:
Please follow and like us: