The Exerpeutic ExerWork 2500 Desk Recumbent Bike features a desk that is adjustable three different ways for your comfort. The large sliding desk measures 24 x 16 inches and can support a maximum weight of 44 pounds. You can adjust the desk angle between 0 and 30 degrees and the height between 36.5 and 41 inches.
Moreover, it features an adjustable 3.3'' extra thick air soft cushion seat that allows you to work out longer without getting sore or bored. It is sturdy enough to support 250 pounds (113 kg) maximum user weight and users between 5'-6' tall. Also, the magnetic resistance system is smooth, with 14 levels that provide different workout difficulties.
The Bluetooth Smart Cloud Fitness allows you to get connected to MyCloudFitness app for free. It is Android/iOS compatible and will let you track your exercise results and progress on your smartphones. For this purpose, you can choose from three workout goal settings, distance, time, and calories burned. Similarly, the LCD is easy to read and shows real-time workout information, including speed, distance, calories, time, odometer, and scan function.
Thus, it has a lot of features that make its already low impact workout capability to be the choice of many folks that live a sedentary lifestyle. It is also important to note that the Exerpeutic 2500 Recumbent Bike has a step-thru design. It is easy to mount and dismount, regardless of the user's fitness level.
Learn more in my complete review below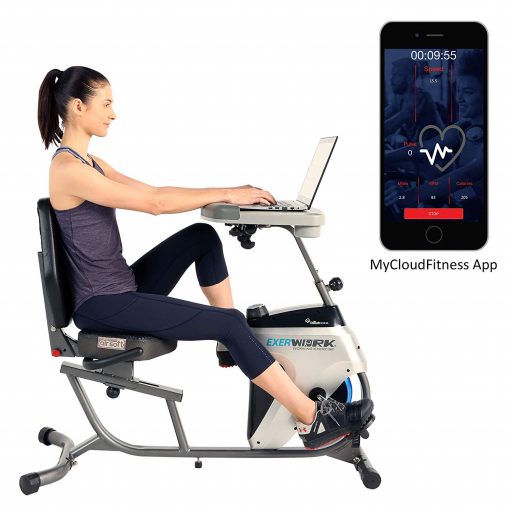 Product: Exerpeutic ExerWork 2500 Desk Recumbent Bike
Price: For a great deal on this bike/desk, merely go here on Amazon
Warranty: 3-years limited
My rating: 8.25/10
2500 Frame
Affiliate Disclosure: I may earn commissions from purchases made through links in this post.
Details and Specifications
53'' Length
25'' Width
40'' Height
Supports 250 pounds (113 kg) maximum user weight capacity
Display: LCD monitor, tracks time, distance, speed, odometer, calories burned, and SCAN
Bluetooth My Cloud Fitness
Seat: Backrest padded and adjustable to 3 angles, the seat 3.3 inches thick and it's horizontally adjustable
Sidearm handlebars included
24'' wide by 16'' long desk, integrated with two cup holders and adjustable to 7 different angles
Transport wheels included
Drive: Belt
Resistance: Magnetic with 14 tension levels
Frame: Steel
Warranty: 3-years limited
The Exerpeutic 2500 is not overly broad because it has overall assembled dimensions of 53.5 inches long by 25 inches wide by 40 inches tall. Therefore, the unit requires a workout perimeter of 4'5'' long by 2'1'' wide and a ceiling height of 7 feet high.
The machine has a steel frame and ABS material for other parts such as the shroud for the drive and the desk. It has a maximum user weight capacity of 250 pounds (113 kg).
The base has a sturdy framework that features adjustable leveling floor stabilizers that ensure maximum stability and is void of rocking or tipping during a workout. The bike weighs about 70 pounds/31.7 kg which also boosts its overall stability.
All the steel parts have a protective anti-corrosive and scratch-resistant paint that ensures rust does not invade and degrade its quality. Also, the bike has transport wheels that make it easy for relocation from the storage area to the workout area and vice versa.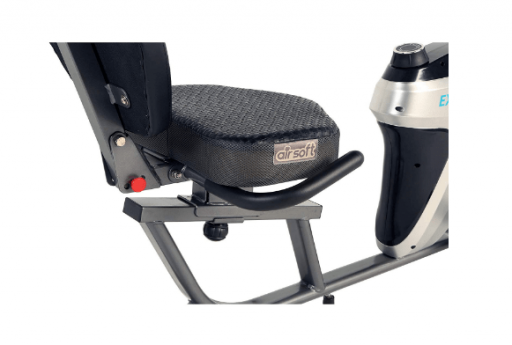 The desk and the seat are fully adjustable, and therefore, the user feels comfortable while working and working out. The step-thru design that makes it easy to mount and dismount regardless of the user's fitness level.
Seat, Handlebars, and the Pedals
The seat on the Exerpeutic 2500 has an extended backrest which is why it is called a recumbent seat. The backrest is padded and adjustable to 3 different angle positions. The seat can also be horizontally (forward/backward) adjusted; slide it to any place that is suitable for you.
The large AirSoft seat features aerodynamic healthcare technology that allows air to breathe through the fabric so that the comfort it provides is sustainable for longer workouts. The seat's dimensions are 17 inches long by 13 inches wide and 3.3 inches extra thick.
The Exerpeutic 2500 only has a set of soft handlebars that are designated one on each side of the seat. These are designed to provide support for aggressive pedaling during an intense workout. They are soft, comfortable, and have a design that prevents slippage and blisters in the palms.
The pedals are designed to accommodate barefoot or standard gym shoes. They are anti-skid designed with adjustable safety straps that ensure that the feet are secure.
2500 Desk
The desk is what makes this bike different from the regular recumbent bike. The office is made up of ABS plastic material and has dimensions of 24 inches wide by 16 inches long. It could support 44 pounds/20 kg maximum item weight capacity. It's adjustable between 7 angles, from 0-30 degrees.
The desk can be tilted, be adjusted backward, forward, upward, and downward. The vertical adjustment has eight heights between 36.5 inches and 41 inches. The desk surface features a soft board double armrest that supports the arms while you work on the computer comfortably.
There are also two cup holders for your water bottle or any other item you may need to keep within reach during an exercise/working activity.
Drive
2500 belt drive system provides a quiet and smooth operation that is without any noise or vibration. You can utilize the recumbent bike at any time of the day, and the family or the neighbors won't be disturbed by your activities. It consists of a belt, a pulley, a perimeter weighted flywheel, solid crankset, and the crank arms.
The drive allows you to pedal in reverse if you so desire; in other words, it is bidirectional. Moreover, it is maintenance-free without the need for lubrication or adjustment at any point in time.
2500 Resistance
The Exerpeutic 2500 comes with a manual magnetic resistance system. It features 14 resistance levels that provide levels of workout challenges that are suitable for anyone that is living a sedentary lifestyle.
The resistance system is smooth and also quiet. The elements (magnetic brake and the flywheel) that generate the resistance do not make any direct contact and therefore, no friction at all. The magnetic brake pad emits a magnetic field around the flywheel when the latter is in particular proximity to generate resistance.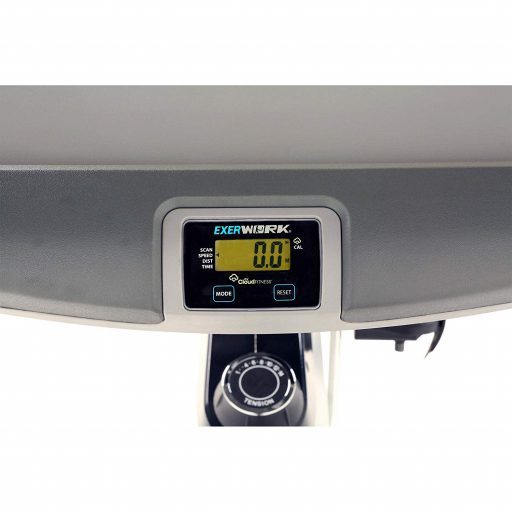 The resistance is adjustable via the tension knob that has the resistance levels 1-14 inscribed on it. Turn clockwise to increase the strength and counterclockwise to decrease it.
Console
The Exerpeutic 2500 does not have a typical console. However, it does have an LCD monitor that's integrated into the desk. The easy to read LCD monitor tracks time, distance, odometer, speed, calories burned, and SCAN function.
Aside from these, the bike also has a Bluetooth Smart Cloud Fitness app. It allows you to connect with any Android or iOS smartphone via the My Cloud Fitness app to set up workout goals for time, distance, and calories.
The monitor displays all the workouts values one at a time after a few seconds by default, but you will be able to set a preferred workout value to post regularly. The monitor is not backlit, so its readability might be affected by a poorly lit environment.
Storage
The Exerpeutic 2500 is easy to store because it has transport wheels at the front base. You can quickly raise it by the rear stabilizer bars and roll it to the storage destination. It is not foldable; however, it doesn't require too much space. It's typical storage area dimensions would be 4'4'' long by 2'1''.
2500 Assembly and Maintenance
The unit comes partially preassembled; the major components are already attached to the frame. Except for the front, and rear stabilizer bars, the seat and the backrest, the wide handlebars, the desk mast, the desk, and the pedals are to be assembled by you.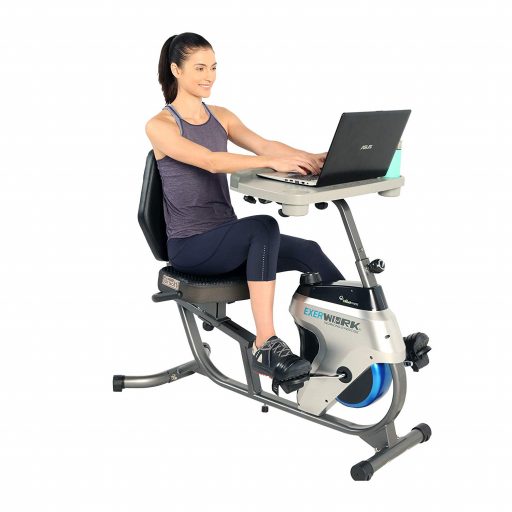 The assembly instruction manual walks you through the process, and the tools required for the job are all included in the package. It takes less than an hour to assemble the machine to a functional level completely.
However, you may opt for the ''expert assembly'' service that is offered by Amazon to have someone come over and assemble it on your behalf at a cost.
2500 doesn't require any special maintenance. However, you should always examine the recumbent bike before use. To ascertain that the parts are well screwed and tight to prevent an accident or further damage to it. Finally, endeavor to keep it clean from dirt and sweat before and after use.
Pros
Its structure is durable steel that has an anti-corrosive paint;
The bike supports 250 pounds/113kg maximum user weight capacity;
It features an excellent base framework that has adjustable leveling floor stabilizers;
Its desk is full and robust enough to support your laptop leftover space for other items;
It has a water cup holder;
The belt drive is smooth and quiet; a second party won't be disturbed by your activity;
It has a manual magnetic resistance system that features 14 tension levels;
It is a low maintenance machine;
Relatively easy to assemble;
It has a Bluetooth My Cloud Fitness app that allows you to set up workout goals for time, calories and distance;
The LCD monitor displays time, distance, calories, odometer, speed, and SCAN.
Cons
The LCD monitor is not backlit
Exerpeutic 2500 Summary
The Exerpeutic 2500 Bluetooth 3 Way Adjustable Desk Recumbent Exercise Bike provides exercising opportunities for people that spend most of their time behind the desk working. Specifically, 2500 is built to accommodate users between 5' and 6' tall and the textured pedals are anti-slip and have the adjustable straps to keep your feet in place.
You have the soft grip handlebars that you can hold during your intense workouts. You can also move the bike in your house quickly by rolling it on its transport wheels. Furthermore, it is pretty straightforward to set up straight out of the box.
Exerpeutic 2500 works, as described, does the job well, works quietly, feels reliable and stable, has the Bluetooth function and a few great user-friendly features. This recumbent bike not only enables users to exercise but also adds fun to their daily work routine. Thus, making them productive even as they improve their physical fitness well being in the process.
I hope you found this article helpful and informative. If you have anything that you'd like to share or any opinions about the content on my site, please do speak up. I look forward to your comments, questions, and the sharing of ideas.
Recommended articles: