The Exerpeutic LX 8.5 is a belt-driven indoor cycling bike that comes with Bluetooth Smart Technology and MyCloud Fitness App. The model with the chest strap costs roughly 90 dollars more than without the chest belt at the time of this product review.
The heavy-duty Exerpeutic LX 8.5 weighs 89.5 pounds and measures approximately 44 L x 22 W x 50 H inches. Its sturdy steel frame supports up to 300 pounds of total user weight. It comes with a heavy-duty three-piece crank system that offers consistent momentum and durability. And the chrome-rimmed cast iron flywheel lets you pedal very smoothly and quietly.
With Bluetooth Smart Technology, you can check out your stats and monitor your progress through the MyCloud Fitness App that is available on both iOS and Android. The Bluetooth connection will give you the stats of time, distance, speed, calories burned, pulse rate, and rpm.
You can also create workout goals for distance, calories burned, or time. The HR chest strap (must purchase the model that includes the chest strap) fits chest sizes between 27.5 and 47.2 inches and links with the MyCloudFitness application to let you track your heart rate.
Learn more in my complete review below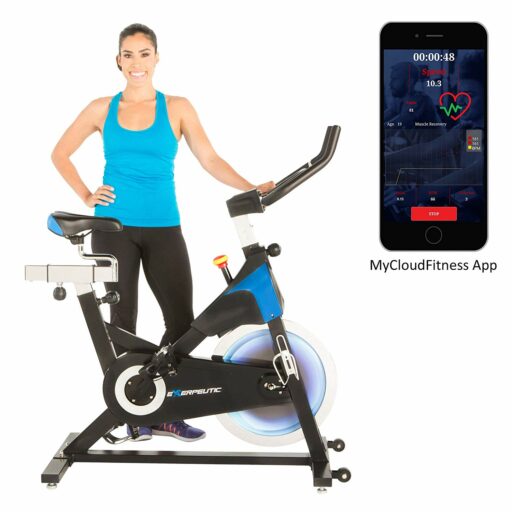 Product: Exerpeutic LX 8.5 Indoor Bike
Price: For a great deal on this bike, merely go here on Amazon
Warranty: Frame 5 years / Parts 90 days
My rating: 8/10
Amazon Affiliate Disclosure: I may earn commissions from purchases made through links in this post.
LX 8.5 Frame construction
The Exerpeutic LX 8.5 has a heavy-duty frame, made of thick steel tubing. All the bars in its structure are rectangular and have precision-welded connection points. Most of the mainframe is one-piece, except for the base bars which attach to it via screws.
All the steel parts in the bike's construction come with a corrosion-resistant paint finish. The color used is black. However, the upright post of the handlebar and the seat vertical post/slider comes with a chrome finish.
Of course, there are several ABS parts in the bike's construction as well, such as the belt cover and the brake assembly cover. However, these do not reduce the bike's overall sturdiness, as they only fulfill a protective role.
Compared to treadmills or other fitness machines, this exercise bike isn't huge. The fully set up unit is approx. 44″ (112 cm) long, and approx. 22″ (56 cm) wide. Also, with the handlebar extended to its highest position, the maximum height of the bike reaches approximately 50″ (127 cm).
It's recommended to assign at least two feet of clearance all around the unit, to be able to perform any spin workout without any hassle.
The bike isn't super-heavy like a commercial model, such as the Body-Solid Endurance ESB250, for example, but does weigh approx. 89.5 lbs (40.5 kg). Therefore, its boxed transport may require two people. However, when fully set up, the unit isn't too difficult to move because it's front base has transport wheels. So, by using these wheels, you won't be handling more than half of its total weight.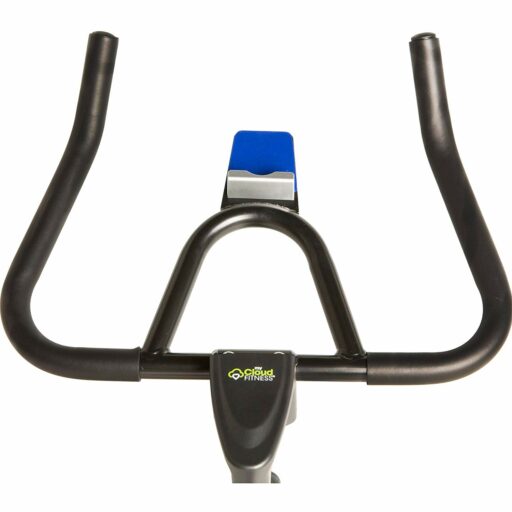 Last but not least, both base bars of the bike comes with adjustable metallic stabilizers. Therefore, you can perfectly level it on any floor, to prevent it from rocking or tipping and achieve maximum stability.
Seat & handlebars
The Exerpeutic LX 8.5 comes with a high-comfort spin seat. This type of saddle integrates a thick layer of foam padding and also has a sizeable longitudinal groove to provide superior ventilation under the user. This leads to better, healthier blood flow.
On the other hand, the seat has a standard attachment system if you choose to replace it. Thus, there are plenty of compatible options available.
The seat offers 4-way adjustability (front, back, up, down). Its upright post offers multiple adjustment notches, while its horizontal slider also provides several inches of front to back adjustment. Therefore, the seat can accommodate users between 5'2″ and 6'4″ (157 – 193 cm). Also, the seat assembly is durable enough to support users up to 300 lbs (136 kg).
The handlebar of this Exerpeutic exercise bike only has 2-way adjustability (up, down). It has a multi-grip design, with a loop aero bar in the middle.
It offers the possibility to exercise by holding it in a close parallel grip, standard grip, race grip, top grip, and more. Its side arms come with a sheet of rubber foam material which delivers optimal comfort and a secure grip.
The handlebars don't have any pulse sensors. However, the Bluetooth Smart enables you to connect with the MyCloudFitness App, and you can monitor your HR using a chest strap. Therefore, in case you need to keep an eye on your HR, you will have to purchase a chest strap separately.
LX 8.5 Drive & resistance
The Exerpeutic LX 8.5 has a 40 lbs steel (18 kg) flywheel, just like many other light-commercial spin bikes. It's got a perimeter-weighted structure, which enables it to provides aggressive inertia but also a steady pedaling motion. It has a chrome-plating finish, while its side covers are an ABS material. It also permits reverse pedaling; thus, you can diversify your workouts if you want.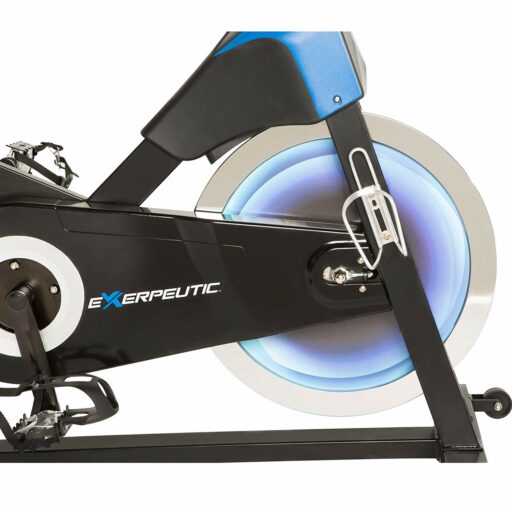 The bike uses a belt transmission. Thus, it doesn't require periodic lubrication as a chain drive. It also generates less vibration.
The crankset features highly durable arms and pedals. It's designed to support users up to 300 lbs (136 kg) during full standing up pedaling sessions. The pedals are an aluminum alloy. They have adjustable toe cages but do not have SPD elements for spin shoes. Replacement options for them are highly available, though. Their threads are standard 9/16.
The Exerpeutic LX 8.5 features a manual friction resistance system. In other words, you don't need to connect the bike to a power source to benefit from resistance. Its resistance elements include a brake pad which is attached above the flywheel and guarded by the top ABS cover.
This brake pad connects to the tension dial above the main tube of the frame. By turning the dial clockwise, the brake pad applies more friction to the flywheel, and this way, you benefit from a greater pedaling difficulty.
It's important to note that the pedals continue to spin while the flywheel is spinning. However, the tension dial also has the function of an emergency brake. So, by pressing it down, you can instantly stop the flywheel and the pedals from spinning.
Bluetooth connectivity and MyCloudFitness app
This Exerpeutic exercise bike does not come with a console. However, it does come with a Bluetooth module which is attached to the frame, right above the crank.
This Bluetooth module requires two AAA batteries, which (are included). It is compatible with the free MyCloudFitness app, which you can download from the Apple App Store or Google Play.
The MyCloudFitness app features an interface similar to a bike computer. It tracks time, distance, speed, RPM, watts, and calories. It also offers the possibility to create goals for time, distance, and calories. Once you have downloaded the MyCloudFitness app into your phone, you can sync the bike with your phone, and use it as its fitness tracking device.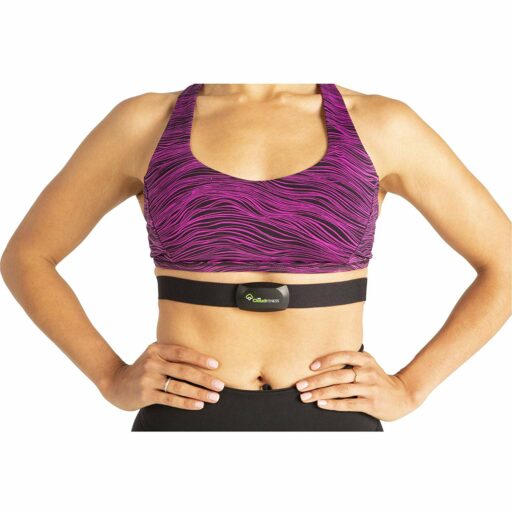 The bike also includes a device holder that you can attach to the front loop aero bar to place your phone or tablet on it.
LX 8.5 Assembly & Maintenance
The bike's core frame comes partially assembled. Therefore, you only need to attach the base bars, the seat tube, the saddle, the handlebar tube, the handlebar, the pedals, and the device holder. This shouldn't take more than 30-40 minutes. The manual provides clear assembly instructions, and some of the necessary tools (are included).
For maintenance, it's recommended to periodically check for loose bolts and parts, and re-tighten or replace them if needed.
Details and Specifications
Assembled dimensions: 44L x 22W x 48H inches (112L x 56W x 122H cm)
Assembled weight: 89.5 lbs (40.5 kg)
Flywheel weight: 40 lbs (18 kg)
Supported weight: 300 lbs (136 kg)
Handlebars: 2-way adjustable
Seat: 4-way adjustable
Drive mechanism: Belt
Resistance: Friction
Accessories: Bluetooth module, media holder, bottle holder
Warranty: Frame 5 years / Parts 90 days
Pros
Sturdy steel frame – can support users up to 300 lbs;
Adjustable stabilizers on both base tubes;
Transport wheels;
Foam-padded saddle with a center cutout for extra breathability;
4-way adjustable seat;
2-way adjustable handlebar;
Multi-grip handlebar;
Smooth and quiet belt drive;
Friction resistance for a multitude of tension levels;
40 lbs, perimeter-weighted flywheel for aggressive inertia;/li>
Durable crankset which can hold any spin workout;
Aluminum alloy pedals with toe cages;
Bluetooth module included;
Compatible with the MyCloudFitness app;
Batteries for the Bluetooth module (are included);
Device holder included;
Bottle holder included;
Fairly easy to assemble;
Little maintenance required.
Cons
An HR chest strap (is sold) separately.
Exerpeutic LX 8.5 Summary
The Exerpeutic LX 8.5 is an indoor bike designed for home use but does have a very sturdy construction, being able to support any spin workout. It features a 4-way adjustable seat, a 40 lbs flywheel, and a durable crankset with metallic pedals.
It's also equipped with a Bluetooth module so you can sync it with your phone for tracking your workout stats. In all, it's an excellent bike for high-intensity cardio workouts, intervals, stamina development, and weight loss. It's also considerably more affordable than a light-commercial bike.
I hope you found this article helpful and informative. If you have anything that you'd like to share or opinions about the content on my website, please do speak up. I look forward to your comments, questions, and the sharing of ideas.
Recommended articles:
Please follow and like us: