The FDF Apollo Pro II water rower is a commercial-grade, natural wood rowing machine, perfect for group training or high-end home gyms. This rower's water-resistant design, meditative motion, and integrity of construction set it apart from its competitors.
The Apollo PRO Fluid Rower is designed to deliver variable water resistance. Its tank can hold up to 4.5 gallons (17 liters) of water. Moreover, users can adjust the water level used against each stroke.  Trainees get the sight, sound, and feel of rowing on a body of water.
If you are accustomed to on-water rowing, your rowing technique will immediately appreciate the Apollo's unrivaled emulation of a boat gliding through water. FDF's patented twin tank design generated a smooth uniform stroke, including no lag of resistance at the catch and continued to the finish.
The computer monitor shows time, distance, 500 meter split time, strokes per minute, calories per hour, watts, interval training, and heart rate (with a wireless chest strap, not included). A USB port allows for expanded functionality with workout apps. An example is NetAthlon 2 XF, which lets a person train solo or race against other Internet-connected rowers in a 3D virtual reality environment.
Learn more in my complete review below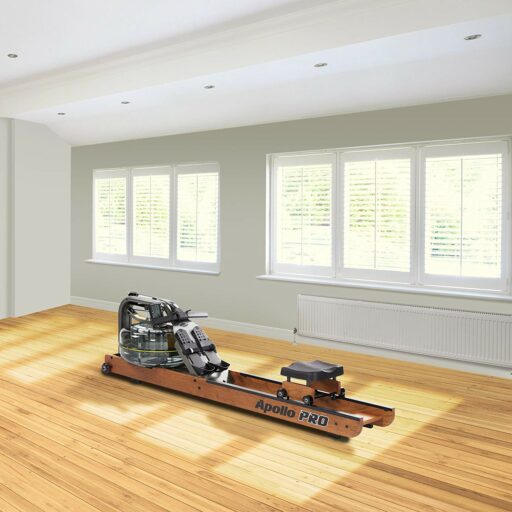 Product: FDF Apollo Pro II Water Rower
Price: For a great deal on this rower, merely go here on Amazon
Warranty: Frame 5 years / Tank & seals 3 years / Mechanical 2 years / Wear parts 1 year
My rating: 9.25/10
Amazon Affiliate Disclosure: I may earn commissions on purchases made through links in this post.
Details and Specifications
Assembled dimensions: 84L x 22W x 21H inches (213L x 56W x 54H cm)
Product weight: 75 lbs (34 kg) w/o water; 112.5 lb (51 kg) w/ water
Supported weight: 330 lbs (150 kg)
Frame: Wood (Ash) & steel
Footrests: Adjustable, with straps
Resistance: Water, adjustable (4 levels)
Fitness computer: Time, distance, strokes per minute, watts, calories/hour, 500m split time, HR capable, USB port
Warranty: Frame 5 years / Tank & seals 3 years / Mechanical 2 years / Wear parts 1 year
Apollo Frame
This First Degree Fitness rower features a wood & steel frame construction. Its side rails are Ashwood, treated with high-grade oils and a durable, glossy finish. The front part of the frame, which provides support for the water tank is steel. The steel frame part features a high-grade powder finish, black in color, resistant to scratching and corrosion.
The machine's frame is rather large, especially lengthwise. It's 84″ (213 cm) long and 22″ (56 cm) wide. It also requires at least two feet of clearance at the rear and on each side for safe and unhindered operation.
But on the other hand, this rowing machine can be stored vertically. In a vertical position, its footprint becomes 22″ x 21″ (56 x 54 cm), and its height will become 84″ (213 cm). So, it may not fit in a vertical position in a room with a 7′ ceiling. Also, if you're wondering, the water does not require to be removed from the tank when the rower is stored vertically.
The frame rests on two thick rubber stabilizers at the rear and two at the front. They're non-adjustable, but they do deliver an excellent grip onto the floor, and tremendous overall stability.
Its front end has a set of silicone wheels which facilitate the transport or handling of the machine once it's fully assembled. The rower is not extremely heavy; it weighs approx. 75 lbs (34 kg) without water inside the tank, and approx. 112 lbs (51 kg) with water.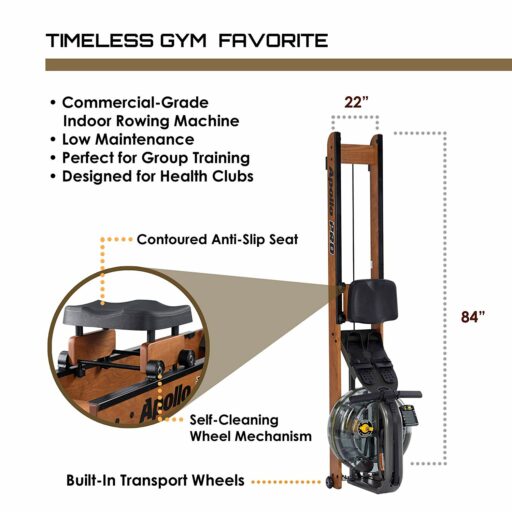 Apollo Seat
The rower's seat doesn't integrate air cushioning cells. However, it does have a bit of padding, and a contoured surface to provide optimal comfort. It also features an anti-slip surface and a small edge at the rear to deliver excellent adherence. It has a sturdy construction, being able to support users up to 330 lbs (150 kg).
The seat glides on two pairs of wheels that integrate sealed ball bearings for prolonged use. Each wheel has a cover finished with two small brushes, which help keep the sliding rails clean, free of small objects that may cause nicks on them.
Overall, the seat provides an exceptionally smooth and quiet action. The top of the seat stands at approx. 16″ (40 cm) above floor level, thus taking a position on the rower or getting up is relatively easy, and shouldn't be a problem even for users with various disabilities.
The gliding beams on which the seat glides are a heavy-duty nylon material. This comes with several advantages. First of all, they reduce the noise generated by the rollers of the seat during rowing.
Second of all, the gliding surface is also much tolerating with any small particles that may fall on it. As opposed to that, if the gliding beams of a rower are metallic, even the slightest dirt particle fallen on it will result in bumps and clicks during rowing. But the small brushes on each wheel casing will remove any small particles, dust, or sand.
Footrests
The machine's footrests are adjustable, being able to accommodate shoes of all sizes. They also have heel guards and adjustable straps, offering all the stability required. They're placed on a fixed metallic plate, connected directly to the front part of the frame. Their angle is non-adjustable. They're set at a 45°, delivering optimal comfort.
Finally, the side rails of the First Degree Fitness Apollo Pro 2 rowing machine are long enough to accommodate users up to 6'7″ (201 cm).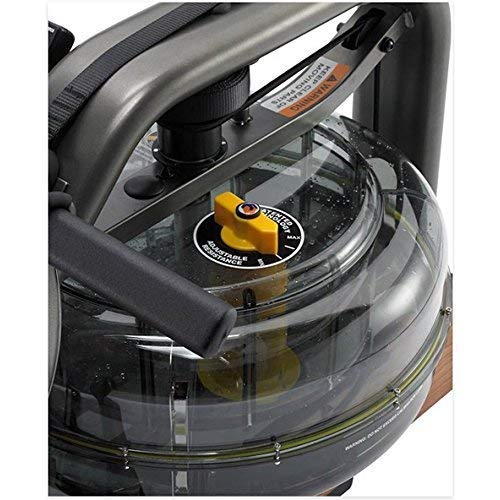 Apollo Water tank
The First Degree Fitness Pro II Apollo rowing machine features a water resistance system. It's different than the water tanks on the WaterRower models, as it integrates a water level adjustment system, with four levels.
It's divided into two chambers, the "storage" and the "active" chambers; the dial on the top of the tank allows you to quickly add or remove water from the "active" chamber, to adjust the machine's overall resistance.
Therefore, if you have all the water in the "active" chamber, the machine will generate the maximum resistance level possible, providing the training set required by pro athletes.
Conversely, if you set the dial to the minimum level, 3/4 of the water will pass into the "storage" chamber, and the machine will generate 3/4 less resistance.
The water tank has a 3-blade, metallic impeller connected to a bungee cord, which facilitates its recovery. The pulling handle is attached to a durable nylon strap, designed for many years of use.
Resistance
In particular, since it's a water resistance rower, the rowing feel and resistance generated are similar to rowing a real boat. As you pull the handle, the impeller will rotate into the tank, creating a dynamic response. Differently put, the more power you put behind each stroke, or the faster your stroke rate will be, the more resistance the machine will generate.
The water tank is a heavy-duty polycarbonate material. Its capacity is 4.5 gal (17 liters), and to generate resistance, it requires a quantity of water between 2.3 and 4.5 gals (9-17 liters). It's recommended to fill it to the maximum capacity of 17 liters, for you to benefit from the four distinctive levels of resistance.
The tank is easy to fill up. The tank has a small orifice on top, sealed by a rubber plug. A small pump comes with the rower, which allows the filling or emptying of the tank.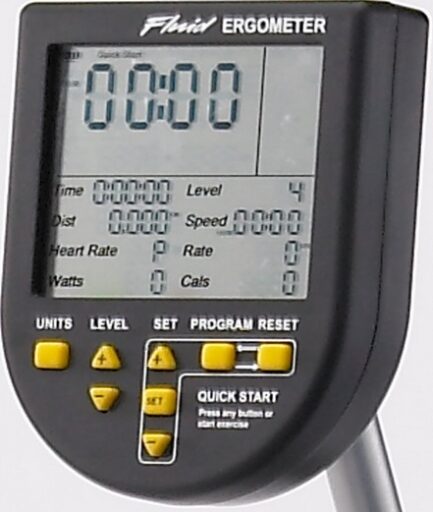 Last but not least, the operation of the rower doesn't generate a high level of noise. The sound produced by the spinning of the impeller in the tank is a soft "whoosh" sound. Various users have reported that the sound generated relaxes them.
Apollo Console
The console supplied with the FDF Apollo Pro II rower has quite a bit more to offer than the primary units. First of all, it has a multi-panel LCD, which indicates all the workouts metrics at once, so you won't have to use a SCAN function to rotate them.
Secondly, it has a USB port allowing you to use various First Degree Fitness apps, such as the "NetAthlon 2 XF for Rowers". These apps give you the possibility to save and track your workout data online or to compete with other rowers.
The unit shows time, 500M time, strokes per minute, distance, pulse, watts, and calories per hour. For range, the console offers the possibility to add 1000m for each press of the large button. Also, this button covers the unit's reset function. By holding it down for three sec., the console will reset.
Since the water tank offers four levels of difficulty, the console also has four distinct difficulty levels. Therefore, you have to adjust the level (via the UP/DOWN) keys. For example, if the dial on the water tank is at MAX, the console must be set at level 4, to provide optimal tracking of the fitness statistics displayed.
This console is battery operated. It requires 2 AA batteries, which (are not included). To track your pulse, you will need an HR receiver and chest strap, which are also not included with the rower.
Apollo Assembly and Maintenance
The First Degree Fitness Apollo Pro 2 rower does require some assembly, even though its water tank and resistance system come pre-assembled from the factory. The construction requires you to connect the two main rails of the machine, place the seat on its track, mount the tank with the footrests and console onto the rails, attach the bungee cord to the hook under the rear board of the frame, and fill up the tank with water.
Tools for assembly (are included), while the manual provides clear and concise instructions for assembly. The whole task shouldn't take longer than one hour.
Maintenance requires the periodic inspection for loose bolts and parts, and the integrity of the bungee cord and rowing strap. Also, the water in the tank may require chlorine treatment.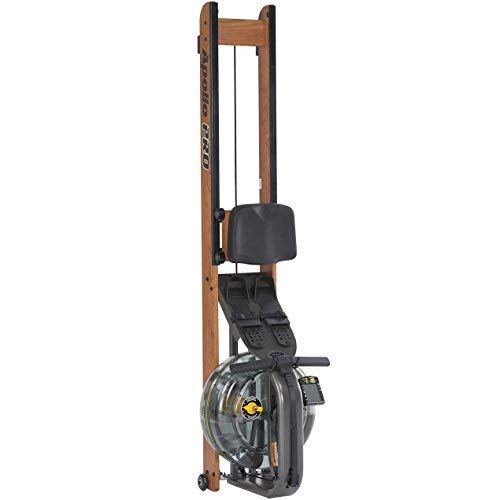 Pros
Sturdy frame construction and elegant design;
High user capacity, up to 330 lbs (150 kg);
Storable in the upright position;
Easy to handle and transport;
Water-resistance system, delivering a dynamic response and a natural rowing feel;
Dual-chamber water tank, with four distinctive water resistance levels;
Contoured, ergonomically designed seat;
A console with a multi-panel LCD, showing time, 500m time, pulse, distance, strokes per minute, calories per hour and watts simultaneously;
It has a USB connection, for online workout data tracking, or using online apps;
The operation is smooth and quiet;
Rowing machine for users of all levels;
Little maintenance required;
Easy to assemble;
Excellent warranty.
Cons
The console isn't backlit;
The console is not telemetrically enabled.
FDF Apollo Pro II Bottom Line
The FDF Apollo Pro II is a commercial rowing machine, designed to provide workouts for users of all levels. It's a water resistance rower equipped with a tank that offers four levels of water resistance and a multi-function fitness console.
It has an aesthetic design, with an Ashwood & steel frame construction, being able to support users up to 330 lbs (150 kg). It's perfect for cardio workouts that involve multiple muscle groups, for interval workouts, stamina building, and weight loss.
And finally, it's not exactly an affordable machine, but considering that it's a commercial-grade, it offers excellent value for the price.
I hope you found this article helpful and informative. If you have anything that you'd like to share or any opinions about my website, please do speak up. I look forward to your comments, questions, and the sharing of ideas.
Recommended articles: