The FDF Viking 2 AR Indoor Rowing Machine is constructed from solid American Ash with metal fixtures and precision components to produce a rowing platform that will last a lifetime. The Viking 2 AR Indoor rower gives riders the emulation of rowing on the water – with the twin tank providing the sight, sound, and feel of actual on-water rowing.
The Viking 2 AR Indoor Rowing Machine is easily stored upright and is a pleasure to use. This eye-catching model is a favorite for people who value a quality home gym or own a light commercial gym. In addition, FDF's unique Variable Fluid Resistance technology is offering easy resistance adjustment mid-stroke.
The outstanding performance of this rowing machine is evident from the moment you apply resistance. It's an instant catch and consistent feel throughout the stroke. It gives you the best body workout for rapid calorie burn and will continually challenge you to meet your next fitness goal.
Additionally, this rower comes with the standard First Degree fitness computer monitor, which shows time, distance, strokes per minute, pulse, interval training, and more. It also has a USB port for expanded functionality. When connected to a PC, the Viking 2 Rower can upload fitness apps that support training, online racing, and video entertainment.
Learn more in my complete review below!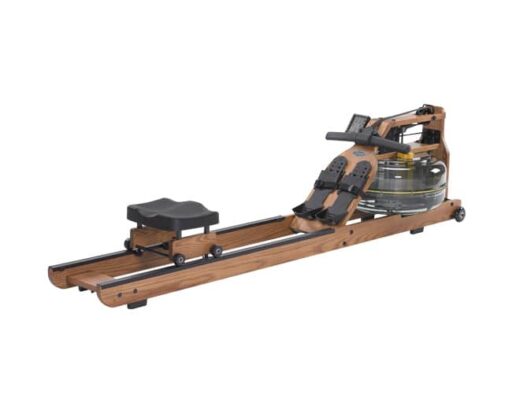 Product: FDF Viking 2 AR Indoor Rowing Machine
Price: For a great deal on this rower, merely go here on Amazon
Warranty: Frame 5 years / Parts 3 years / Wear parts two years
My rating: 9.5/10
Affiliate Disclosure: As an Amazon Affiliate Program participant, I earn commissions on purchases made through links in this post. Full disclosure
Details and Specifications
Assembled dimensions: 84L x 22W x 21H inches (213L x 56W x 54H cm)
Product weight: 72 lbs (32 kg) w/o water; 110 lb (50 kg) w/ water
Supported weight: 330 lbs (150 kg)
Frame: Wood (Ash)
Footrests: Adjustable, with straps
Resistance: Water, adjustable (4 levels)
Console: Time, distance, strokes per minute, watts, calories/hour, 500m split time, HR capable, USB port
Warranty: Frame 5 years / Parts 3 years / Wear parts two years
Viking 2 AR Frame
The rower's frame is Ashwood, with a durable, natural finish that renders the wood water-resistant. Also, since it features a wooden frame, it absorbs vibration, supplying a smooth operation. Overall, this water resistance rower has an elegant, classy, warm, and welcoming aspect.
Even though it's a machine listed as a product for home use, it has a highly durable construction, supporting users up to 330 lbs (150 kg). However, it's not exactly a small unit, as it takes quite a bit of space when fully assembled, especially lengthwise. It's 84″ (213 cm) long and 22″ (56 cm) wide; however, the frame can store in a vertical position.
The water tank guard assembly features a widened board at its end, with two small rubber stabilizers. Thus, you can stand it up vertically on this board, and when in a vertical position, it's only 21″ x 22″ (54 x 56 cm). Also, if you're wondering, you don't have to remove the water from the tank if you want to store the rower vertically.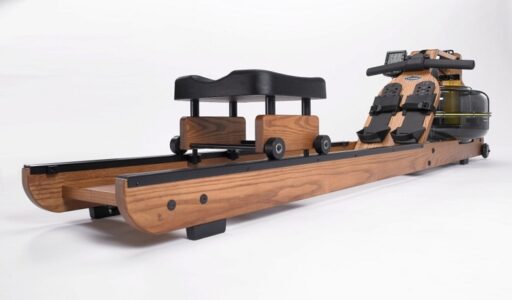 The rower's front base integrates a set of rubberized wheels for easy lifting or relocation once you've finished your workout. Moreover, the rails of the frame rest on four non-adjustable rubber feet.
Finally, the pulling handle is slightly curved, offering the possibility to pull it closer to the chest during rowing. In addition, it features an ovalized shape and covered by rubber foam material to provide a comfortable grip.
Seat and rails
The seat doesn't integrate air cushioning cells. However, it has a bit of padding and a contoured surface, shaping it. It also features an anti-slip surface, and a slight edge at the rear, offering excellent adherence.
It has a sturdy construction, and it's equipped with heavy-duty rollers, integrating sealed ball bearings for prolonged use. Overall, the seat provides an exceptionally smooth and quiet action.
Finally, the top of the seat stands at approx. 16″ (40 cm) above floor level, thus taking a position on the rower or getting up is relatively easy and shouldn't be a problem even for users with various disabilities.
The gliding beams on top of the FDF Viking 2 AR rails are heavy-duty nylon material. This comes with several advantages. First of all, they produce much less noise than metallic tracks during rowing. And second of all, the gliding surface tolerates any small particles that may fall on it. As opposed to that, if the gliding beams of a rower are metallic, even the slightest dirt particle on it will result in bumps and clicks during rowing.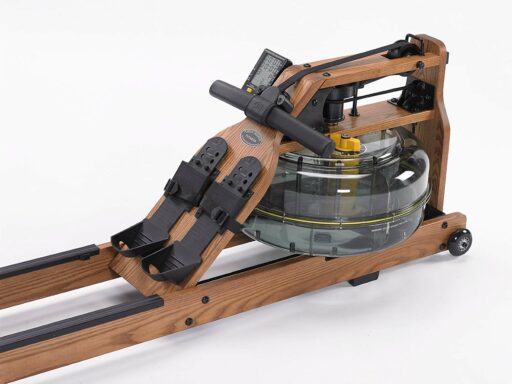 Because the rower's rails are relatively long, the machine can accommodate users up to 6'7″ (201 cm). The footrests are adjustable, being able to fit sports shoes of all sizes. They also have heel guards and adjustable straps, offering all the stability required.
They connect to a rigid board without the possibility to adjust their angle. However, the board is at 45°, the optimal angle needed for rowing.
Viking 2 AR Water tank and resistance system
The water tank supplied with the FDF Viking 2 AR has the same construction as the FDF Newport model. It has a capacity of 17 liters (4.5 gals), and to be functional, it requires holding a water quantity between 2.3 and 4.5 gals (9 – 17 liters).
The tank features a different construction than most other water rowing machines. It has two chambers: the "storage" chamber and the "active" chamber.
There's a dial on top of the tank that allows water to move between these chambers. For example, if you set the resistance to "MIN" on the tank adjuster, it takes about ten strokes to fill the central (storage) tank. Therefore, leaving only a minimum amount of water in the main (active) tank, resulting in less demanding strokes.
As opposed to that, if you set the resistance to "MAX," the water will pass into the active tank, providing the user with higher resistance.
The tank comes with a 3-blade impeller connected to a bungee cord, which facilitates its recovery. The pulling handle is attached to a durable nylon strap, designed for many years of use.
When it comes to the rowing feel generated by the Viking 2 AR rowing machine, it's pretty similar to rowing a real boat. Not only that, the overall resistance is adjustable, but you can also actually benefit from more or less resistance depending on how hard you pull. Rowing doesn't generate a lot of noise, as it's the case for air rowers. Instead, the sound produced with each stroke is a soft, soothing "woosh."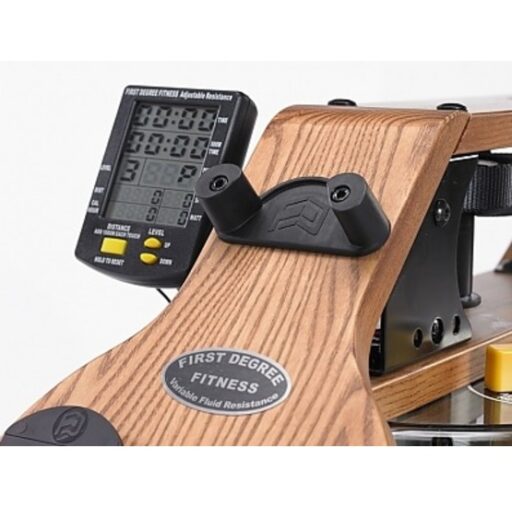 A small siphon for filling the tank comes supplied with the rower. The box also contains water treatment chlorine pills for preventing algae growth inside the container.
Console
Since the FDF Viking 2 AR rower has a water tank with adjustable resistance, it also comes with a more advanced console. First of all, the console features an 8-panel LCD. Second, it's battery-powered and requires 2x AA batteries.
The console simultaneously displays time, 500M time, distance, strokes per minute, calories per hour, wattage, and pulse. However, you will need an HR chest strap transmitter to track pulse, which (is sold separately).
The console has four difficulty levels, just like the water tank. Therefore, you have to adjust the resistance (via the UP / DOWN) keys. For example, if the dial on the water tank is on MAX, you must set the console at level 4 to provide optimal tracking for the fitness statistics displayed.
For distance, the console offers the possibility to add 1000m for each press of a button. Also, this button covers the unit's reset function. By holding it down for three sec., the unit will reset.
Five seconds after stopping the activity on the rower, the console will auto-pause. It also automatically shuts down after 5 minutes of inactivity; all the values change to zero.
Last but not least, the console features a USB function. This allows it to connect to a PC via USB cable to work with various First Degree Fitness apps. These apps will enable you to save and track your workout data online or compete with other rowers.
Viking 2 AR Assembly and Maintenance
The most challenging part of the rower, the tank, comes ready-assembled, with its bungee cord, pulling strap, and handle attached. Thus, for assembly, you will only have to attach the rails to the tank, the seat, the footrest board, and the footrests, connect the bungee cord to the rear frame board, connect the computer.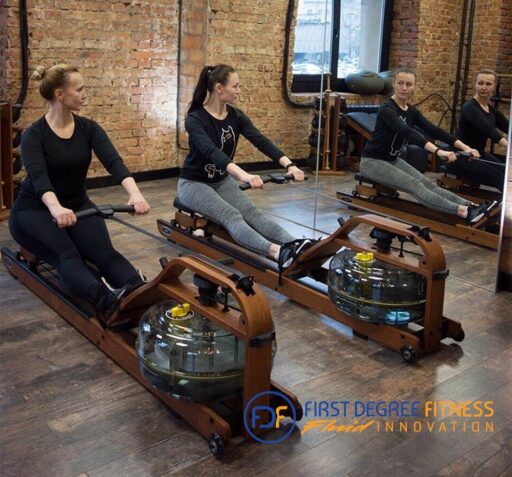 All of the tools for assembly are (included). Also, the supplied manual is well-written, offering clear step-by-step instructions, and shouldn't take more than an hour to complete construction.
When it comes to maintenance, there are several aspects to consider. First of all, you will need to add a chlorine pill into the water tank to prevent algae formation.
Second of all, before each use, you should make sure that the gliding beams are clear of any small objects that may cause them damage. In other words, wipe the gliding beams clean before each use.
Pros
Sturdy frame, built by commercial standards;
High user capacity, up to 330 lbs (150 kg);
Superior aesthetics, Ashwood frame;
Storable in an upright position;
Easy to handle and transport;
Water-resistance system, providing the most natural rowing feel that you can get;
Dual-chamber water tank, with four distinctive water resistance levels;
Contoured, ergonomically designed seat;
Advanced, 8-panel fitness computer that tracks time, 500m time, pulse, distance, strokes per minute, calories per hour, and watts;
The USB connection, for online workout data tracking or competing with other rowers;
It gives a smooth and quiet operation;
For users of all levels;
Little maintenance required;
Easy to assemble;
Great warranty package.
Cons
HR chest strap transmitter not included.
FDF Viking 2 AR Indoor Rowing Machine  Summary
The First Degree Fitness Viking 2 AR is a rowing machine with adjustable water resistance. Its dual-chamber water tank offers four unique settings for its overall resistance, and it has a durable, oiled Ashwood frame with up to 330 lbs weight capacity. It also comes with an advanced computer for tracking your workout values.
All in all, it's a rower designed for users of all levels, from beginner to pro, providing a consistent cardio workout that involves multiple muscle groups. It's also great for stamina and interval training and evidently for losing weight.
Even though it's not exactly an affordable rowing machine, due to the quality of its components and construction, and its range of features, it stands up to the price. So far, it benefits from multiple 5-star reviews from users all over the world.
I hope you found this article helpful and informative. If you have anything you'd like to share or opinions about the content on my website, please speak up. I look forward to your comments, questions, and the sharing of ideas.