Achieve a total body workout without leaving the comforts of your home with the FDF Viking II Black Reserve AR water rowing machine from First Degree Fitness. This exercise machine is skillfully engineered to give you one of the most effective low-impact, non-jarring, total body cardio-respiratory workouts.
The Viking II comes with only the best and most gorgeous wooden frames made from solid American Ash, metal fixtures, and precision components guaranteeing lifetime service. The molded seat and adjustable resistance can accommodate users of different fitness levels.
An LCD monitor shows time, distance, 500 meter split time, strokes per minute, calories per hour, watts, interval training, and heart rate. An HR wireless chest strap is not included and is sold (separately). The USB port expands the options by letting a person use apps for rowing races and rowing workout programs, or showing workout data and video on the same screen.
With rowing widely known to be one of the best all-around activities for cardiovascular fitness and strength, the Viking II is the perfect partner for a healthier, leaner, and stronger you. The Viking II utilizes all major muscle groups, including the back, legs, arms, abdominals, and buttocks.
Learn more in my complete review below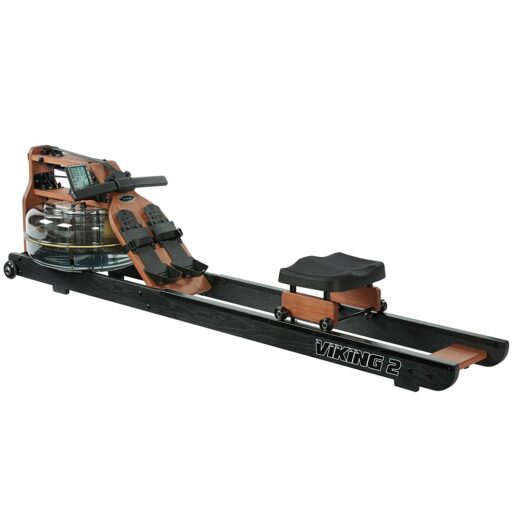 Product: FDF Viking II Black Reserve AR Water Rower
Price: For a great deal on this rower, merely go here on Amazon
Warranty: Frame 5 years / Parts 3 years / Wear parts two years
My rating: 9.625/10
Amazon Affiliate Disclosure: I may earn commissions on purchases made through links in this post.
Viking II Frame construction
The FDF Viking II Black Reserve fluid rower features an American Ash wood frame with a luxurious finish and metallic fixtures. The front section that hosts the water tank and the rear board that connects the two rails have a natural color finish. The side rails have a black finish, with the Viking 2 logo sticker.
The fully assembled machine is relatively large. It takes 84″L x 22″W (213 x 56 cm) of floor space. It's advisable to add at least two feet of clearance on each side and at the rear of the unit, to have plenty of access and usage space.
Moreover, the rower can be stored standing up. It can rest on its front rubber stabilizer and wheels. Also, the transport wheels attached to its front base facilitate its relocation.
The FDF Viking II Black Reserve rower isn't extremely heavy. Its net weight is approximately 54.5 lbs (24.7 kg). However, considering that its tank has a maximum fill capacity of approx. 4.5 gallons (17 liters), with the tank filled to its maximum, the whole unit should weigh around 71.5 lbs (32.4 kg).
In case you're wondering, the water can remain in the tank when the rower is stored vertically.
The machine's rails are relatively long. They provide enough travel for the seat to accommodate users up to 6'7″ (201 cm). Both the tracks and the seat's construction are durable enough to support users up to 300 lbs (136 kg).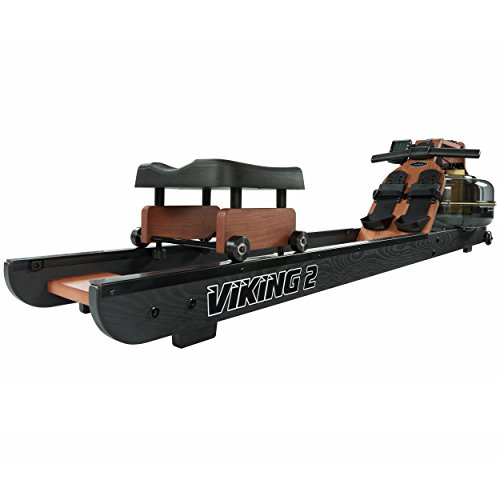 Seat and other parts
The First Degree Fitness Viking II Black Reserve rowing machine features a sturdy seat, which combines wooden, steel, and ABS elements. Its side panels are the same Ashwood as the rest of the unit. The top has a contoured and textured surface, which prevents the user from sliding off during rowing.
However, it does not have any cushioning. The top part, the wooden side panels, and the wheels are held together by a set of solid steel rods.
The seat comes with eight wheels. Four of them are at the top of the rails, while the other four are on the inner section of the tracks, to add stability to the seat. The wheels integrate high-grade, sealed ball bearings and have a rubber outer shell to provide a very smooth and quiet seat ride.
The rower's footrests are adjustable. They're designed to accommodate athletic footwear of all sizes. They also have heel guards and velcro straps, offering all the stability required. They do not provide the possibility to pivot your feet during rowing. However, they have a fixed 45° angle, the optimal angle necessary for rowing.
The machine comes with an ergonomic, flattened handle, with a slight curvature towards the user. Therefore, it provides a more natural hand positioning, reducing the stress on your wrists. It's attached to a heavy-duty nylon strap, which is designed to last for many years of use.
It also does not require any lubrication and generates less vibration than a chain drive, like the one on the Concept2 Model E or D.
Viking II Water tank and resistance
This First Degree Fitness rowing machine includes the same patented, 4-level water tank, as the Apollo Pro II or the Daytona Challenge. Its capacity is 4.5 gallons (17 liters), and to be functional, it requires to hold a water quantity between 2.3 and 4.5 gals (9 – 17 liters).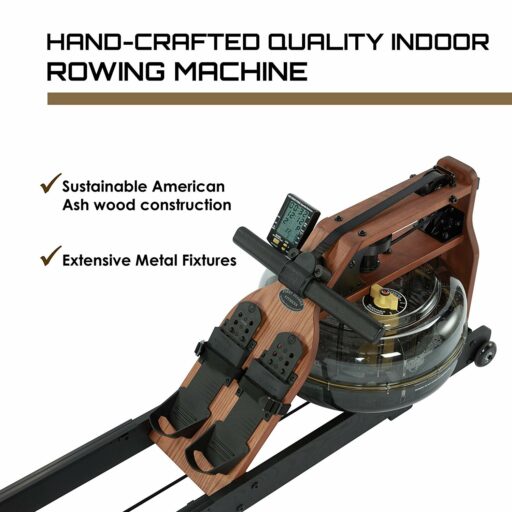 The tank has two chambers. One is the "active chamber," the other is the "storage chamber." The dial on top of the container offers the possibility to move water from one to another. This results in a higher overall resistance output and vice-versa.
The tank integrates a 3-blade metallic impeller, which spins into the active chamber as you pull the handle, generating resistance.
Just like any other fluid rower, the FDF Viking II Black Reserve offers a dynamic response. In other words, if you pull faster, the impeller will also spin faster into the water tank, generating more resistance. Thus, the resistance output is strictly related to your stroke rate.
With the tank filled and with the water level dial set to "MAX," the rower generates a consistent resistance output. This is great for users who want to train at an Olympic level, or for users who wish to achieve a high cardiovascular activity.
The tank does not have a drain installed, but the box includes a siphon pump, which allows you to fill or empty the tank quickly — several chlorine pills for water treatment are also (included) with the rower.
Console
The First Degree Fitness Viking II Black Reserve comes with an advanced console with resistance four levels. So, by correlating it with the resistance level on the water tank, you'll benefit from more accurate readings.
It uses 2 AA batteries (not included) and has an 8-window display that tracks time, 500M time, distance, strokes per minute, calories per hour, wattage, and pulse.
The machine doesn't have any pulse sensors. Therefore, to benefit from a pulse reading, you have to opt for a wireless chest strap (sold separately).
For distance, the computer offers the possibility to add 1000m for each press of the large button. Also, this button covers the unit's reset function. By holding it down for three sec., the metrics will reset.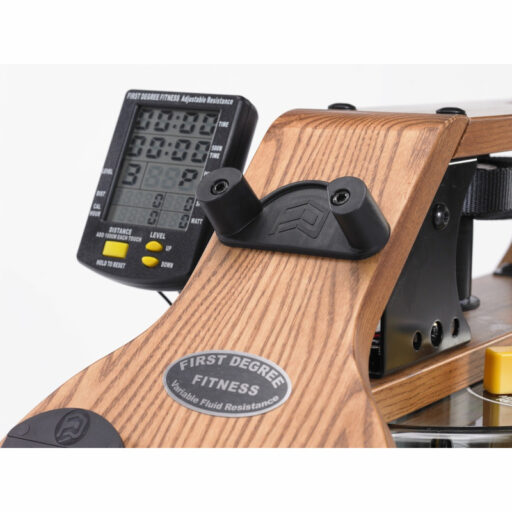 The computer auto-pauses five seconds after stopping the workout on the rower. It also automatically shuts down after 5 minutes of inactivity, with all the values resetting to zero.
Last but not least, the rower's computer unit features a USB function. This allows it to connect it to a PC via USB cable, to work with various First Degree Fitness apps, such as the Fluid Coach and NetAthlon 2 XF. These apps give you the possibility to save and track your workout data online or to compete with other rowers.
Viking II Assembly and Maintenance
The front frame section with the water tank and footrests comes pre-assembled. Therefore, the assembly only requires you to connect the two rails, add the seat, the console, and finally connect the rail assembly to the front part with the tank.
This shouldn't take more than 30 minutes. All the necessary tools (are included), and the manual provides precise assembly instructions.
For maintenance, the rail guides should be kept clean to prevent damage to them. The water inside the tank should be treated with a chlorine tablet periodically. Other than this, it is also recommended to regularly check for loose parts, and re-tighten them if it's the case.
Details and Specifications
Assembled dimensions: 84L x 22W x 21H inches (213L x 56W x 54H cm)
Assembled weight: 54.5lbs (24.7 kg) w/o water; 71.5 lb (32.4 kg) w/ water
Supported weight: 300 lbs (136 kg)
Frame: Wood (American Ash)
Footrests: Adjustable, with straps
Resistance: Water, adjustable (4 levels)
Fitness computer: Time, distance, strokes per minute, watts, calories/hour, 500m split time, HR capable, USB port
Warranty: Frame 5 years / Parts 3 years / Wear parts two years
Pros
Luxurious design, which can also be a motivation factor;
Durable frame – can support users up to 300 lbs (136 kg);
Can be stored in an upright position;
Easy to handle and transport;
Water-resistance system, providing the most natural rowing feel that you can get;
Dual-chamber water tank, with four distinctive water resistance levels;
Contoured, ergonomically designed seat;
Advanced, 8-panel fitness computer that tracks time, 500m time, pulse, distance, strokes per minute, calories per hour and watts;
A USB connection, for online workout data tracking, or competing with other rowers;
Provides a smooth and quiet operation;
The rower is for users of all fitness levels;
Little maintenance required;
Easy to assemble;
Excellent warranty.
Cons
An HR chest strap is not (included) with the unit.
FDF Viking II Black Reserve Summary
The First Degree Fitness Viking II Black Reserve is a water resistance rower featuring a 4.5 gal tank with four tension levels. It has a beautiful wooden frame design with long rails to accommodate tall users. It includes an advanced console that is compatible with several rowing apps.
In all, it's an excellent fitness machine for users of all levels, great for a full-body cardio workout, stamina and strength development, muscle toning, and weight loss.
I hope you found this article helpful and informative. If you have anything that you'd like to share or any opinions about my website, please do speak up. I look forward to your comments, questions, and the sharing of ideas.
Recommended articles:
Please follow and like us: