The desktop of the FitDesk v2.0 Exercise Bike is the perfect size to hold a laptop or magazine. It has a non-slip surface, and a strap for securing your computer.  There's also a small drawer that is suitable for holding a cell phone, stationery, and the like.
While quite lightweight, FitDesk v2.0 has a solid feel. Its durable powder-coated steel frame and aluminum and steel gearbox components should provide security and years of reliable operation. This innovative design allows you to exercise while performing all of your desk-related work. Who doesn't wish they could burn calories while they're sitting at a computer all day?
A well-balanced flywheel, twin belts, and precision sealed bearings ensure smooth pedaling that won't impede your online activities. The high-velocity wheel also guarantees whisper-quiet performance, so people in your vicinity will not be distracted when you pedal.
It's ironic that even with all of the time-saving devices that are available these days, many of us feel we have "no time" for ourselves. Work and life can keep us very busy, with our resolution to regularly exercise getting put on the backburner. The FitDesk v2.0 offers the ultimate solution to this perennial problem, enabling us as it does to work – or play – and exercise at the same time.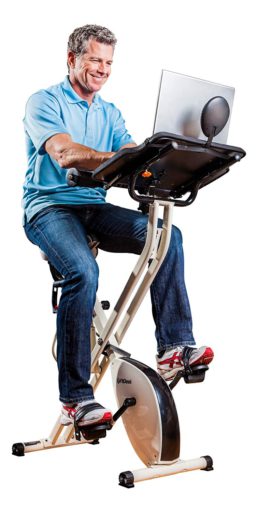 Learn more in my complete review below
Product: FitDesk v2.0 Exercise Bike
Price: For a great deal on this desk/bike, merely go here on Amazon
Warranty: 1 year limited
My rating: 8.25/10
Amazon Affiliate Disclosure: I may earn commissions from purchases made through links in this post.
Details and Specifications
Assembled dimensions: 28L x 16W x 45H inches (71L x 40.6W x 114H cm)
Desk surface: 16L x 19W inches (40.6L x 48.2W cm)
Assembled weight: 47 lbs (21.3 kg)
Supported weight: 300 lbs (136 kg)
Seat: Adjustable, with backrest
Pedals: With Straps
Resistance: Magnetic, eight levels
Fitness console: Included
Other accessories: Storage drawer, massage rollers, resistance bands
Warranty: 1 year limited
v2.0 frame
The FitDesk v2.0 upright bike features a lightweight frame. When fully assembled, the bike weighs only 47 lbs (21.3 kg), which makes it easy to transport. On top of that, the rear base of the frame integrates caster wheels to facilitate the relocation of the fully assembled bike.
The bike's frame is made of solid steel tubing and can support users up to 300 lbs (136 kg) with no problem. It consists of two main pieces that connect in the middle. All steel parts come double-coated with anti-corrosive paint, which renders it virtually rust-free.
The bike has a minimal footprint, taking only 28″L x 16″W (71 x 40.6 cm) of floor space. The desk is a few inches wider than its bases, though, with a width of 19″ (48 cm). Along with the small footprint also comes a folding design. The bike can be folded vertically to save more space or to fit in a closet.
The bike's front and rear stabilizers feature round plastic caps, with a flattened base. However, these caps are non-adjustable. Therefore, to maximize the bike's stability, it's best to place it on an even surface, carpet, or a rubberized mat.
Seat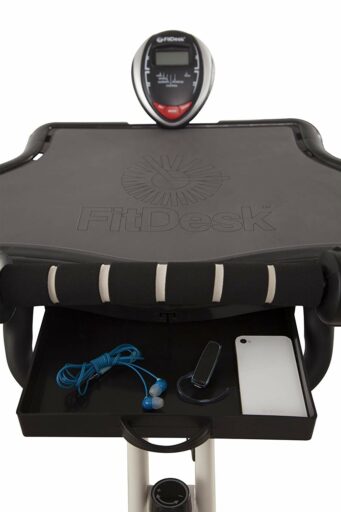 The seat supplied with the FitDesk v2.0 desk exercise bike is 11″ (28 cm) wide, definitely not a slim model like in indoor cycling bikes. Although it's not memory foam, it does incorporate thick cushioning, which evenly distributes your weight. It's also contoured to adapt perfectly to your body.
A backrest is also (supplied) with this bike. The backrest is padded but incorporates slightly less padding than the saddle itself. It stands at approximately 9″ (23 cm) above the saddle, supplying excellent lumbar support. Therefore, the seat assembly offers all the comfort that you can expect from the seat of an upright bike.
The seat is 2-way adjustable (up/down), offering several adjustment holes. An extension for the seat post is also (supplied) with the FitDesk v2.0, which enables it to fit users between 4'10" and 6'2″ (147 – 188 cm). The earlier models did not come with this accessory, thus not being able to offer the complete comfort and leg extension to users taller than 5'10" (178 cm).
v2.0 Desk and handlebar assembly
Since this exercise bike integrates a desk, its handlebar assembly is somewhat different from other similar bike models. The handlebar is a support for the desk.
However, this desk support features a transversal bar that you can hold on to as you pedal. This bar is equipped with rolling massage armrests and has three position settings. In other words, you can adjust the angle of the whole bar, for the position that you find most comfortable.
The desk that fits on top of the handlebar is full enough to hold just about any laptop. It's 16″ (40.6 cm) long, and 19″ (48.2 cm) wide. Its position is also adjustable, as it can slide onto its support closer or farther from the user. The desk offers an anti-slip surface and also features a strap that you can use to secure your laptop in place.
Drive system
The FitDesk v2.0 does not have an extra heavy flywheel like spin bikes, for example. But its wheel is heavy enough to supply the required stability, and a perimeter weighted, promoting a smooth ride. The crankset is a sturdy piece, finished with solid steel crank arms. However, the bike is not for stand-up cycling routines. The cranks would probably be able to hold the user in a complete, stand-up climbing workout, but due to the frame construction, this would require a somewhat awkward posture. Differently put, it's a bike meant for seated pedaling only.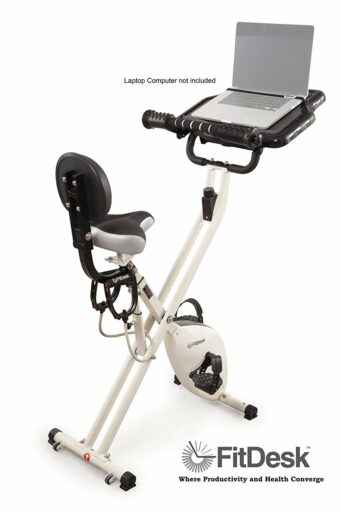 Like most upright bikes with a magnetic resistance system, this model features a quiet belt drive, using a heavy-duty, stretch-resistant v-belt.
The pedals feature a simple design, with a rugged surface to provide a superior to your shoes. They're also weighted and include adjustable straps.
v2.0 Resistance system
This upright bike model uses a manual magnetic resistance system, involving a magnetic pad connected to the tension knob on the frame, via a stainless steel wire. As you turn the knob, the position of the resistance pad adjusts, closer or farther, about the flywheel, thus modifying resistance. The bike does not involve any motors and does not require a connection to a power circuit.
There are eight unique resistance settings marked on the knob. But as a general idea, this bike is made for light to medium cardio workout routines. The top resistance settings will make you sweat, but for a seasoned cyclist, they're hardly a challenge. This is a bike meant to help you keep your muscle tone and maintain your cardiovascular system in good shape. It's not for intense spinning workouts or strength training.
Console
The fitness console supplied with this bike is a basic one. It indicates the most critical values that almost anyone using a bike would like to know. These are time, speed, distance, and calories, also having an odometer function, indicating the total distance traveled.
The console is pretty easy to use. It automatically turns on when you begin pedaling or when pressing one of the three buttons: Mode, Set, and Reset.
With the Mode button, you can surf through the values, with the Set button you can lock any of the metrics on-screen, while with the Reset button, evidently, you can reset any of the values to zero.
The fitness console also features a SCAN mode, the function that cycles through the values indicating each one for a few seconds, then moving to the next.
The fitness console uses two AA-type batteries.
Other accessories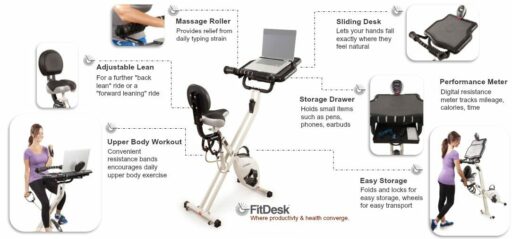 There are several accessories included with the FitDesk v2.0 desk exercise bike, and several more accessories optional. Among the included ones, I count the desk storage drawer, which is pretty handy if you need to keep particular small objects with the bike, such as earbuds, MP3 player, remote control, or keep your smartphone at hand as you ride.
Another one is given by the resistance bands which attach to the seat bar of the bike. These bands can diversify your workout routines by a lot, providing extra workouts for the arms and upper body. And finally, the one accessory that we've already mentioned consists of the rolling massage armrests.
Some of the optional (not included) accessories, available for this bike, are a set of lateral extensions for the desk, one with a molded cup holder, the other with a mouse pad, a universal saddle adapter, and a water bottle holder that attaches to the mainframe tubing.
v2.0 Assembly and Maintenance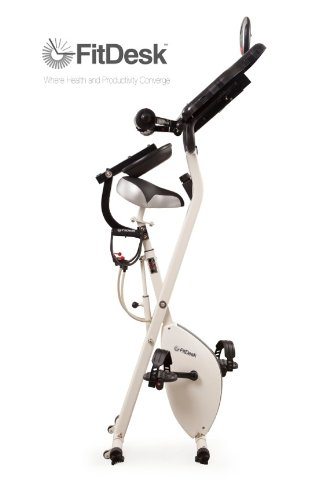 The drive and resistance mechanisms come already attached to the bike's frame, and the two main pieces of the structure are already connected.
Thus, for assembly, you'll have to attach the base stabilizers to the frame, the seat post, seat and backrest, the desk support and the desk itself, pedals, and finally connect the console wires and mount the fitness console. The tools required for the assembly are included, as well as the owner's manual, which will guide you through the assembly steps.
Maintenance is nonexistent. For this matter, you have to keep the bike free of dust and moisture, and from time to time, re-tighten the bolts if it's the case. The internal parts of the bicycle shouldn't require any greasing for an extended period.
Pros
Simple design, solid frame, able to hold users up to 300 lbs;
Small footprint, ideal for small rooms, offices, or even office cubicles;
Space-saver, folding design;
Integrated desk, fore to aft adjustable;
Strap for fixing your laptop to the desk;
Storage drawer included;
Integrated rolling massage armrests;
Cushioned, large seat for maximum comfort;
Included seat extension for taller users;
2-way seat adjustability;
Lumbar support;
Resistance bands for arms and upper body workouts;
Eight distinctive and calibrated levels of magnetic resistance;
Fitness console included;
Smooth and quiet drive system;
Easy to assemble;
Little to no maintenance required.
Cons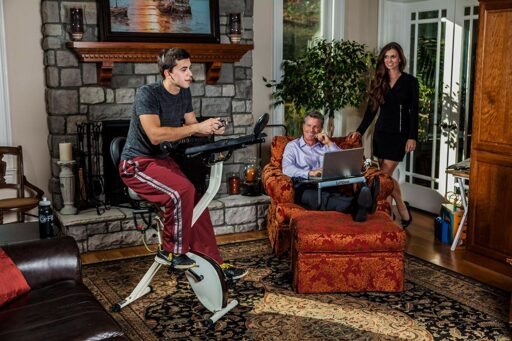 An open laptop on the desk will block the view of the console.
The fitness console is without goal settings or fitness programs.
FitDesk v2.0 Desk Exercise Bike Summary
If you're looking for a way to stay productive while exercising, the FitDesk v2.0 desk exercise bike is one fitness machine to put on your list.
Although it doesn't supply the workout possibilities of a spin bike, this cycle will help you accelerate your metabolism, improve your cardiovascular shape, bolster your stamina, and tone your muscles.
And not only your leg muscles, your arms and upper body too, as it includes resistance bands for extra workouts. Evidently, by helping you burn more calories during your working hours, it will also help you lose weight.
The bike excels in ergonomics as it supplies a cushioned, full seat with lumbar support and arm massages. It's also space-savvy, featuring a small footprint and a folding design.
Last but not least, even though it's not the most affordable bike, because it offers an impressive array of features and excellent quality, I can safely say that the FitDesk v2.0 provides excellent value for the price.
I hope you found this article helpful and informative. If you have anything that you'd like to share or opinions about the content on my site, please do speak up. I look forward to your comments, questions, and the sharing of ideas.
Recommended articles: