The EXM1 Home Gym features a pre-welded frame in 2 major sub-assemblies, thus increasing stability while at the same time offering substantially reduced assembly time. The compact, feature-packed design of the EXM1 offers proven motion and pivot points for a fluid routine.
Ergonomically correct press arms allow natural arm movement to increase comfort and functionality as you cruise through your favorite workouts. This machine also offers the added benefit of a leg press station that mounts on either side of the gym. Finally, advanced engineering has resulted in exceptional range of motion and full adjustment for any size user.
Built by Body-Solid Exclusively for Fitness Factory, the solid EXM1 offers the most bang for your buck, with a selectorized iron weight stack, full leg press, three pulley stations, leg developer, and LIFETIME WARRANTY. Use attachment handles on any pulley for almost limitless exercises.
The gym comes with a lat bar, low row bar, and ab harness. Compare this gym to any other in this price range, and the EXM1 offers the most utility and best warranty. The 160-pound iron weight stack will be enough for most users; heavy lifters can upgrade to a 210-pound stack.
Learn more in my complete review below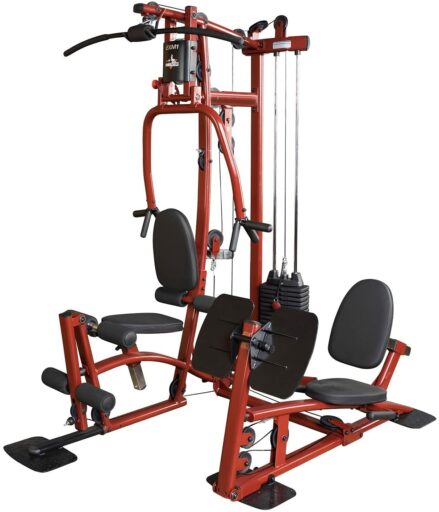 Product: Fitness Factory EXM1 Home Gym
Price: For a great deal on this gym, merely go here on Amazon
Warranty: Lifetime
My rating: 8.25/10
Amazon Affiliate Disclosure: I may earn commissions on purchases made through links in this post.
Details and Specifications
Assembled dimensions: 71L x 37W x 83H inches (180L x 94W x 211H cm)
Assembled weight: 340 lbs (154.2 kg)
Resistance system: Weight stack
Standard weight resistance: 160 lbs (72.5 kg)
Possible exercises: 35+
Warranty: Lifetime
EXM1 Frame construction
The EXM1 home gym features a sturdy frame of high tensile strength 1.5″ x 3.25″ oval steel tubing, with continuously weld and factory assembled components. All the mainframe parts come double-coated with a highly-durable, corrosion-resistant, and scratch-resistant powder finish.
As opposed to the PowerLine P2X model, the color used for this model is red. However, the seats and backrests' adjustment bars, the weight stack's guide bars, and several other components feature a chrome finish.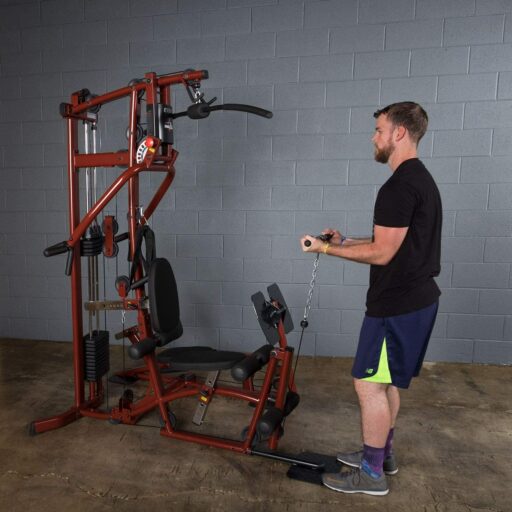 With the weight stack attached, this fitness machine is relatively heavy. It weighs over 340 lbs, that's why it's advisable to assemble it in the room and on the place you'll be using it.
The frame doesn't have any transport wheels, and once completed, it's going to be challenging to relocate. Also, the bases don't have adjustable stabilizers, nor do they have pads, so it's advisable to place them on a rubberized mat to prevent floor damage.
This fitness machine is not extremely large compared to others. Its footprint is only 71″L x 37″W (180 x 94 cm).
However, to move around it and perform all the exercises without hindrance, it is advisable to assign a usage area for it to at least 9′ x 7′ (274 x 213 cm). Its height is 83″ (211 cm). This means that the machine won't fit well in a room with a 7′ (213 cm) ceiling.
Parts and accessories
The EXM1 home gym comes equipped with an adjustable seat and backrest for the central workout station, while for the leg press, only the backrest is adjustable; the seat is not.
Both seats and backrests integrate a nice padding layer and have a highly durable vinyl upholstery, moisture resistant. The multiple levels of adjustments allow users up to 6'5″ (195 cm) to correctly perform most of the exercises.
The machine's pulleys are fiberglass reinforced nylon. They will last for many years, and they integrate industrial quality ball bearings. The machine's moving joints also combine high-quality, stainless steel, sealed ball bearings for smooth operation.
The cables are 4.8 mm dia. highly durable steel ropes, and they will withstand a much greater weight than the 160 lbs stack. They're 2,200 lbs rated aircraft cables. They're also coated with a nylon layer to provide a smooth glide over the pulleys and prevent the pulleys' scratching.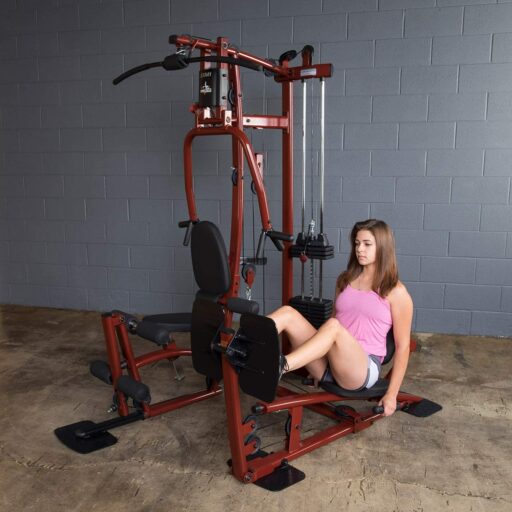 The machine comes equipped with several 4″ foam rollers, four on the leg developer station and two under the central backrest, to serve as knee stoppers if you use the lat pulldown station with a heavy load.
One last aspect to note here regards the included accessories with this home gym machine. These are a standard 48″ (122 cm) curved lat bar with rubber-foam grips, a short bar with an extension chain for curls and seated rows, and an ankle strap.
EXM1 Workout stations
The Body-Solid EXM1 home gym features six main workout stations. These are:
Lat pulldown station. This is an essential element in constructing a home gym machine of this sort; it allows you to perform exercises to develop shoulder, triceps, and back muscles. It integrates a standard, curved, detachable lat bar with rubberized grips.
If you're wondering, this station's pulley is high enough to allow users up to 6'5″ (195 cm) to perform a complete range of motion during lat pulldowns if the seat is at the lowest position.
Chest press station. This workout station features a multi-grip design, offering the possibility to perform presses with three types of grips. It's for the development of the pectoral and shoulder muscles. It also has several adjustment positions, a feature that other machines do not have.
Mid pulley station. The mid pulley comes incorporated into the main upright bar of the machine, right above the backrest. It allows you to perform exercises such as ab crunches, trunk rotations, or triceps extensions. However, an ab harness or triceps rope does not come included with the gym.
Low pulley station. The low pulley opens quite an array of exercises, including seated rows, biceps curls, or leg abductions.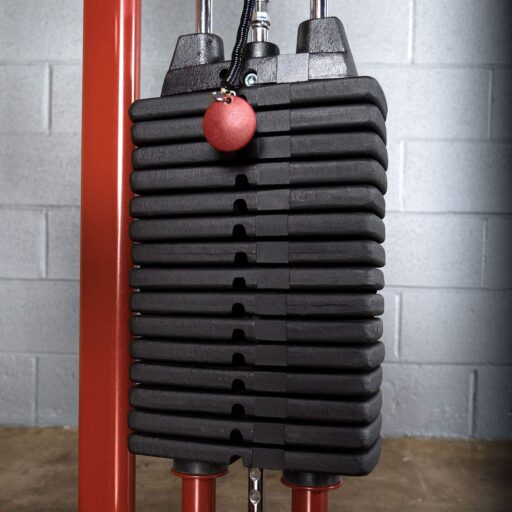 Leg developer station. This workout station allows the execution of leg extensions, leg cable curls, or standing biceps curls. The attachment features consistently padded rollers to offer the required comfort for leg extensions.
Leg press station. The leg press attachment features a steel frame similar to the rest of the machine and a seat with an adjustable backrest. Its weight ratio is 2:1, which means that with the included 160 lbs (72.5 kg) weight stack, it will generate a weight resistance of 320 lbs (145 kg).
As I've mentioned earlier, its backrest is adjustable, but its seat isn't. The seat does feature a set of handlebars to hold on to during presses.
Weight Resistance
One of the best aspects of the EXM1 home gym by Body-Solid is that it comes with a selectorized weight plate stack with the metallic alloy's weight plates. These plates are more durable than the vinyl/concrete combo plates. That's one reason this machine is a bit more expensive than the Gold's Gym model or other models with vinyl plates.
The weight stack integrates 15 weight plates plus the top stopper plate, 10 lbs (4.5 kg) each, with a total of 160 lbs (72.5 kg). The weight ratios are not specified, but the leg press certainly provides a 2:1 ratio. In other words, it gives a weight resistance of 320 lbs (145 kg).
The machine's weight stack leaves room for upgrades, though. It is upgradeable with an additional set of 5 weight plates to provide a total weight of 210 lbs (95.2 kg).
EXM1 Possible Exercises
Vertical grip chest presses
Horizontal grip chest presses
Incline chest presses
Trunk rotations
Lat pulldowns
Seated rows
Shrugs
Seated triceps extensions
Triceps press downs
Triceps extensions
Kneeling triceps extensions
Standing biceps curls
Concentration curls
Deltoid raises
Upright rows
Ab crunches
Oblique crunches
Standing leg curls
Leg extensions
Leg presses
Glute kickbacks
and more.
EXM1 Assembly and Maintenance
Like most similar machines, the assembly of the EXM1 home gym isn't exactly straightforward. It may take up to 4-5 hours. However, the included manual provides precise assembly instructions. Due to its weight and many parts, two people should assemble the machine.
For maintenance, a periodic check for loose bolts and parts is advisable and to retighten if necessary. The guide rods, linear rods, and pulleys may require lubrication. You should apply a bit of multi-purpose lubricant on them during assembly. And finally, if any parts show visible damage, you should replace them before re-using the machine, to avoid accidents.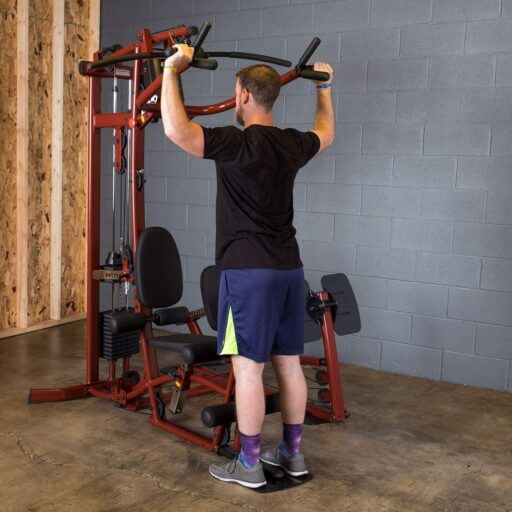 Pros
Sturdy and stout frame, offering excellent stability;
Adjustable seat and backrest for the central workout station;
Adjustable backrest for the leg press;
The durable upholstery and thick padding for optimal comfort;
Six workout stations, including multi-press station, lat pulldown station, mid pulley station, low pulley station, leg developer attachment, and leg press station;
Multiple adjustment positions for the press station;
Heavy-duty pulleys and cables;
Accessories included: lat bar, and short row bar, ankle strap;
Metallic alloy, highly-durable weight plates;
Upgradable weight stack;
Over 35 exercises available;
Little maintenance required;
Excellent warranty.
Cons
Ab harness not included;
Tools for assembly do not come included.
Fitness Factory EXM1 Home Gym Summary
The EXM1 home gym offers six workout stations, including chest press, leg press, leg developer, lat pulldown station, mid pulley, and low pulley stations. It comes with a metallic alloy weight stack including 15 weight plates, plus the top, with 160 lbs.
Moreover, it's a perfect home gym for beginners and intermediate-level users. It offers the possibility to perform more than 35 exercises. In all, it's an excellent fitness machine for the price.
I hope you found this article helpful and informative. If you have anything you would like to share or any opinions about my website, please speak up. I look forward to your comments, questions, and the sharing of ideas.