The FlexiSpot Deskcise Pro is a good option for anyone who's worried their work-life has become too sedentary and wants to add some physical activity into the mix. It's common knowledge that sitting for hours at a desk is unhealthy, which is why it's so great that we see a lot of office furniture/workout equipment hybrids to address this issue.
The eight levels of resistance offer more than just movement. If you turn the knob to the higher levels, you can expect to feel the burn (depending on your fitness level). The pedals run smoothly and quietly, which is essential when you're working or on a call.
The monitor is basic but provides the key performance stats on time, speed, distance, calories burned, and RPM. The range in seat height should be enough for anyone between 5"1 – 6"2 and can be adjusted quite easily.
The FlexiSpot Deskcise Pro is compact and sturdy, weighing about 90 lbs, and has a weight capacity of 300 lbs, which makes it an excellent choice for most riders. It's also on wheels, so it can be easily rolled out of the way when not in use.
Learn more in my complete review below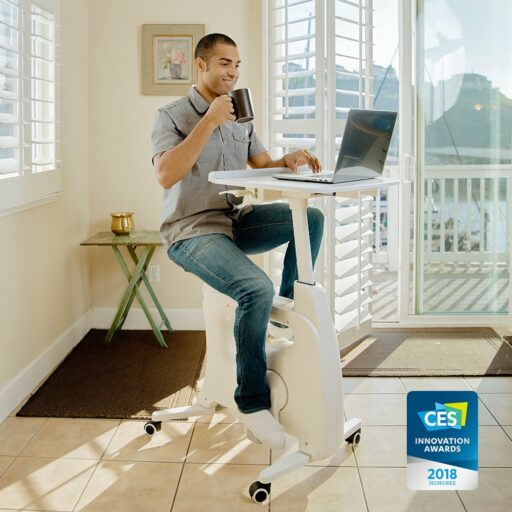 Product: FlexiSpot Deskcise Pro
Price: For a great deal on this hybrid, merely go here on Amazon
Warranty: 3 years
My rating: 9/10
Amazon Affiliate Disclosure: I may earn commissions from purchases made through links in this post.
Details and Specifications
Assembled dimensions: 38L x 23W x 48H inches (96L x 58W x 122H cm)
Desk dimensions: 20L x 23W inches (51 x 58 cm)
Assembled weight: 70 lbs (31.7 kg)
Weight capacity: 300 lbs (136 kg)
Handlebars: Adjustable
Seat: 2-way adjustable
Resistance: Manual magnetic, eight levels
Console: Time, speed, distance, total distance, RPM, calories, SCAN
Warranty: 3 years
Deskcise Pro Frame
The FlexiSpot Deskcise Pro is technically an upright bike; its frame is for seated workouts only. It's a durable frame that can support users up to 300 lbs (136 kg). It has a set of durable ABS shrouds which enhance its protection from various external factors. However, the steel parts come with a corrosion-resistant paint finish; the color used is white.
The unit is not extremely large. It's approximately 38″ (96 cm) long, and 23″ (58 cm) wide. Therefore, it can fit pretty well in a small room or office. It is recommended, though, to leave at least two feet of clearance all around it for safe access and usage. The bike's frame is not foldable. However, the base bars can fold under the main structure to save some space.
The fully set up bike isn't hefty but does weigh approximately 70 lbs (31.7 kg). This weight provides plenty of stability and overall sturdiness. But once it is unboxed and set up, its relocation can be done with extreme ease. All of its base points come with transport wheels which facilitate its transport. Also, the wheels lock when a user is seated. Thus, the bike doesn't slide over or move when in use.
Seat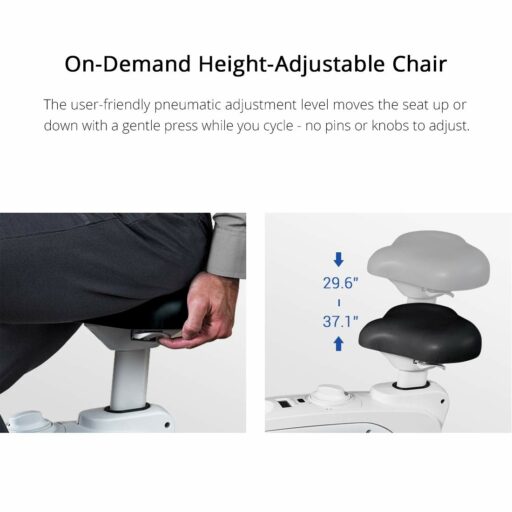 The FlexiSpot Deskcise Pro comes with a reasonably large saddle that has a high-density foam to and a contoured surface for maximized comfort.
It's not a standard seat, though; it has a specific attachment system to its post to offer more stability, and the average standard bike seat cannot replace it. So, if needed, you can increase its comfort by adding a gel bike seat cover.
The seat of the FlexiSpot bike is only two way adjustable, up and down. It offers an adjustment span of approx. 30″ – 38″ (76 – 96 cm) from the floor.
At its lowest position, the distance between the seat and the farthest pedal is approx. 26″ (66 cm), while at its highest position, the length is approx. 32″ (81 cm). Therefore, the ideal user height for this exercise bike is between 5'1″ and 6'2″ (155 – 188 cm).
Desk
The included desktop is a durable PVC material. It has a weight capacity of 99 lbs (~45 kg). It's large enough to accommodate a laptop, your phone, a cup of coffee, and other small accessories.
Its dimensions are 20″D x 23″W (51 x 58 cm). It also has a wrist or elbow pad to provide adequate support for various tasks such as writing or drawing.
The desk is 4-way adjustable (up, down, forward, backward). It offers an upright adjustment span between 43″ and 48″ (109 – 122 cm) from the floor level.
Also, its horizontal sliding system allows approx. 8″ (20 cm) of back and forth travel, so you can easily find the best position for your size. If you're wondering, the desk doesn't tilt; it's not angle-adjustable, just up, down, front, and back.
The upright adjustment systems of the seat and desk are pneumatic. This means you can quickly adjust their height by pulling the lever underneath them. You can change the height of the seat while you are seated.
Deskcise Pro Resistance System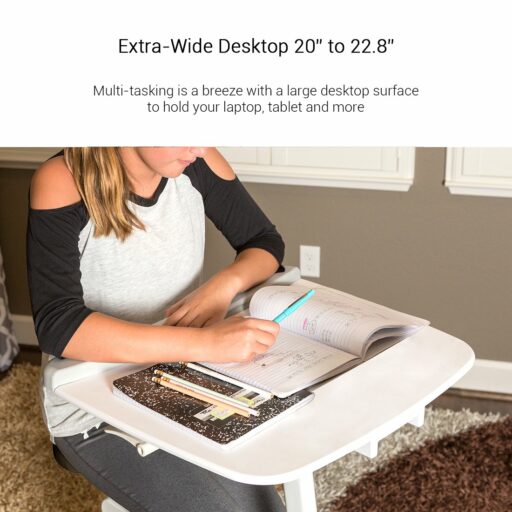 The FlexiSpot Deskcise Pro comes with a manual magnetic resistance system. Thus, it doesn't need a connection to a power source. It integrates a small magnetic brake, which is attached to the tension knob on the top of the bike's body.
By turning the knob clockwise, the brake adjusts its position coming closer to the flywheel and increasing the intensity of the magnetic field. This leads to increased pedal difficulty.
There are eight levels of resistance available. The lowest level delivers almost no pedal tension, offering the possibility of preferably free motion, with little impact on the joints. This may be a plus for users with specific disabilities. Conversely, the 8th resistance level doesn't offer extreme tension but considerably increases the pedaling difficulty.
Drive System
Since it's a magnetic exercise bike, its transmission uses a belt. It's a heavy-duty poly-v belt designed for a long lifespan. It doesn't require any lubrication or maintenance and doesn't generate any sound during pedaling. The usage of the bike is almost entirely silent, being perfectly appropriate for usage in an office with multiple people.
The bike's internal flywheel is bi-directional. This means it allows you to pedal in reverse. However, coasting is not possible. The weight of the wheel isn't specified, but considering the total weight of the bike, it's probably between 10-20 lbs (4.5 – 9.0 kg). It delivers a very smooth and steady pedaling motion.
The crankset of the bike is reasonably durable. But this is an upright bike, not a spin bike. This means it is designed for seated workouts only, not for pedaling while standing up. The pedals are standard; they do not have toe cages, straps, weight elements, or SPD clips. They are a durable ABS material.
Last but not least, the bike has a medium Q-factor. The spacing between the pedals is approximately 8″ (200 mm). It may be a bit wide for a short user, but for most users, it should be just about right. Also, since it's a bike for light workouts, you won't need to worry about extra stress on the knees and ankles.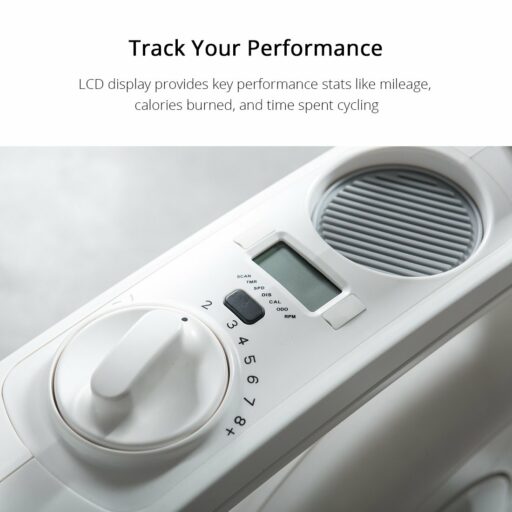 Deskcise Pro Console
Although it's an office exercise bike, the FlexiSpot Deskcise Pro comes with a console. This accessory integrates into the top section of the bike's frame. It features an LCD that can track time, distance, total distance, RPM, speed, and calories burned.
Unfortunately, the bike doesn't have pulse sensors, so it cannot track your pulse. It's not telemetric; it doesn't work with Polar chest strap transmitter or other HR transmitters. Therefore, if you also want to monitor your pulse, you will have to use a separate device.
The bike's console unit is straightforward to use. It has only one button that toggles ON/OFF its SCAN function. When the SCAN function is ON, all of the workout metrics display in a sequence, each one appearing on display for a few seconds.
If you toggle the SCAN function OFF, you can lock any of the workout metrics on the screen to display at all times.
The console is a fairly basic unit. It does not have any preset workout programs. It starts up when you press its button, but also has a sleep mode to which it will enter after a few minutes of inactivity on the bike, to save battery.
Deskcise Pro Assembly & Maintenance
The core of the bike comes fully assembled. You only have to attach the desk, and the bike should be ready to use. This shouldn't take more than 5 minutes. The manual provides all the necessary instructions. Also, the tools required for assembly are included with the machine.
Maintenance doesn't require much, keep the unit clean. It's also recommended to periodically check the bike for loose bolts or parts and re-tighten them if necessary. The internal parts do not require periodic lubrication.
Pros
Sturdy construction – can support users up to 300 lbs;
Aesthetic design;
Foldable base bars;
Self-locking transport wheels;
Pneumatic upright adjustment for the seat and desk;
The desk is also adjustable horizontally;
Its large desktop can accommodate a laptop of any size;
Bottle holder included;
The console which can track speed, time, distance, total distance, RPM, and calories;
Balanced flywheel providing a smooth and steady pedaling motion with a consistent momentum;
Smooth and almost silent drive;
Eight levels of resistance;
Little maintenance required;
Little assembly needed.
Excellent warranty.
Cons
No straps on the pedals;
The console isn't backlit;
No pulse reading function.
FlexiSpot Deskcise Pro Summary
The FlexiSpot Deskcise Pro is an upright desk cycle equipped with a manual magnetic resistance system, pneumatic adjustment for the seat and desk, and also has a basic exercise LCD that can track time, distance, total distance, speed, RPM, and calories burned.
It excels in micro-adjustability and comfort. It's whisper-quiet, so it can fit in an office environment without causing any trouble. Furthermore, it's an excellent bike for burning a few calories while working, recovery training, muscle toning, and even weight loss. It's not one of the most affordable desk bikes available at the moment but does offer outstanding value for the price.
I hope you found this article helpful and informative. If you have anything that you'd like to share or opinions about the content on my website, please do speak up. I look forward to your comments, questions, and the sharing of ideas.