One of the major selling points of the FR 1000 Plus Magnetic Rower from Fitness Reality is the price! It's one of the least expensive magnetic rowing machines on the market and still has excellent resistance and good build quality. This exceptional blend of price and quality is why it has received so many positive reviews!
It's well made and sturdy – it seems like it's built to last. And it's straightforward to use. As I'm not a fan of self-assembly, I like that the assembly is quite easy and straightforward! It's also easy to put away when not in use.
Being the only Bluetooth rower, it's certainly worth checking out if this feature is something you'd be interested in. I like using apps for tracking fitness data, so I love that this hooks up with the MyCloudFitness app so that you can set goals, track your workouts, etc.
The low impact workout on its 39-inch slide rail targets pretty much your whole body, including your back, legs, thighs, biceps, triceps, forearms, shoulders, and more. It is suitable for people at different levels as it offers 14 levels of dual transmission magnetic resistance for a more comfortable or more challenging workout.
Learn more in my complete review below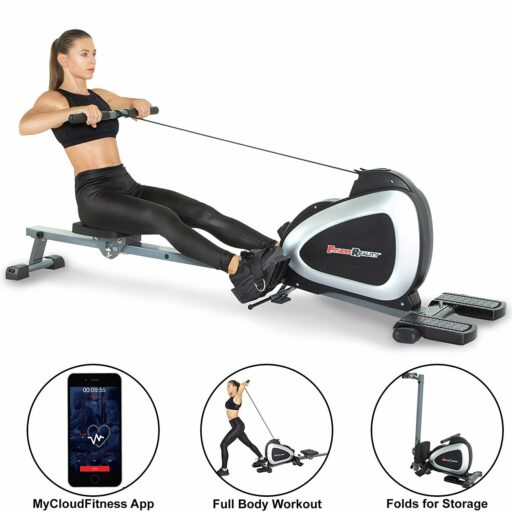 Product: FR 1000 Plus Magnetic Rower
Price: For a great deal on this rower, merely go here on Amazon
Warranty: 1 year
My rating: 9/10
Amazon Affiliate Disclosure: I may earn commissions on purchases made through links in this post.
Details and Specifications
Assembled dimensions: 88.5L x 21.5W x 21.5H inches (225L x 54.6W x 54.6H cm)
Assembled weight: 63.3 lbs (28.7 kg)
Weight capacity: 250 lbs (113 kg)
Footrests: Pivoting, with straps
Resistance type: Magnetic, 14 levels
Console: Time, distance, SPM, total count, calories, Bluetooth, scan
Extras: Smartphone holder
Warranty: 1 year limited
1000 Plus Frame construction
The Fitness Reality 1000 Plus rower features a durable steel frame coated with a corrosion-resistant paint finish. It can support users up to 250 lbs (113 kg). The color used for all the steel bars is gray, this being the only color available for this model. There are several ABS parts in its construction, though, these being the footrests, the side covers of the resistance system, and several other small covers.
The machine comes equipped with a slightly longer slide rail than other models. It is approx. 88.5″ (225 cm) long, and 21.5 (54.6 cm) wide, while its rail inseam length is approx. 39″ (99 cm). Thus, the machine can accommodate users up to 6'5″ (196 cm) with no problem, allowing a complete leg extension.
The rail is not completely horizontal. It is inclined forward by a few degrees. This means it provides a slightly better workout for the legs, and the recovery movement is a little faster. The machine has a folding design. The rail with the seat can be folded and locked in an upright position to save space. With the rail folded up, the unit's length is reduced to 39.5″ (100 cm) while its height becomes 53.5″ (136 cm).
Also, the fully assembled unit is not very heavy; it only weighs approx. 63 lbs (28.7 kg), which means it can easily be transported and assembled by only one person. Plus, once assembled, its relocation is made easy by the small wheels incorporated in its front base.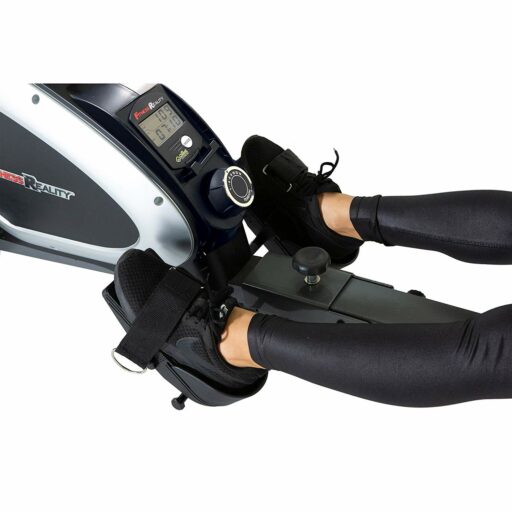 An important aspect to mention here regards the foot pads attached to the front base bar. These can serve as support for a variety of exercises apart from rowing.
Depending on your feet positioning on them, you can perform bicep curls, tricep extensions, stand-up rows, front raises, side raises, and more. Many rowing machines do not offer these possibilities.
The rear base of the unit comes equipped with adjustable, rubberized stabilizers. Therefore, you can perfectly level it on any floor.
Seat and other parts
The Fitness Reality 1000 Plus magnetic rower features a reasonably large seat. It features a layer of high-density foam for extra comfort and is also contoured to adapt better to the user. It is approx. 13.5″ (34 cm) wide and 11″ (28 cm) deep, providing plenty of contact surface.
The base of the seat is steel-made like the rest of the frame. It integrates six wheels; two under the slide rail, the other four are on top. They have a rubberized outer layer to minimize noise during seat movement and have internal ball bearings for a smooth seat journey.
They're almost entirely covered by the seat base frame to prevent your clothing from being caught into them during rowing.
As I've mentioned earlier, the slide rail of the rower is slightly inclined forward. Therefore, the seat height ranges between 9.5″ – 12″ (24 – 30.5 cm).
The unit's footrests are relatively large as well. They are heavy-duty ABS material, featuring a textured surface. They are equipped with adjustable straps and heel guards to provide maximum foot stability.
The footrests have a pivoting design. This means they can tilt forward and backward on their axis to provide the perfect angle for your feet during each rowing motion. Of course, they also have stoppers at the heel for a better push.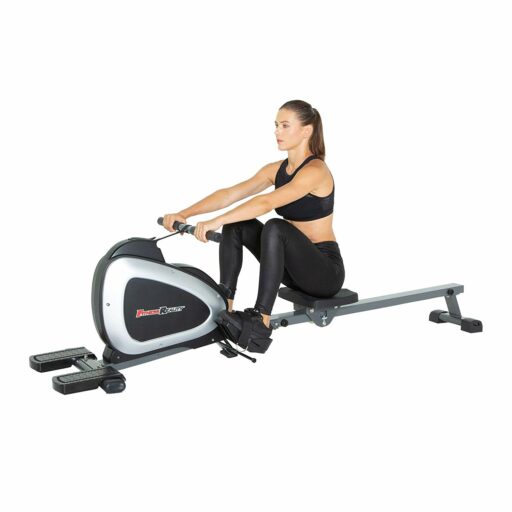 The unit's pulling handle is an ergonomic short straight bar. It has rubberized grips for extra comfort and is attached to an abrasion-resistant nylon mesh strap. It does not integrate any pulse sensors or resistance controls as for other, more advanced rowers.
1000 Plus Resistance system
The FR 1000 Plus rower comes equipped with a dual transmission mechanical, magnetic resistance system. This means the unit does not require an external power source. Also, its console does not control the resistance in any way.
The resistance system consists of a magnetic brake which connects to the tension knob placed on the front section of the machine through a steel wire. When you turn the knob clockwise, the brake covers a more significant part of the flywheel, which leads to an increased rowing difficulty.
As opposed to other manual magnetic rowers, the Fitness Reality 1000 Plus offers 14 levels of resistance. The lowest level provides reasonably low resistance, great for anyone who wants to regain their stamina, or for recovery training.
Conversely, the 14th tension level gives you the possibility to burn more calories or benefit from a more consistent workout during arm exercises.
An important aspect to mention with regards to the unit's resistance system is that it does not offer a dynamic response. In other words, the resistance doesn't vary with how hard you pull as for air resistance rowers or fluid resistance rowers. It remains constant, given by the selected tension level.
So, therefore, the rowing feel is not entirely "natural"; that's why it may not be the best choice for a professional athlete. However, the unit does offer the possibility to undergo quite a consistent cardio workout.
Console
This rowing machine comes equipped with a reasonably basic fitness console. However, it integrates an internal Bluetooth module, which gives you the possibility to sync it with your smartphone and use the MyCloudFitness app for goal settings and online progress tracking. The app is available for both Android and iOS; it's also free.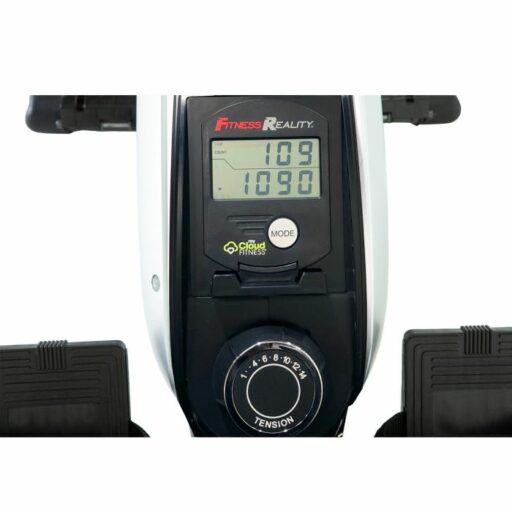 The unit itself features a 3.5″ LCD divided into two sections so you can view up to two workout metrics simultaneously. It tracks time, distance, strokes per minute (SPM), total strokes (total count), and calories burned.
However, it does not have a pulse reading function. Although it has internal Bluetooth, you cannot sync it with Bluetooth HR chest strap transmitters. Thus, in case you want to monitor your pulse, you will have to use a separate device.
The unit is relatively easy to use. It requires four AA batteries, which are (included) with the rower. It has only one button, which allows you to switch between metrics, or select the Scan mode. If the Scan mode is ON, the workout metrics will alternate, each one shown on display for a few seconds.
The button also allows you to reset all the values on the unit by pressing it continuously for several seconds. It starts up when you press the button or when you begin rowing and self shuts down after several minutes of inactivity on the machine.
1000 Plus Assembly and Maintenance
Like in most magnetic rowers, the unit's front unit with all the resistance elements comes pre-assembled. You only have to add the front and rear stabilizers, attach the seat to the slider rail, connect the rail to the front part, and add the footrests.
This shouldn't take more than an hour. The manual provides step-by-step instructions, and an essential toolkit is (included) with the rower.
The machine's internal parts do not require any lubrication or maintenance. You only have to keep the unit's slide rail clean, free of dust, textile fibers or small objects that may damage the wheels of the seat, or cause nicks into the rail. Also, a periodic check for loose parts and bolts is advisable.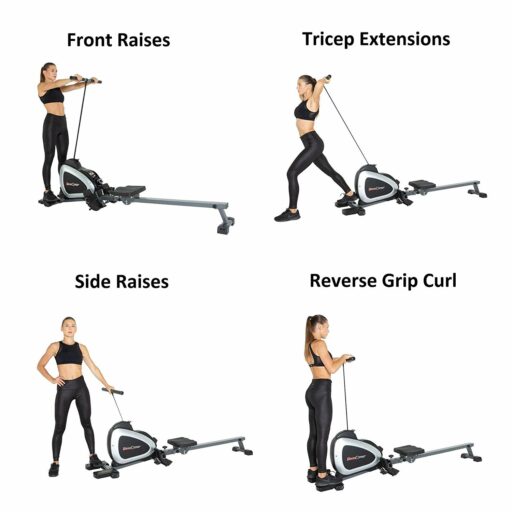 Pros
Fairly sturdy construction – can support users up to 250 lbs;
Folding frame;
Transport wheels integrated into the front base;
Folding footpads on the front base for stand-up rows, curls, or other exercises;
Adjustable stabilizers on the rear base;
Cushioned and contoured seat for superior comfort;
Pivoting footrests for a perfect foot position with each stroke;
Fairly long rail – can accommodate users up to 6'5″;
Smooth magnetic resistance system;
14 levels of resistance;
Fitness console included – it can track time, distance, count, SPM, and calories burned;
Integrated Bluetooth and compatibility with the free MyCloudFitness app;
Smartphone holder included;
Quiet operation;
Easy to assemble;
Little maintenance required.
Cons
No pulse reading function;
The fitness monitor does not have a backlight.
Fitness Reality 1000 Plus Summary
The Fitness Reality 1000 Plus is a full-magnetic rowing machine offering 14 levels of resistance. It has a sturdy and foldable frame construction that can support users up to 250 lbs. It also has internal Bluetooth connectivity and is compatible with the MyCloudFitness app.
Even though it's not a professional rowing machine, it can still provide a very consistent full-body cardio workout and several other exercises besides rowing, such as bicep curls, stand-up rows, front raises, etc. It's a great trainer for muscle toning, stamina development, and weight loss.
I hope you found this article helpful and informative. If you have anything that you'd like to share or any opinions about my website, please do speak up. I look forward to your comments, questions, and the sharing of ideas.
Recommended articles:
Stamina 35-1405 ATS Air Rower | Air Transfer System