Losing weight, building muscles, and maintaining a good shape is achievable using Fuel Fitness E5 Elliptical. It is one of the many elliptical machines available in the market that delivers effective workouts helping you reach your fitness targets. You can effectively burn calories with its six different preset workouts and allows you to create two custom programs that suit your goal.
The heavy-duty flywheel and high gear ratio guarantee smooth ellipse motion. With a quick touch of a button, you can adjust the incline level of this machine from 0-20 to focus on your lower body muscles. On the other hand, using the set of fixed handlebars will help you work on your upper body. You are thus giving yourself a total body workout that can range from simple to intense.
To ensure excellent user experience, Fuel Fitness designed the E5 with a 2-degree inward slope to the foot pedals to reduce stress on ankles and knees that occurs to most ellipticals. They are also adjustable with three different positions to prevent pain on the Achilles tendon and numbness of toes.
Its 7.5″ backlit LCD screen displays workout statistics, including the heart rate, which can be measured by the pulse sensors integrated into the fixed handlebars of Fuel Fitness Fuel E5. It also comes with a chest strap for more convenient heart rate monitoring.
Learn more in my complete review below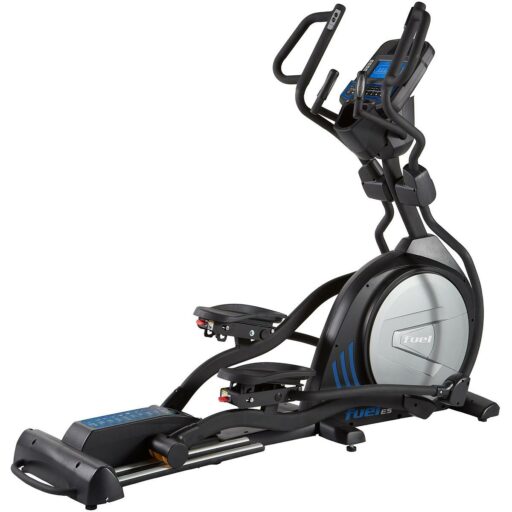 Product: Fuel Fitness E5 Elliptical
Price: For a great deal on this elliptical, merely go here on Amazon
Warranty: Frame lifetime / Parts 5 years / Labor 2 years
My rating: 9.25/10
Amazon Affiliate Disclosure: I may earn commissions on purchases made through links in this post.
Details and Specifications
Assembled dimensions: 82L x 31W x 67H inches (208L x 79W x 170H cm)
Assembled weight: 231 lbs (105 kg)
Flywheel weight: 25 lbs (11.3 kg)
Supported weight: 375 lbs (170 kg)
Stride: 20 inches (51 cm)
Pedals: Cushioned, adjustable (3 levels)
Incline: Automatic, 20 levels
Resistance: Eddy current, 20 levels
Console: 10 programs, Bluetooth
Extras: Bottle holder, tablet holder, sound system, cooling fan, HR chest strap
Warranty: Frame lifetime / Parts 5 years / Labor 2 years
E5 Frame construction
The Fuel Fitness E5 elliptical machine features a heavy-duty frame, made of steel tubing. The fully assembled unit is quite heavy; it weighs over 230 lbs (~105 kg), weight which provides exceptional stability. You can be sure that it won't rock or wobble during your workouts. Plus, it's base stabilizers come with adjustable, rubberized levelers.
All the steel tubes within the frame construction have a corrosion-resistant and abrasion-resistant paint finish. The color used is black. However, the rail bars of the incline system features aluminum covers, which only have their natural polish.
Of course, the machine also integrates ABS parts. The covers of the drive system, the covers of the incline system, and several other small covers are a durable ABS material.
The Fuel E5 elliptical is a relatively large machine. It is approximately 82″ (208 cm) long, and 31″ (79 cm) wide. Plus, it is recommended to leave at least two feet of clearance on each side of the machine, and at least one foot at the front and rear. Thus, the unit may not fit too well in a small room or apartment. And, of course, its frame does not fold.
This elliptical trainer comes with two sets of handlebars. The moving ones have a multi-grip design and integrate incline and resistance controls. They cannot be locked; they move for as long as the pedals are moving. The fixed handlebars have short grips. They integrate pulse sensors, and the console can monitor your heart rate.
The pedal system features a set of heavy-duty steel bars. Even though the pedal trays are an ABS material, they are designed to support users up to 375 lbs (170 kg). They are relatively large, approx. 15″ (38 cm) so they can accommodate footwear of all sizes. They do not have extra gel cushioning, though, like the pedals of the ProForm Endurance 920 E.
Two last features that we must mention here are the rear lifting handle and the front transportation wheels. These considerably ease the relocation of the machine, if needed. Therefore, it can be moved by only one person despite its weight.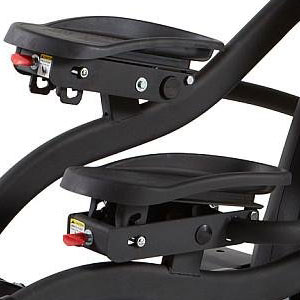 Incline system, stride, and step-up height
First of all, it is essential to mention here that the machine's pedals are adjustable. Each pedal has a pin at the rear, which allows its front-to-back angle adjustment. There are three adjustment positions for each pedal, offering angles of 0°, 5°, and 10°.
This is quite a useful feature as some users may get foot numbness due to the nerve compression, and adjusting the pedals angle can eliminate this problem. Plus, they also have a 2° inward tilt, to promote a more natural foot positioning.
The Fuel E5 has an automatic incline system, placed at the rear of the machine. It involves a motor connected to the console and a double rail system that lifts the pedals and changes the position of the elliptical path.
Since the incline system is motorized, the unit's incline is only adjustable from the console or the controls on the left moving handgrip. There are 20 incline levels available; the slope can be adjusted gradually from the console or left grip controls, but the console also has quick selection buttons for the 1, 3, 6, 9, 12, and 15 levels.
The Fuel Fitness E5 elliptical machine offers a 20-inch long stride. Thus, it can accommodate users up to 6'5″ (196 cm), promoting a complete range of motion.
The pedal Q-Factor (spacing between the pedals) is relatively narrow. It is approx. 2″ (5 cm); thus, the positioning of your feet on the pedals is natural, without any lateral stress on the knees and ankles. Also, each pedal delivers an elevation of approximately 20″ (51 cm). Therefore, it's best to use the machine in a room with a ceiling that's at least 25″ (64 cm) higher than your height.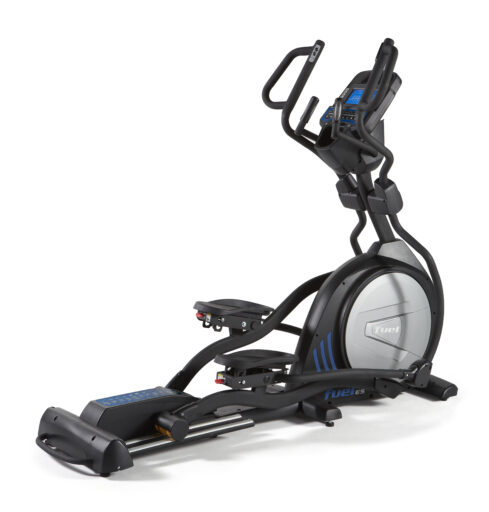 E5 Drive and resistance
The Fuel E5 is a front-drive elliptical machine, so its flywheel integrates into the front unit. It is a mid-range 25 lbs (11.3 kg) flywheel and has a balanced structure, designed to provide a consistent momentum and a steady pedaling motion. It also permits back-pedaling.
The unit's drive system uses a belt transmission. This type of drivetrain comes with several advantages. First of all, you don't have to worry about its lubrication. Second, it generates considerably less vibration than a chain drive, and third, it promotes a noise-free operation.
In terms of resistance, the Fuel Fitness E5 elliptical comes with an eddy current braking system. It consists of a magnetic brake and a servo motor. Therefore, you have to connect the machine to a power source to adjust its resistance.
The unit can also change its resistance automatically. For example, if one of the preset programs is in use, the elliptical will adjust the resistance throughout the workout, depending on the current segment of the program.
The machine makes available 20 levels of resistance. The resistance can be adjusted from the controls incorporated into the right mobile grip, or on the bottom right corner of the console. Also, just as for the incline, the console offers quick resistance controls for the 1, 3, 6, 9, 12, and 15 levels.
Console
Although the console of the E5 doesn't have online connectivity, it does provide plenty of programs and other features to keep you motivated and entertained. To begin with, it has a 7.5-inch LCD with LED backlight and significant digits, easy to read. It tracks time, speed, RPM, pace, distance, calories, and pulse. There is also a 1/4 mile (400 m) track with a lap count function.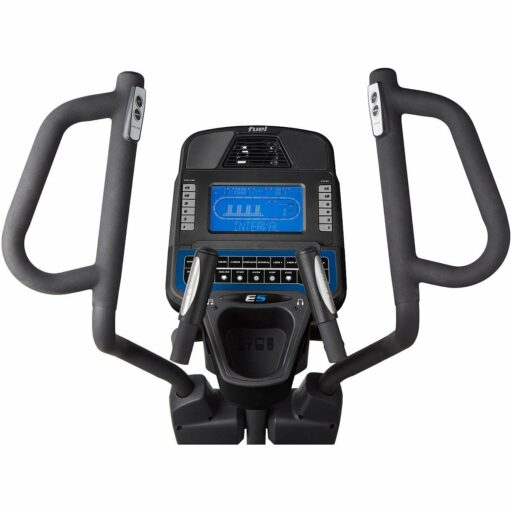 The console is set by default to English units (miles, MPH, lbs). However, you can change it to Metric units (km, kmh, kg) if needed. Also, it can read your pulse through the metallic sensors integrated into the stationary grips. Additionally, it is also telemetric. Therefore, it scans your pulse through a wireless HR chest strap, and this accessory is (included).
The console makes available ten workouts programs. The first one is the manual program. This allows you to adjust the resistance freely and incline during your workout and monitors your workout stats. The next five programs are preset. They offer various grid layouts, including Hill, Fat Burn, Cardio, Interval, and Calories.
The 7th and 8th programs are user-defined programs. They give you the possibility to input your data such as weight or age for better data analysis, and also create a custom workout layout. Finally, the 9th and 10th programs are heart rate programs. The first one is set to 60% of the maximum HR, while the second is 80% of the maximum HR.
Of course, the console offers several other extra features. To begin with, it has a built-in sound system that consists of two speakers. It is compatible with most MP3 players of smartphones. It is also Bluetooth compatible, so you can sync your device with the console to play your music through without an AUX cable.
A workout fan is between the two speakers. It is pretty significant in diameter, so it provides a pretty decent cooling during a more intense workout. A media shelf is under the console display; you can place your phone or tablet on it to use it during your workouts. And finally, the console assembly also integrates an accessory/bottle holder.
E5 Assembly and Maintenance
The drive and resistance elements of the machine pre-assembled, attached to the front part of the frame and concealed by the ABS covers. The incline mechanism is also pre-assembled and attached to the rear section.
Therefore, you only need to connect the two main parts (front and rear), the console mast, the console, the moving arms, the pedals, and several small covers. This may take more than an hour. However, the manual provides clear assembly instructions and schematics. An essential toolkit is also (included).
For maintenance, it's recommended to keep the rails of the machine clean to prevent any damage to them. It's also recommended to periodically check for loose or broken parts, remove the dust and the sweat that may fall onto the frame or console. The internal components of the machine don't require any lubrication or maintenance, at least not for a very long time.
Pros
Sturdy frame, with a weight capacity of 375 lbs;
Aesthetic design;
Adjustable stabilizers on all bases;
Transport wheels;
Lifting handle at the rear;
Ergonomic, large pedals with three levels of adjustment;
2° inward tilt for the pedals to provide a natural, stress-free foot positioning;
2″ narrow Q-Factor allowing a biomechanically correct stride;
Smooth and quiet belt drive;
Automatic incline, 20 levels;
20 levels of eddy current resistance;
Multi-grip mobile handlebars;
Incline and resistance controls integrated into the moving handlebars;
Pulse sensors;
The large LCD, LED-backlit, offering excellent readability;
One manual program;
Five preset workout programs;
Two custom workout programs;
Two heart rate programs;
Wireless HR chest strap transmitter included;
Sound system included, Bluetooth capable;
Cooling fan included;
Tablet holder included;
Bottle/accessory holder included;
Little maintenance required;
Excellent warranty.
Cons
No online connectivity;
A tablet placed on the tablet holder will cover the console display;
No USB port for data transfer or tablet recharging.
Fuel Fitness E5 Elliptical Summary
The Fuel Fitness E5 is a heavy-duty elliptical trainer, offering 20 levels of eddy current resistance, and 20 levels of automatic incline. It also has an array of workout programs, and various extras such as sound system, cooling fan, etc. It has an impressive 375 lbs maximum user weight capacity, and adjustable pedals, a feature that many other ellipticals don't have.
It's perfect for light to intense cardio workouts, interval training, stamina training, and weight loss. And finally, it's not exactly one of the most affordable trainers, but offers excellent value for the price.
I hope you found this article helpful and informative. If you have anything that you'd like to share or any opinions about my website, please do speak up. I look forward to your comments, questions, and the sharing of ideas.
Recommended articles:
The Tabata Workout – Is it a Fitness Miracle?
Please follow and like us: