The FUNMILY EM530 Elliptical Trainer comes equipped with ten levels of magnetic resistance for the quietest and smoothest operation possible, and the rear-flywheel gives you better glide, low impact, & anti-jerk protection for your joints. In addition, the fluid movement allows you all the benefits of a regular cardio workout without the high-impact wear and tear on your hip, knee & ankle joints.
The EM530 elliptical trainer features a quiet drive system centered on a 15-pound flywheel and high gear ratio that delivers a natural, smooth feeling stride in both forward and reverse motion, allowing you to exercise more muscles. Furthermore, it provides you with a challenging yet smooth workout.
The FUNMILY EM530 elliptical trainer features an advanced fitness monitor to provide real-time workout information such as time, speed, distance, total distance, calories burned, and pulse. Experience real riding with the free Qiber app and compete with others in real-time. Train under realistic outdoor conditions and transfer exercise data to your device or create a training history.
The EM530 features textured and oversized pedal trays. The ergonomically engineered 15-inch stride ensures users of most heights will get a satisfying and comfortable workout. Concentrate on upper, abdominal & lower muscle groups by varying your hand position mid-exercise. You can push forward with a synchronized arm & leg drive or close-in on the inner handlebars for a sprint to the finishing burst.
Learn more in my complete review below!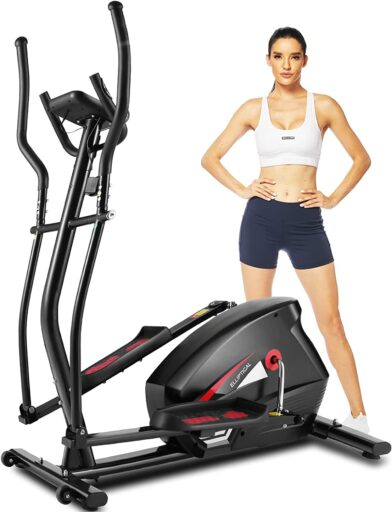 Product: FUNMILY EM530 Elliptical Trainer
Price: For a great deal on this elliptical, merely go here to Amazon.com
Warranty: 1 year limited
My rating: 9.5/10
Affiliate Disclosure: As an Amazon Affiliate Program participant, I earn commissions on purchases made through links in this post. Full disclosure
Details and Specifications
Assembled dimensions: 47L x 24W x 60H inches (119L x 61W x 152H cm)
Assembled weight: 77 lbs (35 kg)
Flywheel weight: 15 lbs (6.8 kg)
Supported weight: 390 lbs (177 kg)
Stride: 15 inches (38 cm)
Incline: No
Resistance: Manual magnetic, 10 levels
Fitness Monitor: Time, speed, distance, total distance, calories, pulse, goals, recovery, body fat program
Extras: Device holder
Warranty: 1 year
EM530 Frame construction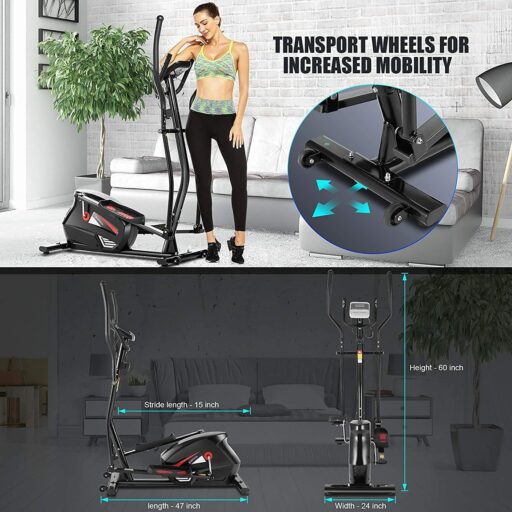 The FUNMILY EM530 elliptical trainer features a heavy-duty steel frame combining oval, cylindrical, and rectangular tubes in its construction. In addition, all the steel bars come coated with a corrosion-resistant and chip-resistant paint finish.
In terms of color, there are two versions for the EM530, one black, and one gray. The unit's drive and resistance system feature a sturdy thermoplastic material casing.
This elliptical trainer is not super extensive. With all the parts assembled, it is only 47″ (119 cm) long and 24″ (61 cm) wide, while its highest point is at the top of the moving arms, which reach approx—60″ (152 cm) above the floor. Like any other ellipticals, leaving at least two feet of clearance all around the unit for easy access and safe usage is advisable.
The EM530 elliptical is not super-heavy but does weigh approx. 77 lbs (35 kg), so two people should transport and assemble the machine. However, once completed, one person can quickly relocate the machine as its front base bar has a set of transport wheels.
The unit has a low center of gravity, so it's pretty stable. Plus, both its base bars come with adjustable levelers, which have rubber suckers on the bottom. These considerably improve the unit's stability, especially on a tile or hardwood floor.
The FUNMILY EM530 comes equipped with two sets of handlebars, one fixed and one mobile. The fixed handlebars have short grips and integrated HR pulse sensors.
The moving arms have more extended grips with rounded grips at the top. These attach to the pedal bars and always move if pedaling; they do not lock to remain stationary. Unfortunately, none of the handlebars have any form of adjustment.
Elliptical path, stride, and pedal construction
The FUNMILY EM530 is a rear-drive elliptical trainer. Thus, its elliptical path is not entirely horizontal. Instead, it inclines slightly forward, which means that the pedaling motion resembles a descent on a soft ramp. Therefore, it puts more focus on your thighs and glutes.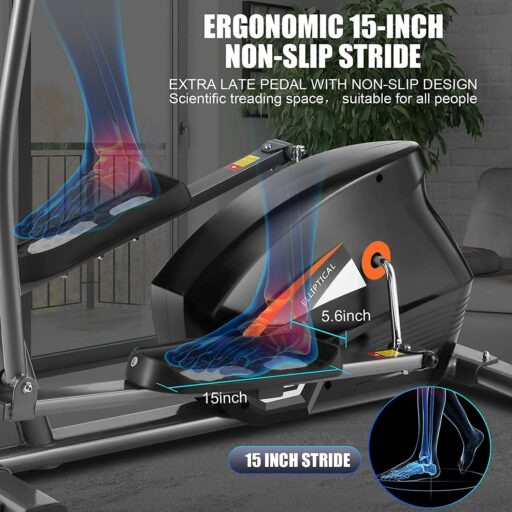 This elliptical trainer does not have an incline system. Therefore, the position of the elliptical path and the length of its stride is non-adjustable. It offers a medium-length stride of 15″ (38 cm).
Consequently, it accommodates users up to 6'2″ – 6'3″ (188 – 190 cm), providing an appropriate range of motion. Taller persons are still able to use this trainer, but their range of action will be limited.
The pedal trays are a heavy-duty thermoplastic material. They have a textured bottom with urethane inserts for an improved grip. They also have side guards for extra foot stability. However, they are non-adjustable and do not have any articulation or extra cushioning.
The pedal trays attach to two pretty tough rectangular steel bars. The machine has a maximum user weight limit of 390 lbs (177 kg). The unit's pedal step-up height of approx. 5″ (12 cm).
Conversely, the pedals stand at approx. 15″ (38 cm) above floor level when they are at their highest point. Therefore, it is advisable to use the machine in a room with a ceiling at least 20″ (51 cm) higher than the height of the tallest user.
EM530 Drive and resistance
The FUNMILY EM530 elliptical machine comes equipped with a 15 lbs (6.8 kg) flywheel, wholly concealed by the large plastic guards that shield the entire drive system. In addition, it has a perimeter-weighted construction for improved inertia.
It is also bi-directional. Therefore, you can pedal in reverse so you can diversify your workouts and focus on different muscle groups. When pedaling in reverse, the resistance remains constant, and the fitness monitor continues to track your workout stats.
The EM530 elliptical trainer features a manual magnetic resistance system. Therefore, you don't need an external power source or an adapter for it. However, the unit also does not adjust the resistance automatically.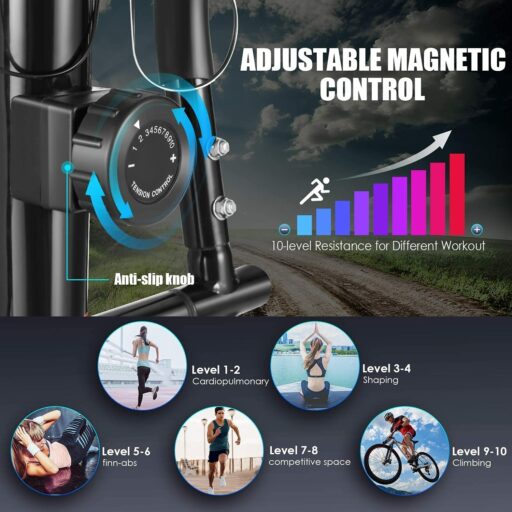 The unit's resistance system consists of a magnetic brake pad attached to the internal flywheel system. It also connects to the tension knob on the main upright bar via a steel cable. Therefore, when you turn the knob, the line moves the magnets closer or farther from the flywheel, which results in a more incredible or lower pedaling difficulty.
The resistance system makes available ten tension levels. The lowest level generates a relatively light resistance, excellent for conditioning and recovery training.
The 10th level of resistance provides a significantly more incredible pedaling difficulty, simulating a hill climb, giving you the possibility of quickly achieving a high cardio level. The highest tension levels are also significant for strength and stamina development.
Like most other elliptical trainers with a magnetic resistance system, this FUNMILY model features a belt drive system. It integrates a poly-v belt highly resistant to stretching and abrasion. As opposed to a chain drive, it does not require lubrication. It also generates slightly less vibration and contributes to the smoothness of the ride.
Fitness monitor
The FUNMILY EM530 elliptical machine includes a fitness monitor that offers a few extra features over a simple unit. Unfortunately, it does not have pre-set workout programs and does not adjust the resistance automatically.
The monitor features an LCD that divides into multiple sub-sections. It indicates time, speed, distance, total distance, calories, and pulse. Unfortunately, the pulse reading function is grip-contact only. So, you have to hold on to the integrated pulse sensors for them to work. In addition, the monitor does not read pulse from a wireless transmitter.
The fitness monitor offers the possibility to select workout goals for time, distance, and calories burned. After choosing a goal, the monitor will count down from the desired values until they reach zero. This function helps you push your limits with every workout.
Although the monitor does not have programs, it does have a pulse recovery function and a bodyfat function. After initiating the pulse recovery function, the monitor counts the pulse at the end of your workout.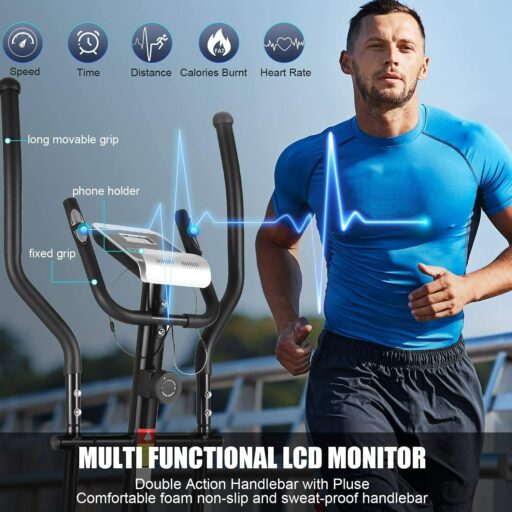 Depending on how fast your heart rate returns to an average BPM, it will give you a fitness score between F1 (excellent) and F6 (poor). The bodyfat function is a body mass index calculator. You can input your weight, height, gender, and age, and the monitor will calculate your average BMI.
One last notable feature to note is the device holder, which consists of a small shelf at the bottom of the fitness monitor. It can serve as support for your phone or tablet.
EM530 Assembly and Maintenance
The main body of the machine (with all the drive and resistance parts) comes pre-assembled. However, the rest of the parts do require user assembly. Therefore, you will have to attach the two base bars, the pedal bars, the pedal trays, the front main upright bar, the handlebars, and the fitness monitor.
Thus, it may take up to two hours of your time, but the process is relatively easy, and the manual provides all the necessary instructions. Also, all the tools for the assembly come with the machine.
The internal parts of the machine do not require lubrication. So, in terms of maintenance, you only have to check for loose bolts and parts and retighten them as needed and lubricate the joints if they begin to squeak.
Pros
Sturdy construction – can support users up to 390 lbs;
Adjustable levelers on both base bars;
Transport wheels on the front base bar;
Mobile arms with an ergonomic design and ball grips at the top;
Fixed handlebars with pulse sensors;
Smooth and quiet belt drive system;
Oversized pedals with three adjustment positions;
Ten levels of magnetic resistance;
Fitness monitor included – it tracks time, distance, total distance, calories, pulse, and speed;
Target-setting goal function for a time, distance, and calories burned;
Recovery function;
Body Fat function;
Device holder included;
Quiet operation;
Easy to assemble;
All the tools for assembly come with the machine;
Little maintenance is required.
Cons
No backlight on the fitness monitor LCD;
No pre-set programs.
FUNMILY EM530 Elliptical Trainer Summary
The FUNMILY EM530 is a rear-drive elliptical trainer made for home use. It comes equipped with a 10-level manual magnetic resistance system, a 15-lb internal flywheel, and a fitness monitor that tracks the essential workout metrics.
It also has a pretty solid construction offering a maximum user weight limit of 390 lbs (177 kg). Moreover, it's an excellent machine for light to high-intensity cardio workouts, muscle toning, stamina development, and weight loss.
I hope you found this article helpful and informative. Would you please speak up if you have anything you'd like to share on the topic or any opinions about my website? I look forward to your comments, questions, and the sharing of ideas.