One of the surprising things about the Horizon T202 Folding Treadmill is the weight limit. An individual who weighs up to 325 pounds can safely use this treadmill. With this weight limit, the T202 outstrips many far more expensive treadmills.
The T202 features a 2.75 CHP Johnson motor that is continuous horsepower, which shows its staying power while under a load. You can depend on the T202 motor to be able to push you through your workouts without worrying that you will burn it up, though sticking to walking and jogging is a good rule with motors under 3.0 CHP.
The Horizon T202 comes equipped with a 20 x 60" deck that provides all the space and comfort you need to run at your pace. All Horizon treadmill decks are built with 3-Zone Variable Response Cushioning to give you the ideal amount of flex and support in all phases of your stride.
The T202 comes with an LCD screen embedded in the console of the treadmill.  You can track your distance, time, speed, calorie burn, heart rate, and incline. There are excellent connectivity features that come with this treadmill. You can connect your Bluetooth-enabled device with the T202 to stream your audio entertainment directly to the treadmill speakers.
Learn more in my complete review below
Product: Horizon T202 Folding Treadmill
Price: For a great deal on this treadmill, merely go here on Amazon
Warranty: Frame lifetime / Motor lifetime / Parts 1 year / Labor 1 year
My rating: 8/10
Amazon Affiliate Disclosure: I may earn commissions on purchases made through links in this post.
Details and Specifications
Assembled dimensions: 75L x 34W x 58H inches (190L x 86W x 147H cm)
Assembled weight: 187 lbs (85 kg)
Tread belt dimensions: 60L x 20W inches (152L x 51W cm)
Maximum user weight: 325 lbs (147 kg)
Motor: 2.75 CHP, 0.5-12 MPH
Incline: Automatic, 0% – 12%
Deck cushioning: 3-Zone Variable Response
Console: 35 programs, Bluetooth
Extras: Sound system, cooling fan, USB charging port, tablet holder, accessory trays
Warranty: Frame lifetime / Motor lifetime / Parts 1 year / Labor 1 year
T202 Frame
The Horizon Fitness T202 treadmill features a heavy-duty steel frame combining ovalized and rectangular tubes in its construction. It's quite a heavy fitness machine; with the frame fully assembled, it weighs approx—187 lbs (85 kg), which pretty much means that its transport requires two people. However, once completed, it can be moved by only one person as its front base features a set of transport wheels.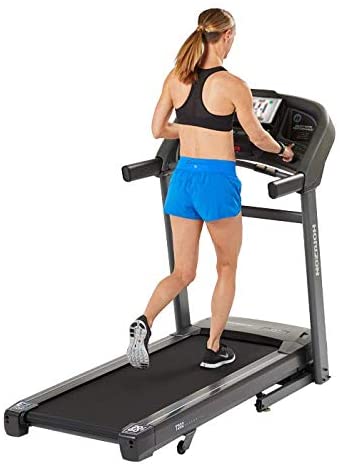 Although it's not an enormous home-use treadmill, it still measures 75″ (190 cm) in length and 34″ (86 cm) in width. Plus, it is advisable to leave at least two feet of clearance on each side of the deck and at least three feet at the rear for safe usage. Therefore, it may not fit too well in a small room or apartment.
On the other hand, this Horizon Fitness treadmill is foldable. The deck can be folded and locked up, and with the deck folded up, the machine's depth reduces to approx. 47″ (119 cm) while its height becomes approx. 65″ (165 cm). The folding mechanism includes a hydraulic cylinder, which slowly lowers the deck when it is unfolding.
Deck
The unit's deck offers a standard running surface of 60″L x 20″W (152 x 51 cm). This means it can accommodate users up to 6'5 ″ (196 cm) with no problem, allowing a complete stride. The integrated board is 0.7″ thick, and the treadmill has a maximum user weight capacity of 325 lbs (147 kg), similar to most light-commercial trainers.
The Horizon T202 comes equipped with a 2-ply, 1.4 mm heavy-duty rubber belt designed to provide superior adherence. The rollers are also pretty thick; the front roller is 1.8″ while the rear roller is 1.65″. Both rollers come tapered to provide excellent traction and prolong the lifespan of the belt. They integrate industrial-grade sealed ball bearings for smooth belt traction.
The deck comes equipped with a 3-Zone Variable Cushioning system. The front zone is the impact zone, which has more cushioning to alleviate each foot strike's shock. The center area offers moderate cushioning for a better transition, while the rear area is slightly harder to promote a better push-off.
T202 Incline and step-up height
The Horizon T202 treadmill has an automatic incline system. This means the incline is only controlled from the console while it connects to a power source. It also means that the treadmill can automatically adjust the deck's slope, depending on the selected program.
The unit's incline system consists of a small lift and a motor separate from the drive motor, both situated at the unit's front. When you select a certain incline level from the console, the motor powers the lift, elevating or lowering the running platform's front part.
The T202 treadmill offers an incline range between 0% and 12%. The incline adjustment increments are 0.5%. The console is equipped with controls for gradual incline adjustment, but they're also are quick selection controls for the 0%, 1%, 2%, 4%, 6%, 8%, 10%, and 12% incline settings.
The machine's running platform's step-up height is approx—8″ (20 cm) when the incline is 0%, conversely, with the highest level's incline, the deck's front gains a few inches in height.
Therefore, to avoid any ceiling height issues, ensure that the ceiling height in the room where you'll be using the machine is at least 20″ (51 cm) higher than your size.
Drive motor
As I've mentioned earlier, the Horizon T202 comes equipped with a 2.75 CHP Johnson motor, which will stand for prolonged workout sessions without overheating or losing performance even if used at the highest speed settings.
The drive system recalibrates for each foot strike to help you remain in the same rhythm without the feel of surge or lag. Plus, it also integrates a small flywheel, which improves the belt and rotation motion's stability.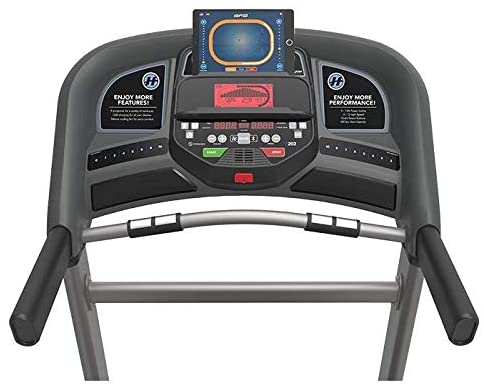 The unit's motor provides a speed range between 0.5 MPH and 12 MPH. The speed adjustment increments are 0.1 MPH. This results in a smooth transition from a speed level to another, giving you plenty of time to adjust your pace.
Just as for the incline system, the console makes available controls for gradual and quick adjustment. The "+" and "-" keys on the right offer 0.1 MPH speed adjustment possibilities, while the quick keys allow you to select 2 MPH, 3 MPH, 4 MPH, 5 MPH, 6 MPH, 8 MPH, 10 MPH, or 12 MPH.
T202 Console
The Horizon Fitness T202 treadmill comes equipped with a console that offers a pretty impressive range of features. First, it has two separate displays, one LED (bottom) and one LCD (top). The LED display divides into three sections: time/calories, speed/incline, and distance/pulse.
The LCD tracks time, RPM, distance, watts, calories, and pulse, showing its top corners' incline and speed settings. Plus, it shows the selected program's profiles and a 1/4-mile track for distance, counting the completed laps.
The console has a built-in Bluetooth function. This gives you the possibility to sync it with your tablet or smartphone to track your progress online via the free AFG Sport app.
It can also communicate with Bluetooth Polar straps for heart rate monitoring. However, a Polar HR chest strap does not come included with the machine, but the console can still monitor your pulse if you hold on to the sensors integrated into the machine's front grips.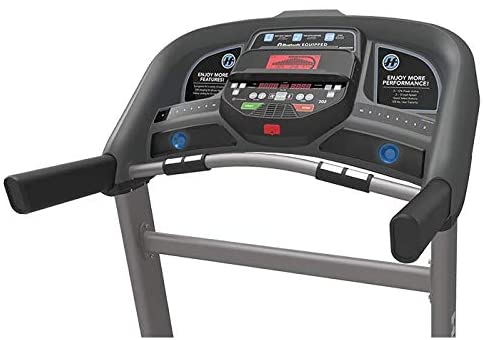 Workout programs
The console has four main workout modes, with a total of 35 workout programs (and program levels), which are Manual, Intervals, Weight Loss, and Target Profiles. The Manual Program is the standard training mode. It allows you to adjust the incline and speed throughout your workout manually.
The Intervals program has ten levels; during this program, speed changes and segments repeat 90 seconds and 30 seconds. The Weight Loss program explicitly targets fat. It increases and decreases speed and incline while keeping you in your fat-burning zone. Just like the interval program, it has ten levels.
The Target Profiles program has two sub-sections: Distance and Calories. The Distance section makes available 13 programs. These are 1 mile, 2 miles, 5k, 5 miles, 10k, 8 miles, 15k, 10 miles, 20k, half marathon, 15 miles, 20 miles, and marathon. For the Calories section, you can set up your own goals for burning calories.
Amenities
In terms of amenities, the console of the T202 treadmill has a sound system, a cooling fan, two accessory trays, a bottle holder, and a USB charging port.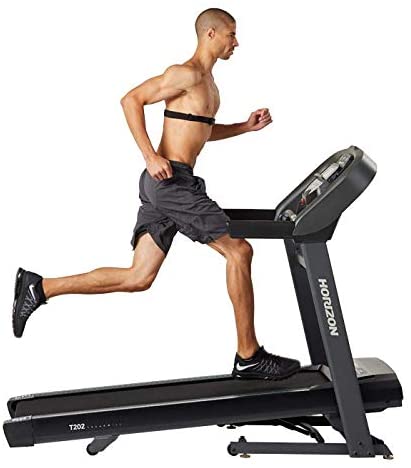 The sound system consists of two speakers placed under the quick selection speed and incline controls. The sound system is compatible with most MP3 players, smartphones, and tablets. You can connect your device to the console, either via cable or Bluetooth.
The cooling fan is at the bottom center of the console. It only has two settings (ON, OFF). The USB connector is on the right side of the LCD; it only offers your device's charging possibility, but not data transfer. And finally, the two accessory trays are placed on each side of the LCD, while the tablet holder is under the LCD.
T202 Assembly and Maintenance
With both its motors, the belt, and other elements, the treadmill deck comes pre-assembled and attached to the metallic frame. Therefore, in terms of assembly, you only have to add the two front upright bars, the crossbar that connects them, the handgrips, and the console.
This shouldn't take more than one hour. All the necessary tools for the task come included with the machine. Also, the manual provides clear assembly instructions and schematics.
For maintenance, the belt requires periodic lubrication and before the first use. It is also advisable to keep the belt clean to prevent any textile fibers or debris from being caught in the motor or the rollers. Other than this, you only have to check for loose or broken parts periodically.
Pros
Sturdy deck – can support users up to 325 lbs;
Folding frame, space-saving design;
Soft-drop folding mechanism;
Transport wheels on the machine's bases;
3-Zone Variable Response, deck cushioning;
Motorized incline, 0% – 12%;
2.75 CHP motor, with auto-calibration;
Speed range between 0.5 and 12 MPH;
Speed can be adjusted increments of 0.1 MPH, allowing you to find the perfect pace for your workout;
Quick keys for speed and incline;
Pulse reading function;
Four workout modes – 35 workout programs (and program levels) in total;
Various amenities such as cooling fan, speakers, tablet holder, and accessory trays;
Bluetooth function;
Online connectivity via the AFG Sport free app;
USB charging port;
One bottle of lubricant included;
Tools for assembly and belt adjustment come included;
Quiet operation;
Reasonably easy to assemble;
Little maintenance required;
Excellent warranty.
Cons
A tablet placed on the tablet holder will cover the main LCD;
An HR chest strap does not come included.
Horizon T202 Summary
The Horizon Fitness T202 is an electric treadmill designed for home use. It comes equipped with a 2.75 CHP motor, an automatic incline system, and a console with four workout modes and multiple program settings. It also has Bluetooth connectivity for its integrated speakers, heart rate monitoring, and online progress tracking via the AFG Sport app.
It's one of the complete treadmills made for home use, great for users of all levels, for light to intense cardio training, muscle toning, stamina development, and weight loss. In all, it's an excellent running machine, offering excellent value for the price.
I hope you found this article helpful and informative. If you have anything you would like to share or any opinions about my website, please speak up. I look forward to your comments, questions, and the sharing of ideas.