The HouseFit Skyline Nature Rowing Machine simulates rowing a boat in the water, which will bring you a feeling of real-life outdoor rowing experience, but in the comfort of your home and on your own time. It is an ideal rowing machine for home use.
The fitness monitor features a large LCD that tracks Time, Calories burned, Total Strokes, Strokes per minute, Distance, and Pulse. In addition, the convenient scan mode displays your progress to assist you in tracking all your fitness goals—interactive personal training at home powered by the free FitShow App for iOS and Android devices.
The HouseFit Skyline Nature Rowing Machine pedals offer customized foot straps and a slip-resistant design for comfort and safety. In addition, the stability of this rowing machine is never compromised. Finally, it is easy to assemble. Almost out-of-the-box, with a foldable design and convenient storage.
Learn more in my complete review below!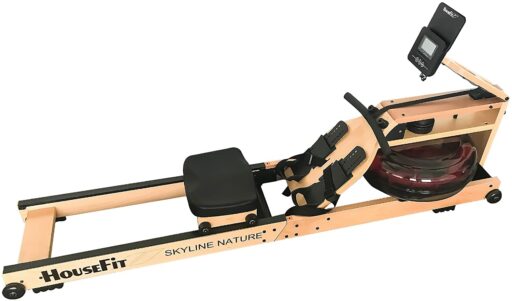 Product: HouseFit Skyline Nature Rowing Machine
Price: For a great deal on this rower, merely go here to Amazon.com
Warranty: 1 year limited
My rating: 8.25/10
Affiliate Disclosure: As an Amazon Affiliate Program participant, I earn commissions on purchases made through links in this post. Full disclosure
Key Features and Specifications
Assembled dimensions: 84L x 19.5W x 19.5H inches (213L x 50W x 50H cm)
Supported weight: 350 lbs (159 kg)
Frame: Wood
Footrests: Adjustable
Resistance type: Water
Exercise meter: Time, distance, strokes, calories, pulse, interval programs, Bluetooth,
Extras: Device holder
Warranty: 1 year limited
Frame construction
The HouseFit Skyline Nature rower features a sturdy oiled beech wood frame, and it's a relatively large machine, especially lengthwise. Its footprint is approximately 84″L x 19.5″W (213 x 50 cm), and it is also advisable to allow at least two feet of clearance at the rear and on each side of the machine for easy access and correct usage.
The machine features a dual rail system for improved stability. Its rails are pretty long, so it should accommodate users up to 6'7″ (200 cm). Also, its maximum user weight limit is 350 lbs (159 kg).
However, unlike most other rowers with a wooden frame, like the Mr. Captain Red Walnut, this HouseFit rower is foldable. In addition, it folds in two from its mid-section, offering better storage possibilities.
With the frame folded, its footprint becomes approx. 24″L x 19.5″W (61 x 50 cm), while its height reaches approx. 40″ (101 cm). The water can remain in the tank when the rower is in its folded position.
The exact weight of the machine is not specified, but as a general idea, the tank has a capacity of approx. 4.7 gallons (18 liters). Therefore, with the tank filled to the top, it probably weighs over 90 lbs (41 kg). However, the machine is not too difficult to move once assembled. Thus, it is because its front and rear bases integrate two large silicone wheels each.
Seat and other parts
The HouseFit Skyline Nature water resistance rower comes with a seat designed for optimal comfort. Its top integrates a layer of padding. In addition, it has contouring to provide better positioning for the user and prevent sliding off.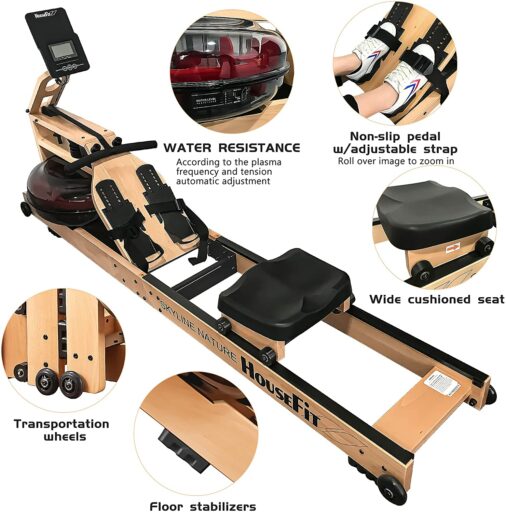 The base frame of the seat is the same type of beech wood as the rest of the structure. It integrates four sets of wheels. Two sets slide on top of the machine's rails; the other two slide on the inner sides of the rails to improve stability. The wheels integrate sealed bearings to provide a smooth motion. In addition, they are rubberized on the outside to reduce noise.
The top of the rower's seat is only approx. 10″ (25 cm) above floor level. Although this shouldn't be a problem for most users, persons with specific disabilities may find it difficult to position themselves on the seat.
So far, HouseFit does not provide hi-rise attachments for this rowing machine as WaterRower does for most models (i. e. WaterRower Club Hi-Rise).
The HouseFit Skyline Nature rower comes equipped with two adjustable footrests. They're made of durable and flexible nylon material and accommodate footwear of all sizes. They also have straps and heel guards so you can perfectly secure your feet on them if necessary.
The footrests' angle is non-adjustable. They attach to a fixed board that is part of the front section of the frame. Their angle is approx—45°-50 ° for optimal foot positioning.
The machine's pulling handle consists of a short straight bar with oval grips. It features PVC foam sleeves for improved comfort. It attaches to a heavy-duty nylon strap that connects to the machine's inner drive mechanism.
Resistance system
The Skyline Nature rower comes equipped with a water resistance system featuring a large water tank made of durable polycarbonate material. The tank has a maximum fill of 4.7 gallons (18 liters).
It is a single chamber tank; it does not have a mechanical water level adjustment system like the First Degree Fitness Viking II. Thus, to adjust the water level in the tank, you have to add or remove water manually with the provided funnel and pump.
The main resistance-generating element is the 16-blade impeller inside the water tank. The impeller attaches to the rower's pulley system. Thus, pulling the handle spins in the water inside the tank, generating resistance.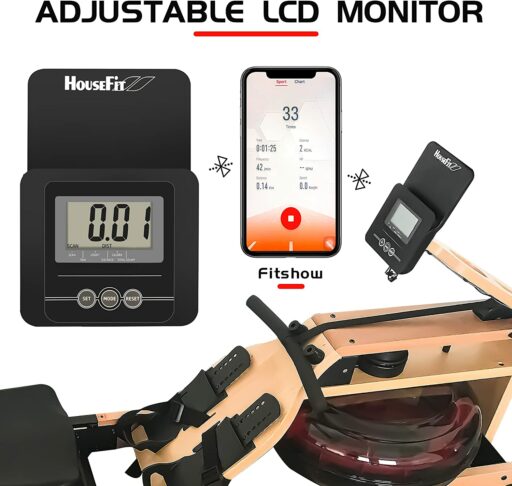 Since it's a water resistance rower, the HouseFit Skyline Nature offers a dynamic response during usage. Therefore, if you pull the handle faster, the resistance also increases.
This effect is similar to rowing a real boat through water that most magnetic rowers cannot replicate. Also, the higher the water level in the tank, the greater is the overall resistance provided by the machine.
The rower is relatively quiet during usage. However, the spinning of the impeller in the water creates some noise. However, the noise level is far from being annoying and pretty low. As a general idea, it shouldn't cover the sound of a TV at a low volume.
Fitness monitor
It's important to note that the first version of the Skyline Nature rower came with a fitness monitor without Bluetooth and fewer functions. However, the newer versions include a Bluetooth-capable monitor. So HouseFit will replace your non-Bluetooth monitor with a more recent version for free, except for the freight charges.
The Bluetooth monitor version is pretty similar to the one included with the Mr. Captain Red Walnut rower. It features an LCD that tracks time, strokes, SPM, calories, distance, and pulse. Unfortunately, the pulse reading function requires a wireless HR chest strap which does not come with the rower.
The monitor unit has three workout modes – Manual, Interval Custom, and Target. The Interval Mode allows you to create a custom workout interval with rest/work periods. The Target mode will enable you to select targets for various metrics, such as time, strokes, calories, etc.
After choosing a target, the monitor will countdown until it reaches zero, indicating when you have completed your goal. And finally, the Manual mode allows you to just row, and the monitor will display your SPM, strokes, the time elapsed, etc.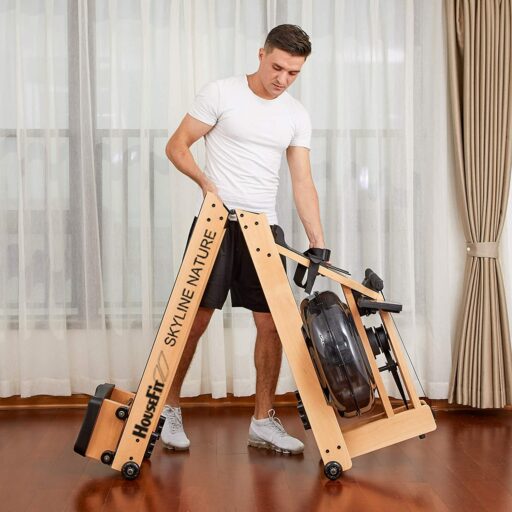 Via the Bluetooth connection, you can sync the rowing monitor to your smartphone or tablet through the FitShow app. In addition, the app offers standard workout programs and allows you to track your progress online.
Last but not least, the monitor features a device holder. It consists of a small shelf at the unit's base that can support your tablet or smartphone. It is battery-powered, and the batteries come with the rower.
Assembly and Maintenance
The machine's front unit with the water tank comes pre-assembled. You only have to connect the two rails and then attach them to the front part of the machine, install the seat, put batteries into the fitness monitor, and add water to the tank.
Therefore, it shouldn't take more than 30 minutes of your time. All the necessary tools come with the rower, and the manual provides step-by-step assembly instructions.
It is advisable to keep the machine clean, especially the rails, to prevent damage to the seat's wheels for maintenance. In addition, the box includes a bottle of chlorine pills to treat the water inside the tank. Other than this, you only need to periodically inspect the machine to ensure that all its parts still function correctly and all the screws hold tight in their places.
Pros
Sturdy frame – can support users up to 350 lbs;
Aesthetic design made of beech wood;
Folding design;
Easy to handle and transport;
Rubberized stabilizers for extra floor protection;
Water-resistance system, providing the most natural rowing feel that you can get;
Padded and contoured seat;
Adjustable footrests;
Multi-window performance monitor included;
Three workout modes on the fitness monitor (manual, target, and interval);
Bluetooth connectivity and compatibility with the FitShow App (for iOS and Android);
Smooth and quiet operation;
Water pump included;
Tools for assembly included;
Water purification pills (1 bottle) included;
Phone holder integrated into the fitness monitor;
Little maintenance required;
Easy to assemble.
Cons
No backlight on the LCD;
The HR chest strap for pulse reading does not come with the rower.
HouseFit Skyline Nature Rowing Machine Summary
The HouseFit Skyline Nature is a water resistance rower made for home use. It features a beechwood frame with a large polycarbonate water tank, a dual rail system that can accommodate users up to 6'7″ (200 cm), and a fitness monitor that tracks all the essential workout metrics.
It is a great fitness machine for a full-body cardio workout, stamina, development, and muscle toning. And finally, it is considerably more affordable than a premium wooden rower offering excellent value for the price.
I hope you found this article helpful and informative. Would you please speak up if you have anything you'd like to share or any opinions about my website? I look forward to your comments, questions, and the sharing of ideas.
Please note: Before starting any exercise program, you should consult your physician to determine if you have any medical or physical conditions that could put your health and safety at risk or prevent you from using the equipment properly. In addition, your physician's advice is essential if you are taking medication that affects your heart rate, blood pressure, or cholesterol level.