The Inspire Fitness CS4 Cardio Strider comes with unique linear path pedals that offer simple back and forth reciprocating leg movement that minimizes hip rotation and reduces knee stress while engaging your glutes and leg muscles.
The CS4 provides an effective cardiovascular workout by combining upper and lower body flexibility and coordination into one impact-free motion and is easier on your joints. Regular use of elliptical trainers will increase heart and lung capacity while improving your health and burning calories.
The Silent Poly V Belt Drive System provides quiet operation. The Inspire CS4 recumbent elliptical uses 20 levels of Magnetic Brake resistance. Also, magnetic resistance has the advantage of no friction, reliability, little to no maintenance costs, and quiet operation.
The Inspire Fitness CS4's console is straightforward and easy to use and features a bright blue backlit LCD that's easy to view in both low light and bright light. The CS4 allows up to 10 user profiles, and the LCD screen displays motivating workout stats, including time, speed, distance, calories, and heart-rate.
Learn more in my complete review below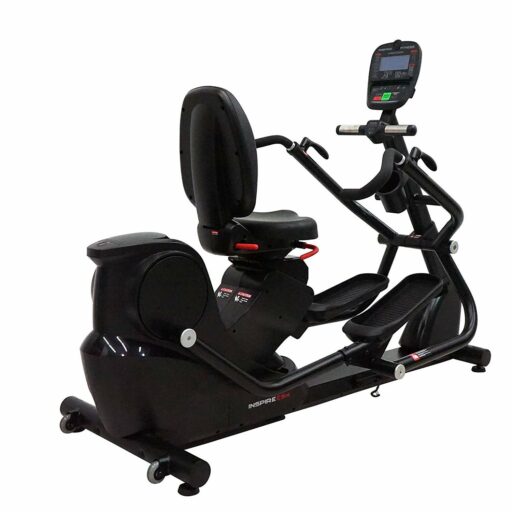 Product: Inspire Fitness CS4 Cardio Strider 4
Price: For a great deal on this cardio strider, merely go here on Amazon
Warranty: Residential / Lifetime on Frame / 5 Years on Parts / 1 Year on Labor (see commercial warranty below)
My rating: 9.4/10
Amazon Affiliate Disclosure: I may earn commissions from purchases made through links in this post.
Details and Specifications
72'' Length
36'' Width
55'' Height
Weight: 600 pounds/272 kg
Supports a maximum user weight capacity of 350 pounds (158.7 kg)
Dual water bottle holders
Tablet holder
Seat: Recumbent seat, adjustable backrest, motorized height adjustment, swivels 90 degrees to left and the right, save up to 4 different seat positions
Handlebars: Dual-action handlebars: Static handlebar with EKG sensors and the Quick Release moveable handlebars
Console: Telemetry enabled, Blue backlit monitor, displays Watts, RPM, Calories Burned, Distance, and Pulse
Polar T31 Chest Strap included
Pedals: Linear paths, 12-15 inches stride length
Drive: Poly V belt drive system
Resistance: Friction-free Electromagnetic resistance system, 20 resistance levels
Electric powered, AC adapter included
Residential Warranty: Lifetime on Frame / 5 Years on Parts / 1 Year on Labor
Light Commercial Warranty: 10 Years on Frame / 2 Years on Parts /  1 Year on Labor
CS4 Frame Construction
The Inspire Fitness 4 (CS4) Cardio Strider is sturdy and also has innovative features that could help you actualize your fitness goals. It features a light commercial-grade construction that supports up to 350 pounds (158.7 kg) maximum user weight. It's grounded because the machine weighs 600 pounds/272 kg.
It is stable because of its base framework that features a rounded steel stabilizer bar at the front and the rear bases. There are also rubber levelers underneath them that can grip onto the floor. Therefore, the CS4 is highly stable and grounded that no amount of an intense workout could make it wobble or move.
It is slightly larger than the previous models and should require a little bit of space. Its overall assembled dimensions are 72 inches long by 36 inches wide by 55 inches tall. That is to say that the required workout space area for it would be 6' long by 3' wide area and a ceiling height of at least 7 feet.
Its low step-thru design and the seat that swivels 90 degrees to the left and the right is a big deal for most users, especially those undergoing physical therapy rehab, arthritis, and the elderly folks.
Seat, the Handlebars, and the Pedals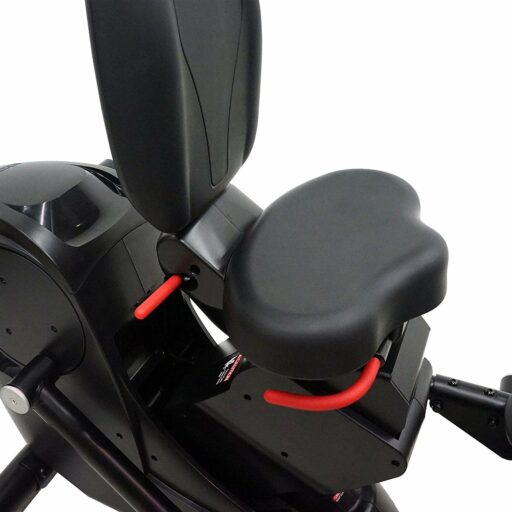 The seat on the CS4 is a recumbent seat that has a solid backrest. Both the seat and the backrest are padded and contoured to provide optimum comfort that enables the user to workout longer without even knowing it.
The backrest could easily be adjusted to 3 different angles, while the seat has a motorized height adjustment (adjustment via the console) that saves you the trouble of doing so manually, and the seat swivels to the left and the right for easy access.
It is also possible to save up to 4 different seat positions to be reused in a future workout without having to adjust a new position.
The strider features a set of moveable handlebars and a static handle that has the EKG sensors embedded in it so that the user's pulse displays when held during a workout.
The moveable handlebars make it possible for the upper body to be exercised. They have Quick Release Handles that could be adjusted all round so that the chest, back, biceps, and the triceps muscle groups are targeted.
They also come with a soft rubber foam material that provides comfort and a secure grip.
The pedals are large, antiskid designed, and they have 12-15 inches stride length. Their overall design provides linear motion (instead of circular motion) that eliminates stress in the joints.
The Cardio Strider's pedals allow your feet placement to be in front instead of below you, creating a back and forth leg reciprocating movement that feels natural.
CS4 Drive
The CS4 comes with a belt drive system. In particular, the drive system consists of a belt, a pulley, and the perimeter weighted flywheel.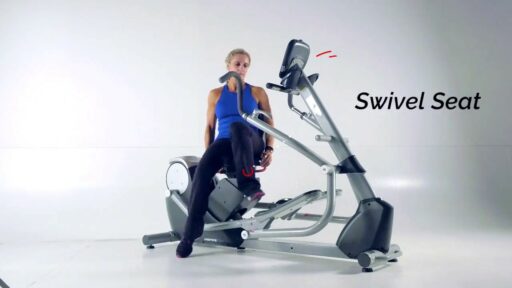 The drive provides a silent and smooth operation that makes it possible to train in front of the TV or listen to good music. Furthermore, the family or the neighbors won't feel bothered by your exercise activities either.
Moreover, the drive system is maintenance-free; thus, it doesn't require any post lubrication or adjustment.
Resistance
Cardio Strider CS4 has a frictionless electromagnetic resistance system that features 20 resistance levels suitable for everyone that wishes to lose weight and improve overall physical fitness with low impact cardio exercises.
The resistance system is motorized; it is only adjustable via the console.
The fact that it is a frictionless resistance system means no wearing parts.
CS4 Console
Accordingly, the console on the CS4 has a lot of exciting and innovative features, and these include the large blue backlit monitor, the several navigational buttons, the 12 preset programs, ten user profiles, and the built-in tablet holder.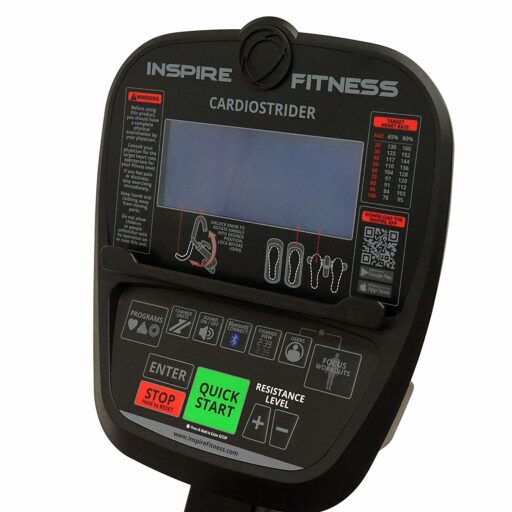 The display has good readability that cannot be diminished by a poorly-lit environment. It displays workout data such as Watts, Distance, RPM, Calories Burned, and Pulse.
The console is also telemetry enabled and compatible with Polar T31 Chest Strap, which is (included) in the package. This means that you can use that to track and maintain your target heart rate zone instead of using the handgrip heart rate sensor.
In detail, the 12 preset programs include six auto-resistance (rolling hills, mountain climb, peak, strength interval, and hill interval), three focus, and three heart rate.
Also, there are ten user profiles available. This means that ten users can store personal data such as age, gender, and weight that the machine needs to provide the users' workout output accurately.
Storage
The storage of the Cardio Strider CS4 will require a little bit of space. In particular, it needs a storage area of 6' long by 3' wide and should be stored indoors, never to be exposed to excessive sunlight, moisture, or rainwater.
The relocation process of the machine is made easy (even though it is considerably heavy) by the equipped handle at the front base and the transport wheels at the rear plate.
CS4 Assembly and Maintenance
The CS4 Recumbent Elliptical machine doesn't come preassembled. However, it is delivered with the significant components already assembled. Therefore, you'll have to attach the front and the rear stabilizer bars, the console mast, the console, the seat, the handlebars, and the pedals to the core unit.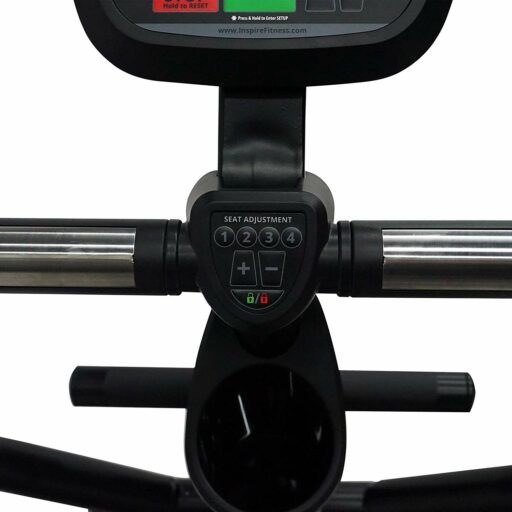 There is also an assembly alternative on Amazon, where you could choose to have someone come over and assemble the machine on your behalf for an extra charge.
The CS-4 doesn't need any significant maintenance that requires lubrication or adjustments. You need to always examine the Strider before use for any loose or broken part to prevent an accident or further damage to it. Then, you must endeavor to always keep it clean from dirt and sweat before and after use.
Pros
It is superlatively sturdy and stable
It supports 350 pounds/158.7 kg maximum user weight; designed for heavy users
It has an innovative seat that swivels 90 degrees to the left and the right for easy access
The seat has a motorized height adjustment that adjusts via the console
The seat's backrest has three different reclining positions
It features a low step-thru design
The moveable handlebars are adjustable to different positions that support workouts that target the back, the chest, the biceps, and the triceps
The cardio machine has two sets of handlebars; the static handlebar that has the EKG sensors on it and the moveable handlebars
The console is telemetry enabled, and Polar T31 Chest Strap is (included)
The machine features 12 preset programs that include six auto resistance, three focus, and three heart rate
Ten user profiles enable ten different users to enter and store data such as age, gender and weight for accurate workout data output by the machine
The pedals are large and have a linear path design that eliminates stress in the joints
The pedals have 12-15 inches stride length
Transport wheels included
The blue backlit monitor displays and tracks workout data such as Watts, Distance, RPM, Calories Burned, and Pulse with outstanding clarity
The operation is smooth and quiet
Low maintenance
Good warranty
20 Resistance levels that offer easy and challenging workouts
It features an electromagnetic resistance system
The machine provides low impact full-body workouts
Water bottle holders for hydration are (included)
30-day risk-free return
Cons
No online connectivity
No sound system or a cooling fan
The display screen may get blocked when something is on the tablet holder
Inspire Fitness Cardio Strider 4 (CS4) Summary
The Inspire Fitness Cardio Strider 4 (CS4)  is a suitable machine for physical therapy clinics and home use. Specifically, it is a rehab machine that provides quality cardiovascular exercises without making the joints sore.
What sets this model apart from others is the motorized seat height adjustment and the Swivel Seat for easy entry on the machine. Also, the backrest has 3 Reclining Positions, and the Stride Length is adjustable, ranging from 12″ to 15″.
Moreover, a weighted flywheel provides for smoother strides, and the static & moving handlebars offer a full cross-training workout. Lastly, the quick release handles allow for the chest, back, biceps, and the triceps muscle groups to be targeted.
I hope you found this article helpful and informative. If you have anything that you'd like to share or opinions about the content on my website, please do speak up. I look forward to your comments, questions, and the sharing of ideas.
Recommended articles: