The Inspire Fitness FT1 functional trainer comes standard with dual 165 lb weight stacks. The weight stack consists of 15 plates, 10 lbs (4.5 kg) each, while the top, stopper plate also weighs 10 lbs (4.5 kg) and 2 x 5 lbs (2.26 kg) addons. That's a total of 165 lb per side (or 82.5 lb of functional resistance per stack). However, you can purchase an extra 50 pound per side if you like.
Each stack has its own fully adjustable pulley. Moreover, each side has 30 different starting positions, giving you a ton of freedom and customization options for your workouts. Furthermore, each pulley also swivels 180 deg freely, allowing you to perform your movements at any angle you prefer.
The Inspire Fitness FT1 for functional training allows you to have complete freedom of movement in any direction or plane while performing weight resistance exercises. These unrestricted exercises are designed to move the way your body naturally moves. Many of the freestanding exercises incorporate core, secondary, and stabilizing muscles, giving you a more efficient workout.
The Inspire FT1 is an excellent training machine for athletes interested in sport-specific exercise movements or for people looking to strengthen their overall bodies, increase stamina and coordination, or lose weight.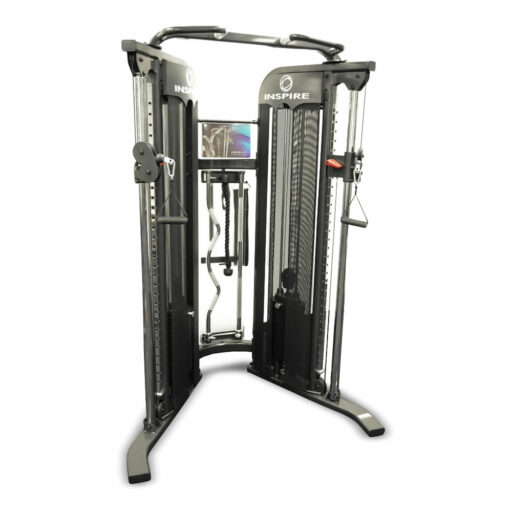 Learn more in my complete review below
Product: Inspire Fitness FT1 Functional Trainer
Price: For a great deal on this gym, merely go here on Amazon
Warranty: In-home: Limited Lifetime on frame and parts / Light-commercial: Limited Lifetime on frame / parts 10 years
My rating: 10/10
Amazon Affiliate Disclosure: I may earn commissions on purchases made through links in this post.
FT1 Frame construction
The Inspire Fitness FT1 functional trainer features a very compact structure with a reasonably small footprint for a home gym system. Its fully assembled frame has a footprint of 46″D x 54″W (116.8 x 137.2 cm).
On top of that, it's a V-shaped machine with a space-forward workout design. Thus, it fits in a corner without the need to leave any clearance at the rear. For this purpose, all of the activities performed on the machine at the front.
The trainer, as it is, does not include an exercise bench. But with the optional Inspire Fitness FID bench attached, you will need at least 82″ (208.3 cm) of space at the front.
The FT1 trainer's highest point is 83″ (210.8 cm), so technically, it can fit in a room with a 7′ ceiling. However, I wouldn't advise placing it in a room with a 7′ ceiling.
To be able to perform all the pull-up/chin-up exercises correctly, it's recommended to set and use the machine in a room with a higher ceiling, to allow the correct range of motion for these exercises.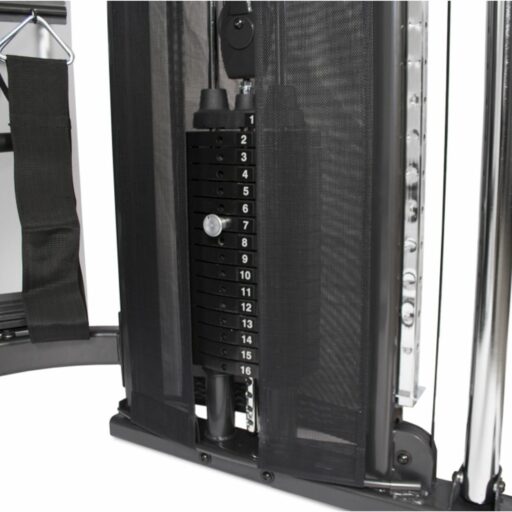 The machine's frame is 2″ x 4″, 11 gauge tubular steel, featuring a durable construction. The rear sustaining frame bars, as well as the base bars, are coated with an electrostatically applied powder finish, resistant to rust and scratching.
However, the guide beams of the weight stacks, the adjustment bars of the front pulleys, as well as the pull-up bar feature a chrome coating.
An essential aspect of this machine is its top bar, which offers the possibility to perform all kinds of pull-ups and chin-ups. This bar has a user capacity of 330 lbs (150 kg). It has a knurled finish for extra adherence and is curved to provide a natural positioning on the hands to minimize stress on the wrists.
Weight stacks and pulleys
The machine's weight stacks sum up a weight of 320 lbs, while the frame structure adds an extra weight up to 405 lbs (183.7 kg). Due to this weight, stability will never be an issue for this fitness machine. The base bars, however, do not have adjustable stabilizers but rest on rubberized pads to alleviate the impact on the floor.
Also, in case you're wondering, the base bars do not have holes in them for anchoring the machine to the floor.
The FT1 Inspire Fitness comes with highly durable, nylon pulleys integrating steel ball bearings. The front pulleys can pivot 180° on their vertical axis, adapting perfectly to each exercise. Their vertical bars offer 30 adjustment positions, and their adjustment, locking and unlocking into place, is done with ease, via their large levers.
Also, the machine's cables are 2,000 lbs rated and coated with a PVC sheet for a smooth gliding motion over the pulleys.
FT1 Accessories
In terms of accessories, the FT1 includes quite a bunch of them. These are an Easy Curl Bar, a Straight Bar, one Ankle Cuff, one Swing Handle for golf or baseball swing exercises, two 5 lbs add-ons (one for each weight stack), one Tricep Rope, and two hand-grips. Along with these, there's also a Multi-Function Wide Belt included, which is for assisted pull-ups. As optional accessories, Inspire Fitness offers a multi-function exercise bench and two 50 lbs weight addons.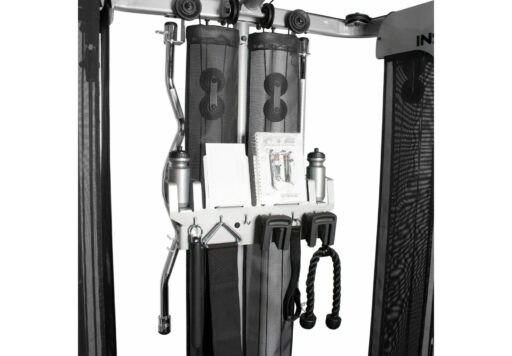 As opposed to other functional trainers, the FT1 integrates a revolving rack at the back, to which you can attach multiple accessories. It's quite a cool and useful feature to have, as the accessories needed for each type of exercise will always be within close reach.
Weight Resistance
The Inspire Fitness Functional Trainer FT1 comes with two weight stacks, 165 lbs (74.8 kg) each. They are heavy-duty, metallic alloy plates, designed to last a lifetime. Each >weight stack integrates 15 plates, 10 pounds (4.5 kg) each, while the top, stopper plate also weighs 10 lbs (4.5 kg).
As I've mentioned above, this functional trainer comes with 2x 5 lbs (2.26 kg) addons. These offer the possibility of adjusting the weight for each stack in increments of 5 lbs.
The weight adjustment for each stack is quick and easy. Each plate has the overall weight specified on it and an adjustment hole. So, to select the desired weight, you have to insert the pin into the plate that indicates it.
The machine offers a weight ratio of 2:1 for each stack. This means the maximum weight resistance generated for each stack is 82.5 lbs (37.4 kg). However, the weight stacks are upgradeable. Inspire Fitness offers 50 lbs (22.6 kg) weight stack add-ons, so each one of the machine's stacks can be upgraded to 210 lbs (95.2 kg).
FT1 Possible Exercises
This fitness machine offers the possibility to execute more than 40+ exercises for the main groups of muscles. Some of the most important ones are:
Arm exercises
Bicep curls
Lateral single-arm biceps curls
Lying biceps curls
Close-grip pulldowns
Triceps extensions
Triceps press-downs
Kneeling triceps extensions
Lateral single-arm triceps extensions
Prone triceps extensions
Pull-ups / Chin-ups
Assisted Pull-ups / Chin-ups
Abdominal Exercises
Back Exercises
Back flies
Prone back flies
Prone reverse flies
Back presses
Lat pulldowns
Aerobic rowing
Crossover rowing
Kneeling rowing
Chest Exercises
Chest presses
Single-arm chest presses
Wide grip chest presses
Close grip chest presses
Chest flies
Incline chest flies
Lateral chest flies
Single-arm chest flies
Pullovers
Pullovers with crunches
Leg Exercises
Stand-up leg curls
Calf raises
Squats
Single-leg squats
Kneeling single-leg squats
Wide squats
Twisting squats
Jumping squats
Front lunges
Hip extensions
Hip adductions / Hip abductions
Shoulder Exercises
Shoulder presses
Upright rows
Lateral deltoid raises
Front deltoid raises
Lying front deltoid raises
Front deltoid raises with leg curls
Shoulder extensions
Lateral arm pulls
Of course, some of these exercises require a bench. But for some of the seated exercises, you can use just about any chair available.
A handy accessory included with this trainer is the multi-function belt. Specifically, this gives you the possibility to perform assisted pull-ups and chin-ups. Furthermore, you can attach it to the front lateral pulleys set up in one of the lowest positions and step on it to balance some of your weight with the weight stacks of the machine. This can be very helpful for users with a low level of fitness, allowing them to perform more pull-ups and chin-ups.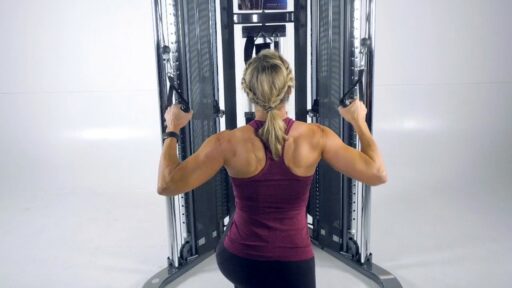 FT1 Assembly and Maintenance
Although the assembly of this functional trainer isn't extremely complicated, there are quite many parts to put together so that the process will take at least 3-4 hours.
The manual provides excellent assembly instructions, though, so with a bit of intuition, anyone should be able to do it without professional help. Also, all the tools required for the assembly are (included).
Maintenance doesn't require much. Once assembled, it is recommended to periodically grease the guide rods of the weight stacks to facilitate their smooth gliding. Also, if the pulleys develop squeaking noises, their lubrication may be required.
Details and Specifications
Assembled dimensions: 46″D x 54″W x 83″H inches (116.8D x 137.2W x 210.8H cm)
With Optional Bench: 82″D x 54″W x 83″H  (208.3D x 137.2W x 210.8 cm)
Assembled weight: 725 lbs (328.9 kg)
Weight resistance system: Steel plate stacks
Max. weight resistance: 2 x 165 lbs (74.8 kg) (2:1 ratio)
Upgradeable 50 lbs (22.6 kg) weight plate addon per stack
Possible exercises: 40+
Warranty:
– In-home: Limited Lifetime on frame and parts
– Light-commercial: Limited Lifetime on frame / parts 10 years
Pros
Extremely sturdy and stable frame;
Relatively small footprint for a home gym system;
Compact, v-shape, space-forward design, does only require clearance at the front;
Smooth pulley and cable movement;
30 adjustment positions for its mobile pulleys;
180° pivoting adjustable pulleys allowing a natural, healthy range of motion for all exercises;
Ergonomic, dual position pull-up bar with knurled grips for maximum adherence;
165 lbs weight for each stack;
Weight addons included for 5 lbs adjustment increments;
Upgradable weight stacks by up to 50 lbs each;
Over 40+ exercises available;
Numerous included accessories: Multi-Functional Belt, Easy Curl Bar, Straight Bar, Ankle Cuff, Swing Handle, Tricep Rope, 2- Single Handles;
Revolving rack for all the accessories;
Little maintenance required;
Quiet operation;
Fairly easy to set up;
Excellent warranty plan.
Cons
Inspire Fitness FT1 Summary
The Inspire Fitness FT1 is a dual-stack functional trainer, offering 160 lbs (+5 lb increment addons) for each stack, 30 adjustment positions for the front pulleys. In particular, the frame features a minimal footprint for a home gym, with a v-shape, space-forward design. Also, it comes with a wide array of accessories, including a curl bar, straight bar, two handles, ankle cuff, tricep rope, and several others.
It offers the possibility to perform more than 40+ exercises. In all, it's one of the best functional trainers out there, and even though it costs more than $2,000, its quality and versatility match the price.
I hope you found this article helpful and informative. If you have anything that you'd like to share or any opinions about my website, please do speak up. I look forward to your comments, questions, and the sharing of ideas.
Recommended articles:
Is the Body-Solid GDCC200 Functional Trainer a good investment?
Could the Powerline P2X Home Gym be the right home gym for you?
Please follow and like us: