The Inspire Fitness M5 Multi-Gym is a versatile, all-inclusive, 2-stack piece that suits home and commercial gyms. Built with a unique combination of fixed exercises and free-motion movements, the M5 can work for big and small muscle groups.
Fixed pressing helps develop size and strength, while free motion movements engage smaller muscles and improve mobility. Also featured is the seated leg curl station for shaping glutes and strengthening hamstring muscles.
A patented dual back pad tilt is also standard for superior fit and comfort. Its construction features 11 gauge steel for its frame, nylon pulleys (not plastic), 2000lb tensile strength cables, and precision ball bearings in its press arm pivot.
The M5 is not only highly functional, but it's an eye-catching addition to any home or commercial gym. The space-saving "L" shaped design makes the M5 Multi Gym one of the most impactful machines with one of the smallest footprints.
Learn more in my complete review below!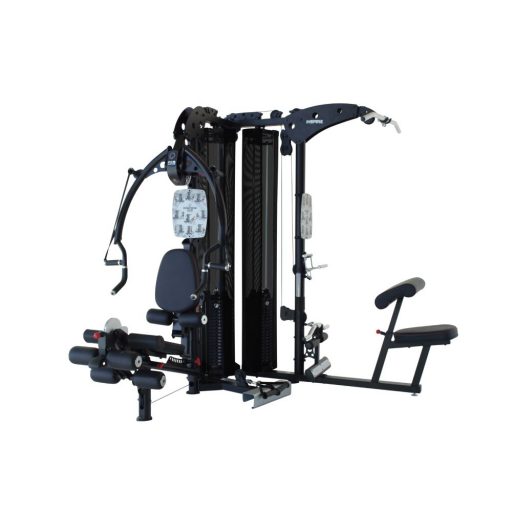 Product: Inspire Fitness M5 Multi-Gym
Price: For a great deal on this gym, merely go here on Amazon
Warranty: Residential-Limited lifetime (see the commercial warranty below)
My rating: 9.8/10
Affiliate Disclosure: As an Amazon Affiliate Program participant, I earn commissions on purchases made through links in this post. Full disclosure
Details and Specifications
11 gauge steel frame
2000lb. tensile strength cables
Orthopedic pads provide exceptional comfort
Hybrid fixed and functional training
Space-saving "L" shaped design
BENCH PRESS PIVOT POINTS: 1½" precision steel ball bearings
OTHER PIVOT POINTS: Oil Impregnated brass bushings
Dual 215lb weight stacks for multiple users
Resistance Ratios: Lower pulleys 1:2, Lat/Row/Curl pulley 1:1, Leg Ext 1:1, Leg Curl 3:4, Leg Press 2:1, Press Arm 1.2:2
Dimensions: (W X L X H): 88 in x 94 in x (Max) 85 in. With Optional Leg Press: 88 in x 124 in x (Max) 85 in
Weight: 900 pounds
Residential Warranty: Limited lifetime
Commercial Warranty: Limited lifetime on frame /  Parts 10 years
M5 Overview
Whether looking for the best multi-gym station for your home or a great multi-station gym for your commercial facility, the M5 has everything you need! Its unique press arm offers both fixed pressing exercises and free motion movements.
For instance, this is important because fixed pressing exercises help develop size and strength, while free motion movements improve mobility and coordination.
You can always do exercise manually, but that option can be a tad boring and requires a lot of discipline. This product has a whole load of quality features, including an orthopedic pad enabling a more comfortable and enjoyable workout.
Also, a great leg extension feature, an EZ fitness bar, a wide and varied selection of workouts to suit your requirements, a flexible training facility, the L-shaped design makes it ideal for space-saving and storage, dual weight stacks, and an ankle strap.
Main pressing arm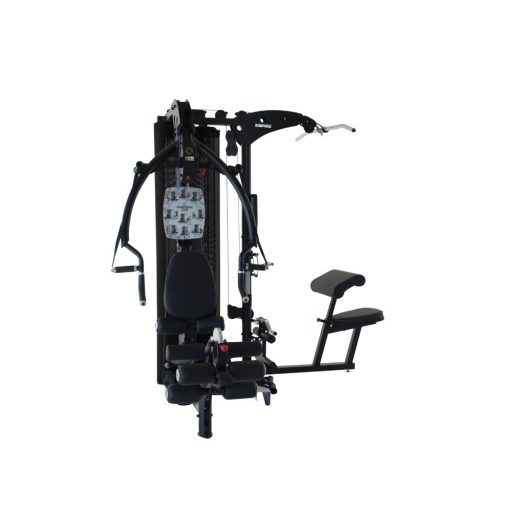 In recent years, home gyms have undergone significant changes in their design and exercises. However, as long as you have space to get one set up, you can find a machine to suit almost any budget.
As with any fitness equipment, you get what you pay for in terms of quality. Inspire Fitness has gone to great lengths to ensure their M5 Home Gym provides everything you need for a full-body workout.
The first design feature I wanted to look at was the main pressing arm. Many home gym systems usually follow a fixed plane of motion and offer relatively limited muscle activation.
What's different about the Inspire Fitness M5 is that the arm's angle is adjustable, allowing you to work your back, shoulders, and chest.
The back support and seat are fully adjustable to ensure you're always comfortable performing the exercise.
Slide the back support along the rail to be closer to the weight stack if you want to perform a few chest presses, or slide it closer toward the leg developer if you perform seated rows or lat pulldowns.
There's even a set of padded foam rollers to hold your lower body firmly in position during the exercise, helping you get the most out of every rep and set. As well as its patented dual back pad tilt for superior support and comfort.
M5 4 Point cable pulley system
With most home gym setups, it's not unusual to find you only have the option of one or two cable pulleys. You can usually find a machine that offers a high cable and leg developer for a few hundred dollars but very little more. You'll be pleased to know this isn't the case with the Inspire Fitness M5.
The low cable pulley attached to the leg developer is explicitly for that purpose, with a different low pulley available for curls, rows, lateral raises, etc.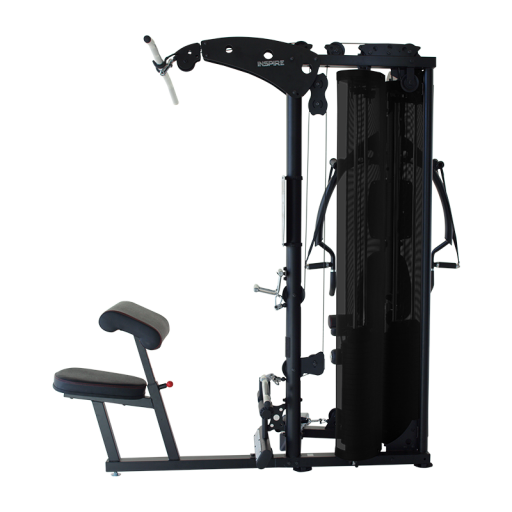 You might have also noticed a cable pulley positioned directly behind the padding where your headrests are, between the small set of handles.
For instance, this is ideal for seated ab crunches and overhead extensions, as you can train your core with heavier weights to stay within your target rep range.
The entire weight plate stack has also been shrouded with a protective cover to improve safety and prevent injury.
High cable pulley design
With the back being such a large and complex muscle group, the chances are that if you are using dumbbells alone, you don't see the gains in size and strength that you should.
Of course, the low cable pulley is for standing cable rows, upright rows, and shrugs, but the high cable pulley is the feature that will provide the most options in terms of varying your workout plan.
Whether you choose an overhand grip with your hands at either end of the bar to focus on your lats or an underhand grip to focus on the overall thickness and muscular development, the lat pulldown bar is an excellent addition to any back workout.
The option is to remove the lat pulldown bar altogether if you want to replace the attachment with a smaller straight bar, tricep rope, or single handle.
M5 Leg and lower body workouts
One of the great difficulties in choosing a home gym is finding a design that provides a leg developer with a full range of motion. Most machines stop when your legs are at around a 90-degree angle.
Due to the range of different position settings, this is still possible with the M5, but you can create a broader range of motion for a more significant stretch and contraction in your quads.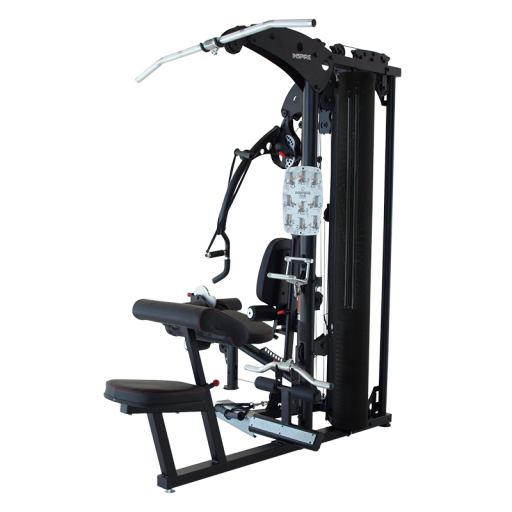 A similar design to the padded rollers attached to the back support ensures that there's no pressure on your legs that could reduce the number of reps you can perform in each set.
M5 Available exercises
Home gyms have become so popular that their designs have become more advanced in exercise options.
Where you would once only find a lat pulldown and chest press handles with a fixed range of motion, the M5 now offers variable planes of movement with its main pressing arm to provide various exercises from one design feature.
There's also the benefit of having so many cable positions. Their nature of following your natural range of motion as your curl, press, and pull the various attachments lets you work for every muscle group from multiple angles, ensuring complete muscular development.
Listed below is just a sample of the exercises you can perform with the M5:
Seated ab crunches
Upright rows
Shoulder press
Bicep curls
Leg extensions
Side lateral raises
Lat pulldowns
Tricep pushdowns
Hammer curls (rope attachment)
and many more…
M5 Optional Add-ons:
Professional home gym assembly services
When ordering a new home gym system, you might wonder how easy it will be to set up. Most will include manual, but assembly instructions' quality can differ significantly between models and manufacturers.
Thus, this can be especially true with two-station home gyms like the Inspire Fitness M5, where you have multiple pivot points and a complex multi-position cable system.
One option is to hire a professional with experience setting up this home fitness equipment. So who can you trust to get the job done?
Amazon has recently introduced many home assembly services for ellipticals, treadmills, and home gyms. Enter your zip code in the form above to check the options for your location.
You can even find hundreds of highly-rated reviews from customers who have already taken advantage of Amazon's professional home gym assembly service.
With all the necessary tools, experience, and a typical assembly time of just 3 hours, it's often the quickest way to start your new weight training workouts.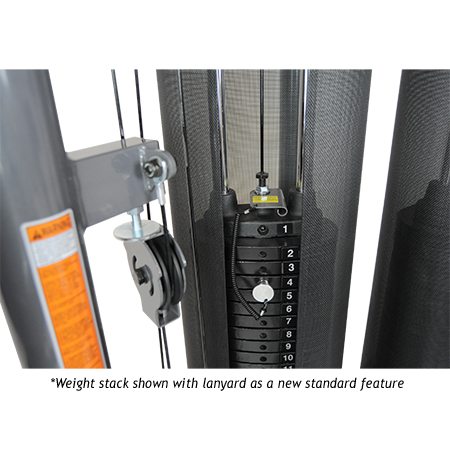 Pros
L-Shaped Design;
Space Saving Machine;
Dual 215lb Weight Stacks;
Two Stations for multiple users;
Fixed and cable motion press station;
Seated leg extension and curl;
Dual back pad adjustment;
Calf block standard;
Adjustable preacher curl station;
EZ Bar;
Included Accessories: 2 x Double D Low Row Handle, Aluminum Lat Bar, Aluminum Curl Bar, & 2 x Rubber D Handles.
Cons
Inspire Fitness M5 Multi-Gym Summary
If you're looking for a step up over the more traditional style of home gyms, the Inspire Fitness M5 is compact enough to fit comfortably in the corner of your room yet still offers dozens of exercise options.
The patented pressing arm design with its quick-change locking pin for various starting positions and exercises sets this range apart from most other multi-gyms.
The only extra feature I would like to see is a broader choice of exercises for the lower body. Although the low cable and leg developer offers some great options, the optional leg press attachment is needed to develop better overall size and strength.
Overall, if the 'M' price range is within your budget, the impressive lifetime warranty, choice of exercises, and attractive design are just a few reasons I recommend this home gym.
I hope you found this article helpful and informative. Would you please speak up if you have anything you'd like to share on the topic or any opinions about my website? I look forward to your comments, questions, and the sharing of ideas.
Please remember that you should consult your physician to determine if you have any medical or physical conditions that could risk your health and safety or prevent you from using the equipment properly. In addition, your physician's advice is essential if you are taking medication that affects your heart rate, blood pressure, or cholesterol level.