The Bodycraft ECT400g Elliptical delivers better value than ever. Get the same movement inside your home as you do outside in a gym with a Bodycraft elliptical. It's a smart choice for those who like to run but with a lesser impact on the joints.
Some top performance specifications are adjustable 23″ stride, a 19-pound flywheel with smooth magnetic resistance offering 20 levels, and moving and stationary handlebars with comfortable grips. Smooth and silent, the Bodycraft ECT400g has a streamlined design. The heavy machinery has got the wheels on, hence extremely portable elliptical.
The Bodycraft ECT400g Elliptical provides more comprehensive workout programming and even better workout feedback through its advanced console and technology. As compared to competing brands, they have superior construction for higher performance, stability, and durability.
Bodycraft ECT400g Elliptical is one of the best home ellipticals of 2019 for those looking for a toned body without making many efforts in the gyms or health clubs. It's an excellent choice for beginners new to body shaping workouts.
Learn more in my complete review below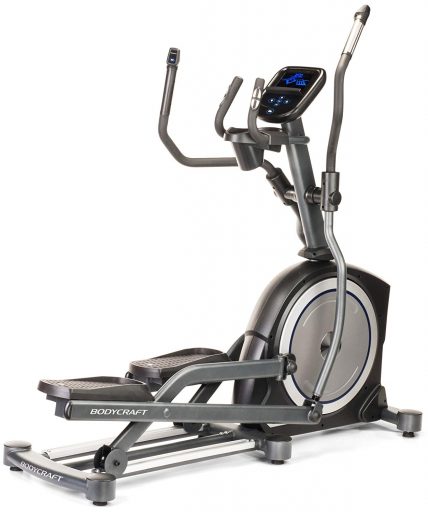 Product: Bodycraft ECT400g Elliptical
Price: For a great deal on this elliptical, merely go here on Amazon
Warranty: Residential: Frame lifetime / Parts 7 year / Labor 2 years (see commercial warranty below)
My rating: 9.4/10
Affiliate Disclosure: As an Amazon Affiliate Program participant, I earn commissions on purchases made through links in this post. Full disclosure
Details and Specifications
Assembled dimensions: 73.5L x 28.5W x 68H inches (187L x 72W x 173H cm)
Assembled weight: 212 lbs (96 kg)
Flywheel weight: 20 lbs (9 kg)
Supported weight: 350 lbs (159 kg)
Stride: 23 inches (58 cm)
Incline: No
Pedals: Cushioned
Handlebars: Both mobile and fixed (with tension controls and pulse sensors)
Resistance: Self-generated, eddy current, 20 levels
Console: 8 programs, workout summary
Extras: Tablet holders, bottle holder
Warranty:
– Residential: Frame lifetime / Parts 7 year / Labor 2 years
– Light Commercial: Frame 10 years / Parts 3 years / Labor 1 year
ECT400g Frame construction
The BodyCraft ECT400g features a 2-piece frame. The rear part with the pedal rails connects to the front section, which hosts the drive and resistance systems. The unit's whole structure is solid steel tubing; however, the pedal wheels glide tracks are aluminum-made. Also, the covers of the drive and resistance elements are ABS material.
All the steel bars in the machine's frame have corrosion-resistant and chip-resistant paint. The color used is gray, with the BodyCraft logo painted white, except for the aluminum rails, which have their natural polish.
Due to the fair amount of steel bars in its construction, the fully assembled unit is heavy. It weighs approx. 212 lbs (96 kg), so it is advisable for two people to build it. However, once assembled, it's front wheels its front wheels facilitate its transport and relocation.
This whole impressive weight plays a significant role within the unit's stability, though. And on top of that, the six contact points with the floor are equipped with adjustable, rubberized stabilizers. Therefore, you can be sure that you won't have any stability issues with this machine on any level.
Just like similar machines with front-drive, the ECT400g machine takes quite a bit of usable space. It's approx. 71″ (180 cm) long, but the pedals extend over the base frame at the rear by two and a half inches when the unit is in use, so its total length should be considered 73.5″ (187 cm).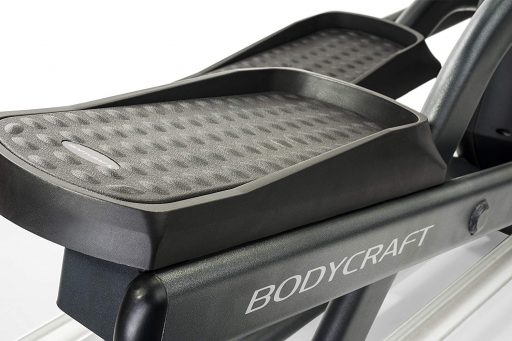 Its width is 28.5″ (72 cm), while the maximum height of the handlebars reaches 68″ (173 cm). It's advisable to leave at least two feet of clearance all around the unit when used for safe access and operation.
Pedals & handlebars
This BodyCraft elliptical trainer comes with a broad set of pedals attached to two heavy-duty steel bars. The unit's pedals and the internal crank supports users up to 350 lbs (159 kg).
The pedals themselves are durable ABS material and integrate a thick layer of cushioning. Therefore, the elliptical workout eliminates a lot of impact on the joints. However, these integrated cushions also reduce a considerable percentage of the stress on your feet.
Their surface is highly adhesive, while their front part has a bit of border to improve foot stability and positioning.
Like most other elliptical trainers with a front drive, the ECT400g model features two handlebars, one mobile, and one stationary. The mobile bars are quite long; they offer the possibility of adopting several grips.
The left grip features a Start (GO) control, while the right grip integrates resistance controls. The stationary bars come with stainless steel pulse sensors, so the unit's console can monitor your heart rate by holding on to them.
All the joints between the handlebars, console mast, and pedals integrate heavy-duty, sealed ball bearings. Therefore, the movement of the pedals and handlebars is exceptionally smooth. The pedal bars have industrial-quality wheels, which also combine ball bearings. The wheels are covered to prevent damage or accidents and prolong their lifespan.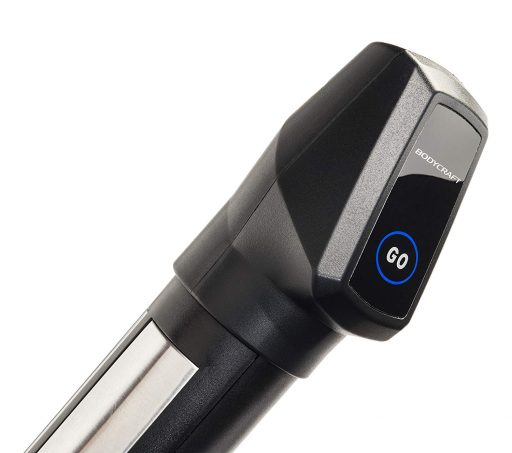 ECT400g Elliptical path, stride & step-up height
Even though the BodyCraft ECT400g is a light-commercial elliptical trainer, it doesn't have an incline system. Its elliptical path is horizontal, promoting a natural stride.
The spacing between the pedals is only 2.5″ (6.35 cm), resulting in a natural foot positioning on them without generating extra stress on the knees and ankles.
The unit's stride is non-adjustable. The stride length is 23″ (58 cm). Therefore, it should accommodate users up to 6'5″ (196 cm) comfortably. However, users shorter than 5'3″ (160 cm) may consider this stride a bit long for their natural range of motion, but they should still be able to use the machine.
The step-up pedal height is 12″ (30.4 cm), while at their highest point, the pedals climb a few more inches. Therefore, it is advisable to place and use the unit in a room with a ceiling 18″-19″ (45-48 cm) taller than the user's size.
Drive
This BodyCraft elliptical trainer integrates a mid-range 20 lbs (9.0 kg) flywheel, balanced, designed to provide a smooth and steady pedaling motion. It is also bi-directional. In other words, you can pedal in reverse if you want to diversify your workouts. Also, when driving in reverse, the console will continue to track your workout metrics.
The unit's transmission is made available by a poly-v rubber belt, resistant to stretching. This type of transmission contributes to the drive's quietness, the pedaling motion being almost entirely silent. It also doesn't require any lubrication.
One of the main strengths of the BodyCraft ECT400g is the self-generating power system. It integrates a small power generator, which creates the required energy for the console to become operable. The console has a rechargeable battery that is powered when you pedal. Therefore, you don't need to connect the unit to a power source.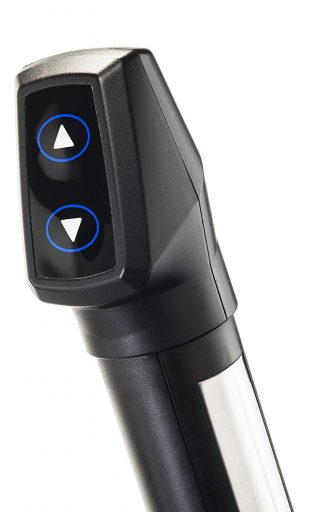 ECT400g Resistance
The resistance system is eddy current-based. It includes a servo motor and a magnetic brake. It's completely digital; in other words, you can only adjust the console's resistance or the controls in the right grip. As you adjust the opposition, the servo motor will change the brake's position to the flywheel, altering the internal magnetic field's intensity and increasing or decreasing pedal tension.
The unit's resistance system is automatic. The console has several programs, and if you exercise by using one of them, the machine will auto-adjust the resistance depending on the section of the program in use.
This elliptical trainer offers 20 levels of resistance. The lowest levels provide a very light workout, great for warming up, recovery training, or users with specific disabilities. Conversely, the top 18-20 resistance settings give you the possibility to achieve a high heart rate in a short time and burn more calories.
Console
Compared to other elliptical machines in this price range, the console included with the ECT400G model lacks features. For example, it doesn't have online connectivity or a sound system, or a cooling fan. However, it does provide several workout programs and covers all the essential workout metrics.
The console has a high-contrast LCD with a very intuitive and easy-to-use interface. It indicates time, distance, speed, calories, RPM, watts, pulse, and the current level of resistance.
The speed and distance can be either metric or English units. You can input specific personal data such as age and weight so that the unit can calculate your energy output and calories burned with higher accuracy.
The console unit is telemetric. It can read your pulse via a Polar T34 HR chest strap transmitter. This accessory (is not included), though. Thus, if you don't opt for it, you will have to use the integrated pulse sensors to benefit from a heart rate reading.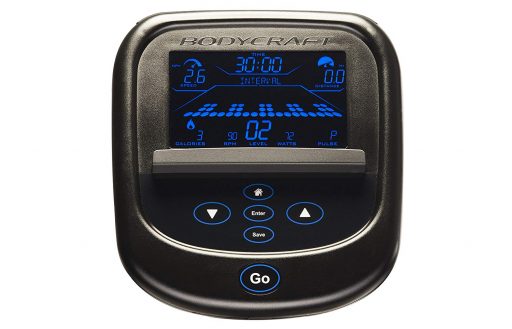 ECT400g Programs
In terms of programs, the console has 8. These are Manual, Random, Interval, Hill Climb, Strength, Target HR, HR Interval, and Custom. The Manual program gives you the possibility to exercise freely, adjusting the resistance you like during pedaling. A workout summary review function is also available.
The machine will auto-adjust the opposition for the HR programs to keep you in the selected or required HR interval. The Custom program allows you to create your workout, while the Random program automatically generates a set of workout profiles if you want a new challenge.
Amenities
The console also has an extendable tablet holder and a front tablet holder. Its bottom part features a USB port, but this port is only for software updates; you can't transfer your workout data on a USB stick for online transfer, and it also doesn't charge your phone or tablet.
ECT400g Assembly & Maintenance
The machine's assembly isn't too complicated, but it may take more than an hour due to the many parts that require assembly. You will mostly have to attach the two primary base frame parts, add the console mast, the pedals bars, the handlebars, the pedals, the bottle tray, the console, and connect the required wires.
All the necessary tools (are included), while the manual provides very clear schematics and assembly instructions.
In terms of maintenance, this elliptical doesn't require much. The internal parts and the unit's joints are pre-lubricated from the factory and shouldn't require further lubrication for many years of use. Therefore, you only have to check for loose bolts and parts from time to time, remove the unit's dust, and keep liquids away from the console.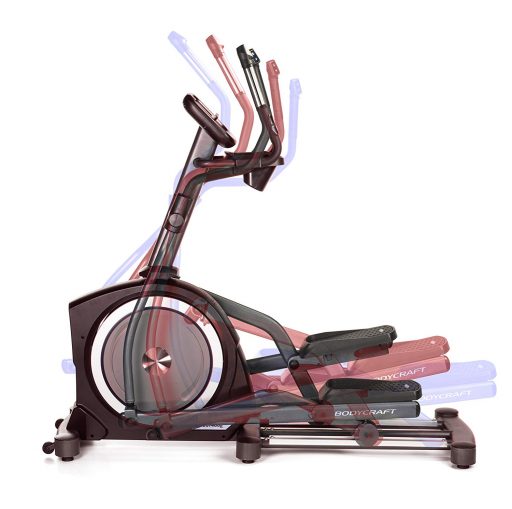 Pros
Commercial-grade, heavy-duty frame construction;
350 lbs user weight limit;
Adjustable levelers on all bases;
Transport wheels on the front base;
Cushioned pedals;
Balanced, 20 lbs flywheel for a smooth pedaling motion;
Multi-grip handlebars;
EKG pulse sensors;
Silent operation, ideal for apartment use;
Self-generated "green" power system;
High-contrast LCD console with a user-friendly interface;
20 levels of eddy current resistance;
Eight workout programs;
Workout summary feature;
Extendable tablet holder;
Resistance controls integrated into the right mobile arm;
Bottle/accessory holder included;
Little maintenance required;
Excellent warranty.
Cons
No incline;
It doesn't have a sound system;
No cooling fan;
No online connectivity.
BodyCraft ECT400g Elliptical Summary
The BodyCraft ECT400g is a light-commercial elliptical trainer featuring an eddy current, self-powered resistance system with 20 levels of resistance. Its console offers eight workout programs, a workout summary feature and is also telemetric. The machine has a heavy-duty frame that can support users up to 350 lbs.
Therefore, it's a trainer for light to medium cardio training, recovery training, muscle toning, stamina development, and weight loss. And finally, it's not exactly an affordable unit but does offer excellent value for the price.
I hope you found this article helpful and informative. If you have anything you'd like to share or opinions about the content on my website, please speak up. I look forward to your comments, questions, and the sharing of ideas.