The JOROTO X1S is a stationary spin bike for indoor use with a modern professional design and a rock-solid build for your cardiovascular workout in the comfort of your home. JOROTO X1S can carry a maximum user weight of 280 pounds on its AV type frame, which is plenty for most adults. You can use it sitting down and standing just like you can on any spin bike.
It is a chain-driven bike that runs smoothly and feels consistent and stable with the felt pads when you're riding the bike thanks to the decent size 35-pound solid flywheel. There is a tension knob in the middle that lets you change the challenge or intensity of your exercise with the simple twist of a knob to be able to burn more calories and reach your targets faster.
You may adjust its large and comfy seat four ways- forward and backward and up and down to accommodate people at different heights. It's adjustable for both the proximity to the handles and the height, so you remain comfy during your long workouts. Your feet shall stay in place on the textured and caged anti-slip foot pedals.
It has a multifunctional LCD monitor that shows your speed and calories burned, distance, and time. So that you stay motivated on your way to your goals, there is a tablet holder just between the two handles, and you can watch movies, read an e-book or listen to music during your workout.
Learn more in my complete review below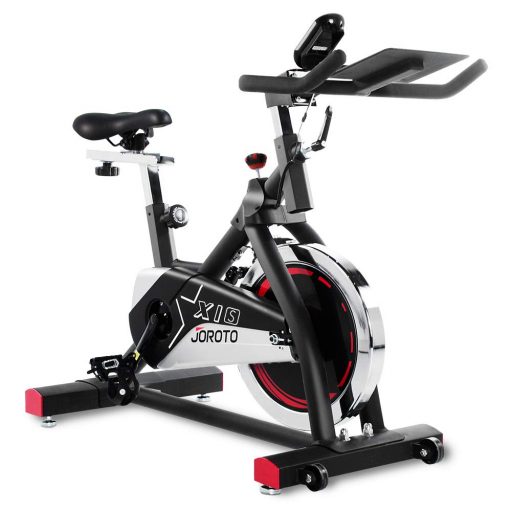 Product: JOROTO X1S Spin Bike
Price: For a great deal on this bike, merely go here on Amazon
Warranty: 1 year limited
My rating: 8.5/10
Amazon Affiliate Disclosure: I may earn commissions from purchases made through links in this post.
Details and Specifications
Assembled dimensions: 42.9L x 19.7W x 42.5H inches (109L x 50W x 108H cm)
Assembled weight: 75 lbs (34 kg)
Flywheel weight: 35 lbs (16 kg)
Supported weight: 280 lbs (127 kg)
Handlebars: 2-way adjustable
Seat: 4-way adjustable
Pedals: With toe cages
Drive: Chain
Resistance: Friction, top-down pad
Console: Time, distance, speed, RPM, calories, goals
Accessories: Tablet holder
Warranty: 1 year limited
X1S Frame construction
The JOROTO X1S indoor cycling trainer features a pretty durable steel frame, combining polygonal bars with round bars for improved sturdiness and aesthetics. Most of the bike construction is steel-made, the only exceptions being the chain cover, several other small covers, and the tablet holder.
The frame is an AV type, featuring precision-welded connection points between its tubes, the only parts connected via screws are the base stabilizers. Also, the main oblique tube and the upright seat post tube are connected by a small, horizontal bar that serves the purpose of a step-up bar.
It's assembled weight is approx. 75 lbs (34 kg), though, that provides plenty of stability. Plus, both bases feature adjustable stabilizers, offering the possibility to perfectly level the unit on any floor, regardless if you place it on an exercise mat.
Its assembled footprint is approx. 43″L x 20″W (110 x 50 cm), while its highest point (given by the top of the console with the handlebar set at its most elevated position) is 42.5 (108 cm). However, it is recommended to assign a usage space for the unit that provides at least two feet of clearance around it.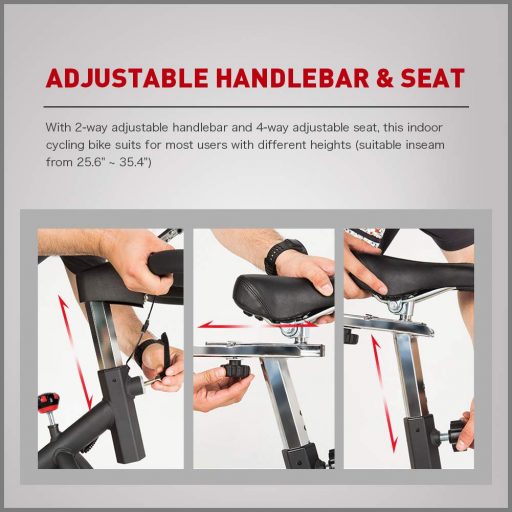 A corrosion-resistant and abrasion-resistant paint finish coat the bike's frame. The primary color used for the base frame is black. However, the seat and the handlebar posts feature a chrome finish.
Seat and handlebars
The JOROTO X1S exercise bike features a 4-way adjustable seat. Its vertical bar has several height adjustment positions, while its horizontal slider also offers a few inches of front to back adjustment.
Thus, the bike can accommodate users with an inseam between 26″ and 35″ (66 – 89 cm), or users between 5'0″ and 6'4″ (153 – 193 cm). Also, the specified user weight capacity is 280 lbs (127 cm).
The seat integrates a pretty consistent layer of cushioning, especially in its rear part. It provides more comfort than the average spin bike seat. It also has a middle cutout meant to give a bit of airflow under the user and promote healthy blood circulation.
The seat also has a standard design. This means you can slightly tilt it forward or backward, apart from the front-back and up-down adjustment. Plus, in case you will ever need a replacement for it, compatible models are widely available.
The bike's handlebar only offers 2-way adjustability (up, down), providing several inches of vertical adjustment. It has a multi-grip design with an incorporated tablet holder. It's also urethane-dipped, to offer a superior grip.
X1S Drive system
Just like the JOROTO X3 model, the X1S comes with a chain drive system. This type of transmission comes with several advantages. To begin with, it's highly durable; with proper care, it can last a lifetime. Also, in case it brakes or catches rust, you can find a replacement in any bike shop or online since it uses a standard bike chain.
The integrated flywheel is a mid-range one. It weighs 35 lbs (16 kg), being heavy enough to provide a consistent momentum and an intense muscle burn. It's also perimeter-weighted, which means that it delivers aggressive inertia, high for spin workouts, and intense cardio training.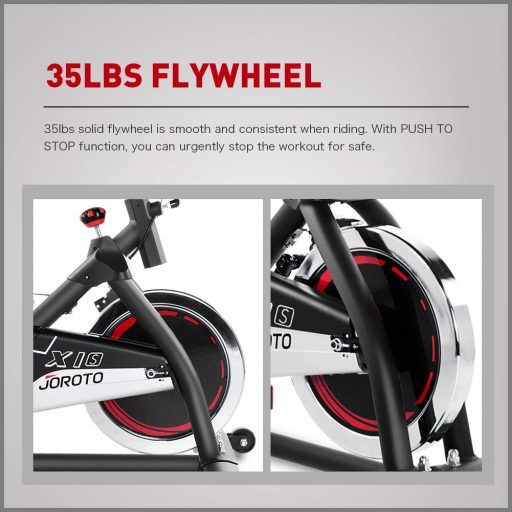 The flywheel is bi-directional. This means you can pedal in reverse if you want. Therefore, you can put some diversity into your workouts. However, since the drive system is simple, without any derailleur, you cannot coast on the bike; the pedals continue to spin for as long as the flywheel is spinning.
Since it's an exercise bike designed for spin workouts, the JOROTO X1S has a heavy-duty crankset that can support users up to 280 lbs (127 kg) in a complete standing up pedaling routine.
The pedals are made of heavy-duty nylon material and equipped with adjustable toe cages. They do not have SPD elements for spin shoes, but since they have standard (9/16) threads, compatible replacements for them are widely available.
Resistance system
This JOROTO exercise bike features a standard friction resistance system. It uses a top-down felt pad, which connects to the tension dial on top of the oblique frame tube. As you turn the dial clockwise, the pad applies more friction to the flywheel, which results in an increased resistance on the pedals.
The tension dial doesn't have "clicks" or resistance levels specified on it. Just as for any other spin bike with friction resistance, you tighten it until you get the tension that feels adequate for your training. As a general idea, you can tighten the pad on the flywheel up to the point where you can barely pedal.
The bike's tension dial has a dual function; it also acts as an emergency brake. You can press it down to quickly stop the flywheel from spinning. As we've mentioned above, the pedals continue to turn for as long as the wheel is spinning.
Therefore, to prevent any injuries, it's recommended to use the emergency brake when you need to stop pedaling or when you want to begin driving in reverse.
The resistance pad will wear over time and will require replacement. Also, if it produces a squeaking noise when in contact with the flywheel, it is recommended to lubricate it with a bit of silicone lubricant.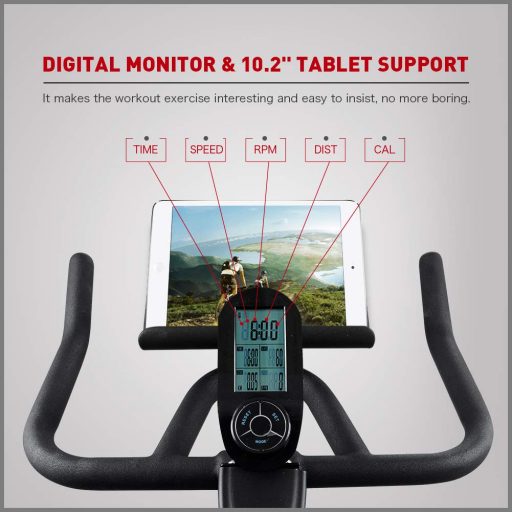 X1S Console
The console included with the JOROTO X1S is quite a bit better than the average, primary bike computer. To begin with, it features a 5-window display that shows time, distance, speed, RPM, and calories burned. It has a SCAN function, and all these workout metrics can be shown on the top, larger display in a sequence, for a few seconds each.
Goal settings are available for time, distance, and calories. In other words, you can select countdown values for these metrics, and the smaller windows show will show the remaining amount up to the chosen goal.
The console is battery-powered. It starts up when you press the MODE button, or when you begin pedaling. It also has a sleep mode to which will enter after several minutes of inactivity on the bike.
X1S Assembly and Maintenance
The main elements of the bike's drive and resistance systems come already assembled. To be more specific, the flywheel, the crankset, the chain, and the brake pad are already attached. Therefore, you'll have to connect the base stabilizers, the pedals, the seat, the handlebars, and the console.
This shouldn't take more than 30-40 minutes. The manual provides step-by-step assembly instructions and all the necessary tools (are included).
For maintenance, it's recommended to lubricate the bike's chain every few months. Standard bike chain oil is the best choice for it. Other than this, it's advisable to wipe off the sweat from the frame and periodically check the unit for loose bolts and parts.
Pros
A sturdy construction – supports users up to 280 lbs;
Aesthetic design;
Both base bars have adjustable stabilizers;
Transport wheels on the front base;
Step-up bar above the crank;
Superior micro-adjustability – 4-way adjustable seat, 2-way adjustable handlebar;
Cushioned, standard seat, with a longitudinal groove for breathability and durable upholstery;
Multi-grip handlebar covered by rubber foam for optimal comfort;
Standard friction resistance;
Inertia-enhanced 35-lb flywheel for consistent inertia;
Heavy-duty crank, able to support any user up to the maximum listed weight, in upright pedaling position;
Heavy-duty, standard pedals with toe cages;
Durable, standard chain drive which can last a lifetime with proper care;
The console included – it can track time, speed, RPM, distance, and calories;
Countdown settings for time, distance, and calories;
Easy to assemble;
Little maintenance required.
Cons
No bottle holder;
The display of the console does not have a backlight.
JOROTO X1S Summary
The JOROTO X1S is an indoor cycling bike featuring a standard friction resistance system, an inertia-enhanced 35 lbs flywheel, and a weight capacity of 280 lbs. It excels in micro-adjustability and also includes a fitness meter with countdown settings for time, calories, and distance.
It's perfect for medium to intense cardio workouts, interval training, stamina, and leg strength development, and for weight loss. And finally, it's an affordable bike compared to many other spin bikes, offering top value for the price.
I hope you found this article helpful and informative. If you have anything that you'd like to share or opinions about the content on my site, please do speak up. I look forward to your comments, questions, and the sharing of ideas.
Recommended articles: