The Kettler Giro S Indoor Cycling Bike is about the low impact and extremely natural movement that invigorates and challenges the body to attain higher levels of cardiovascular endurance and strength. The Giro S is structured to give the user the experience of riding a real road bike in a competition.
The features and options are all tailored for commercial or private gym owners that are looking to enhance their physique and enjoy the experience of indoor riding like it was the real thing.
The Kettler Giro S features include the infinitely adjustable brake shoe resistance and 7'' padded saddle, to adjustments and comforts for the user. Everything is perfect for the human body to challenge itself without risking injury or improper form. The Giro S can easily be customized to fit your body, from the handlebars and saddle to the pedals and console area.
The functions of the LCD electronic computer display are impressive and practical. The Giro S console will help you construct a consistent and progressive regimen you can stick to and depend on to get you to your goals without all the hassle.
Learn more in my complete review below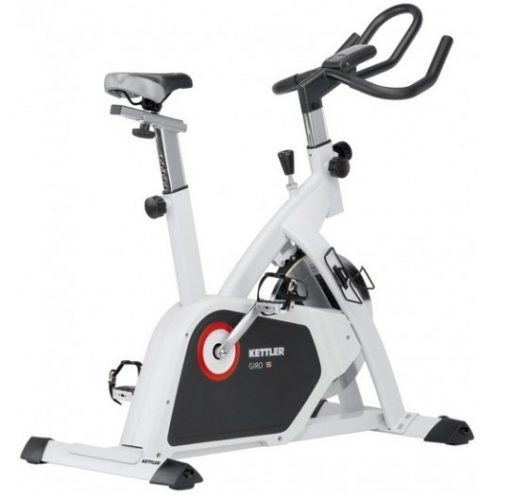 Product: Kettler Giro S
Price: For a great deal on this bike, merely go here on Amazon
Warranty: 3 years
My rating: 8/10
Amazon Affiliate Disclosure: I may earn commissions from purchases made through links in this post.
Details and Specifications
Assembled dimensions: 40.5L x 21W x 45H (103L x 53W x 113H cm)
Assembled weight: 114 lbs (51.8 kg)
Flywheel weight: 40 lbs (18 kg)
Supported weight: 285 lbs (130 kg)
Handlebars: 2-way adjustable
Seat: 4-way adjustable
Drive mechanism: Belt
Resistance: Friction
Fitness console: Time, speed, distance, odometer, calories, RPM, pulse, SCAN
Extras: Bottle holder
Warranty: 3 years
Giro S Frame construction
The Kettler Giro S indoor cycling bike features sturdy construction, pretty close to the light commercial spin bikes. Its frame is heavy-duty steel tubing designed to support riders up to 285 lbs (130 kg). This fitness trainer doesn't have a huge footprint. With the frame fully assembled, it takes approx. 40.5″L x 21″W (103 x 53 cm) of floor space. However, it is recommended to assign at least two feet of clearance all around it, to be able to perform any spin workout without any hindrance.
Although it's a rather small bike compared to other models, its frame is rather heavy. It weighs approximately 114 lbs (51.8 kg) when fully assembled. This weight adds to its overall stability; you can be sure that the bike won't rock if you pedal while standing up, or if you engage in a more demanding spinning routine.
Plus, the bike rests on large rubber stabilizers, which provide a good grip onto the floor; the rear stabilizers are also adjustable, so you should be able to level the trainer on any flooring perfectly.
Despite its weight, this Kettler exercise bike isn't too difficult to transport once assembled. Its front base features transport wheels. By using these wheels to relocate the bike, you won't be handling more than 40% of its total weight.
This exercise bike features a top-quality powder coating finish, resistant to rust and abrasions. The color used is light gray for most of the bike's main body, but the seat and upright handlebar posts feature a chrome finish. Also, the bike's construction integrates several plastic covers, which is quite a plus, as they prevent sweat from reaching some of the parts or bolts that are not corrosion-resistant.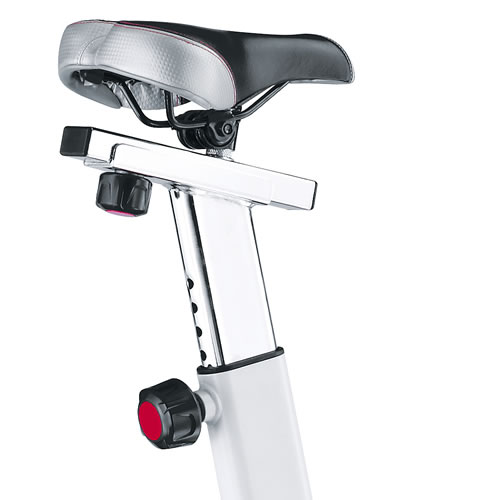 Seat and handlebars
The Kettler Giro S comes with a road saddle, which provides a bit more comfort than the slim spin seats. This type of saddle features a longitudinal groove to promote proper blood flow and airflow underneath the user. Its side sections integrate a layer of foam cushioning for optimal comfort.
The seat has a standard design. This means you can easily find a compatible seat replacement for the bike if it's the case. It's 4-way adjustable (up, down, front, back), offering a pedal down to saddle min/max adjustment span of 31″ – 35″ (74 – 90 cm).
Thus, the bike can accommodate users up to 6'5″ (196 cm). The seat's angle can also be adjusted, but this requires additional tools. And finally, the seat with its post and slider can support users up to 285 lbs (130 kg).
The bike's handlebar features a multi-grip design, with middle aero bars and integrated pulse sensors. It's rubber-coated, so it provides a comfortable and reliable grip. However, as opposed to the seat, the handlebar is only 2-way adjustable (up, down); it doesn't have a horizontal adjustment slider.
Giro S Resistance
The Kettler Giro S bike features a manual friction resistance system. It consists of a top-to-down brake pad attached to the tension knob on top of the main bar of the frame. To adjust the resistance, you must turn the knob clockwise so that the resistance pad will apply more friction to the flywheel.
As opposed to most exercise bikes with a manual-magnetic resistance, this Kettler bike doesn't have any adjustment levels specified on the tension dial. You can tighten it up to the point you can barely pedal.
Drive system
The bike features a belt-drive system, integrating a longitudinally ribbed belt for a superior concentricity and minimal generated noise. As opposed to a chain drive, a belt drive comes with the advantage that it doesn't require lubrication, and generates less vibration, so that the pedaling feel is smoother.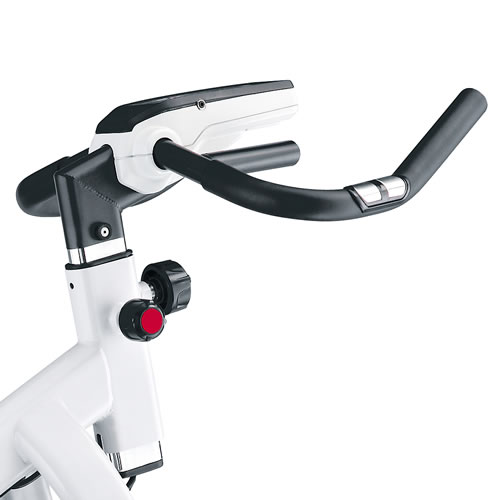 The bike's flywheel is relatively heavy. It weighs 40 lbs (18 kg) and has more weight placed in its perimeter, to provide more aggressive inertia and more consistent momentum. It's also bi-directional; in other words, the bike gives you the possibility to pedal in reverse if you want.
However, you cannot coast on this bike. The pedals continue to move for as long as the flywheel is spinning. Also, it is recommended to use the emergency brake (press the resistance knob down) every time you need to stop pedaling.
The bike's crankset is quite a durable part. It features solid steel crank arms equipped with metallic alloy pedals. As long as the user doesn't exceed the specified 285 lbs weight capacity, the crank should withstand any spin workout, even those that require the user to be standing up on the pedals.
The pedals don't have SPD elements for spin shoes. However, they do have adjustable toe cages. They're also standardly threaded so you can easily find replacements for them.
The bike's gear ratio is 1:8. This means that every full pedaling motion is entirely satisfactory. The Q-Factor is 7.5″ (19 cm), a bit wide for a training bike, but still not extremely wide to pose significant lateral stress on the knees.
However, if you do have bad knees or recovering from knee surgery, it's best to opt for a bike with a narrower Q-Factor.
Console
The Kettler Giro S indoor cycling trainer features a console that can offer quite a few more features than the average basic one. First of all, it has a 6-panel LCD, which means that it can show up to 6 workout metrics simultaneously. It can track time, distance, total distance, speed, RPM, calories, and pulse.
The three panels on the bottom left cover time, distance/odometer, calories, while the other two bottom panels on the right cover pulse and speed/RPM. The unit also has a SCAN function; if the SCAN function is ON, all the workout metrics will rotate on the top, larger panel, each one remaining on display for 6 seconds.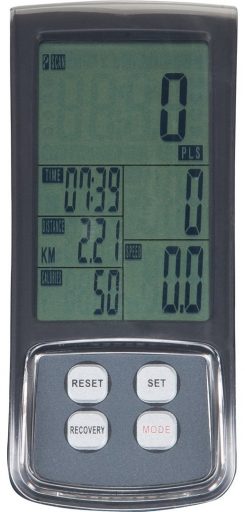 The console is telemetric. It can read your pulse via an optional wireless HR chest strap or ear clip. However, if you don't opt for any of these accessories, you can still benefit from a pulse reading via the EKG sensors integrated into the handlebars.
Also, the console has two preset cardio intervals, for 65% and 75%, and a standard range that allows you to set a value between 40%-90%. Based on the age formula (220-age formula), the training computer calculates the maximum heart rate.
The console has countdown functions for time, distance, and calories. In other words, you can select a value for any of these metrics, and it will begin to countdown from it until it reaches zero. This way, you can set up a workout goal for the day.
A recovery function is also available with this console. This gives you the possibility to calculate your fitness level. Based on the heart rate at the end of the workout, it will provide you with a fitness rating between F1 (Excellent) – F6 (Poor).
Giro S Assembly and Maintenance
Most of the bike's components come ready-assembled. You only need to attach the base bars and their covers, the pedals, the handlebar, the console, and the seat. This shouldn't take more than 20 minutes. All the tools you will need for the assembly (are included). Also, the manual provides excellent assembly instructions and schematics.
Since the bike has a belt drive system, its transmission doesn't require lubrication. The only part that may need lubrication is the brake pad in case it emits squeaking noises when in contact with the flywheel. To lubricate it, you have to apply a few drops of silicone lubricant on the edge of the wheel. Other than this, it's recommended to check for loose bolts and parts periodically.
Pros
Durable frame, sturdy construction for a home use bike;
Can support users up to 285 lbs;
Adjustable stabilizers on the rear base;
Transport wheels included;
4-way adjustable seat;
2-way adjustable handlebar;
Can accommodate users up to 6'5″;
Multi-grip handlebar;
Pulse sensors integrated into the handlebar;
Smooth, almost silent belt drive;
Bi-directional, 40 lbs flywheel for a consistent momentum;
Durable, metallic alloy pedals with toe cages;
Friction resistance, which offers tension up to the point you can barely pedal;
6-panel, LCD fitness console included – it can track time, distance, total distance, speed, RPM, calories, and pulse;
Goal settings for time, distance, and calories;
Bottle holder included;
Easy to assemble;
Little maintenance required.
Cons
Only metric units for the console;
The console is not backlit;
No fore-aft adjustment for the handlebars.
Kettler Giro S Summary
The Kettler Giro S is a well-built, compact indoor cycling trainer, designed for spin workouts. It features a friction resistance system, a comfortable seat, a telemetric fitness console with goal settings for time, distance, and calories, and can support users up to 285 lbs.
It's an excellent trainer for light to intense cardio workouts, endurance training, interval training, and weight loss. It's not an affordable trainer, but considering that it has a construction similar to the light-commercial bikes and comes with the console, I can safely say that it offers excellent value for the price.
I hope you found this article helpful and informative. If you have anything that you'd like to share or opinions about the content on my website, please do speak up. I look forward to your comments, questions, and the sharing of ideas.
Recommended articles:
Please follow and like us: