Koreyosh Water Rowing Machine is available in two versions of steel or wood with slightly different design differences. Both are water rowers with adjustable resistance (by adding or removing water from the tank) and home use. The steel Koreyosh Rower measures 70.8 x 18.1 x 20 inches, and the wood rower is 84 x 22 x 20 inches.
Both the wood and steel versions have a maximum user weight capacity of up to 330 pounds. They don't have a foldable design, but they can be stored vertically to save space. If you're wondering, the water does not need drainage before storing the rower vertically. Also, once assembled, relocation is via the transportation wheels.
You can adjust the workout intensity easily by the amount of water you put in the water tank. For example, more water in the tank generates higher resistance, while less water generates lower resistance. Exercise up to 80% of your body's muscles, including your back, arms, triceps, biceps, shoulders, and abs. You'll burn calories and lose fat by using this machine regularly.
Both Koreyosh versions come equipped LCD screen that tracks time, distance, average speed, strokes (count), strokes per minute (count per minute), and calories burned. It also has a time/500m function. The console does not have Bluetooth or any online connectivity. Nor does it have a pulse reading function.
Learn more in my complete review below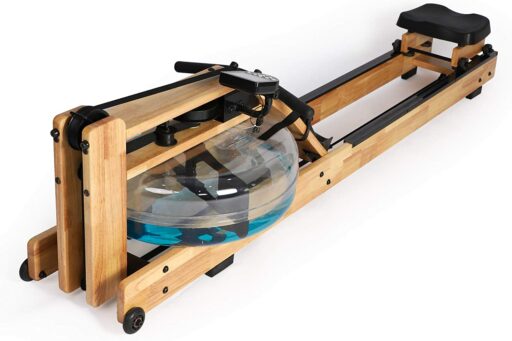 Product: Koreyosh Water Rowing Machine
Price: For a great deal on this rower, merely go here on Amazon
Warranty: Not specified
My rating: 7.75/10
Amazon Affiliate Disclosure: I may earn commissions on purchases made through links in this post.
Details and Specifications
Assembled dimensions: 84L x 22W x 20H inches (213L x 56W x 51H cm)
Assembled weight: 75 lbs (34 kg)
Supported weight: 330 lbs (150 kg)
Frame: Oakwood
Footrests: Size-adjustable, with straps
Resistance type: Water
Fitness console: Time, time/500m, strokes, strokes per minute, distance, and calories
Koreyosh Frame construction
First, the Koreyosh rower features a dual rail frame made of wood, not MDF or any other composite material type. It's oak wood with a glossy finish and a pretty durable structure. It has a maximum user weight capacity of 330 lbs (150 kg), which is not bad for a machine intended for home use.
The fully assembled machine is relatively large, especially lengthwise. It is approx 84″ (213 cm) long and 22″ (56 cm) wide. Plus, it is advisable to assign at least two feet of clearance on each side and at the rear of the unit to have plenty of space for correct usage and access.
The unit's rails are pretty long. They accommodate users with an inseam up to at least 36″ (91 cm). Therefore, the machine should provide a full range of motion for users up to 6'5 ″ (196 cm) with no problem.
The Koreyosh rower is not foldable but can be stored vertically. In the storage position, the machine's footprint becomes 22″W x 20″D (56 x 51 cm), while its height becomes 84″ (213 cm). Therefore, it can pretty much fit in the corner of the room.
As is the case for most water resistance rowers, the water can remain inside the tank when the rower is stored upright.
The fully assembled machine without water inside the resistance tank weighs approx—75 lbs (34 kg). However, once completed, it is effortless to move, with or without water. Its front base features a set of small wheels that considerably ease its relocation.
One last aspect to mention here regards the machine's foot stabilizers. The Koreyosh rower rests on four large rubber pads. They are non-adjustable, so if the floor or the surface you will be using the rower is irregular, you might need to place the machine on a carpet or rubber mat so it doesn't rock.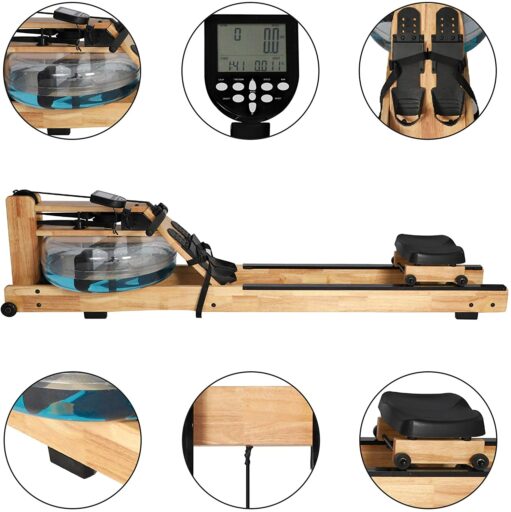 Koreyosh Seat
The Koreyosh rower comes equipped with a seat designed for optimal comfort. Its top is a thick layer of high-density foam. It's not super soft as it doesn't have air cell cushioning, but it's not extremely hard either. Also, its surface is contoured to provide better positioning.
The seat combines wooden boards and metallic rods in its construction for improved sturdiness. As I've mentioned earlier, it should be able to withstand users up to 330 lbs (150 kg) with no problem.
It comes equipped with two sets of wheels (eight in total); four wheels slide on top of the rower's rails, while the other four slide on the tracks' inner sides for extra stability.
The wheels integrate sealed bearings for smooth motion, and their outer shells are made of high-density rubber to reduce noise.
The top of the seat isn't too high above the floor level. It is only at approx—12″ (30 cm). Therefore, users with specific disabilities may find it difficult to position themselves on it or stand up. As opposed to the WaterRower models, a "Hi-Rise" attachment is not available for this machine.
Footrests and pulling handle
The Koreyosh rower features a set of adjustable footrests. They're flexible thermoplastic material, and they're large enough to accommodate athletic shoes of all sizes. They also have heel guards and adjustable straps so you can correctly secure your feet in place.
The unit's footrests are not angle-adjustable. They are attached to a fixed wooden board, which has an angle of approx—50 °.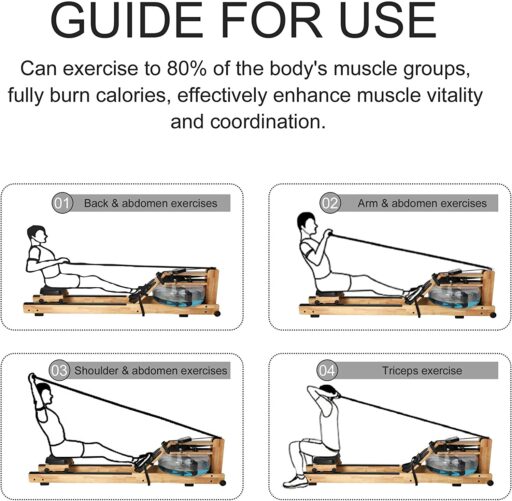 The unit's pulling handle consists of a short bar with ergonomic grips. The bar is slightly curved to reduce the stress on the user's wrists. It does not integrate pulse sensors, as is the case for other, more expensive machines.
The pulling handle connects to a heavy-duty nylon strap, which is highly resistant to abrasion. The machine uses a strap and not a chain as its main element of the drive system can be quite a plus. That's because the rower's usage is quieter, smoother, and the strap does not require lubrication.
Koreyosh Resistance system
Similar to the WaterRower machines, the Koreyosh rower features a water resistance system. It comes equipped with a large tank made of durable polycarbonate plastic. Its exact capacity is not specified, but its maximum fill is approximately three gallons (11.3 liters).
The container is clear and transparent, so you can always see the water and the impeller spinning inside when using the machine.
The unit's main resistance element is a two-blade impeller. The impeller is integrated into the tank, sealed with rubber gaskets, and connected to a pulleys system. As you pull the handle, the impeller spins inside the container, generating resistance.
Like any other water resistance rower or other fitness machine with a water resistance system, the Koreyosh rower offers a dynamic resistance response. This means that the resistance depends on how you pull the handle.
For example, if you pull at a faster rate, the difficulty will be more incredible. This resembles the feeling of rowing a boat through the water. That's why many athletes prefer a water resistance rower to a magnetic rower.
Although the machine's water resistance system provides a dynamic response, it does not have an adjustment knob or any other resistance adjustment elements, like the machines from First Degree Fitness.
Also, the water tank has a simple construction with only one chamber for the water. Therefore, if you want to adjust the overall resistance, you can only add or remove water from the tank. There is a marking on it that specifies the maximum fill.
In terms of noise generated during usage, this rower is pretty quiet. The impeller's spinning inside the water tank does create some sound, but the level is low.
Console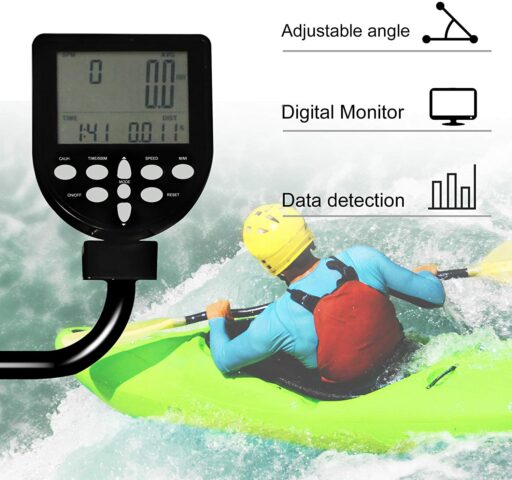 The fitness console included with the Koreyosh water resistance rower offers a few extra features over the basic one. However, even though it looks like the S4 monitor from WaterRower, it does not have advanced programming features.
It features an LCD divided into several sub-sections to show multiple workout metrics that include time, distance, average speed, strokes (count), strokes per minute (count per minute), and calories burned. It also has a time/500m function.
The monitor unit does not have a pulse reading function, and you cannot sync it with a Polar or ANT+ chest strap and do not have any internal sensors. It also does not have Bluetooth or any online connectivity.
The monitor unit is battery-powered. It starts up when you begin rowing or when you press one of the buttons. It also automatically turns off to save battery if it does not detect any machine activity for a few minutes.
Koreyosh Assembly and Maintenance
The machine's water tank comes pre-assembled, attached to the front section of the frame. However, the rest of the rower requires user assembly. The instructions provided by the manual are terrible. Luckily, the task is pretty straightforward.
You will have to connect the two rails to the front frame piece, secure them with the rear stabilizer, add the seat, attach the bungee cord, the footrests, and the fitness console. This shouldn't take more than an hour, and a set of essential tools come included with the rower.
It is advisable to keep the machine clean, especially the rails, to prevent damage to them or the seat wheels for maintenance. The tank's water requires chlorine purification every few months, and a pack of chlorine pills comes included with the rower. Other than this, it would help if you inspected your rower from time to time to ensure that there aren't any loose or damaged parts.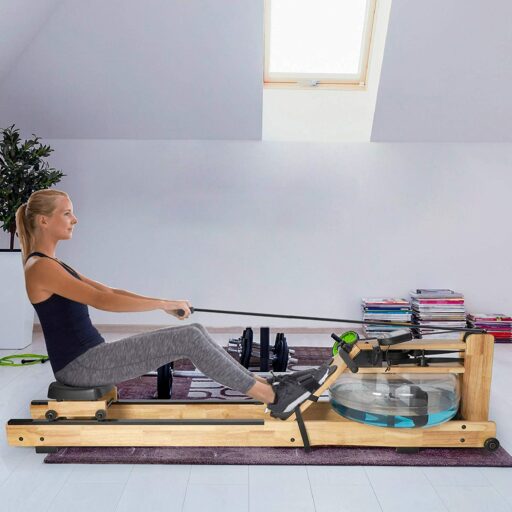 Pros
Durable construction – can support users up to 330 lbs;
Aesthetic frame, made of solid oak with a glossy finish;
Can store vertically to save space;
Easy to handle and transport;
Rubberized stabilizers for extra stability floor protection;
Water-resistance system for a dynamic response;
Ergonomic seat with a padded and contoured top;
Adjustable footrests;
Fitness console included – it tracks time, distance, average speed, calories, strokes, and strokes per minute;
Smooth and quiet operation;
All the necessary tools come included;
Little maintenance required;
Reasonably easy to assemble.
Cons
The console does not have online connectivity;
No backlight on the LCD;
No pulse reading function;
The assembly instructions provided by the manual are not precisely the best.
Koreyosh Water Rowing Machine Summary
The Koreyosh rower is a machine featuring a durable oak frame with great aesthetics, superior ergonomics, a large water tank, and a fitness console that tracks the essential workout metrics. It's a great trainer for a full-body cardio workout, interval training, muscle toning, and weight loss. It's also considerably more affordable than brand-name water rowers such as WaterRower or First Degree Fitness.
I hope you found this article helpful and informative. If you have anything you'd like to share or any opinions about my website, please speak up. I look forward to your comments, questions, and the sharing of ideas.