The frame of L NOW D808 Upright Bike is steel and ABS plastic combination. Its specs such as a belt-driven system, 300-pound weight capacity, effective flywheel, durable belt-box, and fully adjustable seat are impressive.
This L Now D808 upright bike with magnetic resistance guarantees a smooth, natural feel and workout experience comfortable on the joints. The belt-driven system helps create a quiet and low-maintenance workout. Unlike chain-driven bikes, the L Now D808 exercise bike drive system doesn't require lubing, so your gym floor and spin clothes are always clean.
The L Now D808 upright bike features an adjustable seat that moves fore and aft as well as up and down so that many trainees can acquire a secure custom fit. The handlebars are NOT up/down fore/aft adjustable like spin bikes. They are tilt-adjustable via an easy to reach knob to allow multiple riding postures to make your training more comfortable.
The bike also features hand pulse sensors and for measuring heart rate and the included display records speed, distance, rpm, calories, and body fat. While the console lacks entertaining functions that could potentially keep you motivated, it does have what it takes to keep you focused toward achieving the fitness goals.
Learn more in my complete review below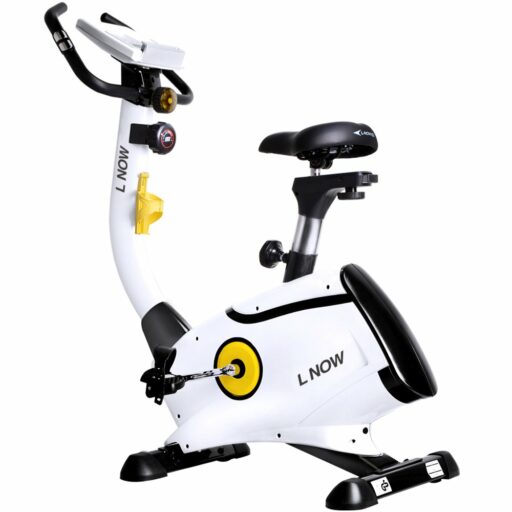 Product: L NOW D808 Upright Bike
Price: For a great deal on this upright bike, merely go here on Amazon
Warranty: 1 year limited
My rating: 9.6/10
Amazon Affiliate Disclosure: I may earn commissions from purchases made through links in this post.
Details and Specifications
Assembled dimensions: 50.4L x 21.6W x 57.3H inches (128L x 55W x 146H cm)
Assembled weight: 66.2 lbs (30 kg)
Flywheel weight: 8.9 lbs (4 kg)
Weight capacity: 300 lbs (136 kg)
Handlebars: Adjustable
Seat: 4-way adjustable
Pedals: With adjustable straps
Resistance: Magnetic, eight levels
Console: Time, distance, odometer, RPM, speed, calories, pulse
Extras: Bottle holder, tablet holder
D808 Frame construction
The L NOW D808 upright exercise bike features sturdy construction with a weight capacity of 300 lbs (136 kg). Its structure is steel tubing, double-coated with paint finish highly resistant to rust. The colors used are black for the base frame, white for the console mast, while the seat post features a chrome finish. The bike also integrates several ABS parts, these being the flywheel covers and several other joint covers.
Although it has a pretty impressive weight capacity, this exercise bike isn't hefty itself. With all the parts attached to the mainframe, it weighs approx — 66.2 lbs (30 kg). Thus, its assembly and handling shouldn't be a problem for one person. Plus, its front base bar has two transport wheels which facilitate its relocation once you have finished your workout. This L NOW upright bike offers excellent stability. Both bases come with adjustable stabilizers which rest on large rubber caps.
The bike is not extremely large. Its complete length with the handlebar adjusted forward, close to a horizontal position, is approx. 50.4″ (128 cm) while its width is 21.6″ (55 cm). Its base is smaller, though. But it is recommended to assign a usage space for it of at least 75″ x 50″ (190 x 127 cm), to avoid any hindrance during exercising.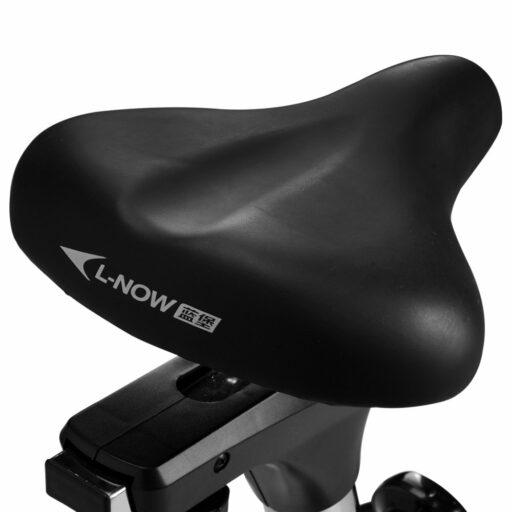 Seat and handlebars
The L NOW D808 bike comes with a 4-way adjustable seat. It offers an upright adjustment span between 25″ and 40″ (63.5 – 101.6 cm). Its horizontal slider also allows a few inches of fore/aft travel. Therefore, the bike can accommodate users between 5'0″ and 6'5″ (153 – 196 cm) with no problem.
The seat itself integrates a layer of cushioning and has a contoured surface to deliver optimal comfort. It also has a standard attachment system to the bar, which means that you can easily find a suitable replacement for it if you want a different one.
This upright exercise bike features an adjustable handlebar, as well. You can change its angle and lock it in the desired position via the dial on top of its casing. The bike's handlebar is covered by a layer of rubberized material to supply a secure grip.
It also integrates the pulse sensor, so by keeping your hands on them during your workout, the console unit can monitor your heart rate.
D808 Resistance and drive
The L NOW D808 upright bike features a manual magnetic resistance system. This means you don't have to connect it to a power source. Its resistance system consists of a small magnetic brake attached to the tension dial on the console mast through a steel wire.
By turning the dial, the position of the brake pad changes, increasing or decreasing the intensity of the magnetic field for the flywheel, which results in a pedal tension adjustment.
The bike offers eight levels of resistance. The first three levels are very light, perfect for recovery training, or users with disabilities or injuries. Conversely, the 8th resistance level simulates a climb, giving you the possibility to undergo a more intense workout.
The flywheel is rather light. It weighs 8.9 lbs (4 kg), but does have a perimeter-weighted design, and provides a reasonably decent momentum and steadiness during pedaling. As opposed to other upright bikes, this L NOW model features quite a sturdy crankset with solid steel crank arms and pedal.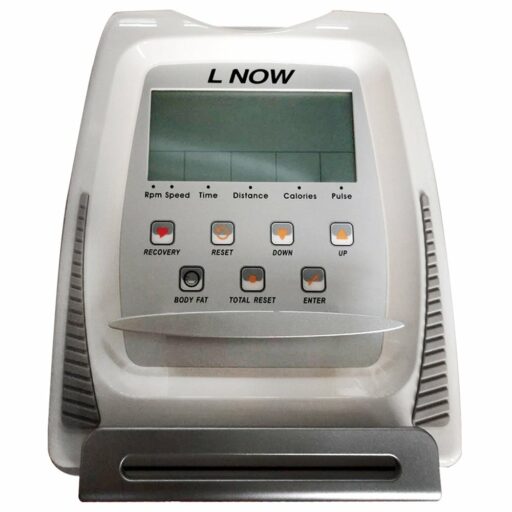 The pedals included with the bike feature a metallic core and a durable ABS cover with a weight at the bottom, which enables them to self-level if necessary. They're equipped with adjustable straps and have a non-slip surface. They have standard threads, so you can easily find replacements for them if you want a different type of pedals.
Like most exercise bikes with a magnetic resistance system, the L NOW D808 features a belt drive system. Due to this fact, the bike's operation is almost silent, and a belt drive system has smoother pedaling. Plus, it doesn't require periodic lubrication.
Console
The D808 comes with a reasonably large LCD (approx. 6″ in diagonal), divided into six panels so that it can show several workout metrics simultaneously. Therefore, you don't have to use a SCAN function to rotate them.
The unit tracks time, distance, total distance, speed, RPM, pulse, and calories burned. For pulse reading, EKG sensors integrate into the handlebars; however, it is not telemetric and cannot read the user's heart rate through an HR chest strap transmitters.
The console doesn't provide any preset programs, Bluetooth, or other online capabilities. It does, however, offer the possibility to set up workout goals for time, distance, and calories. When you select a target for any of these metrics, the unit will countdown from it until it reaches zero.
Also, a Recovery function and a BMI (Body Mass Index) function are available. The console unit will monitor the amount of time that your heart rate takes to return to normal after the workout.
At the end of the test, the console will provide you with a fitness rating between F1 and F6, F1 being "excellent," while F6 being "very poor."
The BMI function is a scale used to measure if you have a healthy weight for your height. Specifically, to calculate a fitness rating, the console will prompt you to input your weight and height.
D808 Assembly and Maintenance
The base frame of the bike, along with the resistance and drive elements, comes pre-assembled. So, you only need to attach the console mast, the seat post, the saddle, the handlebars, the pedals, and the console. This shouldn't take more than 30-40 minutes. The tools required for the assembly are (included), and the manual provides precise assembly instructions.
Since the bike has a belt drive system, you don't have to lubricate its internal parts. Moreover, there isn't much maintenance required by this bike. It is recommended, though, to check the frame for loose bolts or parts periodically.
Pros
Sturdy construction – can support users up to 300 lbs;
Elegant design;
Adjustable stabilizers on bases;
Transport wheels;
Angle-adjustable, multi-grip handlebar;
Pulse sensors integrated into the handlebars;
4-way adjustable seat;
Balanced flywheel, supplying a smooth pedaling motion;
Quiet belt drive;
Weighted pedals with adjustable straps;
Eight levels of manual magnetic resistance;
6-panel LCD console, which shows time, distance, total distance, speed, RPM, calories, and pulse;
Goal setting functions for time, distance, and calories;
Recovery function;
Body Fat function;
Bottle holder included;
Tablet holder included;
Little maintenance required;
Easy to assemble.
Cons
No wireless pulse reading;
No online connectivity;
A tablet placed on the tablet holder will cover the console display;
The console display doesn't have a backlight.
L NOW D808 upright bike Summary
The L NOW D808 is a sturdy upright bike, featuring a weight capacity of 300 lbs, eight levels of magnetic resistance, and a console that can track time, distance, total distance, calories, speed, RPM, and pulse. It has BMI and Recovery functions, as well as goal functions for time, distance, and calories.
Thus, it's an excellent bike for light to medium cardio workouts, stamina development, muscle toning, and weight loss. Furthermore, it has a durable construction and offers superb value for the price.
I hope you found this article helpful and informative. If you have anything that you'd like to share or opinions about the content on my website, please do speak up. I look forward to your comments, questions, and the sharing of ideas.
Recommended articles:
Please follow and like us: