The L NOW E6 Cycling Bike features a 50mm thickened triangular high-quality steel frame, and 350 lb maximum user weight gives this indoor cycling bike a rock-solid build. It comes equipped with four horizontal adjustment knobs under the front and rear stabilizer to keep the bike stable on different surfaces.
The E6 comes with a smooth friction resistance system. You can adjust the resistance level as you need, which provides a more effective workout to burn more calories. Press the resistance knob to stop the flywheel immediately.
Although there is no display, the app wire on the L NOW E6 cycling bike will connect with your cell phone, which will track your time, speed, distance and offer you a virtual sports scene. The IPAD holder allows you to enjoy exercising and music simultaneously, thus making it easier to keep exercising.
The E6 comes equipped with an ergonomically designed seat cushion that provides a comfortable riding experience. The cushion size: 10.43 "×8" ×2" (L×W×H). An included spring buffer included improving riding comfort. Also, the PVC dip handlebar provides a variety of different grips to use while you workout.
Learn more in my complete review below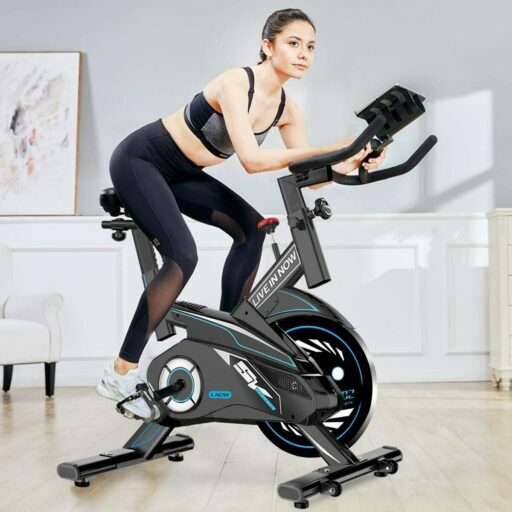 Product: L NOW E6 Cycling Bike
Price: For a great deal on this bike, merely go here on Amazon
Warranty: 1 year limited
My rating: 9/10
Amazon Affiliate Disclosure: I may earn commissions on purchases made through links in this post.
Details and Specifications
Assembled dimensions: 41L x 20W x 52H inches (104L x 51W x 132H cm)
Shipping weight: 77 lbs (35 kg)
Flywheel weight: 35 lbs (16 kg)
Weight capacity: 350 lbs (158 kg)
Seat: 4-way adjustable
Drive: Belt
Resistance: Friction
Extras: Bottle holder and device holder
Warranty: 1 year limited
E6 Frame construction
The bike features an "x" type frame made of steel tubing. Although it's a bike designed for spin workouts, it doesn't have a super-heavy construction. However, its net weight still is above 70 lbs, which is twice the average road bike's weight.
This weight provides extra stability. Also, the front stabilizer of the bike features a set of small wheels for smooth relocation.
The bike's frame features a durable paint finish, corrosion, and chip resistant. The primary color used is black; however, the seat post, the handlebar post, and the flywheel have a chrome finish. Also, the drivetrain cover extends over most of the central part of the frame for extra protection.
The fully assembled bike isn't giant. It is only 41″ (104 cm) long and 20″ (51 cm) wide. Its recommended, though, to leave at least two feet of clearance all around the bike for ease of access and safe usage.
Seat and handlebars
The saddle included with the L NOW E6 indoor cycling bike is considerably more significant than the average race bike seat. It is approx. 10.4″ (26.4 cm) long and 8″ (20.3 cm) wide, so it provides plenty of contact surface.
It comes generously cushioned to alleviate the impact on the lower spine. Furthermore, it integrates two large suspension springs on its rear side for an extra flex during seated workouts. It also has longitudinal cropping for improved breathability.
It's also important to mention that the seat attachment system is standard. It attaches to the upright post by a collar with a bolt and nut. Therefore, if you will ever need to replace it, compatible options should be available in most bike shops.
The bike's seat is four-way adjustable (up, down, forward, backward). Its upright post features several adjustment positions, while its front-to-back slider adds a few extra inches of adjustment.
Thus, the bike can accommodate users up to 6'5 ″ (196 cm) with no problem. It also supports users up to 350 lbs (158 kg), which is not bad for a non-commercial spin bike.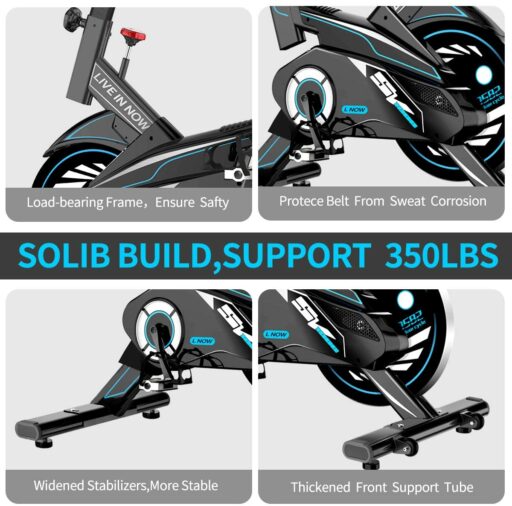 The L NOW E6 has a multi-grip handlebar. It offers the possibility to adopt a standard grip, oblique grip, parallel grip, and climbing grip. A layer of foam material fully covers it to provide an improved and more comfortable grip. However, it does not incorporate pulse sensors.
Just like the seat, the bike's handlebar offers four-way adjustability (up, down, front, back). Both the upright bar and its horizontal slider provide several inches of adjustment.
E6 Resistance system
The L NOW E6 indoor cycling bike is equipped with a standard friction resistance system with manual action. Needless to say, since the resistance system is manual, you don't need to connect the bike to a power source, and you don't need an adapter for it.
The bike's resistance system consists of a felt brake pad placed above the flywheel's top edge and connected to the tension knob on the main tube of the frame. A large ABS guard also conceals it for extra safety. By turning the tension knob, the brake pad applies more or less friction to the flywheel, which increases or decreases the pedaling difficulty.
Similar to most other spin bikes with a friction resistance system, the L NOW E6 doesn't have pre-determined resistance settings. You turn the knob until you get the desired resistance. Also, the tension knob has the function of an emergency brake. You can press it down to immediately stop the flywheel from spinning.
Drive system
The L NOW E6 exercise bike comes equipped with a slightly lighter flywheel than other models. It only weighs 35 lbs (16 kg), but this still is quite a load. Due to this weight, it provides an exceptionally smooth pedaling motion and consistent momentum.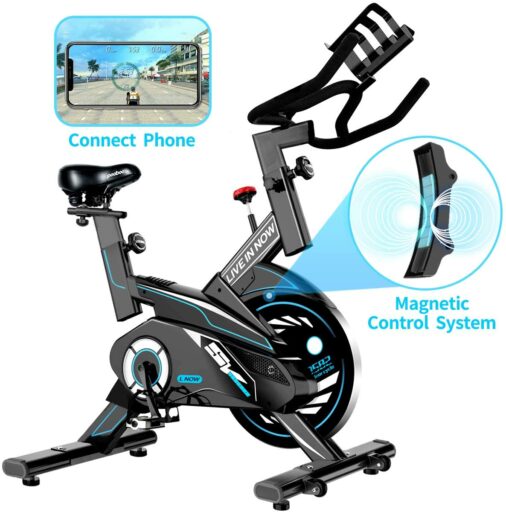 The flywheel is bi-directional. Therefore, you can pedal in reverse if you want. However, coasting or free-wheeling is not possible on this bike. When pedaling in reverse, you will benefit from the same pedal resistance, given how tight the brake is.
Since it's a bike designed for spinning, the L NOW E6 features a heavy-duty 3-piece crankset with solid steel arms. Therefore, as long as you don't exceed 350 lbs (158 kg), you should be able to pedal while standing up.
The pedals are also durable. They're made of aluminum alloy with rubber inserts to prevent foot slippage. They come with adjustable toe cages for improved foot stability. They don't have SPD elements for spin shoes, but they do have standard (9/16″) threads, so you can always replace them with SPD pedals if you want.
Last but not least, this indoor cycling bike has a belt drive system. This type of drivetrain comes with a few advantages. First of all, the belt generates less vibration than a chain, which improves the ride's smoothness.
And second of all, the belt doesn't require lubrication. So, you don't have to worry about taking off the protective casing to lubricate the drivetrain periodically.
E6 Workout app
As I've mentioned earlier, the L NOW E6 cycling bike doesn't include a performance monitor. However, it offers the possibility to turn your smartphone into a performance monitor.
It has an internal transmitter with a cable that you can connect to your smartphone, and via a downloadable app, you can record your workout time, speed, and distance. The app also creates a virtual cycling scene showing you as a cyclist and pedaling through various environments.
Another notable accessory included with this indoor cycling bike is the device and bottle holder. This accessory attaches to the front section of the handlebar. It has a flat surface that can serve as support for a tablet. It also has a large slot on the back that can accommodate most types of hydration bottles.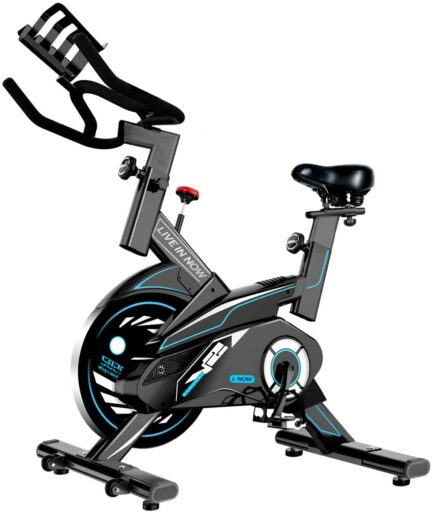 E6 Assembly and Maintenance
As is the case for most spin bikes, the frame of the L NOW E6 comes pre-assembled. The drive elements and the resistance system are already attached. Therefore, you only need to connect the two base bars, the seat post, the saddle, the handlebar post, the handlebar, the tablet support, and the pedals.
This shouldn't take more than one hour. All the necessary tools come included, and the manual provides fairly decent assembly instructions.
Since it's an exercise bike equipped with a friction resistance system, one of the maintenance aspects is the brake pad's lubrication by applying a bit of silicone lubricant on the edge of the flywheel. However, this should only be necessary if the brake pad makes a noise when in contact with the wheel.
Other than this, once assembled, you only have to keep it clean and periodically inspect its integrity to re-tighten any potential loose parts.
Pros
Heavy-duty construction;
High weight capacity – 350 lbs (158 kg);
Aesthetic design – this can be quite a motivation factor;
Transport wheels integrated into the front base stabilizer;
Large, cushioned, and contoured saddle with a longitudinal groove for healthy blood flow;
The seat is 4-way adjustable;
Multi-grip handlebar;
The handlebar is 4-way adjustable;
Bottle holder/tablet holder;
35 lbs balanced flywheel for a smooth pedaling motion and solid momentum;
Heavy-duty crankset, able to support any user up to the maximum listed weight, in upright pedaling position;
Heavy-duty, aluminum pedals with toe cages for extra thrust;
Offers the possibility to connect your smartphone to the bike (via cable) for time, distance, and speed monitoring;
Quiet operation, great for apartment use;
Easy to assemble;
Little maintenance required.
Cons
No pulse reading function.
L NOW E6 Cycling Bike Summary
The L NOW E6 is an indoor cycling bike designed for home use featuring heavy-duty steel construction, a friction resistance system, a 350 lbs flywheel, and a durable crankset with aluminum pedals. Additionally, it offers four-way adjustability for both the seat and the handlebars. It also includes a high-comfort cushioned saddle.
Although it's not a commercial spin bike, it is pretty close to the quality of at least a light-commercial model but costs only a third of its price.
I hope you found this article helpful and informative. If you have anything you'd like to share or any opinions about my website, please speak up. I look forward to your comments, questions, and the sharing of ideas.