The Life Fitness IC6 indoor cycle delivers the goods to justify its hefty price tag of under $2500. This Life Fitness bike provides one of the smoothest rides in the industry and supports all fitness levels. The IC6 provides all the best features of the IC5 cycle with new tones of other features for the outdoor cycling enthusiast. The Life Fitness IC6 Cycle brings quality and affordability to your home or commercial setting.
Key specs of Life Fitness IC6 indoor cycle with MyRide include self-powered Coach by Color monitor, an evenly weighted high inertia impressive flywheel with a 10:1 gear ratio, 100 resistance levels, and full adjustment for a perfect bike fit. The MyRide tablet is an accessory that is often sold separately for around $1000+.
However, due to a current offer from Life Fitness, you can purchase the IC6 indoor cycle from an authorized dealer with MyRide included at no additional cost. Hopefully, by the time you are reading this IC6 review, it is still included at no extra charge.
The Life Fitness IC6 indoor cycling bike also has the industry-leading small q factor (155 mm) and the user-assist technology for easy adjustment. The new Life Fitness IC6 spin bike comes with the WiFi-enabled 10" MyRide touchscreen console screen, and ANT+, Bluetooth connection. You'll be able to monitor or share exercise stats with third-party fitness apps such as ICG Training Apps.
Learn more in my complete review below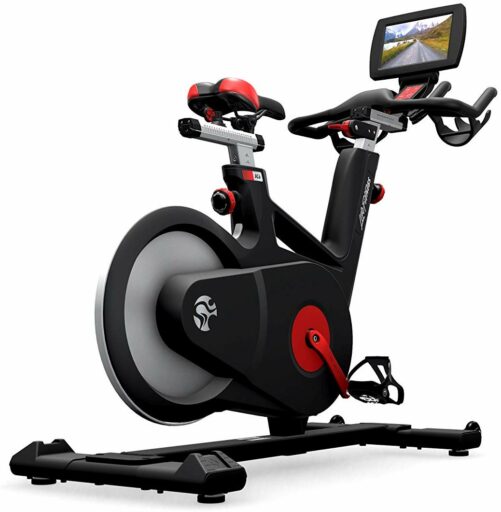 Product: Life Fitness IC6 indoor cycle with MyRide
Price: For a great deal on this bike, merely go here on Amazon
Warranty: Frame 5 Years/3 Years mechanical components/1 year other parts and labor.
My rating: 9.8/10
Amazon Affiliate Disclosure: I may earn commissions from purchases made through links in this post.
Details and Specifications:
Height: 47.2″
Width: 20.5″
Length: 52″
Bike Weight: 112 Pounds
Max User Weight: 330 Pounds
Inseam Capacity: 27″ to 40″
Shipping Weight: 130 Pounds
Stretch pads: Yes
Floor protection levelers: Yes
Warranty: 5 Years structure frame/3 Years mechanical components/1 year other parts and labor.
IC6 Monitor
Here is how the Wattrate TFT computer measures your fitness level. "Every 4 minutes the WATTs target will increase 25 watts, all the rider has to do is "keep it green" for as long as they can. Once an individual's Fitness level is known, users are assigned the 5 zones to coach their effort for the best-customized results accurately.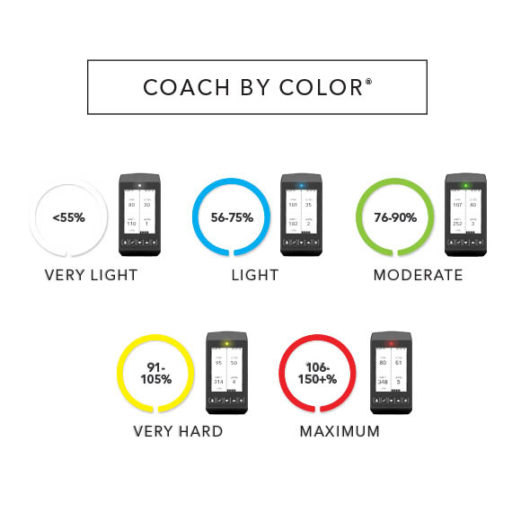 The next great feature of Life Fitness ICG exercise bike is its Self-powered generator with a LiPo battery. This cycle uses renewable, green-energy, which means no batteries or power plugin is required.
This Life Fitness spin bike captures your energy through a small generator at the flywheel and recharges the bike's integrated lithium polymer battery. This self-powering technology feeds all the bike's electronics and empowers the full-color display on the WattRate TFT computer in any environment.
Now let's talk about the Coach by Color technology. Through five colors, it tells you if your workout is "Very Light," "Light," "Moderate," "Very Hard," or "Maximum." So, you can exercise at home safely and efficiently without subscribing to a spin class.
The Life Fitness IC6 commercial bike also features Bluetooth and ANT+ connectivity, which means you can connect your devices (tablet, computer, phone, TV, etc.) to the bike.
Via Bluetooth 4.0 and ANT+ you can now pair your cycling training applications to view, save, and track daily workout history. This way, you will not lose your daily workout progress.
The monitor has three workout modes/programs. They include the QuickStart program, Heart Rate program, and the Watt Rate program. When exercising on the IC6 Life Fitness bike, the "guesswork" does not exist. All your cycling stats are available for you on the screen, including the current resistance level, watts, and RPM.
MyRide VX Personal
MyRide VX Personal is the cutting-edge motivation that gives the multi-award-winning range of Life Fitness indoor cycles a full boost of adrenaline. Adding immersive, video-based Instruction directly to the handlebar redefines the bike's user experience.
It is an accessory that is often sold separately for $1000+, but thanks to the current offer, you can buy the IC6 indoor cycle with MyRide. Hopefully, by the time you are reading this IC6 review, it is still included.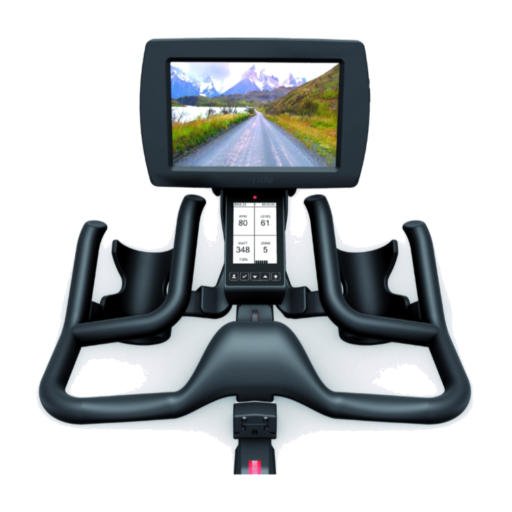 Unlike the self-powered monitor, the MyRide requires AC power plugin. This tablet comes with three Team ICG apps. They have pre-recorded workouts that you can choose from.
The instructor will lead you through each workout. So, you don't need to guess which cycling position you need to be or what your RPM should be because they are all available on the screen. All you need to do is to pick the class and follow the instructor.
The Life Fitness powered by ICG indoor cycles with Myride VX has both the studio class footage and stunning footage from around the globe that you can choose to see on the monitor.
You can choose your terrain (France, Italy, etc.) and enjoy the ride while following the instructor's positions on a small window on the corner of the screen. Through the headphone, you will hear him announce the RPM and Training color zones.
To use the MyRide app and watch all those tens of great pre-recorded cycling classes, you do not need to pay. Isn't that awesome? Other apps, such as Peloton would charge you around $300 per year for similar Apps.
IC6 Pedals and Q-Factor
Life Fitness IC6 pedals are dual-sided. One side of the foot pedals on this cycle is oversize with adjustable straps to allow trainees to exercise comfortably during workouts using regular gym shoes.
On the other side of the pedals, the rider can clip-in the SPD cycling shoes to enjoy a more efficient and safer workout. So, unlike the pedals on some spin bikes, the ICG IC6 exercise bike allows both types of shoes.
Before going any further, let me explain the 'Q Factor.' It is the distance between the outside of one crank arm to the outside of the other crank arm. It is also known as stance width, which refers more directly to the distance between feet on the pedals.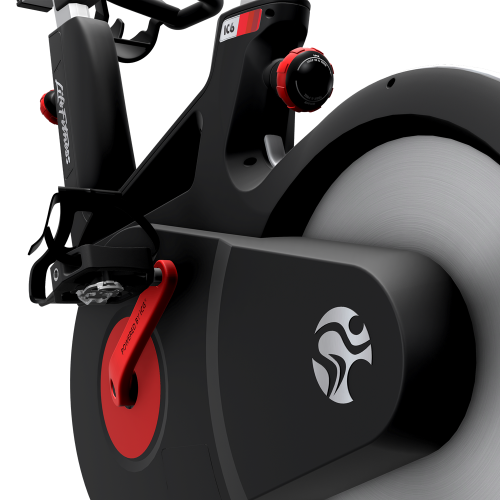 Both terms refer to the lateral distance between feet when pedaling. Here is how it affects cycling: When there is too much distance between the pedals, your feet will stay wider than your knees and hips.
This way, your hips, knees, and ankles are not aligned with each other. This can be painful for those with knee injuries and can cause harm to the riders with narrow hips.
Thankfully, you don't need to worry about this problem when buying the Life Fitness IC6 Indoor Cycle. The IC6 indoor cycle features the high-end bio-mechanically correct design, unlike cheap spin bikes on the market.
Flywheel
While friction resistance bikes and magnetic spin bikes with little gear ratio need a 30-50 pound heavy flywheel to provide a 360 consistence pedal stroke. The Life Fitness cycles don't need such a massive wheel.
Thanks to the 10:1 gear ratio of IC6 spin bike, it provides fast fluid cycling motion and good momentum with a lightweight flywheel that makes it easier to move the bike.
Thanks to the rear-drive design and the aluminum material, there is very little to clean, and the flywheel is durable against the corrosion.
The IC6 exercise bike is fixed-wheel, which means the pedals and the flywheel move and stop together. So, if you need to take a break or get off the bike in case of muscle cramps or emergency, you will need to wait until the flywheel stops turning.
For now, the only Life Fitness Indoor cycling bike that features a free-wheel (quick release) system is the IC8. It works just like outdoor bicycles, even when you stop pedaling, the wheel keeps turning.
IC6 Resistance
Magnetic Resistance, combined with belt drivetrain, creates the smoothest ride in-home cycling. Thankfully the IC6 indoor cycling bike combines both of these great features.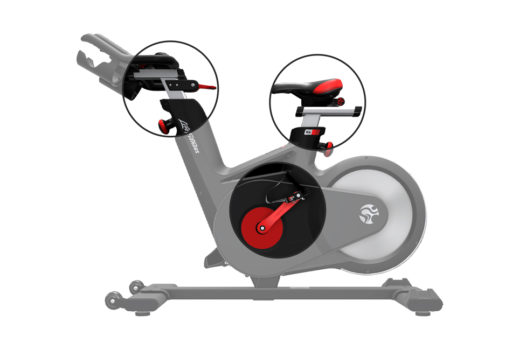 Featuring an automotive-grade Poly-V belt ensures a smooth and service-free bike. Unlike the chain drive bikes, belt-driven bikes do not require frequent oiling, cleaning, adjusting, and makes very little noise.
And since the IC6 cycle uses a magnetic brake in the flywheel to generate resistance, the cycling workout is nearly silent. The IC6 offers a physically demanding exercise that makes the bike a well-suited for at-home, especially apartment workouts.
Additionally, the lever adjustment allows the adjustment of the magnetic resistance quickly compared to knob adjustment. The fact that the lever is at the handlebar post makes it easy to access it from any ride position.
The cutting-edge monitor also gets rid of the guesswork and displays the resistance level as 0-100 on the WattRate TFT computer.
Handlebars and Seat
The Life Fitness indoor cycling group 6 has superior vertical and horizontal bike adjustments. The riders can adjust the saddle and handlebar fore/aft and up/down to ensure a safe and comfortable bike fit.
The handlebar integrated user assist technology makes adjustments more natural, safer, and faster. When you loosen the knob, the handlebars will slowly come out of the frame without an effort.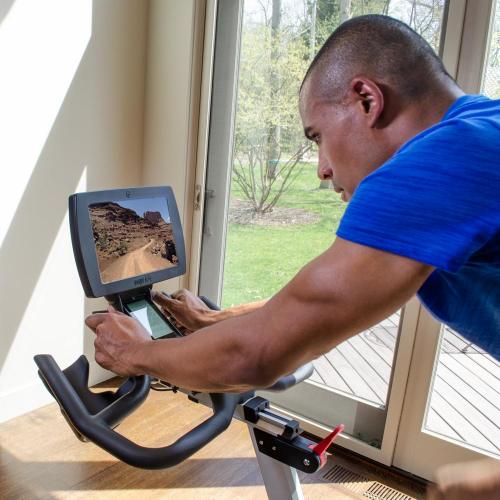 Featuring high-grade aluminum seat and handlebar posts with protection inserts reduce weight and are more durable for the club owner. It is made to make sure the posts don't move and rock during the ride, which is an issue found on some other spin bikes.
As I mentioned earlier in this IC6 exercise bike review, from top to bottom, this bike is designed biomechanically correct by experts. The ICG 6 bike has advanced ergo-formed handlebars.
For better upper body training and to allow you to change the wrest/arm positions, the IC6 by Life Fitness has multi-position arm-bars with soft hand grips. There are specific curves and soft PVC that provide support, additional Time Trial bar-ends, central ride-easy position.
IC6 Assembly and Shipping
As we talked about earlier in this Life Fitness IC6 reviews, the essential parts of this bike come assembled. The only parts that you would need to put together are the front and rear stabilizers, pedals, seat, handlebars, and the monitor.
You will also need to install the "MyRide tablet holder," which is pretty straight forward. But, if you are not sure you can assemble these parts of IC6 correctly, I suggest you buy a $60 expert assembly from Amazon.
Pros
MyRide
Self-powered
Q-factor
Workout modes
Eddy Current Magnetic Resistance makes the workout smooth and silent.
The gear adjustment levers make switching gears and resistance easy.
Commercial quality parts and heavy-duty steel frame unmatched in durability.
Wireless chest strap connectivity provides real-time information to help you get the most out of your workout (not included).
For/adjustable aft seat, handlebars to accommodate all riders, and for maximum comfort while working out.
SPD pedals and optional toe caps for safe cycling.
The High inertia evenly weighted flywheel provides for the smooth and fast rides.
Integrated Couch by Color console displays real-time data including Watt, heart rate, RPM, Time, Cal, distance, speed, and more.
Bluetooth and ANT+ connection capability for entertainment and to sync data on the cycling apps.
ICG's Coach By Color training system delivers real-time, color-coded biofeedback to the rider.
One of the best fully commercial and home use bikes in its price class.
It is (designed) by elite indoor and outdoor cyclists combining the best features of both styles.
Cons
Doesn't have drop handlebars
Doesn't have armrests
Life Fitness IC6 Summary
The Life Fitness ICG IC6 exercise bike has the versatility to meet everyone's training needs. With a 10:1 gear ration drive and 20 resistance levels, it offers a challenge for users of all skill levels. In addition to a silent resistance, users can adjust the seat and handlebars for a good bike fit without getting off the bike and use the SPD pedals with cycling shoes.
The new Life Fitness IC6 also comes with the MyRide tablet and adjustable media holder which usually costs up to $1100 itself. But thanks to the current offer, you are only paying for the bike, which is $2200.
Let's not forget that the ICG spin bike IC6 also has an industry-leading self-powered colorful touch monitor with Bluetooth and ANT+. It allows integrating mobile devices, tracking data long-term and syncing that data with fitness apps.
I hope you found this article helpful and informative. If you have anything that you'd like to share or opinions about the content on my site, please do speak up. I look forward to your comments, questions, and the sharing of ideas.
Recommended articles
Please follow and like us: