The Life Fitness T5 Track Non-folding Treadmill is an impressive blend of form and function. I'm a big fan of high-quality cushioning; heart rate controlled workouts and energy-saving technology. The mechanical quality, programming, and incline are enough to satisfy almost anyone.
The T5 treadmill track has a standard length (60″ long) but extra width (22″ across). The LifeSpring shock absorbers soften the impact unbelievably well. Unlike rubber and foam, these springs won't break down. An impressive cushioning package with three options for firmness will help runners improve endurance and minimize their risk of injury.
The T5 treadmill comes with a quiet 3.0 HP MagnaDrive Motor System. This smart technology detects user weight and adjusts the motor output accordingly. With three horsepower, its motor can handle runners and multiple daily users. Most owners can expect the engine to last much longer than a decade.
Enable Bluetooth on your smart device and sync with Nike+, Garmin, and MyFitnessPal through Wahoo's RunFit or to Apple Health, Jawbone, and Fitbit by enabling proximity login on the LFconnect app to keep all of your workout stats. Or, if you prefer a more engaging workout experience, connect to interactive apps such as RunSocial.
Learn more in my complete review below
Product: Life Fitness T5 Track Non-folding Treadmill
Price: For a great deal on this treadmill, merely go here on Amazon
Warranty: Frame lifetime / Motor 10 years / Parts 7 years / Electronics 3 years / Labor 1 year
My rating: 9.4/10
Amazon Affiliate Disclosure: I may earn commissions on purchases made through links in this post.
Details and Specifications
Assembled dimensions: 80L x 32W x 61H inches (203L x 81W x 155H cm)
Tread belt dimensions: 60L x 22W inches (152L x 56W cm)
Assembled weight: 341 lbs (155 kg)
Supported weight: 400 lbs (181.4 kg)
Motor: 3.0 HP continuous-duty DC
Incline: Automatic, 0%-15%
Deck cushioning: Adjustable, three levels
Speed levels: 0.5-12 MPH,
Console: Track connect, 14 training programs, USB connectivity, LF VirtualTrainer compatible, Android, iPhone, iPad, iPod compatible
Amenities: Cup holders, accessory holder, tablet tray,
Warranty: Frame lifetime / Motor 10 years / Parts 7 years / Electronics 3 years / Labor 1 year
T5 Frame
Since this Life Fitness treadmill features a dense, commercial-grade deck, it has to be sustained by a solid frame. The base of the treadmill is solid steel, coated with anti-scratch and corrosive resistant paint.
The rear base rests on two leveling feet with rubber caps, allowing the perfect leveling of the machine on just about any type of flooring. The front base rests on caster wheels, which can help with the relocation of the fully assembled treadmill. However, given the fact that this treadmill is quite heavy, with an overall weight of 341 lbs (155 kg), it's best to assemble it in the place where it will be in use.
This treadmill doesn't feature a folding, space-saver design. Its footprint is rather large, occupying 80″L x 32″W (203 x 81 cm) of floor space. On top of that, add some clearance around the treadmill for safe operation. The required area for most treadmills is 1′ on each side and a minimum of 3′ at the rear.
Deck and running surface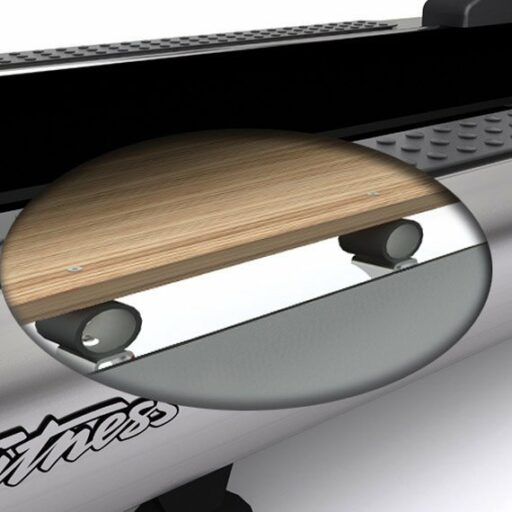 The deck of a treadmill is its most crucial component. The T5 offers an excellent deck, incorporating industrial quality rollers, 2.6″ at the front, 2.0″ at the rear, both precision crowned for a superior grip onto the running belt.
This treadmill features a 2-ply heavy-duty and stretch resistant belt, with a durable polyurethane top-layer, to supply the ideal running surface, and a nylon under-layer, for the optimal adherence to the rollers.
The T5 deck has a built-in suspension system, utilizing custom-engineered lifesprings, being able to absorb up to 30% from the impact on your joints. The suspension system has three levels of adjustment: Standard, Firm, and Hard. Therefore, this machine can simulate running on different surfaces, from asphalt and running pitch, to off-road.
This treadmill features a 60″L x 22″W (152 x 56 cm) running surface. It can support running, not just jogging or walking, and due to its dimensions, it can accommodate runners up to 6'6″ (198 cm) comfortably. When it comes to user weight capacity, the deck can withstand users up to 400 lbs (181.4 kg), just as any commercial treadmill should.
T5 Motor
The Life Fitness T5 treadmill uses a 3 HP continuous-duty motor, with a peak power of 6.0 HP. This motor can withstand long-running sessions at top speeds with no problem, even if the user is close to the maximum allowed capacity. You can be sure it won't choke, overheat or emit disturbing noises when putting up to superior stress.
This motor can offer speeds up to 12 MPH (19.3 KM/h). So, it's a machine built for running. The speed is adjustable in increments of 0.1 MPH. Therefore, you can be sure you'll get just the right speed level that fits best to your workout or fitness level.
Speed can be adjusted manually, as you run. Or, in case you're using one of the preloaded or custom workouts, the treadmill will adjust speed automatically, according to the current segment of the selected exercise.
This treadmill requires a connection to a standard 120 VAC power circuit. There is an On/Off switch at the front near the connection point of the power cord.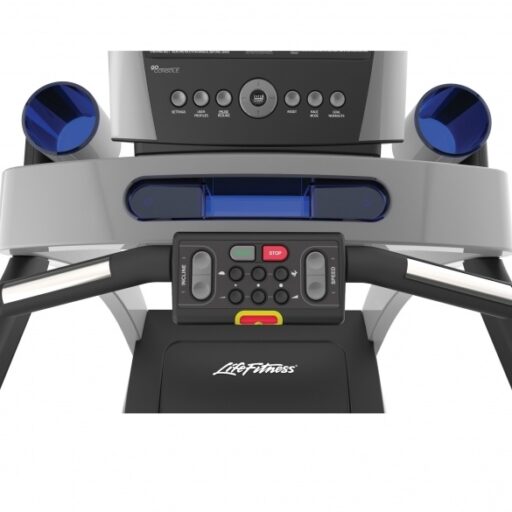 The Track console supplied with this running machine also has an Energy Saver Button, which puts it into sleep mode to reduce consumption when the treadmill is not in use. By default, the machine will enter Energy Saver Mode after 5 minutes of inactivity.
One final aspect to mention here is that the motor is quiet. And overall, the use of the treadmill is pretty smooth as well. Since the deck features a suspension system, not only that absorbs some of the shocks on your ankles and knees, it also reduces the noise generated by your cadence.
Incline
Just like any commercial quality treadmill, the T5 features a motorized incline system. Just as for the speed, you can adjust incline manually, as you run, or if using an onboard workout routine that involves incline, the machine will fit it automatically.
The incline supplied by this treadmill isn't extreme, though, as in the high-end industrial treadmills. It can be adjusted in increments of 0.5%, offering a maximum slope of 15%, which is approx — 9 °.
But the existence of this feature considerably increases the spectrum of possible workout routines that can be carried out on this machine. For example, running at 10 MPH, with a 10% incline, requires quite a high level of fitness.
The elevation given by the deck at 0% incline isn't high, placing you at 15″ above floor level. The slope at its maximum setting will add a couple more inches to your height. Therefore, to determine whether or not the room's ceiling will be tall enough, add at least 20″ to your height.
T5 Track Connect Console
The T5 treadmill offers the choice of 2 different consoles. The "Go" and the "Track" consoles. The one described here in this review is the "Track" console. Now, regarding the features and functions offered by the "Track" console, I'll start with the onboard programs that it includes.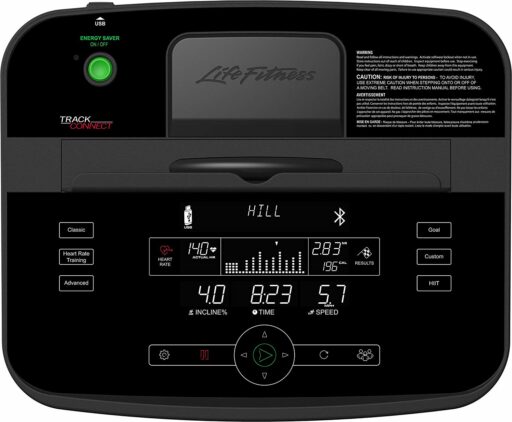 The "Track" console comes with 14 built-in training programs, programs developed and perfected by Life Fitness. These programs include Manual, Random, Hill, Fat Burn, Cardio, Heart Rate, Heart Rate Interval, Extreme Heart Rate, Fit Test, Sports Training, EZ incline, Goal, and 2x Custom Profile Workouts.
Each program has its specifics and focuses on a specific type of training. For example, the Goal program allows you to set up a goal for distance traveled, calories burned, or heart rate. The Fit Test gives you the possibility to determine your current fitness level and track your progress. And the Custom profiles allow you to create and define your workout.
There are several keys to the console for program selection and other features. However, the speed and incline keys are on the small control center connected to the transversal grips of the machine.
These controls include direct speed keys for 2 MPH / 3 KmH (Walk), 4 MPH / 6 KmH (Jog), and 6 MPH / 9.6 KmH (Run). There are also quick keys for 1.5%, 3%, and 5% incline. However, with the arrow keys, you can adjust incline and speed from the lowest to the maximum possible.
The display indicates multiple values, such as current heart rate and target heart rate, distance, calories, speed and incline levels, time, and existing workout profile. A segment of the screen also offers information and coaching throughout specific workouts.
Amenities
The "Track" console offers a USB port for data transfer. Via this USB port, you can upload new workouts from the LFConnect database, and also save your data, or custom programs, and upload them into your LFConnect account.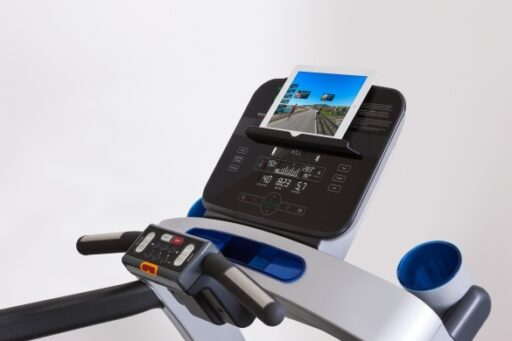 The console offers compatibility with Android and iOS Devices. It features a docking port for these devices at the top and a series of keys at the bottom, which allow you to control the sound on your docked device. The docking port also serves as a charging port for your device.
Additionally, there is a port for earbuds or earphones on the console, which offers more convenience on the positioning of the cable as you run. Also, the console incorporates two cup holders and an accessory holder, which are dish-washer friendly.
Last but not least, the Life Fitness "Track" console is telemetry enabled and can read pulse via an HR chest strap. However, the HR chest strap is not (included). The T5 integrates pulse sensors within the transversal grips of the machine. So, in case you don't work out with an HR chest strap, you can still track your pulse via these sensors.
T5 Assembly and Maintenance
First of all, since the running machine is quite heavy, it's best to place it on a mat to start. And second of all, you will need at least two people for unpacking and assembling the treadmill.
The overall assembly process is not complicated. The deck comes fully assembled. However, to connect the lateral upright bars of the machine, you will need to remove the motor hood, install the bars, and replace the motor hood.
Next, all you need to do is connect the bridge with the control unit, the console, and the cup holders. You will need to connect multiple wires between the motor and the console. The manual supplied with the machine will guide you through the whole process step by step.
For maintenance, you will need to vacuum the belt, under and around the deck. Also, inspect the functionality of the belt, the tightness of bolts, etc. The belt is pre-lubricated with high-performance lubricant, and shouldn't require any lubrication for an extended time.
Last but not least, don't forget to register your product with LifeFitness.com, to become a registered owner, which assures coverage in the event you lose your proof of purchase.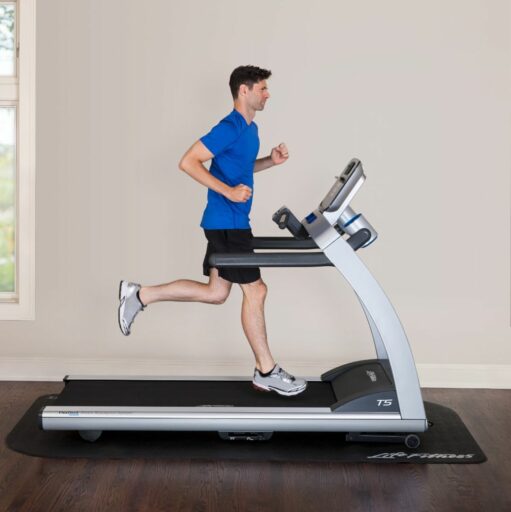 Pros
Substantial construction, similar to full commercial treadmills;
Commercial grade deck;
400 lbs user weight capacity;
Adjustable deck cushioning (3 levels);
2-ply, commercial quality belt, stretch-resistant;
3 HP continuous-duty DC motor;
Motorized incline 0-15%;
Life Fitness Track connect console, compatible with other Life Fitness machines;
12 preset workouts + 2 custom profile workouts;
Docking/charging port for Android and iOS devices;
Quick controls for your connected media device;
Headphone jack;
USB data transfer port;
Compatibility with LFConnect;
Pulse sensors and wireless pulse reading via chest strap;
Quiet machine;
Fairly easy to assemble;
Solid warranty plan.
Cons
No fans;
Doesn't have integrated speakers;
HR chest strap not included.
Life Fitness T5 Treadmill Summary
The Life Fitness T5 treadmill with the Track console offers the construction, weight capacity, and function range of a commercial treadmill. But still, it's rated as a treadmill for home use, and only comes with a user-oriented warranty. It's a treadmill that can supply the training set for a professional runner. But just as any full-range and reliable treadmill, it can be used for interval training, stamina building, losing weight, jogging, and walking.
Even though it costs quite a bit more than other models with this range of features and functions, it's a treadmill built to last. Therefore, it's safe to say that this particular machine is worth every penny.
I hope you found this article helpful and informative. If you have anything that you'd like to share or any opinions about my website, please do speak up. I look forward to your comments, questions, and the sharing of ideas.