The LifeCore R100 Rowing Machine is a perfect blend of two resistance types! With both air & magnetic resistance, users are sure to receive a smooth, consistent rowing stroke. Air resistance is excellent because it provides a smooth rowing motion and variable resistance. 'Variable' resistance means your rowing intensity determines the resistance level.
Magnetic resistance is excellent because it uses a magnetic brake system to create resistance. This is 'adjustable' resistance because you use the monitor or adjustment knob to increase or decrease resistance. With this in mind, the R100 has 16 different levels of adjustable resistance, which makes this rower ideal for people of all fitness levels.
The Lifecore R100 Rowing Machine comes with a multi-function performance monitor that has a large LCD blue/green backlit display. The monitor tracks various fitness data such as Strokes per minute, Pulse rate, Watts, Time/500M, Total time, Total number of strokes, Meters rowed, and Calories burned.
Being "commercial grade" means it's is built like a tank. It's designed to take daily abuse from being used multiple times a day in gyms and fitness centers. Every part on the rower is made to last from the solid steel fan and flywheel to the industrial-grade nylon strap and seat.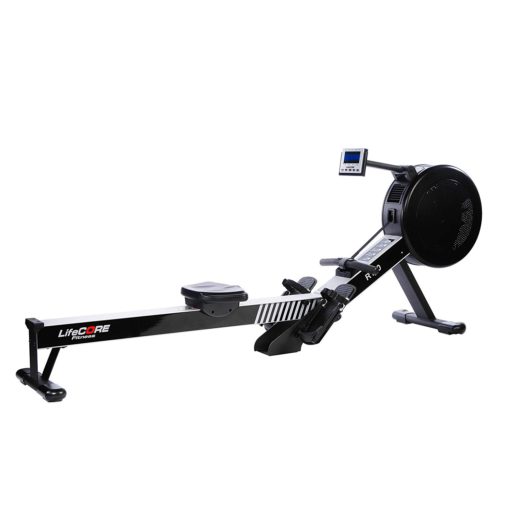 Learn more in my complete review below
Product: LifeCore R100 Rowing Machine
Price: For a great deal on this rower, merely go here on Amazon
Warranty: Residential / Lifetime frame / One year on labor / Five years on parts (see commercial warranty below)
My rating: 8.5/10
Amazon Affiliate Disclosure: I may earn commissions on purchases made through links in this post.
Details and Specifications
Dimensions: Length: 92." / Width: 19" / Height: 36."
Product Weight: 96 lbs
Folded Dimensions: Length: 52." / Width: 19" / Height: 67."

Fan resistance and electronic, magnetic resistance

Nylon belt drive
Resistance levels controlled by the computer monitor
Steel fan flywheel
Forged aluminum rail
Large, steel, pivoting foot pads
Separate heel supports
Ergonomic rowing handle
Adjustable air vents for cooling user during a workout
Wheels for transport
Max User Weight: 600 lbs
In-home Warranty: Lifetime frame / Five years on parts / one year on labor
Light Commercial Warranty: Lifetime frame / 2 years on parts / 90 days labor
R100 Resistance System
To dig into this LifeCore rowing machine's unique resistance system, we should point out that this is the only rowing machine out there that offers both fan and magnetic resistance. Why is this interesting? Fan resistance provides smooth rowing by pulling through the air, but this style can get noisy when stroking at high intensity.
It also is harder for the machine to offer fierce resistance at higher velocity strokes with air-only resistance. Thus, that's where electric, magnetic resistance comes in.
In fact, on the LifeCore R100, magnetic resistance comes in almost immediately. The rowing machine's resistance is all fan-generated at Level 1. Then at Level 2 and beyond, magnetic resistance is engaged.
The magnetic resistance braking system provides controlled intensity while the fan resistance continues to give an overall smooth and quiet rowing action. Pretty smart.
As a bonus, the R100 has an air vent aimed at the user that you can close or open (like vents in a car) to give you a human-powered cooling breeze during your workout. Nice to see all that moving air from the fan flywheel go to good use.
Monitor/Control Panel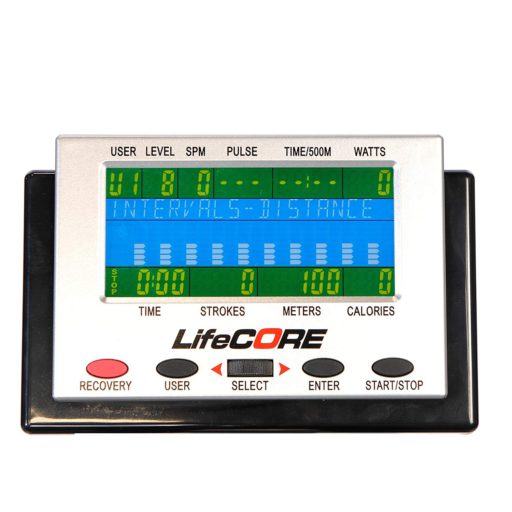 The Lifecore R100 Commercial Rowing Machine comes with a nifty multifunctional performance monitor that has a large LCD blue/green backlit display.
The monitor tracks various fitness data, such as:
Strokes per minute
Pulse rate
Watts
Time/ 500M
Total time
Total number of strokes
Meters rowed
Calories Burned
All data is displayed simultaneously on the main screen.  The monitor also displays battery level, workout resistance level, workout program, and user profile.
The large LCD backlit display makes it easy to understand the workout data, even in low-lit areas. Thus, it's straightforward to use. In particular, it has five buttons, all on the face of the monitor.
The monitor arm is extended and adjustable, which allows the monitor's angle and height to be adjusted based on the user's preference.  The arm's length is great because it places the monitor in a "reachable" distance from the rower, meaning users don't have to take their feet out of the footrests to use it.
The Lifecore R100 Commercial Rowing Machine allows users to create unique user profiles for four different users. Specific user details such as gender information, age, weight, and height are requested and are used to calculate workout data more accurately and to provide better experiences with future workouts.
Built-in heart rate receiver and Recovery Button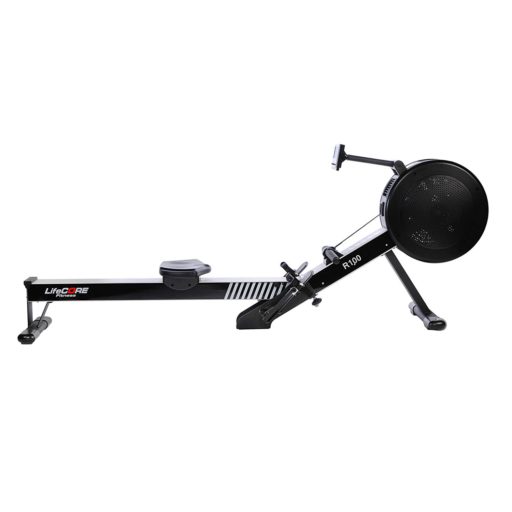 It comes with a built-in heart rate receiver and includes a free wireless chest strap to record your pulse rate during workouts.
In addition to monitoring your heart rate during workouts, the monitor can also check your recovery heart rate (the amount of time it takes for your heart to recover after a workout) by just pressing the 'recovery' button on the face of the monitor immediately after a workout.
After 60 seconds, the monitor will see how your heart rate is and will rank your fitness level accordingly in one of six degrees. Level 1 means you're in excellent shape, and Level 6 means you're below average.
R100 Workout Programs
Out of all the features this monitor has, users raved about the workout programs the most.  The Lifecore R100 Commercial Rowing Machine offers 15 different workout programs, and I'll highlight the different program types below:
Manual Program
This is a quick start program where the user determines what resistance level they want to row at
The user chooses a target distance and time
White Water and Ramp Programs
These programs "simulate" rowing on white waters and ramps
The resistance levels will change as you go through the program and you can increase or decrease the resistance at any time
The user chooses a target distance and time
Pacer Program
Allows the user to race against or row beside a pace boat
The user determines the speed/ pace of the pace boat
Boat icons will be displayed on the monitor to show where you are relative to the pace boat
The monitor will let you know how many meters you're behind or ahead of the pace boat if you're not rowing beside it
Interval Programs
There are two types; time and distance
Help build speed and endurance
Intervals are a combination of short and very intense rowing sessions mixed with short recovery periods
The user determines the number of intervals and rest times
WATTS Control Program
Allows the user to determine watt (power) goal
Your rowing speed automatically determines the resistance level; manual selection of resistance is disabled
The user chooses a target distance, time, and watt level
Heart Rate Control Programs
Allows the user to keep training at their desired heart rate level
Programs use individual user profiles
Three heart rate level options:  60%, 75%, 85%
The user chooses a target distance and time
To sum things up, the Lifecore R100 Commerical Rowing Machine's performance monitor offers plenty of options, makes reading the data easy, and is simple to use.
R100 Assembly
Many users commented on how easy it was to put the Lifecore R100 Commercial Rowing Machine together. Some users even mentioned that they were able to put it together in under 10 minutes with the included Allen wrench!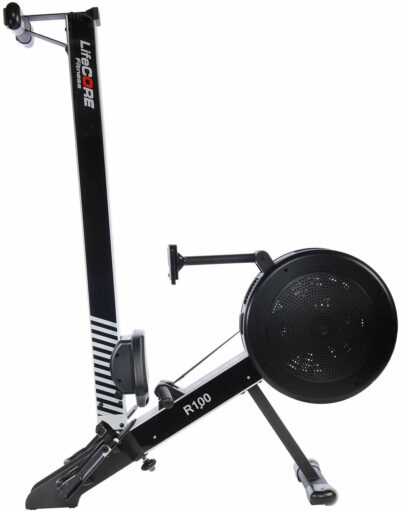 The instruction manual is very detailed and easy to read, so even if you're not the type of person that's good at putting things together, it shouldn't take you longer than 30 minutes.
Pros
Commercial-grade durability
Dual-resistance setup  (air and magnetic)
Winner of the 2013 Head of the Class Award
Smooth rowing motion
Oversized, comfortable seat
Backlit performance monitor with several different workout programs
A battery or AC adapter can power the performance monitor
16 different resistance levels that are adjustable from the performance monitor
Rower includes wireless chest strap for heart rate monitoring
Detailed and easy to read the instruction manual
Easy to assemble
Dual-caster wheels
Lifetime warranty on the frame
Cons
Heavy
Higher-end price range
LifeCore R100 Rowing Machine Summary
The LifeCore R100 Rowing Machine should be near the top of your list when considering rowing machines in this price range. Specifically, it's closest competitors will be the Concept2 and WaterRower lines.
Overall, the R100 is going to last you a long time, and if anything goes wrong, you've got a solid warranty and helpful customer service to sort it out. Accordingly, I highly recommend it.
I hope you found this article helpful and informative. If you have anything that you'd like to share or opinions about the content on my website, please do speak up. I look forward to your comments, questions, and the sharing of ideas.
Recommended articles:
Please follow and like us: