With the LifePro FlexCycle Bike, you can build cardiovascular fitness and muscle strength from the comfort of your home or office. Use the FlexCycle while sitting on the couch watching TV, while reading a book, or while sitting in a chair. The FlexCycle is small and portable enough to take with you to work and fits right under your desk!
The FlexCycle under desk exercise bike improves blood circulation, muscle tone, and flexibility. Eight resistance levels allow you to create custom cycling workouts. On the lowest resistance level, exercises would be equivalent to a leisurely bike ride in the park. Increasing the resistance allows you to create more intense workouts, similar to biking up a steep hill.
Clear your mind while you build up stamina and lean muscles. At least 75 minutes weekly of vigorous aerobic exercise such as cycling is recommended for optimal health. The FlexCycle bike is easy on joints and makes getting those minutes in a breeze. Included are optional resistance bands that hook up to the front of the bike, so you can up your workout intensity whenever you like.
The LifePro FlexCycle Bike includes stabilizers to keep your under-desk bike from bumping, shaking, or moving while you peddle. However, an optional strap also comes included so you can use it to tether your stationary bike to your chair. Also, the under desk cycle comes with a portable handle that makes it easy to carry and store.
Learn more in my complete review below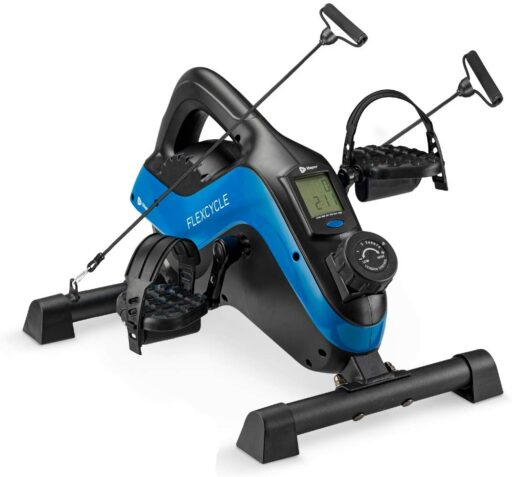 Product: LifePro FlexCycle Bike
Price: For a great deal on this bike, merely go here on Amazon
Warranty: Lifetime
My rating: 9/10
Amazon Affiliate Disclosure: I may earn commissions on purchases made through links in this post.
Details and Specifications
Assembled dimensions: 20.9L x 17.5W x 13.2H inches (53L x 44W x 33H cm)
Assembled weight: 18.1 lbs (8.2 kg)
Pedals: With straps
Resistance: Manual magnetic, eight levels
Fitness monitor: RPM, time, count, total count, distance, calories, scan, Bluetooth, Zwift compatible
Extras: Resistance bands
Warranty: Lifetime
FlexCycle Frame construction and parts
The LifePro FlexCycle under desk exercise bike features a steel frame coated with a durable black paint finish. However, two plastic guards cover the drive and resistance elements. These are rigid thermoplastic materials and have a built-in handle for the easy portability of the unit. The bike is available in a choice of two colors, blue or white.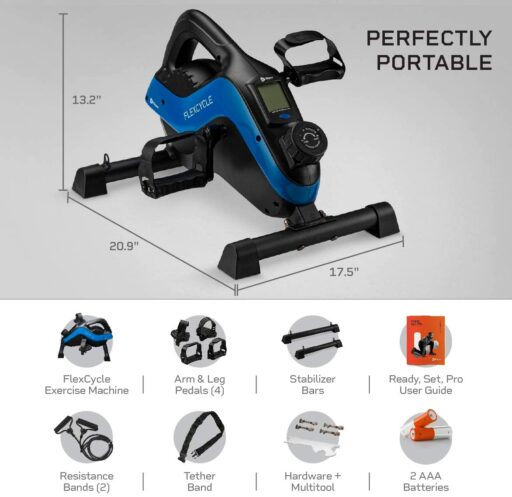 Both base bars of the bike rests on rubber pads for an improved grip on the floor. The front base stabilizer is slightly longer than the rear one and has two built-in anchor points to attach the two included resistance bands for arm exercises.
These consist of two elastic cords with standard D-handles. They offer the possibility to perform curls, rows, and several other exercises.
Like most other under desk bikes or elliptical machines, the LifePro FlexCycle is a relatively small unit. With all the parts assembled, it is 20.9″ (53 cm) long and 17.5″ (44 cm) wide, while its highest point is 13.2″ (33 cm).
The maximum pedal height is approx. 11″ (27 cm), therefore, the bike should fit under most standard desks, and you shouldn't hit your knees on the top board.
Since it's a small, under desk exercise bike, the FlexCycle is also pretty light. Its net weight is only 18.1 lbs (8.2 kg), so one person can easily carry the bike.
Drive system
The LifePro FlexCycle bike comes equipped with a perimeter-weighted flywheel for improved inertia. Its exact weight is not specified, but since the unit's net weight is only 18 lbs (8.2 kg), the flywheel probably doesn't weigh more than 7-8 lbs (3.1 – 3.6 kg).
It delivers a smooth and steady motion. It is bi-directional, so you can pedal in reverse if you want, but coasting on the bike is impossible. If you stop pedaling, the flywheel will also stop spinning.
The bike comes equipped with a belt drive system. This means you don't have to go through the hassle of removing the plastic guards to lubricate it periodically, as would be the case with a chain drivetrain. The belt also delivers slightly less vibration than a chain and contributes to the ride's overall smoothness.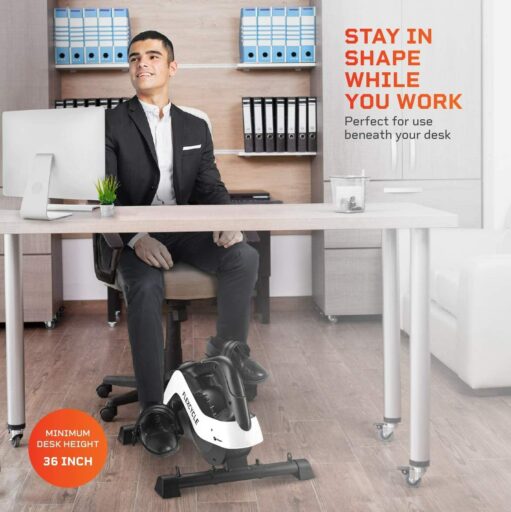 The FlexCycle under desk exercise bike features a pretty tough, three-piece crankset. The crank arms are slightly shorter than for a road bike. The crankset and the pedals are not for pedaling while standing up. That's why LifePro does not specify a specific weight limit for the cycle, as you must remain seated while pedaling.
The pedals are durable thermoplastic material and have a metallic center. They are weighted, so they always turn face-up if you remove your feet from them. They have a textured surface for an improved grip, and they have adjustable straps so you can secure your feet on them if necessary.
A set of hand pedals come included with the bike if you want to exercise using your arms. These are thinner than the foot pedals and have ergonomic grips for comfortable hand positioning. They also have straps for hand stability.
FlexCycle Resistance system
The bike comes equipped with a manual magnetic resistance system. Thus, you don't need an adapter or an external power source for it. However, since it does not have an internal motor, it cannot adjust the resistance automatically, and the included console does not have pre-set workout programs.
The resistance system consists of a magnetic brake attached to the flywheel assembly and the tension dial under the fitness monitor. As you turn this dial clockwise, the magnetic brake moves closer to the flywheel, which increases the intensity of the created magnetic field.
This leads to an increased pedaling difficulty. Conversely, if you turn the dial counterclockwise, the magnetic brake moves away from the flywheel, which decreases the pedaling load.
The bike makes available eight levels of magnetic resistance. The first level of resistance is reasonably light, great for a fitness warm-up and recovery training. The pedal tension provided by the 8th level is considerably distinguishable from the 1st level. However, the bike is for light workouts and recovery training to offer the same workout level as a spin bike.
Console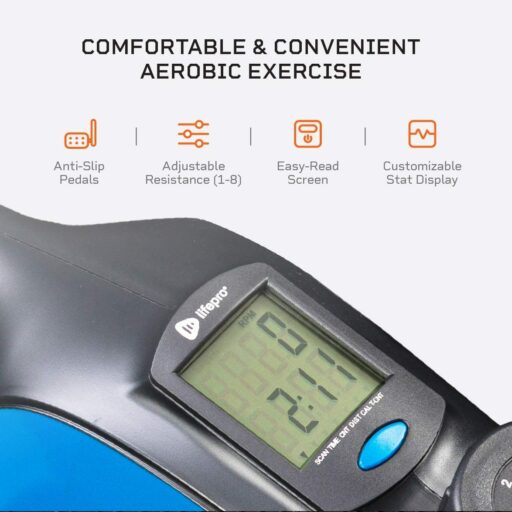 The fitness console included with the LifePro FlexCycle under desk exercise bike features an LCD that tracks time, distance, RPM, count, total count, and calories burned. The display has two sub-sections; the top one always shows your RPM (revolutions per minute), while the bottom section shows the other workout metrics.
The count metric shows the revolutions per workout, while the t-count metric indicates the total of revolutions performed on the bike since the first use. The distance displays in miles, and there is no option for meters or kilometers. Also, the unit does not have a pulse reading function.
The console is easy to use. It only has one button. By pressing the button, you can scroll through the workout metrics shown on the bottom section of the display and select the one you want to view.
This way, you can also select the Scan Mode, which rotates all the metrics showing each one for a few seconds. The button also has a reset function. You can press and hold it for a few seconds to clear all the metrics to zero.
This under desk exercise bike is not motorized, so it does not have pre-set workout programs and cannot adjust the resistance automatically. However, it does have built-in Bluetooth connectivity and comes with a QR code.
It is compatible with Zwift and other apps, so you can create a personalized workout plan, track your calories burned online, set up workout goals, and more, depending on the features of the app you will be using.
The console is battery-powered, and it requires two AAA batteries which come included with the bike. It starts up when you begin pedaling or when you press the button. It also turns off automatically after four minutes of inactivity on the bike.
FlexCycle Assembly and Maintenance
The main body of the bike with all the drive and resistance elements comes pre-assembled. You only need to attach the front and rear stabilizers, the pedals, and the two resistance bands. This shouldn't take more than 15 minutes. The task is relatively simple, and the manual provides precise assembly instructions. Also, an essential multi-tool comes included with the bike.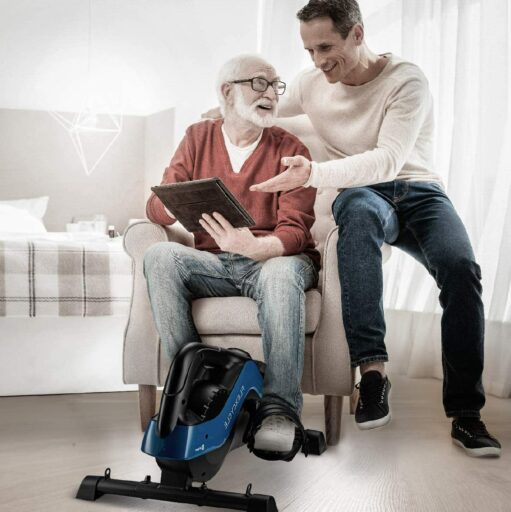 Once assembled, maintenance doesn't require much. You only have to keep it clean and periodically check for loose bolts and parts and retighten if necessary. Also, the bike is for indoor use only. If kept outside, moisture may eventually corrode the internal components.
And finally, the unit comes with a lifetime warranty, but to activate it, you must register it on the official LifePro website within two weeks from purchase.
Pros
Sturdy construction and compact design;
Built-in carrying handle;
Weighted foot pedals with straps;
Pedals for arm exercises included as well;
Resistance bands with handles included;
Tether strap included;
Frictionless magnetic resistance for a whisper-quiet workout;
Fitness console that tracks RPM, time, distance, count, t-count, and calories burned;
Bluetooth connectivity and compatibility with various apps such as Zwift;
Batteries for the monitor included;
Easy to assemble;
Little maintenance required;
A multi-tool for assembly included;
Lifetime warranty.
Cons
No pulse reading function;
The LCD does not have a backlight.
LifePro FlexCycle Bike Summary
The LifePro FlexCycle bike is an under desk exercise bike made for home or office use. It comes equipped with an 8-level manual magnetic resistance system and a fitness console that tracks time, distance, RPM, count, t-count, and calories burned. The console is also Bluetooth enabled so that you can sync your bike with various apps such as Zwift for online progress tracking and workout planning.
Moreover, it's a great exercise bike for light exercising, recovery training, stamina and strength improvement, stress reduction, and improving cardiovascular fitness.
I hope you found this article helpful and informative. If you have anything you would like to share or any opinions about my website, please speak up. I look forward to your comments, questions, and the sharing of ideas.