The LifeSpan E2i elliptical cross training machine provides exceptional cardiovascular and fat-burning abilities, as well as integrated ramping power to target your calves, quads, and glutes specifically.
Develop perfect equilibrium from the moment you begin exercising. A LifeSpan-exclusive feature, CoreBalance technology identifies exactly where effort imbalances may exist from the first stride that you take. Integrated pedal sensors detect each leg's precise amount of force and display your unique data directly to the fitness elliptical's console.
The E2i cross-trainer is armed with technology to help you get the exact results you desire in minimal time. Experience boundless training potential with 20 grades of intensity and 20 distinct ramp levels, letting you target individual muscles at the precise force you desire. Develop incredible cardiovascular fitness as you focus on your calves, hamstrings, glutes, and quadriceps.
Fit to handle your most intense workouts, the E2i boasts a sturdy all-steel frame and solid 25-pound flywheel. Coast smoothly with a comfortable, 20" stride length and an ergonomically-tuned Q-factor, precision-engineered to provide smooth motion patterns, quiet operation, and miles of practical training.
Learn more in my complete review below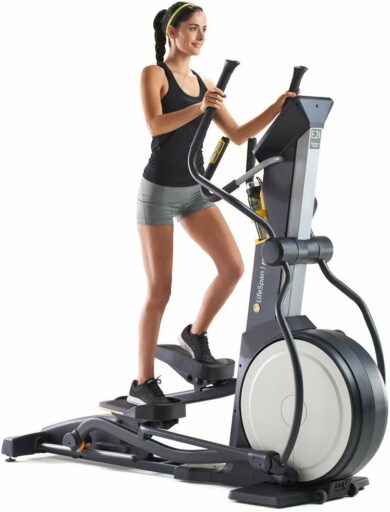 Product: LifeSpan E2i Elliptical Trainer
Price: For a great deal on this elliptical, merely go here on Amazon
Warranty: Frame lifetime / Parts 3 years / Labor 1 year
My rating: 8/10
Amazon Affiliate Disclosure: I may earn commissions on purchases made through links in this post.
Details and Specifications
Assembled dimensions: 80L x 24W x 69H inches (203L x 61W x 175H cm)
Assembled weight: 207 lbs (94 kg)
Flywheel weight: 25 lbs (11.3 kg)
Supported weight: 350 lbs (158.7 kg)
Stride: 20 inches (51 cm)
Incline: Automatic, 20 levels
Resistance: Magnetic, motor-assisted
Pedals: CoreBalance technology
Handlebars: Mobile and fixed
Console: 17 pre-set programs, 2 HR, two custom user programs, Bluetooth capable, USB port
Amenities: Sound system, bottle holder, tablet holder,
Warranty: Frame lifetime / Parts 3 years / Labor 1 year
E2i Frame construction
This LifeSpan elliptical trainer features substantial construction. Its frame is all-steel, robotically welded, with very few joints connected via bolts and nuts. On top of that, the machine is hefty, with a net weight of 207 lbs (94 kg). This means its transport, unboxing, and assembly require at least two people. All the steel parts in its construction are double-coated with corrosion-resistant paint, mostly black.
The frame not only has a massive construction, but it also has an aesthetic design. It integrates several PVC covers for some parts to improve its overall aspect and add extra protection to those parts. For example, both bases have covers, while the console mast integrates a bottle holder.
Although the machine's weight plays an essential role in its overall stability, the frame still is equipped with several adjustable stabilizers with rubber caps. It's always advisable to place the machine on a mat. This will prevent any damage to the floor due to its weight.
The machine's frame isn't foldable. However, once assembled, its relocation is quick and easy via its front wheels. You only need to be able to lift approx — 40 lbs to lean it on its wheels. The rear base also integrates a handle for this purpose.
Incline, stride, and step-up height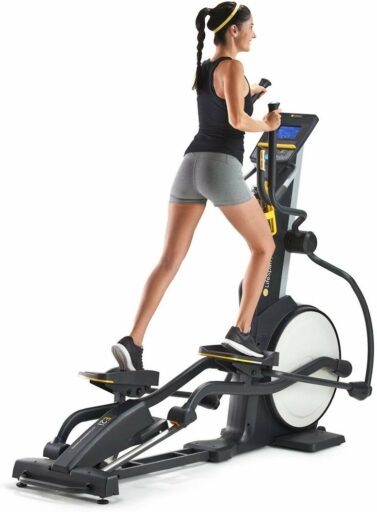 The LifeSpan E2i elliptical cross trainer features a motorized incline system, which means it is only adjustable from the console. It also means that you can put a lot of diversity in your workouts, putting more focus on your calves, hamstrings, glutes, or quads.
The incline motor is placed at the rear of the machine and lifts the two rail bars of the pedals, changing the elliptical motion's disposition. The incline has 20 distinctive settings; at a maximum slope, the two bars' ramp is approx — 30 °.
The step-up pedal height, at 0° incline is 12″ (30.4 cm). Adjusting the slope to the maximum will add approx — 10″ (25.4 cm) to your height. Therefore, to avoid any inconveniences, add at least 25-26 inches to your size.
Last but not least, this machine offers a fixed, 20″ (51 cm) stride. This means it can accommodate users comfortably up to 6'2″ – 6'3″ (188-190 cm.
E2i Resistance System
The LifeSpan E2i trainer features a motor-assisted magnetic resistance system. This means it requires to be connected to a power source so that you can benefit from resistance adjustment. Also, it means that resistance is adjustable only from the machine's console.
The resistance system consists of a servo motor, which takes the console's commands and changes the pull of the magnetic elements to increase the drag on the flywheel. Since the resistance is frictionless, the pedaling motion is exceptionally smooth and quiet. Also, there's virtually no wear and tear in the resistance elements.
The machine's console makes available 20 resistance settings. There are keys on it for gradual resistance adjustment and quick resistance adjustment. If you're going to use one of the onboard exercise programs, resistance will adjust automatically. This also goes for the incline if the application in use involves incline.
The lowest resistance levels deliver light workouts, perfect for warm-ups or recovery training, while the top resistance levels can make you sweat.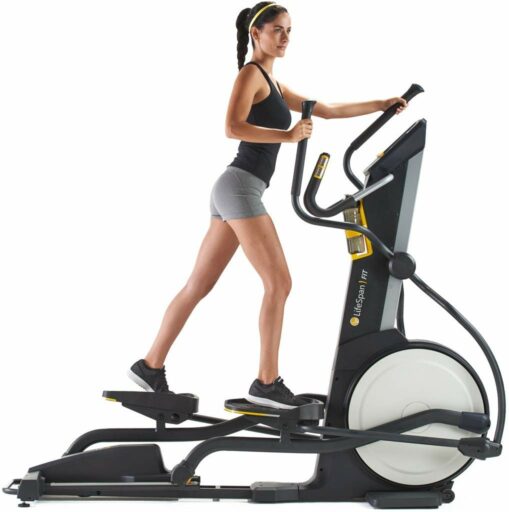 Drive System
This LifeSpan elliptical trainer comes with a perimeter weighted, 25 lbs (11.3 kg) flywheel, which supplies a smooth pedaling motion, and consistent momentum.
The transmission between the pulley and the wheel is made available by a heavy-duty v-belt. As a general idea, a belt drive system is much quieter than a chain drive and does not require any maintenance.
The machine's pedals are on excellent steel bars. They support users up to 350 lbs (158.7 kg), and they glide on large rollers with integrated ball bearings for a smooth motion. As opposed to the LifeSpan E3i, this model only has one rail bar for each pedal. However, this aspect doesn't affect the overall feel of the elliptical motion.
LifeSpan ellipticals, including the E2i model, feature CoreBalance technology. In other words, the pedals come with sensors that detect the precise amount of pressure you apply on each pedal, displaying the data on the console screen. This way, you can adapt your pedaling motion to achieve perfect balance and an even workout for both legs.
The pedals are spacious enough to accommodate sports shoes of all sizes. They have an adherent surface, providing excellent stability for the feet. The machine's Q-factor (the distance between the pedals) is natural, 3.9″ wide (99 mm). This results in a comfortable stride without any lateral impact on the knees.
This elliptical machine features two sets of handlebars: fixed and mobile. The fixed handlebars integrate stainless steel pulse sensors for heart rate monitoring.
The mobile handlebars have a multi-grip design, with removable upper arms to provide an additional workout option. Their grips are covered by a sheet of rubber foam material, supplying excellent comfort.
E2i Console
The E2i LifeSpan elliptical cross trainer comes with a mid-range console, with a 6″, multi-panel LCD, with a blue backlight. Its readouts include speed, time, stride count, watts, calories burned, heart rate, date and clock, and the CoreBalance. Of course, the selected resistance and incline levels are also (displayed).
The console unit has 21 workout programs, plus the free stride mode. The 21 programs include 2 for heart rate, two custom user workouts, and 17 preset workouts, and the preset activities are three categories: weight management (5), healthy living (5), and sports training (7). The custom user programs give you the possibility to design your workouts.
To track your pulse and use the HR programs, you will have to hold onto the stainless steel pulse sensors mounted on the fixed handlebars. However, the console unit has a built-in HR receiver and can read your pulse wirelessly via a chest strap transmitter. This accessory is not (included), though.
The E2i console is also Bluetooth capable. It can sync with your IOS or Android device to wirelessly access your LifeSpan Club account. Namely, for workout data transfer, tracking your weight and progress, or get more info about health and fitness. However, the Bluetooth adapter is optional, not included with the machine, and costs approx. $29.
The LifeSpan Club membership is free, and you can still upload your workout data into your account via USB, as the console features a USB port. The USB port works as a charging port for your device as well. The Active Trac app for your IOS or Android device is also free.
Amenities
Two other features to mention here are the tablet holder and the sound system. The tablet holder is a small ledge under the console display, long enough to support any tablet or smartphone.
The sound system consists of two speakers placed at the top of the console. This sound system is compatible with most smartphones, tablets, and MP3 devices. The sound rendered by it, although not top-notch quality, still is considerably superior to any phone or tablet speakers.
E2i Assembly and Maintenance
As I've mentioned above, this elliptical cross trainer is quite substantial. Thus, the receiving of the package, unboxing, and assembly should be with the help of at least two people. The assembly process is not rocket science, but it may take up to three hours due to the many parts that require assembly.
The motors and internal components are pre-assembled and attached to the frame. The only parts that require assembly are the bases, pedals, lateral and upright bars, console, and wire connections. The supplied manual provides clear and concise step-by-step assembly instructions. Tools are also (included).
Maintenance requires the machine's rails clean to be kept clean to protect the pedal wheels. The bar joints may require periodic lubrication. Other than this, there isn't anything much to be done in terms of maintenance.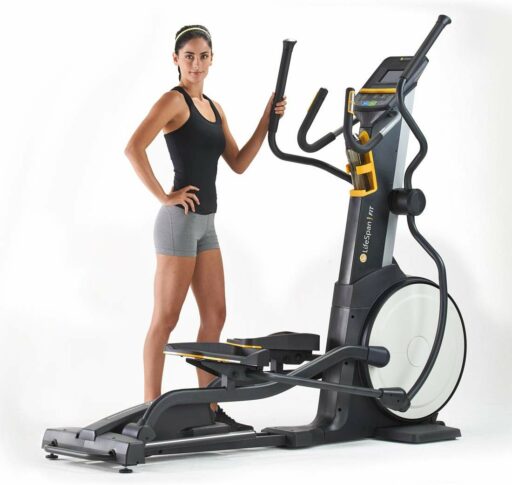 Pros
Sturdy frame and overall construction, a machine able to support users up to 350 lbs;
Elegant design lines;
Rubberized, adjustable foot stabilizers on all bases;
Ergonomic pedals with CoreBalance technology;
Automatic incline, with up to 30° slope, with 20 levels;
20 levels of magnetic, motor-assisted resistance;
Smooth and quiet drive;
Fixed and mobile handlebars;
Pulse sensors incorporated within the fixed handlebars;
HR receiver built-in console (can read pulse via wireless HR chest strap);
Mid-range console with a multi-panel, LED-backlit display;
21 built-in workout programs;
Bluetooth capable console;
A USB port for workout data transfer;
Free online LifeSpan membership for uploading your workout data and tracking your progress;
Sound system included;
Tablet holder included;
The bottle holder comes included;
Little maintenance required;
Excellent warranty package.
Cons
No cooling fan;
A tablet placed on the media holder may block the view of the LCD;
Bluetooth adapter not included.
LifeSpan E2i Summary
The LifeSpan E2i is a heavy-duty elliptical trainer with a construction similar to gym grade models. It offers 20 levels of eddy current resistance, a rear motorized incline with 20 ramp levels, and a training range for all users, from beginner to pro. Its console has 21 workout programs, being also Bluetooth capable.
It's an excellent machine for stamina building, interval training, weight loss, and of course, cardio training. In all, it's a cross-trainer with an excellent price/value ratio, as it costs approximately $1,000 while offering construction and specs range close to a commercial machine.
I hope you found this article helpful and informative. If you have anything you'd like to share or any opinions about my website, please speak up. I look forward to your comments, questions, and the sharing of ideas.