In a nutshell, the LifeSpan TR3000I Treadmill is one of the best treadmills for home use on the market. It's affordable, durable, reliable, and includes many features that improve the overall experience. It's made with the consumer in mind with some LifeSpan patented designs like Intelli-Guard, Intelli-Step, and Intelli-Key.
The 1-inch thick deck is a 20″ x 56″ area for walking, jogging, or running, and has eight shock absorbers to cushion the impact — ideal for toning up, managing your weight, and improving your cardiovascular health. The deck suspension system supports people up to 350 pounds in weight. The TR3000i treadmill includes a folding frame with an automatic EZ Drop system.
The LifeSpan Fitness TR3000i features include a 7-inch full-color touchscreen with three dashboard views (graph view, gauge view, and track view). Keeps track of time, calories, distance, heart
The LifeSpan TR3000i Treadmill's best feature is the variety of programmed workouts and the workout tracking option. This treadmill comes with 38 programmed workouts, including weight management exercises, healthy living, and sports training.
Learn more in my complete review below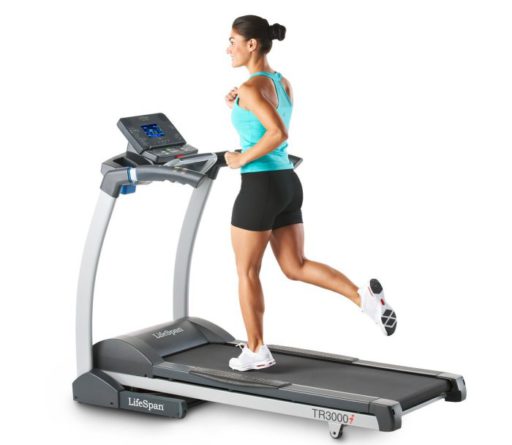 Product: LifeSpan TR3000i Treadmill
Price: For a great deal on this treadmill, merely go here on Amazon
Warranty: Frame lifetime / Motor lifetime / Parts 5 years / Labor 1 year
My rating: 8.25/10
Amazon Affiliate Disclosure: I may earn commissions from purchases made through links in this post.
Details and Specifications
Assembled dimensions: 71L x 33W x 56H inches (180L x 84W x 142H cm)
Tread belt dimensions: 56L x 20W inches (142.2L x 51W cm)
Product weight: 225 lbs (102 kg)
Weight capacity: 350 lbs (159 kg)
Motor: 2.75 CHP
Incline: Automatic, 15 levels
Deck cushioning: 8 compression shocks absorbers
Speed levels: 0.5 – 12 MPH
Console: 7″ full-color touchscreen, 38 programs, Bluetooth enabled
Amenities: Sound system, USB charging/data transfer port, bottle holders, media holders, cooling fan
Warranty: Frame lifetime / Motor lifetime / Parts 5 years / Labor 1 year
TR3000i Frame
The LifeSpan TR3000i treadmill features a steel frame with extraordinarily sturdy and heavy construction. It's assembled weight is 225 lbs (102 kg), providing a lot of stability. Despite its weight, the fully-assembled machine is relatively easy to move.
The deck's rear feet integrate small wheels and the front part of the metallic frame. Therefore, if you need to relocate the machine, you will handle less than half of its total weight. The machine's front base and the rear part of the metallic base have rubberized stabilizers, which supply a better grip onto the floor.
This treadmill features a folding design. It has the EZfold™ system consists of a hydraulic cylinder, which assists you with the deck's unfolding, preventing it from dropping hard on the floor when unfolding it. With the deck folded up, the machine's length is 42″ (106 cm).
Conversely, with the deck unfolded, the machine has a footprint of 71″L x 33″W (180 x 84 cm). It's a medium-sized machine, which should fit even in a smaller room. However, keep in mind that it requires at least 2 feet of clearance on each side and at least 3 feet of clearance at the rear for safe operation.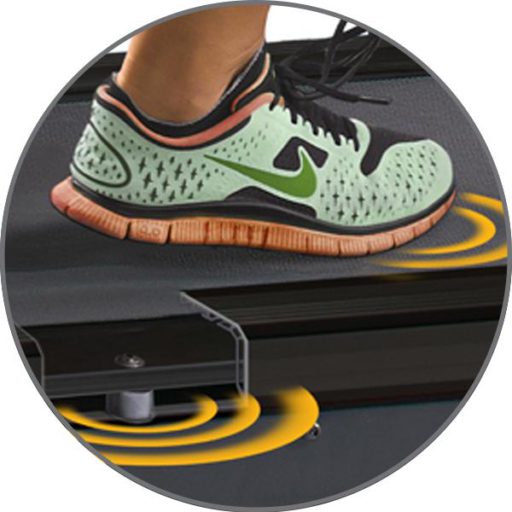 All steel parts of the machine's frame have corrosion-resistant and scratch-resistant paint. The base frame is black, while the upright posts that sustain the console are gray. For now, these are the only colors available.
TR3000i Deck
The TR3000i treadmill has an extremely sturdy, 1″ (2.5 cm) phenolic deck. It can support users up to 350 lbs (159 kg) without permanently bending or breaking, which is quite impressive for a treadmill model in this price/feature range.
The deck has a built-in cushioning system consisting of 8 shock absorber elements, which alleviate up to 30 percent of the running impact. A run on this treadmill is considerably more forgiving for your joints than on concrete or asphalt.
The deck integrates large rollers, 2.5″ at the front, 2″ at the rear, supplying a steady motion to the belt and reducing wear. The running surface consists of a 2-ply, heavy-duty, no-stretch belt, 56″ (142 cm) long, 20″ (51 cm) wide.
This means the treadmill can accommodate users up to 6'3″ – 6'4″ with no problem. Taller users, however, may consider the running surface a bit too short, but as long as they weigh less than 350 lbs, they should be able to use the machine.
Incline & step-up height
The LifeSpan TR3000i has a motorized incline system. It provides a ramp of up to 15%, which is approx—11 °. The incline is adjustable in increments of 1%, having 15 adjustment settings in total. Even though the machine doesn't have the 30-40 degrees of incline, such as some commercial treadmills, this feature is quite a plus.
Not only it puts a lot of diversity in your workouts, but it can also add a considerable amount of intensity to them. For example, most professional runners won't be able to resist more than a few minutes running at 10 MPH, with an incline of approx — 10 %.
The incline system is powerful enough to lift weights to 800 lbs (363 kg). Thus, it should perform flawlessly with just about any user.
The machine's running surface is 8″ (20.3 cm) above floor level when the deck is 0% incline. The full slope will add a few inches at the front of the deck. Thus, to avoid any ceiling height issues, it's best to place the machine for use in a room with a ceiling that's at least 15″-20″ (38 – 51 cm) higher than your height.
TR3000i Motor
The TR3000i has a 2.75 CHP motor, a motor powerful enough to sustain prolonged running sessions, even at full speed, without overheating or losing performance. After all, this is a treadmill designed for running, not just walking or jogging.
The motor supplies speeds between 0.5 MPH and 12 MPH. Now, this interval should suffice for just about anyone who wants to undergo consistent cardio, running workout every day. However, it may not be the best choice for a professional, long-distance run athlete, as they may require higher speeds.
Just as for incline, the console provides keys for gradual and quick speed adjustment. The incremental keys will adjust speed in 0.1 increments, while the quick keys allow you to select the 2,4,6,8,10 (MPH) speed settings. These are great for interval training.
The motor itself is quiet compared to other models. Also, the cushioning system built-in the deck absorbs some of the noise generated by your cadence.
Needless to say, since this machine integrates two motors, one for incline and one that powers the belt, it requires to be connected to a power circuit. It comes with a standard, 3-prong U.S. plug and six 1/2′ (2 m) of cable.
Console
The console unit has a reasonably large 7-inch full-color touchscreen with three dashboard views (graph view, gauge view, and track view). Its backlit LCD touchscreen is clear and easy to read.
It covers time, calories burned and calories burned per hour, distance, total steps, steps per minute, heart rate and percentage max heart rate, speed, incline level, pace, the total number of laps, and split time elevation change. The distance can be set in miles or km, while speed is in MPH or km/h.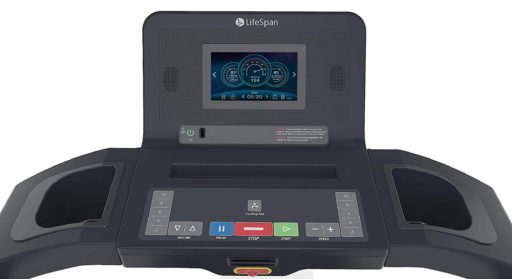 With 38 programs, including customizable treadmill programs, along with multiple dashboard options, the TR3000i will help you achieve your fitness goals. And, once you complete your workout, you'll get credit for your efforts on the app you already love.
Any companion app that can receive activity data from Apple Health or Google Fit works with the LifeSpan app, syncing your fold-up treadmill's exercise results in the location of your choosing.
The machine's computer unit is also telemetry enabled. This means it can read your pulse via a wireless HR chest strap transmitter. However, the chest strap accessory is not (included).
When paired with a Bluetooth chest strap or armband, the TR3000i will track and display your heart rate throughout your workout so you can stay in your desired training zone.
But if you don't have one, you can still benefit from the pulse reading function by using the stainless steel pulse sensors integrated into the front handlebars.
Console Amenities
The TR3000i offers a sound system, a 3-speed fan, two media trays, and two bottle holders for other amenities. The audio system consists of two speakers placed on the sides of the LCD.
It's compatible with most MP3 players, smartphones, and tablets, also featuring a headphone jack. The sound rendered is relatively decent, considerably superior to the audio generated by the average phone or tablet integrated speakers.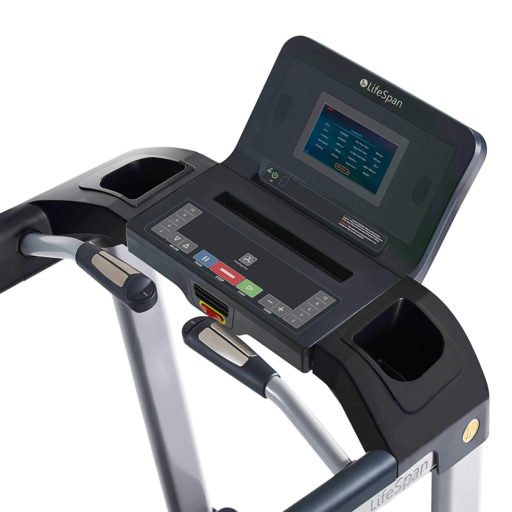 The fan is a new addition to the TR3000i, as the older model does not feature one. Although it's not exactly the most powerful fan, it still offers 3-speed settings, providing some cooling during a more intense workout session.
The media trays are at different angles. The one closer to the keys will keep your tablet vertical position, while the second one offers an oblique view, leaning under the console display. The bottle holder compartments are on the sides. They're pretty significant and can host various other accessories that you would need on the treadmill.
TR3000i Assembly and Maintenance
This treadmill is reasonably heavy, with a net weight of 225 lbs. This means you'll need at least two people to carry the box in the room where you'll be using it for unboxing and assembly. The assembly is a relatively simple process.
The deck, belt, primary motor, and incline motor come pre-assembled, attached to the frame. The console's sustaining bars also come connected to the frame; you only need to unfold them and tighten them in an upright position.
Therefore, you only need to connect the console and cables and add a few plastic covers in the assembly. This shouldn't take more than 30-45 min. The assembly manual supplied with the machine provides pretty clear step-by-step instructions. Also, all the tools required for assembly are (provided) with the treadmill.
Just like most other treadmills, the belt of this particular model requires periodic lubrication. The console will prompt you to lubricate the belt after every 100 hours of use. Besides this, make sure you keep the belt clean, free of any dirt, textile fibers, or any other objects that can get caught in the motor.
Pros
Heavy-duty treadmill, sturdy overall construction;
Solid deck, being able to support users up to 350 lbs, even for running sessions;
Folding design, with soft-drop, hydraulic mechanism;
Deck integrates eight independent compression shocks, cutting off up to 30% of the workout impact;
Safety function that stops the belt automatically 20 seconds after you step-off;
Step counting function;
2.75 CHP motor for prolonged workouts;
Speed adjustment increments of 0.1 MPH;
Motorized incline, 0% – 15%;
38 workout programs, including two user profile settings that allow you to create your own, custom workouts;
A USB port for charging your tablet or phone and for workout data transfer;
Bluetooth enabled;
Various amenities, such as sound system, media shelves, 3-speed fan, bottle/accessory holders;
Pulse sensors and telemetry enabled console;
Fairly easy to assemble;
Smooth and quiet operation;
Little maintenance required;
Consistent warranty plan.
Cons
Short handrails
Tall runners might need a longer track.
LifeSpan TR3000i Summary
Although the LifeSpan TR3000i is a treadmill designed for home use, it has a solid construction. It's an extremely sturdy machine with a substantial deck that can support users up to 350 lbs. It's a treadmill made for running, not just jogging or walking.
It integrates a mid-range, heavy-duty motor and automatic incline. It's great for beginners, intermediate users, and even pro runners. It offers a wide variety of workout programs, also being Bluetooth enabled.
All in all, it's a machine great for cardio training, intervals, stamina building, strength training, and of course, for losing weight. And finally, it's one of the best running machines in this price range, offering an excellent price/value ratio.
I hope you found this article helpful and informative. If you have anything you'd like to share or opinions on my site's content, please do speak up. I look forward to your comments, questions, and the sharing of ideas.